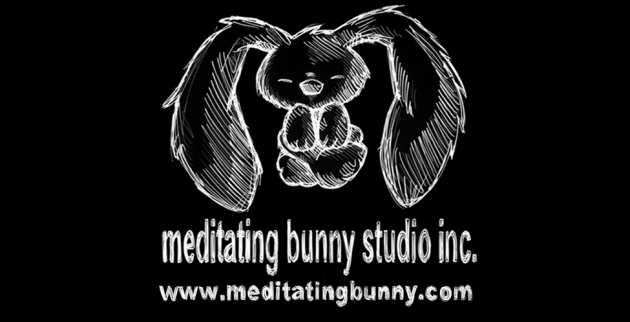 Here is part 2 of 4 of Ask Jeff...Questions from University Animation Students.
Recently, I was asked by some fourth year animation students attending the Emily Carr University of Art & Design in Vancouver, BC, Canada to answer some question for a Professional Practices class they were taking. Since I also graduated from the animation program at Emily Carr...way back in 2001, I like to help out students in this way. I remember being in their position and having a ton of questions before graduating into the real world.
The interview was regarding my personal experiences with festivals and grants? For their project, they were interested in researching ways in which to support lives as independent film directors. It seems more and more students are interested in independent filmmaking as careers as opposed to going straight into the industry.
Here are some questions to how I started my company Meditating Bunny Studio Inc. and how I operate.
When did the start of Meditating Bunny Studio Inc. come about?
I originally started branding my films under my Meditating Bunny Studio in 2001 when I completed my 5 minute animated grad film, The Horror of Kindergarten. The film was based loosely on Joseph Conrad's novella The Heart of Darkness. Although, my film is about a little boy's journey into kindergartens heart of darkness on the first day of school…knowing that there is some impending horror that lay ahead as the day progresses. At the start of the film my main character, Conrad, is sitting in the position of a meditating bunny. This is a direct reference to the main character in the Heart of Darkness where at the beginning of the book, Marlo, is sitting in the position of a meditating Buddha. So I was kind of playing off that idea by placing the scene in a Kindergarten classroom so I thought it was funny to replace a Buddha with a bunny. Thus this image of a Meditating Bunny would become the name, logo and mascot of my studio.
I like the idea of a Meditating Bunny since it encompasses the philosophy of my studio so well…to create philosophical, inspiring, educational and entertaining stories that a family can enjoy together. Therefore, I will never create anything that is crass or I feel could be harmful to kids. Although, onetime a bank teller thought my company was a kids yoga studio…I thought that was pretty funny!
How did you start your company? What steps are involved and what business knowledge is required?
It wasn't until around 2008 when I actually incorporated the company to create Meditating Bunny Studio Inc. I started the company when I started production on my first feature length documentary, One Big Hapa Family. It's pretty mandatory that your have a company set up when you create a larger feature length project to run the funding through. This includes tax credits and broadcast licenses, etc. Before that, since I was just creating shorts, I was creating projects as a sole proprietorship. I would recommend starting out as a sole proprietor until you feel comfortable to start a company. I was a sole proprietor for 7 years before I incorporated.
For my latest feature documentary, Mixed Match, I've set up another separate company to handle the expenses for that project. This is normally how it is done and then you fold the company after the film is finished. With Meditating Bunny Studio Inc., I wanted to keep it going after One Big Hapa Family so it is what I run all my commercial projects through.
I had no business knowledge before starting my company. Luckily, I have an awesome accountant who also acts a producer on many of my projects. Although, she works more as a producer for hire since I still retain all rights to my work after its completed. My producer and production accountant Ruth is one of the main reasons I'm still up and running. She is wonderful and every creator needs to find someone who understands the business end of things. I was lucky I met Ruth on my first professional film, "What Are You Anways?" when she came on as producer. She handles all the money stuff, like tax credits and production accounting. Things that make my head spin. So my advice is find an amazing accountant that gets the film industry and working with artists.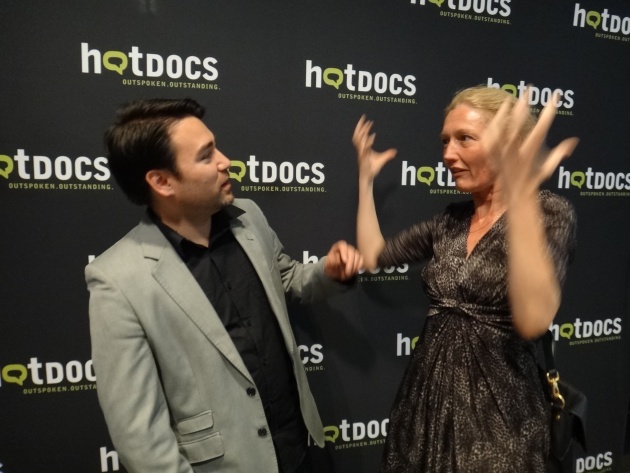 (Me with my amazing Producer/Production Accountant Ruth Vincent at Hot Docs 2013 - I love how this photo pretty much sums up our working relationship)
You mentioned that you hired freelance animators to help with projects. Did you hire any employees at the start?
I've always been a one-man band who has surrounded themselves with talented and smart people. I operate as a satellite studio or virtual studio. Therefore, I work from a home studio/office. Ruth has her own office downtown from where she works and all the animators I hire work from their home offices. I have a composer I work with who lives in New York and my sound designers all work from their own studios. This is great because I don't have to worry about renting a studio space. Most people can't work from home but I love it. If I need to get out of the house I schedule meetings in town for lunch or coffee. It's great to collaborate in person with people who live locally in town. You can't deny the importance of being in the same room as someone when you're trying to brainstorm creative ideas. Plus, I attend a lot of events around town so I can be social and avoid cabin fever.
As well, with the internet, it really makes it easy to share files online and communicate via Skype. This is great if the animator lives somewhere else in the world. Since I only take on one or two projects at a time, I don't get overloaded and need a huge staff. I'm sure if I was creating a television cartoon series, I'd need a physical studio space but even these days, a lot of it can be done remotely. I love animating and getting involved creatively so personally I have no ambition to run a big studio. Therefore, I'm able to funnel more of the company funds into my own personal projects instead of paying overhead.
Although, there are times I do have an employee or intern working with me a spare bedroom of my house to help with marketing and animation. Basically, assisting me and working closely with me on work that's piling up. But for the most part, I've adapted to a very existentialist way of working. I like working alone at home, mainly late at night…it's reflective, meditative, and that is just what works best for me when I'm trying to find a creative spark.

(a panorama shot of my home studio/office in Vancouver, BC)
* I'll be posting Part 3 and 4 in the next few days. Keep updated with new blog posts and video uploads by subscribing to me here on Film Annex. Thanks!