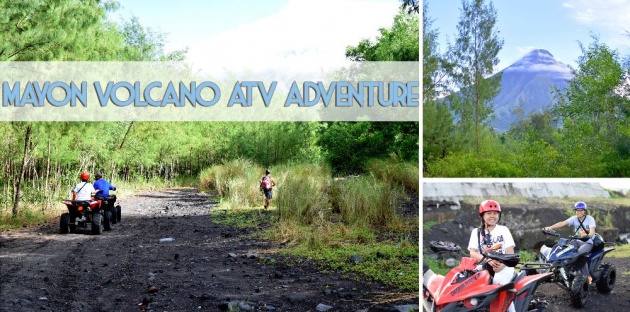 The highlight to our Albay Anniversary Travel Special commenced on our second day in Albay. This is the most exciting and heart pumping activity not to mention also the most expensive activity we had tried in Albay because all other things that can be done here is just very affordable but we don't always come here so it is best to experience the best of what Albay can offer.
You had read it right. So we had booked for an ATV ride going to and from the Mayon Volcano's Lava Front! I will be sharing our experience with the said ride.
ATV stands for All Terrain Vehicle
Here's Mayon and we conquered its lava front!
A week before our trip to Legazpi, my husband and I had already decided that we should be able to experience the ATV ride since we were not able to do so when we went to Bohol's Chocolate Hills last December and I was really wanting to do that at that time but we thought it was not worth it since we have our motorcycle with us but this time with Legazpi, we both agreed that we should try the ATV ride and we did.

Reservation
After an accidental find of this Pink Purple Travel and Tours on Facebook, I did the contacting and we agreed that they'll be catering our three hour ATV ride from Cagsawa Ruins towards the Lava Front of the beautiful Mayon Volcano.
The MAYON ATV ADVENTURES Packages:

- Short Trail 699.00
- Green Lava 1,500.00
- Lava Front 1,850.00
These are also the inclusions for the packages:

- Guide
- Basic ATV Operations Training
- ATV Unit
- Headgear
- Drinking Water
The rule was for us to pay either the full amount or 60% of the amount and that the remaining will be paid on the date of the event. I opted to deposit just 60% of the amount and will be paying for the remaining ones once we reach there in Albay which was also fine and Joel who had accommodated us was very helpful on the specific transaction.
However, issues also happen like during the reservation, they had promised to send me the voucher on the next day after the payment was deposited to his bank account but it didn't happen. In fact, they were only able to send me the voucher a day before our flight towards Albay and I wasn't able to print it anymore but it is still fine.
Things Didn't Go as Planned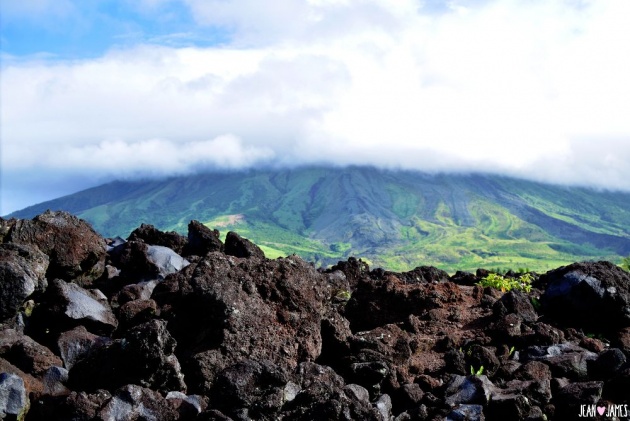 Mount Mayon covered by thick clouds at the Lava Front.
Both my husband and I were really excited for our second day in Albay as we were up for a whole day of adventure. The original plan was to actually rent a motorcyle and at six in the morning, we should be at the Cagsawa Ruins so that we would be able to see the Mayon Volcano without any clouds in it. Early morning would be the best time as the sun's heat won't be that hot at that time.
However, not all things happen as how we planned and the second day was an inclusion to that. The contact person whom we reached out a day ago who will be lending us his motorcycle didn't arrive at our hostel at six in the morning which was supposedly our call time.
Joel, on the other hand who had reserved the ATV for us called me and told we have to be there at the venue now since our schedule was at six. We instead went ahead to Cagsawa Ruins without the motorcycle. Fortunately, that was only a short ten minute ride and since that was still at 6:05 in the morning, there was a very smooth transportation towards Cagsawa Ruins.
The motorcycle owner called us and told us he was sorry because he is not aware of the Mayon Backpacker's Hotel's location which we understood and that was alright for us. We actually had plans to go to the Chocolate Hills version of Albay but then since we didn't get to have a motorcycle at hand, we then just changed our plans.

ATV At Last
This All Terrain Vehicle Adventure had been broken into specific parts and I will be sharing them all to you in this blog.

First - Practice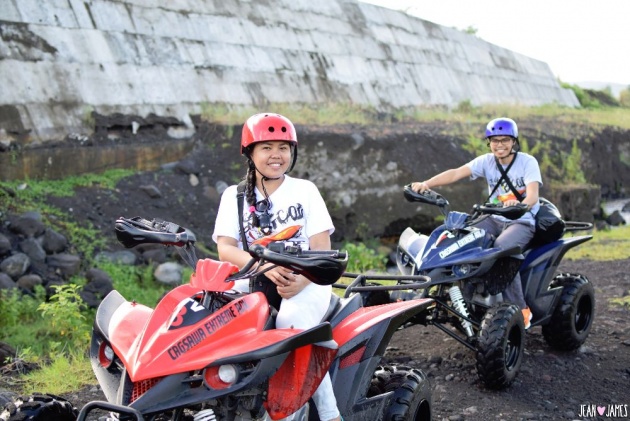 This started the adventure. Of course we have to learn the simple instructions on what are the strokes to use for the vehicle to move forward, backward or to put it to a stop. Since my husband and I are both able to run a motorcycle, the instructions are quite easy.
Also, the tour guide had given us his mandate as well and signs that we should be aware of, the stop, the move forward and the slow down signs were understandable and so after a few rounds of practice and picture taking at the corner of Cagsawa Ruins, our tour guide gave us the sign that we are about to go!
This was the start of the three hour ATV Adventure! Both my husband and I were excited! We got this positive vibe within us as it was still early and the Mount Mayon was still visible.
Off we go...
Second - The Rocky ATV Adventure To the Lava Front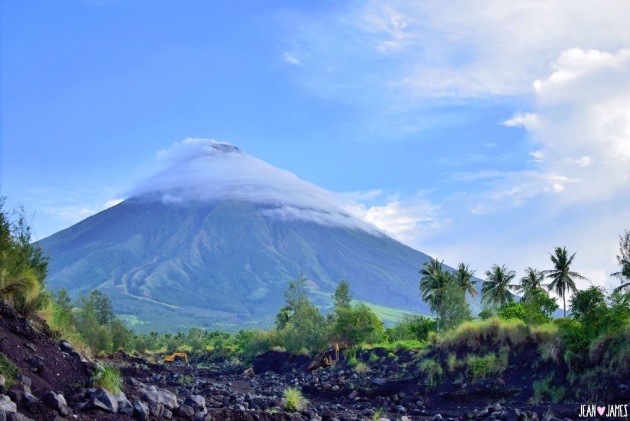 The Mount Mayon from one of our trail stops.
We hit the black rocky road of a river which goes from the top area of Albay towards the Cagsawa Ruins bridge. That doesn't only include black rocky roads but also the waters from the river.
Both of these surprised me and my husband and since we were still new to these ATV ride, we were both very doubtful about the strength that this vehicle has. But when we started moving in the rocks, I thought I would drop out of it but I was wrong. That vehicle is indeed sturdy and its balance is perfect perhaps because of its four thick wheels.
We passed by a few rivers and black sand area which I believe were used for making cement. It rained the night before so obviously, there were also areas which were really muddy causing my white shirt to be stained. Oh well that is part of it so that's definitely okay.
Mayon Volcano with the Pinetrees.
And I thought it would only be rocky and sandy roads, we also passed by neighborhood! It looked like the neighborhood is already used to seeing local tourists and even the foreign ones in ATVs and pass by their area. Children were really enthusiastic seeing us and would even tend to play with the vehicle.
Third - Lava Front Upfront
After around almost an hour of ride from the Cagsawa Ruins, we stopped in an area which has a house and a certain circular welcome area. As per our guide, we have reached the Lava Front which is just walking distance from this welcoming hut.
We met another guide who will take us from here towards the lava front. Unfortunately, Mayon Volcano was already covered with clouds and that was thick ones so the entire mountain was not visible.
We walked and climbed the lava rocks which looked like a mountain but they have constructed a helipad in there too for those who have choppers and other planes.
Rocks formed at the Lava Front.
I got amazed with the lava rocks. The second tour guide also explained to us that these rocks were seen stumbling down from the mouth of the Mayon Volcano on its eruption last 2009. Then it erupted in 2013 and 2014. There were foreign climbers who got killed when they climbed the mountain and it erupted. Sometimes, Mayon would be bursting with just rocks and sand and it is very clear from its sides, then there were also times when it will be giving out lava rocks.
Mount Mayon is a beautiful disaster.
I won't forget what he mentioned to me that the Mount Mayon is a beautiful disaster. It seemed that whenever it erupts and lava is what goes out of its mouth, it becomes a very beautiful site to see specially at night. But then again, it makes the entire province tremble in fear plus there's a tendency of it to cover the farmers' land.
Fourth - Shout at the Zip Line
A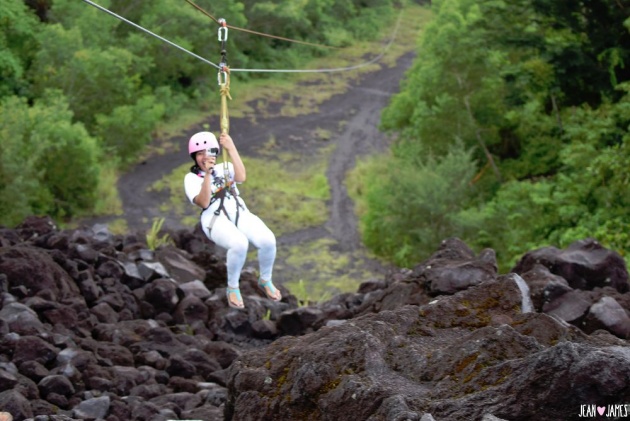 fter all the story telling from our second tour guide, we decided to go out of the area since the skies were already signifying that rain is about to come. I had already eyed the zip line so I can go back to the welcome area without much effort. That was actually my first zip line experience and I always thought that it is a very easy thing and it won't excite me at all.
But I was actually wrong as when the guide pushed me away, I got this different feeling and I couldn't help but shout out loud.
It was a short one but I had fun!
Unfortunately, it started to rain just when I was reaching the end of the zip line and so the worker immediately took the hook out of my harness and we went to find a shade so not to get wet of the rain.
Fifth - New Trail Going Back to Cagsawa Ruins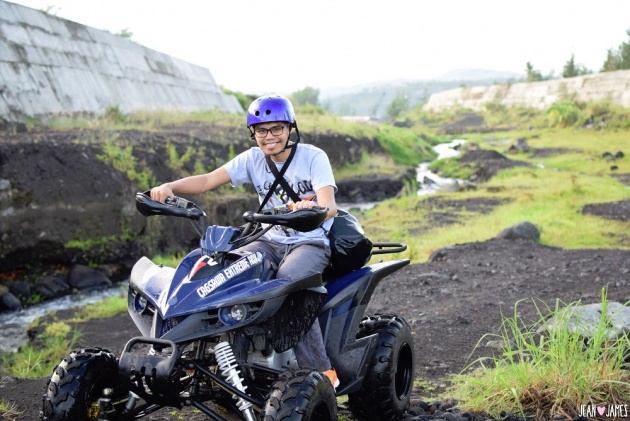 Hubby poses with the ATV on our way back to Cagsawa Ruins.

Going back, our guide went on another route which was more exciting and heart pumping. We passed by deeper river routes and I had lots of mud stains now on my white shirt. Then there came a spot where there were also other ATV guests who were still on their way towards the Lava Front.
It was super fun going into turbo mode. I can't help but try to keep a faster pace and boy that was indeed exciting! It felt much exciting than a regular motorcycle! Oh and not to mention the satisfying feeling when we pass by very very rocky road or the deep rivers.
I am glad that our tour guide was able to take a video of both my husband and I as we follow him through the trail.
It felt good reaching the main Cagsawa Ruins still whole and very tired. It was tiring, my legs are still stressed with all the muscle pressure that I had exerted throughout the three hour ATV experience.
Conclusion
After the three hour humping, driving and getting splashes, the ATV adventure was completed. Both hubby and I enjoyed it and we were glad we did this which highlights our trip to Legazpi. We definitely recommend that those of you who would like to visit Bicol in the near future to also try this.
However, I'd like to also note some of the downside and some stuffs which we hope we had done during the event.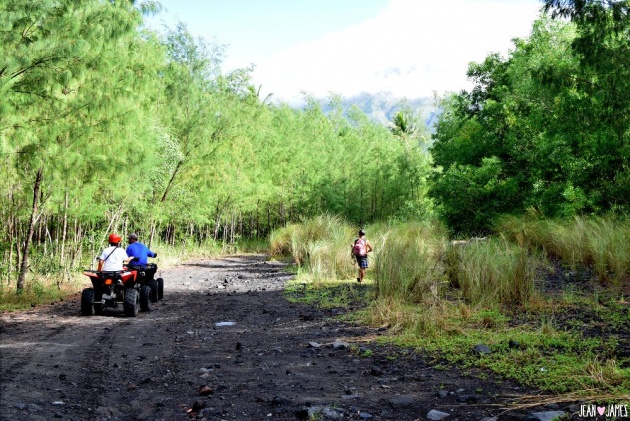 Me and our tour guide in the area with a lot of pine trees.
Photo together with hubby with Mayon as the Background. This didn't happen. I guess our guide was just tired and didn't even talk to us that much or perhaps he thought we were not approachable, well, we are and we were trying to get close to him but he had walls between his shoulders.
Get more stops and take photos of Mayon. That was our main reason why we went here and getting close to it would be amazing only if we had taken more photos of it while getting closer to Mayon or perhaps being able to take photos of it on our way home while there were other ATV riders too. But that didn't happen.
That should be it, but overall, we are still glad we did it. Our trip was still worth it! Watch the video coverage below:
In case you are interested with the ATV adventure, you may contact:
Pink Purple Travel and Tours

Joel Marinez

09778136994
Hope you had enjoyed this blog entry! Till next time! For now, check out my other blogs about our Albay Anniversary Special:
xoxo,