AURYN: "The Neverending Story"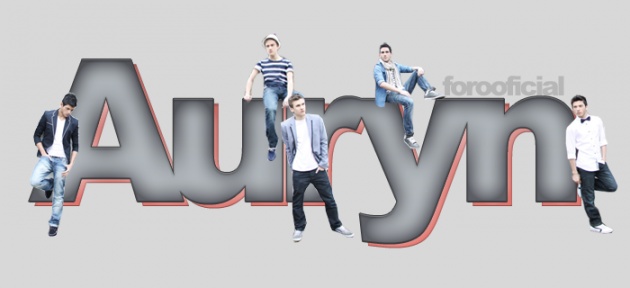 (image source: google.es)
Auryn is a musical Spanish boyband of pop style with lyrics in both Spanish and English. Auryn was created in 2009 with Daniel Fernandez Delgado, Alvaro Gango, David Lafuente, Carlos Marco and Blas Cantó who also make up the music and write lyrics of much of the subjects of the band.
The Origins of Auryn
Auryn as an idea born from the mind of Blas Canto, who had participated in Junior Eurovision, and wanted to form a group to capture all the musical ideas he had. He joined with Dani Fernández (who had also participated in Eurovision Junior in 2006) and he and three other members (Carlos Marco, Alvaro Gango and David Lafuente) formed the group called Auryn inspired by the name of a mystical talisman ' The endless story'.
With the group already formed the boys decided to present the Eurovision Song Contest through the Spanish TV program 'Eurovision'. Auryn was on the verge of representing Spain as Galician Lucia Perez was chosen to represent us in the Festival that year. Still, the group decided to continue releasing their first album in 2010. A good decision because with their first single 'Breathe in the Light' made it into the top 10 sales in its first week.
Introductory video about Auryn (source: Youtube.com)
Currently Auryn still promoting itself throughout the country. They have presented their third single called 'I dont think so' and expected this summer wander around the country with his 'Endless Road'
Biography
Auryn's biography By Martina Reis -Book cover (image source: google.es)
The June 4, 2013 went on sale the first authorized biography of AURYN group, written by his representative Magi Torras, at the hands of the publishing house Planeta and Books Dome. Two weeks later, the book reached number one in sales in Spain.
Members
(image source: google.es)
The 5 members of the group who are composers and also vocalists.
David Lafuente
David Lafuente was born on May 3, 1988 (27 years old) in Pinos Puente, Granada. His Twitter account: https://twitter.com/DavidAuryn.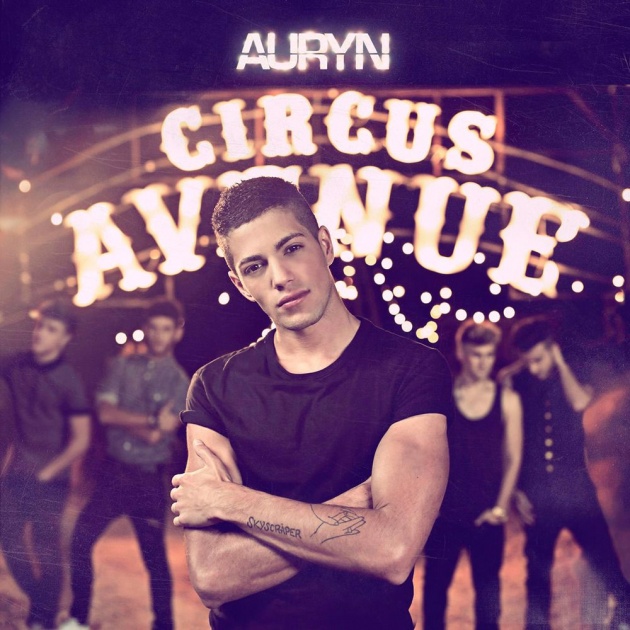 (image source: google.es)
Álvaro Gango
Gango Alvaro was born October 2, 1989 (26 years old) in Alcala de Henares, Madrid. To reach him https://twitter.com/alvaroauryn.
(image source: google.es)
Carlos Marco
Carlos Marco was born on February 4, 1991 (24 years old) in Alicante. His Twitter account https://twitter.com/carlosauryn.
(image source: google.es)
Blas Cantó
Blas Cantó was born on October 26, 1991 (24 years old) in Ricote, Murcia. His twitter: https://twitter.com/BlasAuryn.
(image source: google.es)
Daniel Fernández Delgado
Daniel Fernandez Delgado was born on December 11, 1991 (24 years old) in Alcazar de San Juan, Ciudad Real. Twitter account: https://twitter.com/daniauryn_es.
(image source: google.es)
Career
The five vocalists began to unite their voices in 2009. The band's name comes from Áuryn, a great talisman that appears in the book The Neverending Story by Michael Ende and fulfills all desires of the wearer.
Auryn sung cover songs in with 5 voices uploaded videos on Youtube and other social networks. Its version "Umbrella" of Rihanna got almost 20,000 hits in its first hours. The same happened with the release of Secrets "Let me." They introduced a 'Eurovision' in 2011, where they took second place. Their first single, "Breathe In The Light" gave the young band their first number 1 in iTunes sales in Spain.
First album: Endless Road, 7058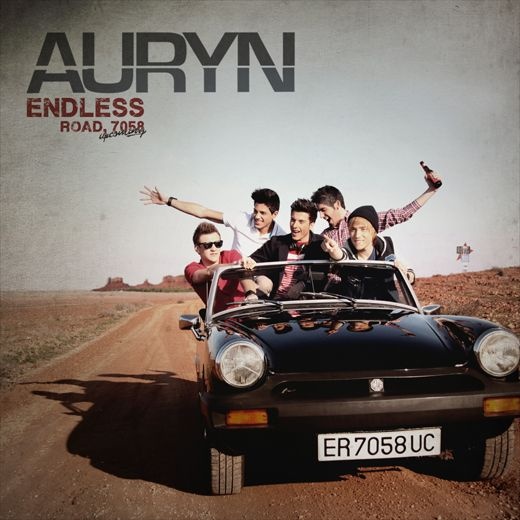 Album cover (image source: google.es)
The October 18, 2011 they released independently his first record album, "Endless Road, 7058", getting into one of the biggest selling albums in Spain and rising with the award for "Best Debut Album", chosen by the public, Disco gala in 2011.
That's when Auryn, backed by the success of his first album, record by the multinational Warner Music Spain and launches the reissue of their album, called Endless Road, 7058 Upcoming first CD with 4 additionales songs, then with additional DVD containing acoustic concerts, interviews and music videos, which goes straight to number 4 in PROMUSICAE.
Warner Music logo (image source: google.es)
After several singles as "Breathe In The Light", "Last Night On Earth" or "I Do not Think So" come what will be his biggest hit "Do not Give Up My Game", of own composition. With this single they come to number 5 on the list of Top 40 and get back to No. 1 on iTunes. Your video exceeds 2,000,000 visits and starts playing strongly in the major Spanish radio stations, clubs and dance floors.
AURYN has shared the stage with some of the most important artists of the Spanish musical scene as Soraya, Monica Naranjo, Miguel Bosé, Ana Torroja, Sergio Dalma, Natalia Jimenez, Alejandro Sanz and David Bustamante; and international artists like The Wanted, Conor Maynard, Simple Plan and Taylor Swift among others.
Their debut album, Endless Road, 7058, was released independently on October 18, 2011, and was among the top of the best-selling albums in Spain (Promusicae), entering the number #12 in his first week .
In addition to the band members, the composers of the songs from his first album were: Ruth Lorenzo, Virginia Maestro, Bethlehem Arjona and Zahara.
Here is a Youtube link for complete album "The Endless Road" audio songs.
Due to the success of the album, AURYN announced on "The number one" of Antena 3 in September went on sale the CD + DVD supported this time by Warner Music Spain, which peaked in April list and still selling nearly 50 weeks Promusicae.
On February 8, 2014, he got a Gold Record.
Tracks
Elevate
Your Favourite Guy
Last Night On Earth
Still
Cartas Entrelazadas
I Don't Think So
Stop & Listen
Volver
Breathe In The Light
Rolling In The Deep (Adele Cover)
He Aprendido A Vivir
Top song from the album with ofiicial video (source: youtube.com).
Second album: Anti-Heroes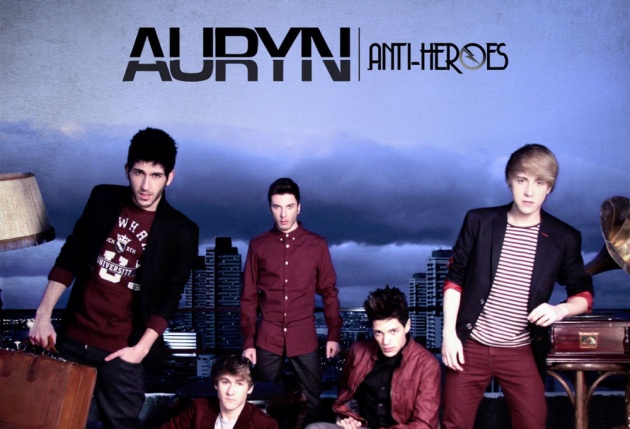 Album cover (image source: google.es)
The March 26, 2013, AURYN released their second studio album, getting a resounding success and was the first time a boyband in Spain placed her at number one album sales. Four weeks after the launch, received the award of "Gold Record" for the more than 20,000 copies sold. Remain ten weeks in the Top 10 list of best sellers and get to be the winners of a EMA "Best Spanish Artist" nomination shared with Pablo Alboran, Fangoria, Anni B Sweet and Lori Meyers.
On December 11, take the deluxe reissue of the album format in which the songs "Viral" include "When I see them again?" and "Breathe Your Fire ft. Wally Lopez" and a DVD of his concert at the Palacio de los Deportes in Madrid which was held on October 4 of that year. A few days after reaching the "Platinum" by the more than 40,000 copies sold.
Second studio album of the band whose recording was partly held in Stockholm (Sweden). It was released on March 26, 2013 and is called "ANTI-HEROES". It contains items in both Spanish and English, and the creation of several of them have had composers like Wayne Hector (author of hits for world-class artists such as Cheryl Cole, The Wanted, One Direction, Nicki Minaj ...) again Xabi San Martin de La Oreja de Van Gogh, Vanessa Martin, Georgina, Merche and Vega. In addition, the album includes 5 tracks of own composition, one being his first single, "Heartbreaker". For the production they have had Tony Sanchez Ohlsson, Pastora Soler producer. They have been edited two editions of the album: the regular edition which consists of a single disc consists of 11 topics and Edition Fan, limited edition, containing a first CD with 15 tracks and a second disc with the instrumental version of 11 of the issues. Also covers were released 5 singles, also limited edition of the regular edition of the album booklet with exclusive content created by each of the band members as they did with the reissue of their first album.
Youtube link for complete album "Anti-Heroewarns" audio songs.
Their first single, "Heartbreaker" was presented on 9 February by Tony Aguilar in "40 to 1" and released for sale on digital platforms 12 of the same month, arriving hours later the # 1 best-selling singles in iTunes. The video, which features the participation of actress Ursula Corberó, was released on February 26.
Tracks
Route 66 (Up We Go!)
Heartbreaker
Love Taxi
Me Gusta
Make My Day
Breathe Your Fire
Away
Sentado En El Banco
Desaparecer
Somebody Loves You
Siempre Estás Ahí
Top song from the their 2nd album and most visited video on the youtube for Auryn (source:youtube.com)
Third Album: Circus Avenue
Album cover (image source: google.es)
Auryn drew his third album on sale on September 30; Puppeteer above their single that got placed at number one of the country's most important list is released. The album was number one on iTunes and updated the list of sales in Spain 2014, standing as one of the most important albums of the country in less than a month. Your video Puppeteer exceeded one million visits in just two and a half months getting great reviews.
The album went on sale on September 30, 2014 in Spain, Mexico and Argentina. His single "Puppeteer" was recently released and is now in the top ranks of the Spanish radios. The 12/14/19 will give a unique concert in Madrid Barclaycard Center (Palacio de los Deportes). It was also ahead exclusively on "What so happy time" "Saturday," a new theme from the album Circus Avenue. His third album is already No. 1 on iTunes the same day usto salir.La Reissue Circus Avenue called''Circus Avenue Nigth'' whose name comes from their concert at the Barclaycard center of Madrid on December 19, 2014.
complete album "Circus Avenue" audio songs: youtube link.
Tracks
When we were young
Puppeteer
Saturday i´m in love
If this was my last song
Stay
Just a little bit
Incredible
Get ya flowers
Pillow talk
Grow old with me
El niño frente a mi
Vuelvo a ser mortal (Anti-heroe)
Best video made by Auryners for their 3rd album top song (source: youtube.com).
Now lets talk about their tours they have done so far around the world.
Tours
(image source: google.es)
They have done various tours and have sung with many celebrities. Let's go through few of their tours.
AURYN Tour 2010
(image source: google.es)
The first tour took the group through the main Spanish cities, where they made versions of songs already well known adelantaban turn some of the issues which would be their first album. Some of these cities were Madrid, Barcelona, Alicante, Valencia, Seville, Malaga, Ciudad Real, Bilbao ... and some villages in the Spanish geography, touring with little impact.
Tour "

Endless

Road

,

7058"
With the release of their first album and after months of intense promotion, the band became the new artist in 2012 that offered more concerts in Spain.
Auryners with their first album cover photo while performing on a stage (source: google.es)
Winter and weekend Tour "Endless Road, 7058"
After the summer tour, the group began a winter tour that would take them for rooms up to 8 cities (Barcelona, Toledo, Alicante, Seville, Bilbao, Leon, Valencia and Madrid) which deplete entries in almost all the concerts important capacities.
Tour "ANTI-HEROES 2013"
The tour to promote his new album "Anti-Heroes" that began in the Palace of Vistalegre (Madrid) on April 12, 2013, had 8 Spanish capital where they all hung the sign no entries. After these first concerts, the band was introduced in a summer tour under the same name, which led them to make almost 100 concerts in Spain, becoming the Spanish artist with more concerts in 2013.
Auryn performing live on the stage (source: google.es)
Up We Go Tour
"Up We Go Tour" gives its name to the tour conducted during the winter of 2013 that led them to present their live emblematic places in Barcelona, Madrid, Seville, Murcia, Alicante ... In each of those concerts presented their songs new arrangements within an acoustic-set format. Accompanied only by Carmen Boza guitar, Auryn was undressing each of their songs to remake every concert again. The tour ran the most important theaters in Spain hanging the sign "no entry" in each. A new way to bring their music to the public.
(source: google.es)
Tour "ANTI-HEROES 2014"
It was held from May 3, 2014 until September 16, 2014.
Here is a video from youtube Auryn's live perfromance.
"AVENUE CIRCUS" Tour 2015
From December 2014 to June 2015.
MyCampAuryn
(source: google.es)
My Camp Auryn is a pioneering project carried out by the AURYN group, giving the opportunity to its followers to share with them several days in a camp. For more information you can contact them here: info@mycampauryn.es.
MyCampAuryn 2011
This is a camp that the group organizes with his followers at the premises of Marina d'Or, Oropesa del Mar (Castellón) in which they had the opportunity to share three days and meet the band personally, developing joint activities.
Hundreds of fans of the group attended the event held in September 2011.
My camp Auryn 2011 video (source:youtube.com).
MyCampAuryn 2012
(source: google.es)
In 2012 repeated this camp in El Escorial. They attended by about 200 followers of the group, who enjoyed three days with them, taking them as monitors in various activities. In addition, two concerts, a more intimate acoustic and another outdoor to assist residents who were camping were made.
(source: google.es)
Auryn - Video My Camp Auryn 2012 (source:youtube.com).
MyCampAuryn 2013
(source: google.es)
Third edition of this camp which was performed on days 29, 30 and 31 August at the campsite of El Escorial in Madrid (as in the second edition). This time it went on sale 400 entries from 330 to 360 euros. During this event the followers were for three days with the band members. These days various activities such as a costume party, one Gymcana a dance battle, meals with them and a battle of choirs in which they themselves were the monitors were made. Two concerts, one acoustic (a special concert and that today can rarely enjoy such an intimate concert Auryn) and other outdoors were also conducted.

Auryn - Video My Camp Auryn 2013 (source:youtube.com).
Christmas My Camp Auryn 2014
(source: google.es)
Fourth edition of the camp. On 19, 20 and 21 December held at the Parador de Segovia. 19 conicidió with his concert at the Palacio de los Deportes in Madrid (Barcleycard Center), hence they moved Auryners to their hostel. Only 250 seats included.
AURYN - Christmas My Camp Auryn 2014 (source:youtube.com).
Awards and Nominations
Here is a screenshot taken from wikipedia. They have been nominated for many awards and they have won most of them.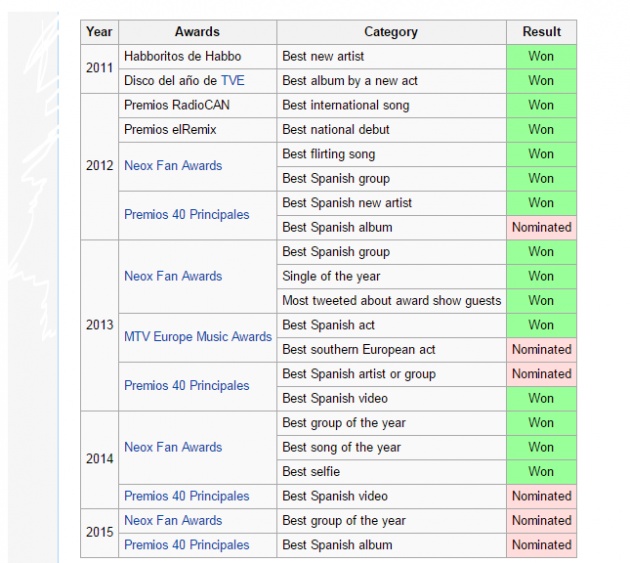 External links for AURYN:
Official web Facebook Twitter Youtube Madrisphere Magazine (interview).