MEDIA RELEASE – FOR IMMEDIATE RELEASE
Award-winning Dutch radio host, Afghan Hollywood actress, and American naval officer join continents and cultures - with Afghan Proverbs in Dutch and Dari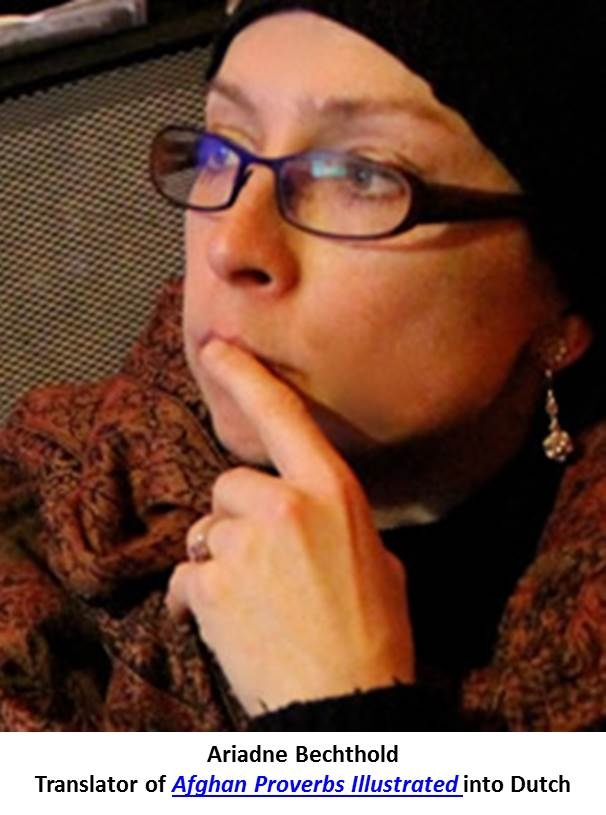 London, UK, and Tampa, USA ~ March 30, 2014 – London-based radio host and award-winning peace activist Ariadne Bechthold would never have believed that one day she would work with an American military man to create the world's first book of Afghan Proverbs in Dutch and Dari.
And if someone had told U.S. Navy Captain Edward Zellem in Afghanistan that his personal hobby would one day make him the world's leading promoter of Afghan Proverbs, he would have laughed.
But that's what happened to them both.
Bechthold's recent interview with Zellem on London's Afghan Voice Radio led to their unique collaboration on the world's first Dutch-Dari book of Afghan Proverbs, Afghaanse spreekwoorden geïllustreerd. The full-color bilingual book, illustrated by Afghan schoolchildren, is available worldwide in over 40 countries through Amazon and other leading international booksellers. .
Zellem, an Afghanistan veteran and Dari speaker who worked for over a year inside Kabul's Presidential Palace, began using Afghan Proverbs both at work and socially after observing that Afghans use Proverbs often in their daily speech. He started writing them down as an off-duty hobby. It soon turned into a personal crusade for cross-cultural understanding and Afghan literacy - using Afghanistan's own proverbs as the vehicle.
On his own initiative, Zellem worked with an Afghan high school in Kabul to illustrate the collection. His project soon became two award-winning books with international acclaim and a devoted global following. One of them, Afghan Proverbs Illustrated, is now published in 13 languages and more are on the way.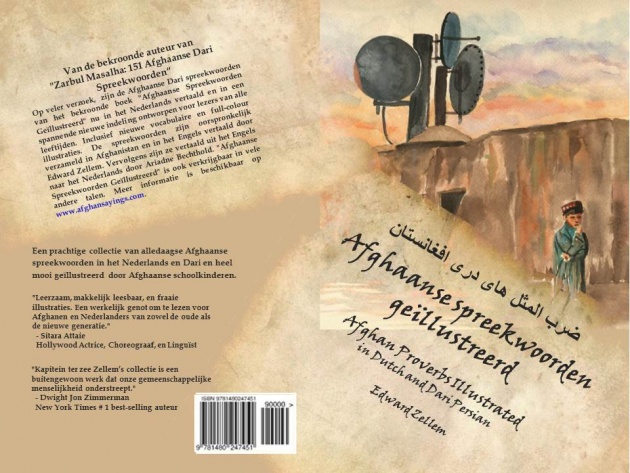 Ariadne Bechthold discovered the books late last year. Just as Captain Zellem had learned in Afghanistan, she saw quickly that the ideas behind Afghan Proverbs are universal messages used in every culture. So she invited Zellem to appear on Global Talk, her weekly show on Afghan Voice Radio.
After the broadcast, they talked about how a Dutch-Dari edition would help Dutch natives and the large Afghan population in the Netherlands to understand each other better. Bechthold volunteered to translate Zellem's book into Dutch, and added many well-known Dutch Proverb equivalents. The popular Afghan-Dutch Hollywood actress Sitara Attaie joined the project to proofread and edit.
The result of their teamwork - across three continents and five cultures - became the world's first Dutch-Dari book of Afghan Proverbs: Afghaanse spreekwoorden geïllustreerd.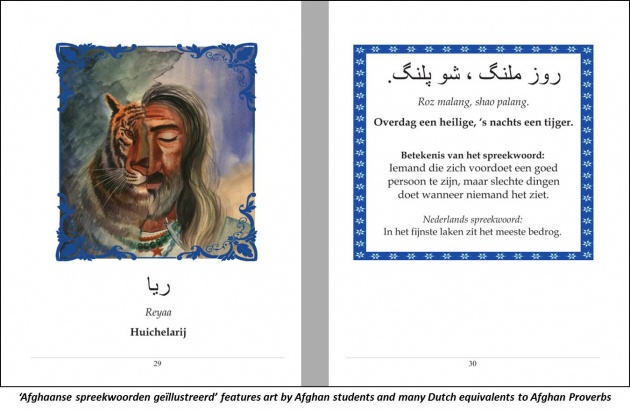 Radio host Bechthold has worked with Afghans since 2009 in both Calais and the UK, and is quick to point out how much can be learned from Afghans and Afghan culture. "When Afghanistan catches your heart," says Bechthold, "it is there to stay – as proud and stubborn as an Afghan."
Her passion for helping Afghanistan has led her to learn its languages, and to visit the country on her own in 2012. In the process she has become one of the driving forces behind Afghan Voice CIC, a non-profit independent community media organization that broadcasts 24/7 via the Internet, with a mission to create a safe space for freedom of expression.
Word continues to spread about Bechthold's work to promote Afghan peace and understanding. In March 2014, Bechthold received the prestigious Unsung Heroines award from the Afghan Professionals Network (APN) in London to honor her many contributions to the Afghan community.
More information and media kit available at www.afghansayings.com.

About Edward Zellem
Zellem is a 27-year U.S. Navy Captain currently serving at U.S. Central Command in Tampa, Florida. A veteran of several wars, he is known for his work on President Karzai's staff inside the Presidential Palace of Afghanistan and for his two award-winning books of Afghan Proverbs: Zarbul Masalha: 151 Afghan Dari Proverbs and Afghan Proverbs Illustrated. Zellem wrote the books "to show how Afghan Proverbs demonstrate our common humanity and the humanity of Afghans."
About Ariadne Bechthold
Bechthold is a freelance filmmaker and popular radio talk show host. She is one of the driving forces behind Afghan Voice CIC, a non-profit, independent Afghan community media organization based in London. She also has a deep love for the ocean, and runs a sailing school with friends in the UK.

###