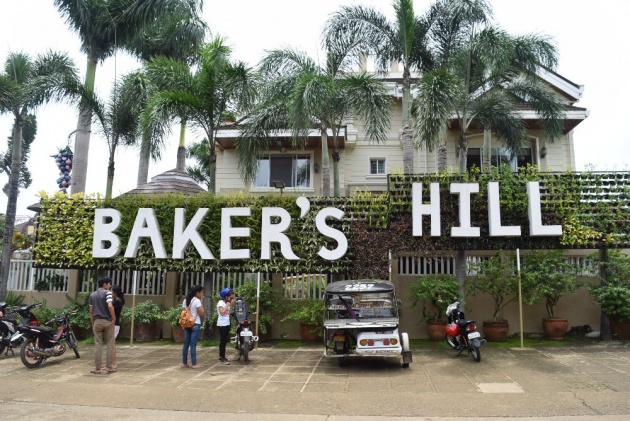 A group of restaurants and bake houses in a hill in Puerto Princesa which don't just offer good food but also good ambiance. It was our last stop for the Puerto Princesa City Tour on our first day in Palawan and we thought it was just a compound of restaurants but it has given us more than what we had expected.
The photo above was the sign from the outside of the Baker's Hill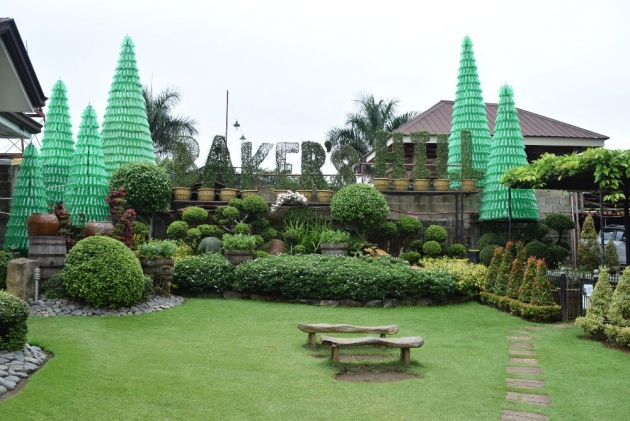 This sign made of live plants can be found inside just bside the houses. Benches are everywhere and it is very clear how this area has been well maintained just by seeing those trimmed grasses and shrubs. Those Christmas Tree like structures are made of recycled cola drinks. It's quite a beauty!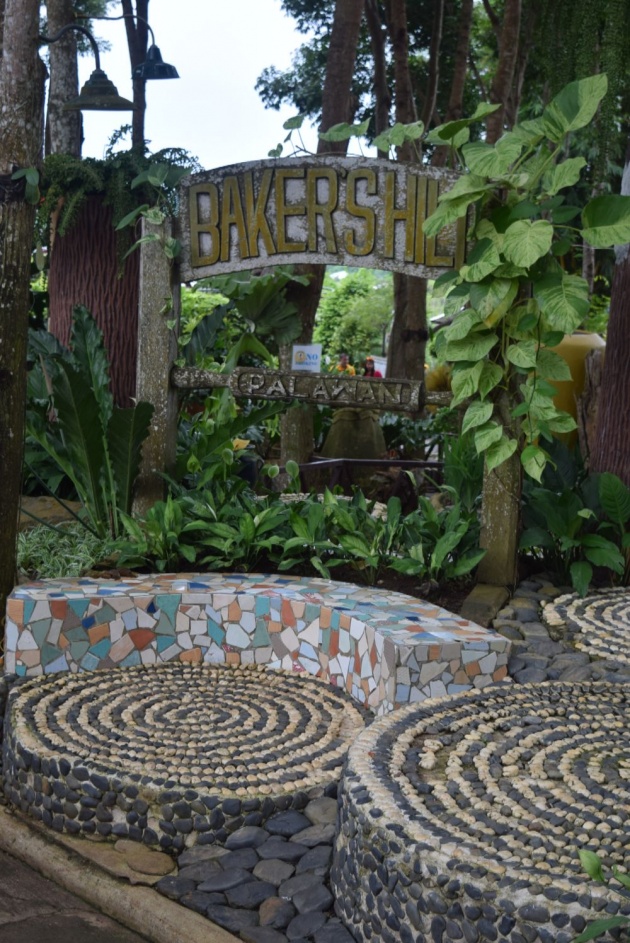 Here's another spot where Baker's Hill was printed and as usual, there are provided benches which are permanently structured so the visitors won't have a hard time taking selfies together with the signage.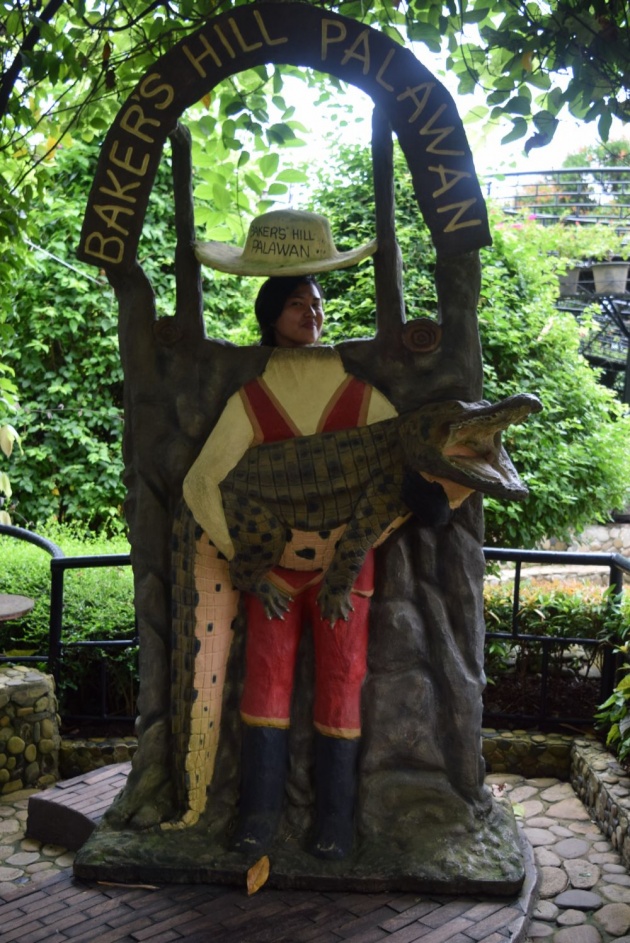 Yup, that is me holding a crocodile. Well actually, I didn't know that Luffy of One Piece can be found in Baker's Hill. But I had fun while inside. I saw a lot of cartoon characters too!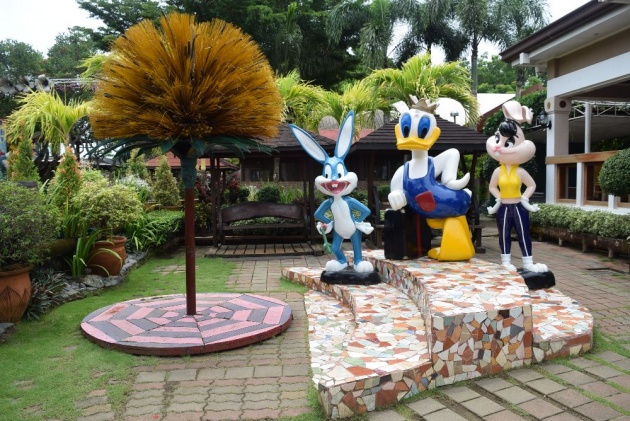 Here's the team of Bugs Bunny, Donald Duck and Lola Bunny as well. Same benches are also structured in here to ensure that the guests can have a photo op with them.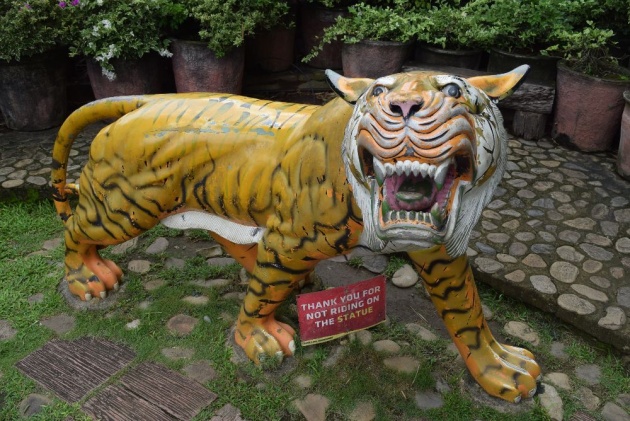 A wild animal can also be spotted but we can't ride in it thus the sign. I guess it has been staying here for a long time since the grasses are already in its feet.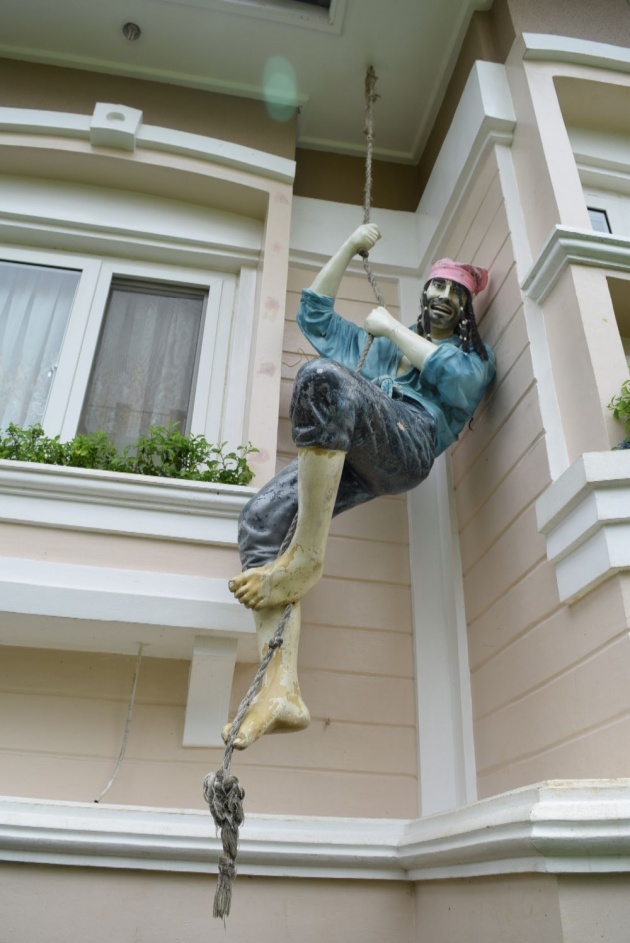 Jack Sparrow was there too who was trying to I guess steal something from the house nearby. This was a funny one.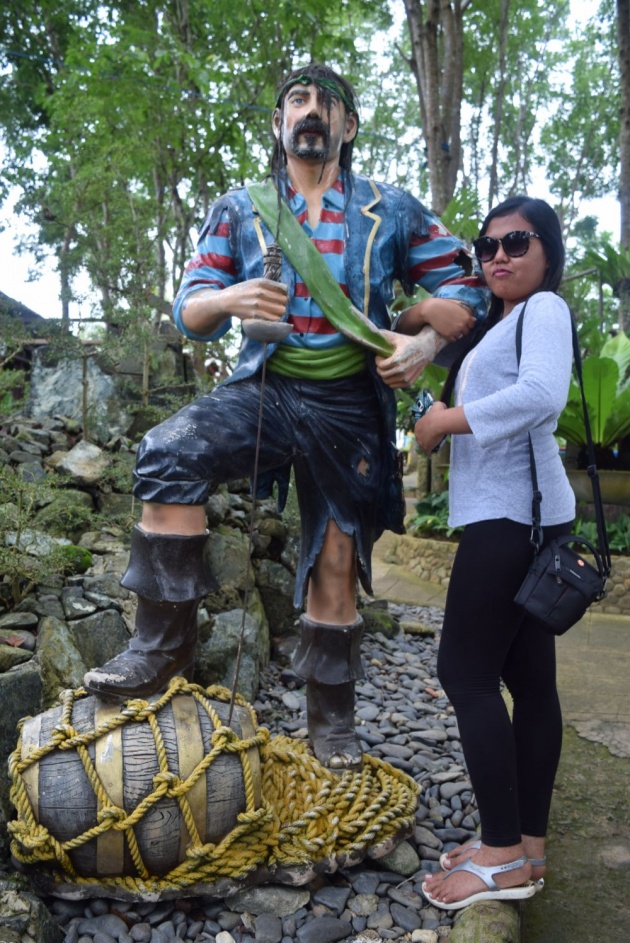 I am not sure if this is Captain Hook or what. He doesn't have a hook though in his hands but I know there's a hole in his left boot shoe is already.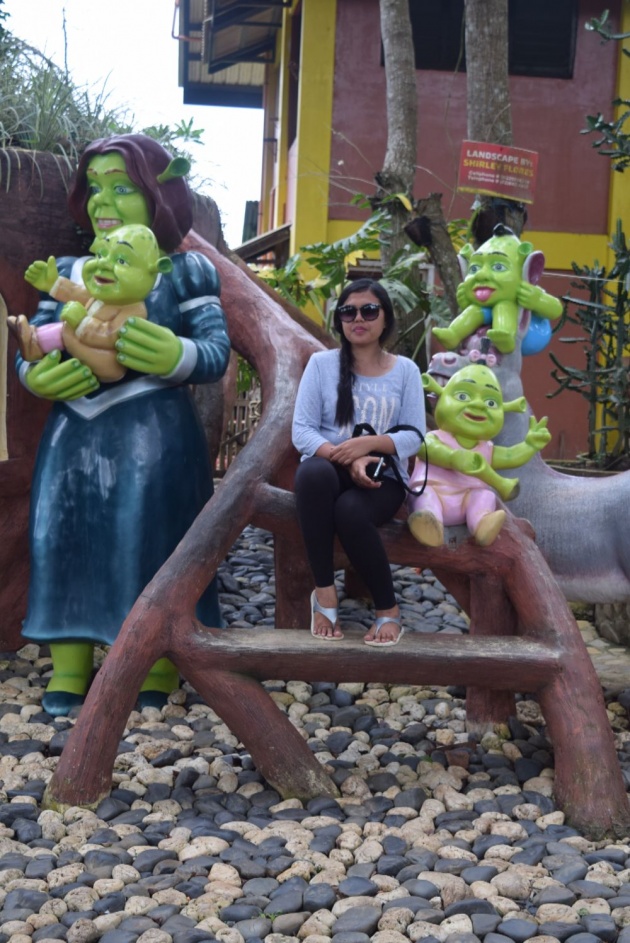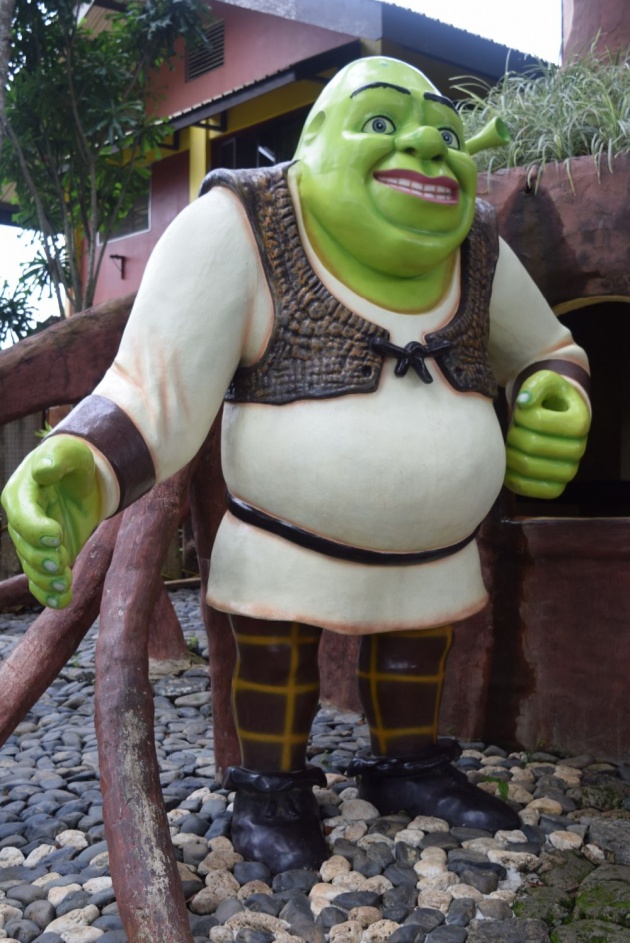 I was also glad that the whole family of Fionna and Shrek were present too. Look at the baby shrek making a peace sign beside me.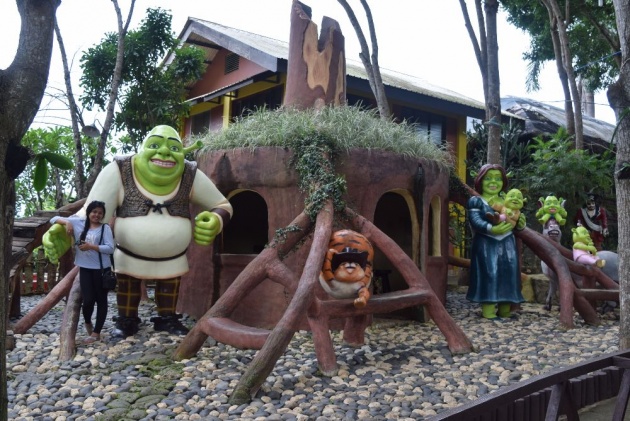 I of course had to take a photo of Shrek and his household. Can you spot Donkey in this photo? How about Puss in Boots? The house by the way is a real one, you can go inside and find the stuffs used by the family. I believe kids would really have a great time when in here.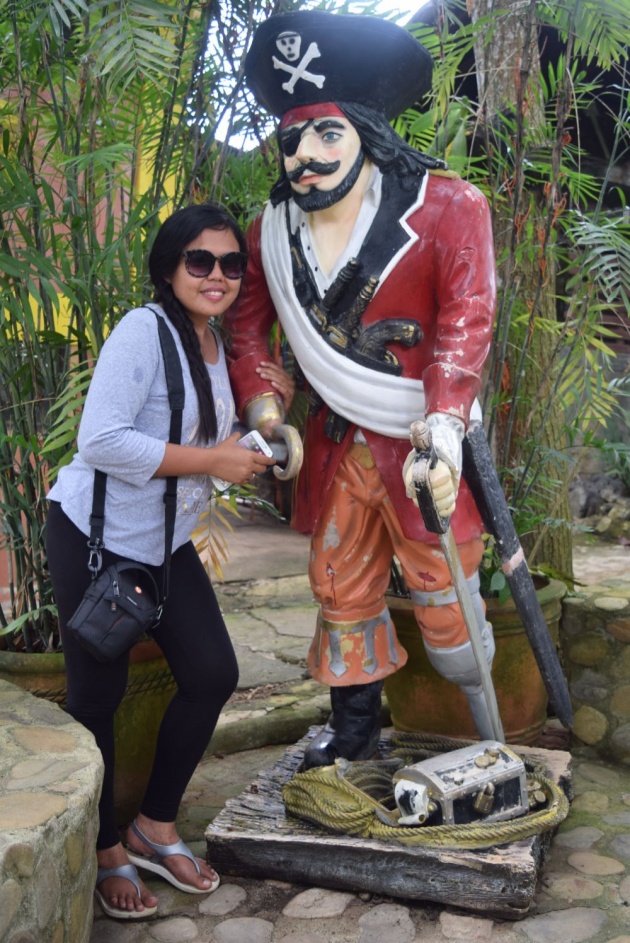 There were a lot more to see than just restaurant. In fact, we were both mesmerized by what we have seen in there, we both felt like we were Alice in Wonderland. We never thought that something like this is available in the city.
As mentioned earlier, this was the last stop of our puerto Princesa city tour on first day of he vacation. We thought it was just a small place yet it was actually different from what we thought it would be. From the entrance we can spot the big signage which was colored white then on the other side was a set of writings about what the restaurants available inside plus a peek of the bakeshop which offers their special hopia which has been referred to as their tourist's bring home stuff.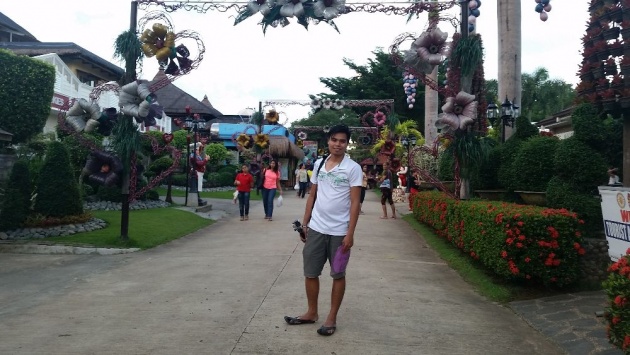 It was a good bright day but since it was a bit late already, my husband and I had to roam around as fast as we can. We have to take photos fast and since our DLSR camera was running out of battery, we had to use our mobile camera as well as the action cam which both were not really good at low lighting. But anyways, we still managed to get some good shots although we had th is notion that we will definitely go back again if we will have extra time on our way back to Cebu.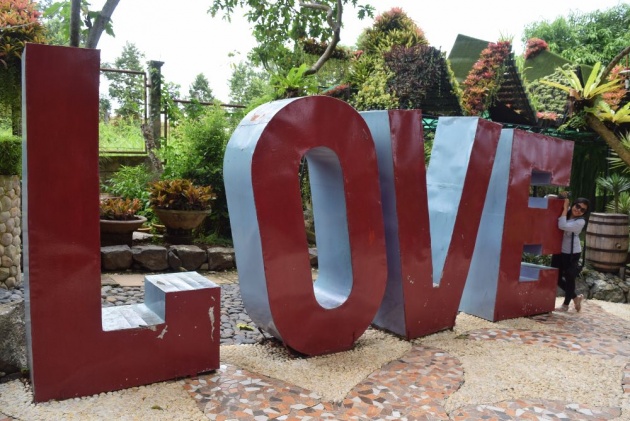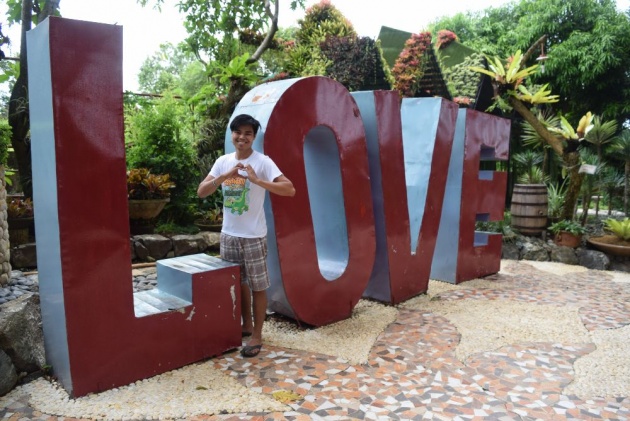 On our first day, we got to take pictures of the entrance area and the huge LOVE stand which we took more time than the rest because we couldn't take a good one due to the low light. We instead had a good time with the play area which was also an exercise park for the kids and the young at heart. My husband and I tried some of the facilities. We look very funny with the equipment because we do not know how to use them. Check out these videos below:
What's good about Bakers Hill is the fact that there's no entrance fee so anyone is welcome inside and that it will be up to you if you would be eating at the restaurants inside. But because they are tempting, you'll never go out without buying a goodie.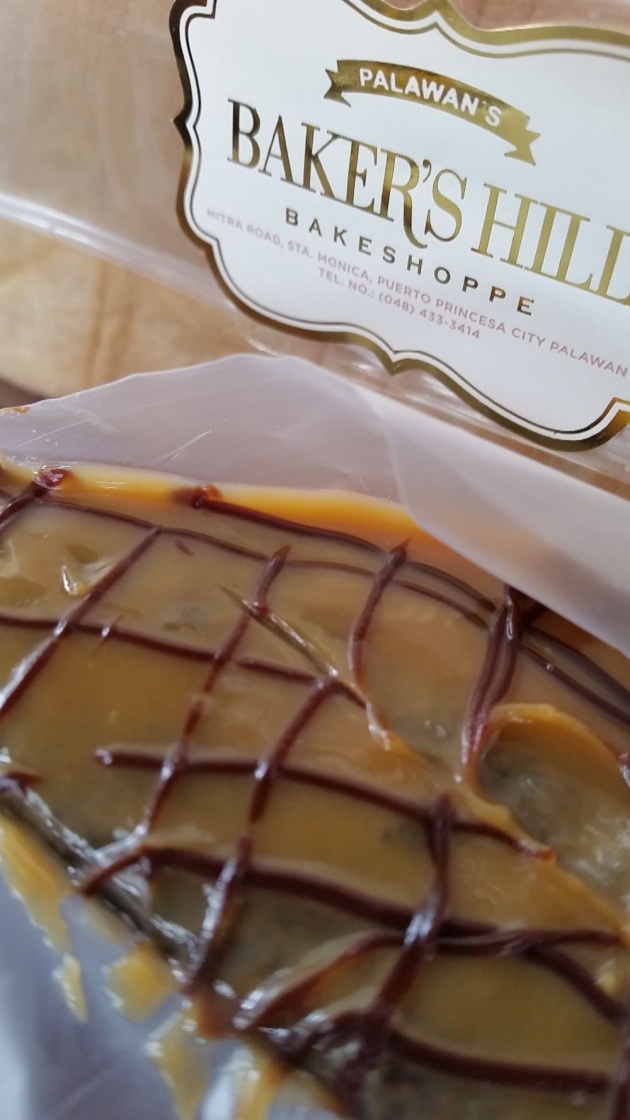 When we promised that we will be going back to Baker's Hill, we were really grateful that on our fourth day in Palawan, we got some extra time before our flight back to Cebu. We actually took the night land trip from El Nido to Puerto Prinsesa and so we still had some hours to wait and kill time.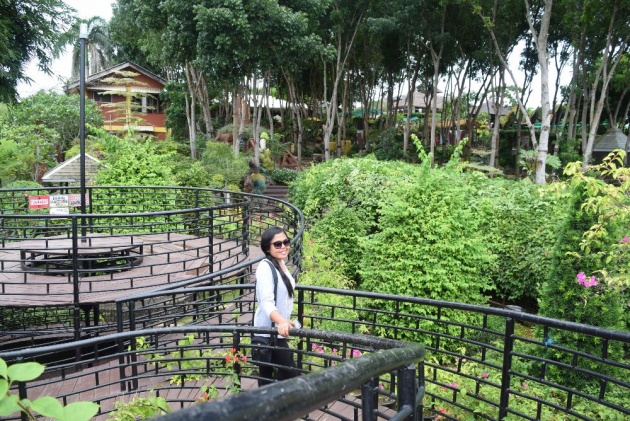 A garden full of flowers, plants and shrubs as well as trees which made me think I was in a different country.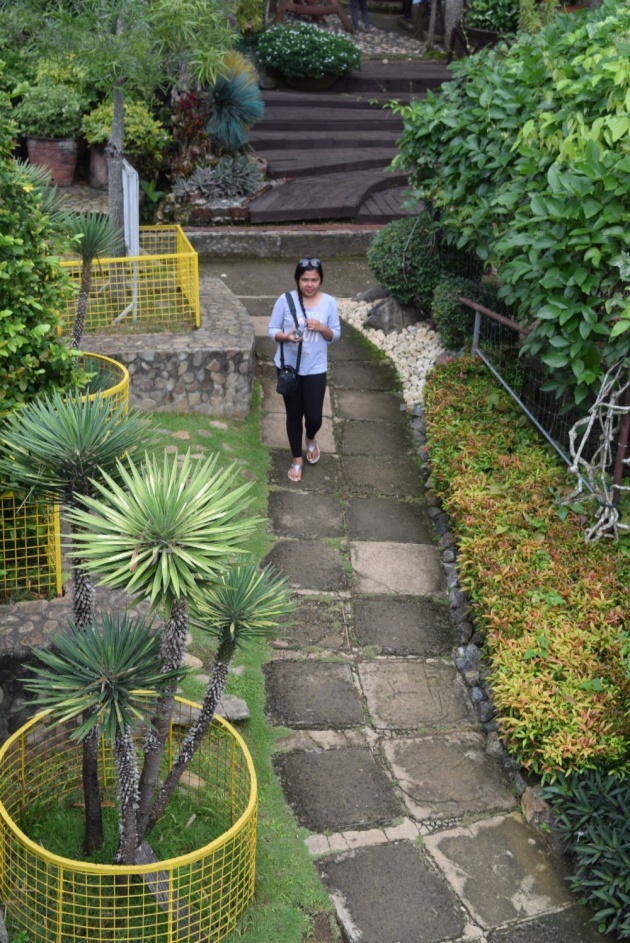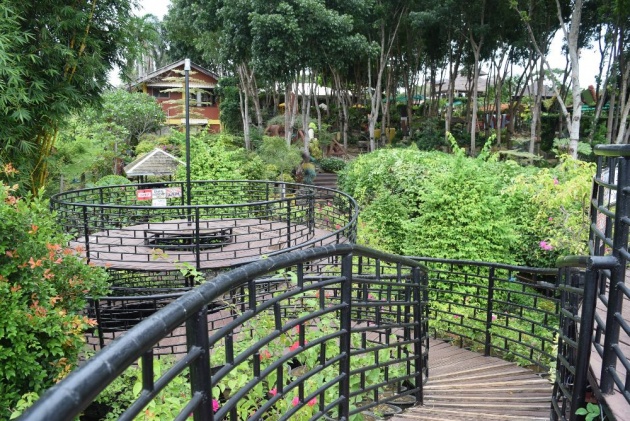 This spot above has a spiral staircase and when we went there on our first day, a lot of love birds were also present. However, there are signs that standbying here was not aloud. You can take photos and such but you are not aloud to stay here all day long since they have provided benches and tables in the playground area to stay and this was only for taking photos.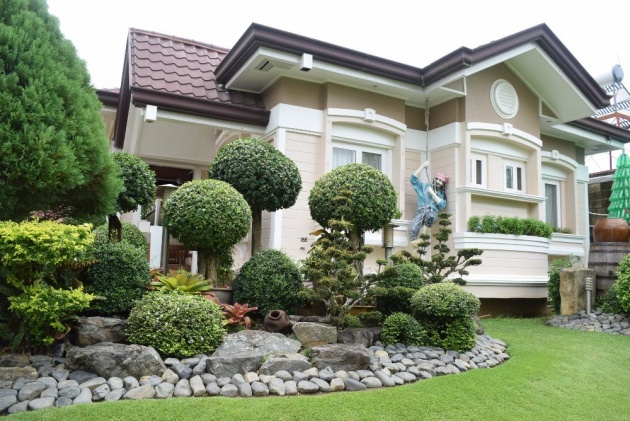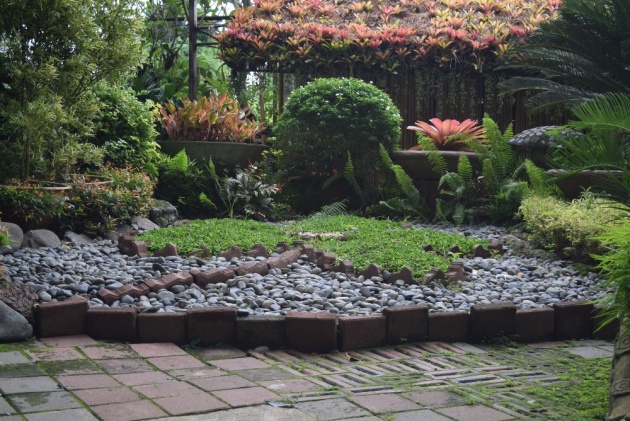 For anyone who is an enthusiast for gardening and landscaping, this place would be a great way for learning. The owner actually has a sister who does the landscaping and her name is mentioned in every corner of the Baker's Hill.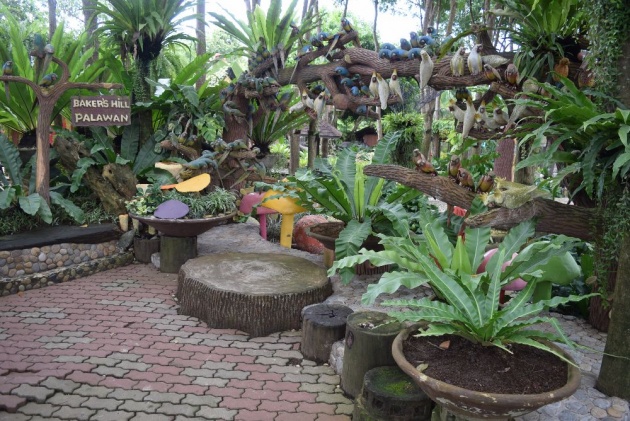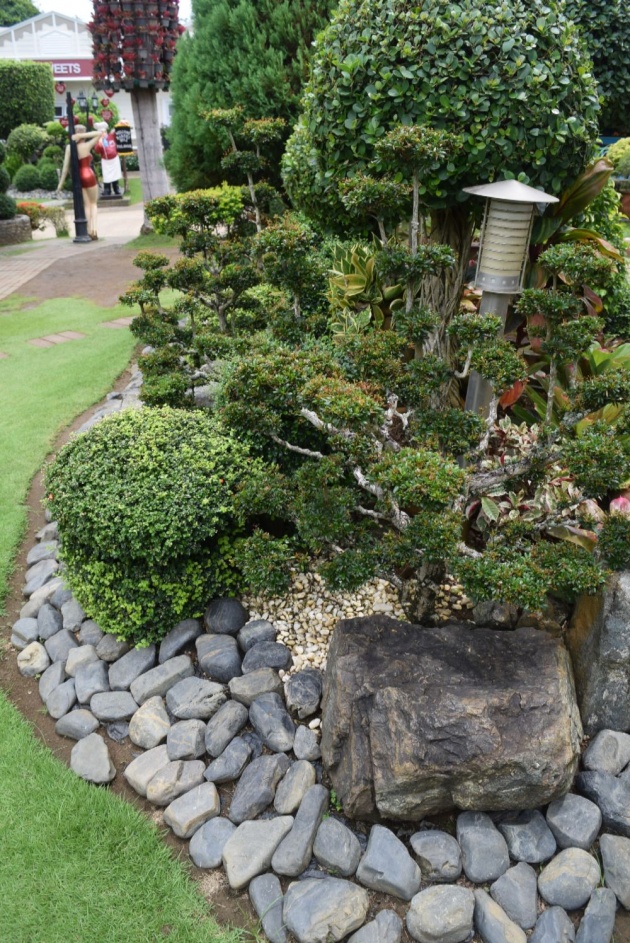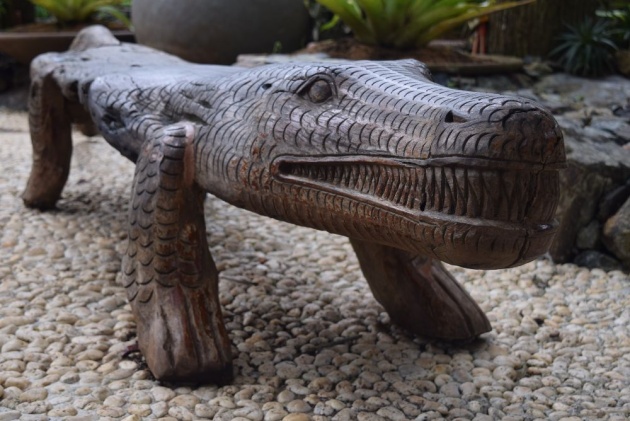 By around seven in the morning after getting a few sleep in Mitra house, we went straight to Bakers Hill again. This time we got better photos.
Since it was still morning, we bought some goodies for breakfast. We had coffee and a caramel cake from one of the bakeshops. Then we ate it at the mini park they had which has a clean as you go policy as well. That one was another great thing about the place, they placed disinfectant sprays and clean towels in each table so the visitors don't have any reasons not to clean up their tables after eating.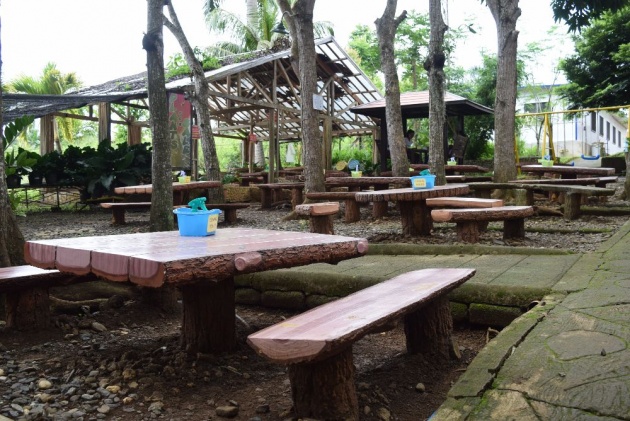 The we went on and took pictures of the whole entire compound. There are really a lot of interesting things to do here and everything is always something that you want to take a photo of. Down below are some photos I took using my cellular phone.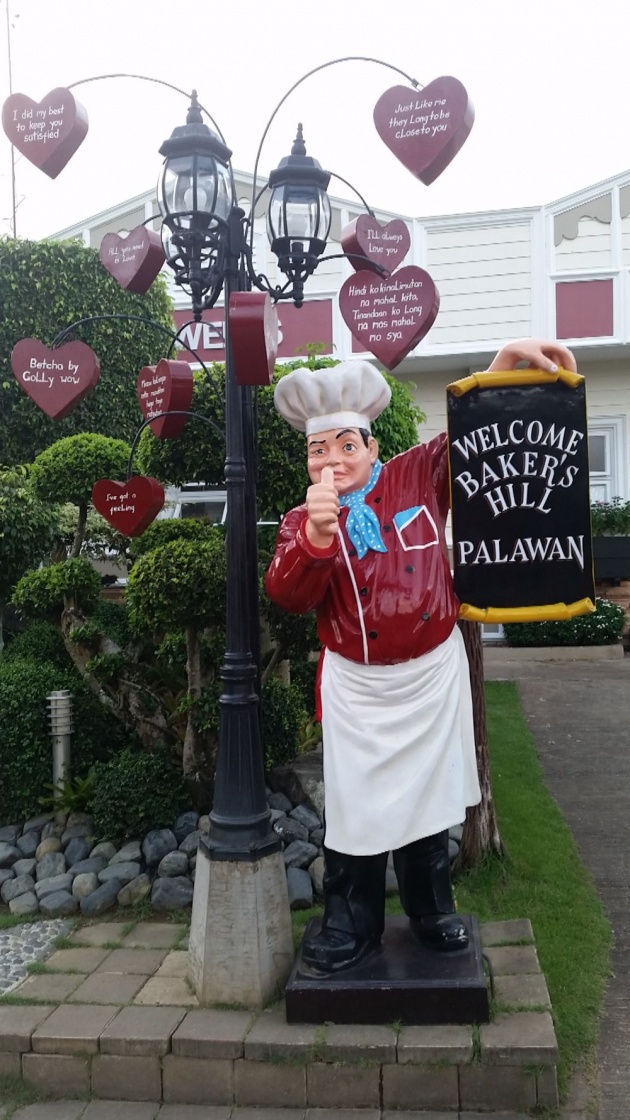 Each restaurant has this man standing outside welcoming every guests and visitor who had come either for a visit or for eating.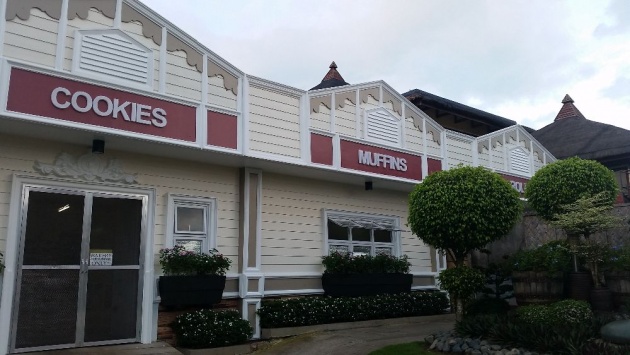 A bakeshop of cookies and muffins and other yummy stuff. Only the crew and staff can come inside here. The visitors can go in the front store where the cooked ones are displayed.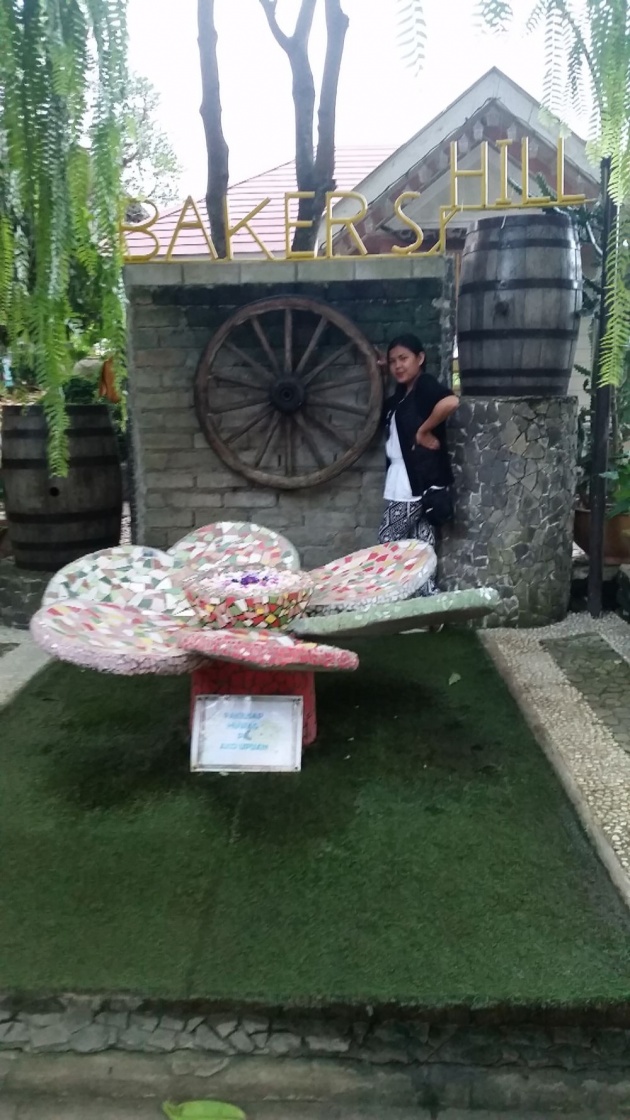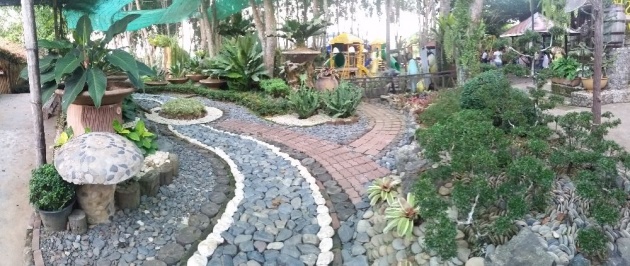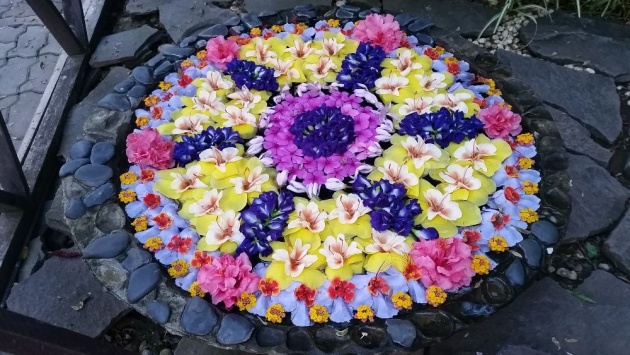 One of my favorite spots here are the flower pans. These are cemented water pans and the staff had created a mandala kind made of flowers which they had grown themselves in the vicinity. These flower pans can be seen in one pizzeria and also in the rest rooms.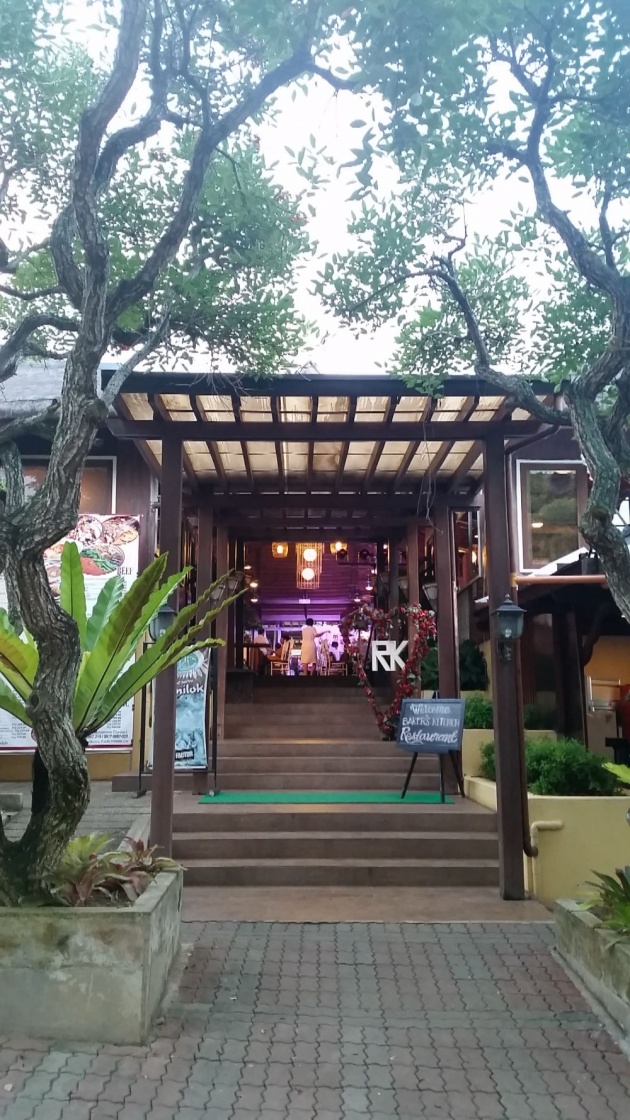 We were lucky to see a wedding reception going on in one of the restaurants inside. The initials of the newly wedded couple are R and K. One thing which really interested me is the beautiful trees in front of this restaurant. Made me feel like I was in Korea or Japan.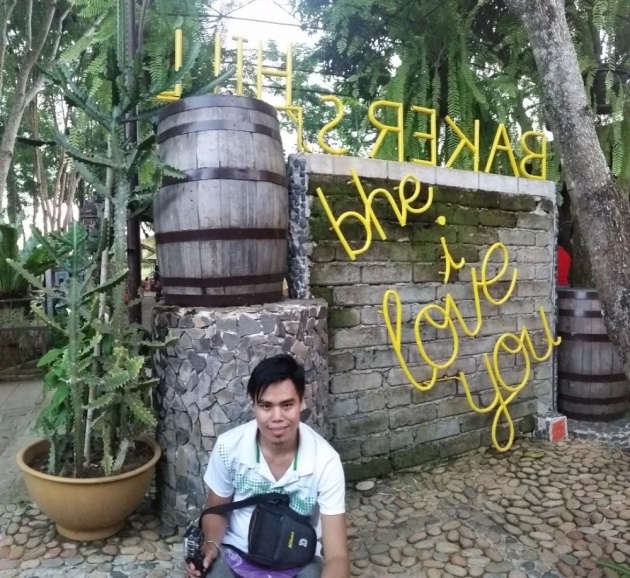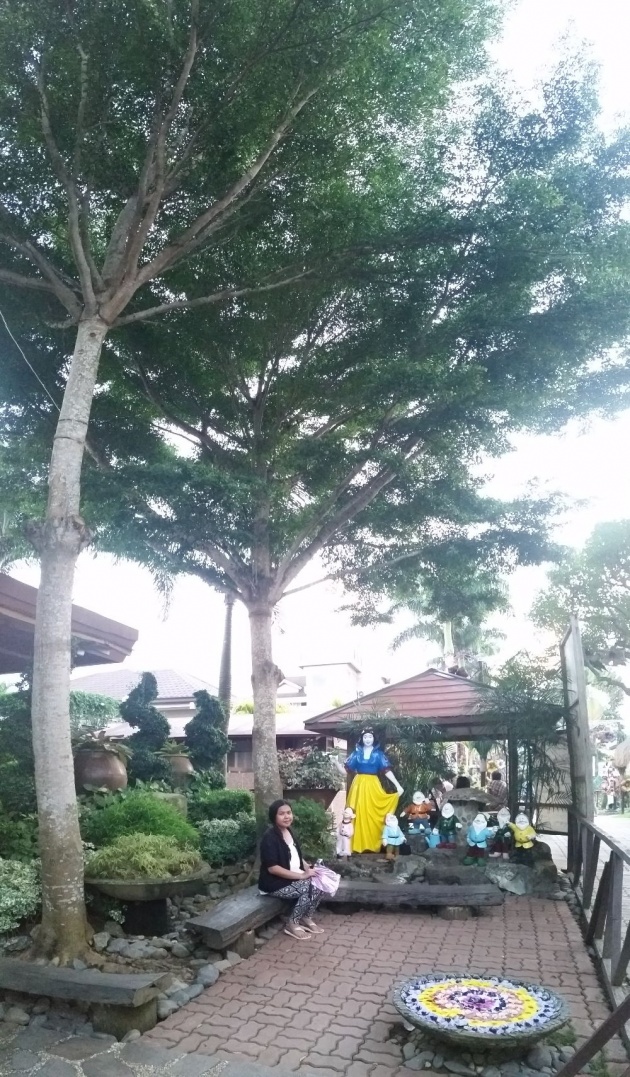 After hours of roaming around and trying to take every inch of the place, we realized it was almost noontime and our flight back to Cebu was at one in the afternoon so we had to move out as soon as possible and catch our flight. What made us stay longer was because of these peacocks which we found in the corner of the Baker's Hill park. The caretaker was giving them food at that time.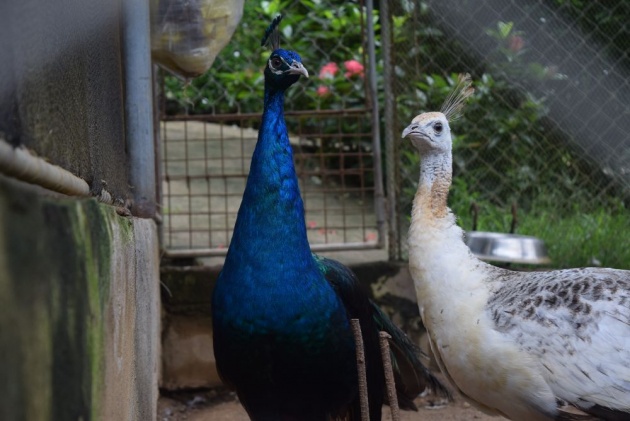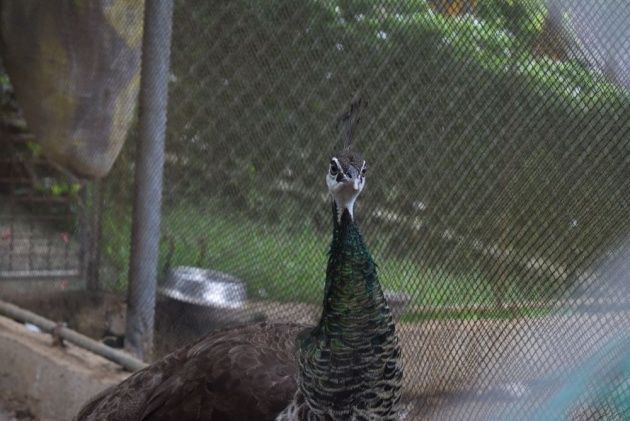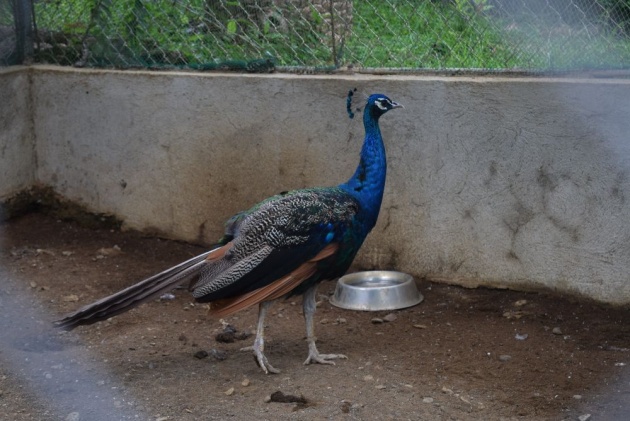 My husband and I both learned that the peacocks which have more beautiful colored feathers are the males and they normally spread it to attract the females. unfortunately, it was their molting season so they were not able to spread those feathers out that time. There were a lot of peacocks being taken cared of in the place and the caretaker had been taking care of them from the very first time that the owner brought peacocks. He has been in service for 12 years.
One more interesting thing is the talking bird. Here we were able to capture the bird speaking. He says "Anong Pangalan Mo" or in English, what is your name? Then he also asks "Ilang Taon Ka na?" or in English, How old are you? And there were lots more. He says it every now and then and he also changes his voice, sometimes he sounded like an adult man and sometimes a little boy.
So upon knowing that it was already almost 12 noon, we prepared to go to the airport.
Here are some of the other videos featuring Baker's Hill:
Check our adventures together:
Our other adventures: