This is second part of my list of best Serbian movies. In this part I will present you some of the best Serbian comedies. I personally love those movies very much, and I hope that you are going to like them.
If you like some of them, please let me know that in the comments below. Of course, if there is any Serbian comedy that you like, and that is not on my list, write something about that movie.
Enjoy, I hope you are going to like those!
Frozen Stiff
In Serbian "Mrtav Ladan". Movie is following adventures of two brothers Kiza and Lemi. Their grandfather is dead, and they need to transport him to Vrsac (small town in Northern Serbia), they do not have enough money, and they decide to act that grandfather is alive, and to travel by the train. They get on the train, and that is when and where their troubles will start. In the same train, at the same time drug dealer, Limeni is with child that is not his. He is afraid of police, so he takes a package of drug, and puts it in grandfather's pocket, while Lemi and Kiza are drinking in wagon restaurant. Train stops, and one big, heavy suitcase fall on grandfather's head. Everyone in roomette has some own reasons to avoid police, so they decide to throw grandfather trough the window.
Many people will be connected to grandfather, and most of them will think that they killed him.
Last scene of this movie is funeral. So, we can say that it has happy end.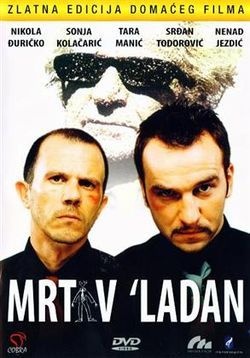 Credits: Wikipedia
Casts:
Nenad Jezdic as Lemi
Srdjan Zika Todorovic as Kiza
Mihajlo Bata Paskaljevic as Grandfather
Nikola Djuricko as Limeni
Sonja Kolarcic as Maja
Tara Manic as Ana
Velimir Bata Zivojinovic as Stanislav
Milorad Mandic Manda as Radovan
Slobodan Boda Ninkovic as Mica
Nikola Pejakovic as Kole
We are not Angles (1,2 and 3)
This comedy has three parts. First two parts are following Nikola, playboy from Belgrade. And third part is following life of young and talented Dorian who wants to become a rock star, and is ready to do anything for that.
Let's star with the first part.
First part was filmed in 1992. It is showing us life of a very popular young man in Belgrade. He can be with any woman he likes. And during the movie, not very popular girl, Marina, falls in love with him. One night they ended up in bed, and two months after that Marina tells her best friend Ljubinka that she is pregnant. Nikola is not paying attention to Marina, and Ljubinka is going to do everything to change that. So, during the movie you will see adventures of those girls. At the end of the movie Marina is giving a birth to a baby girl Sofia, and Nikola finally realizes what he got.
Next part of this movie is filmed in 2005. It is sequel of the "We are not Angels". Characters are same as those in the first part of this movie. Nikola and Marina are divorced, and their daughter Sofia is now 15 years old. This movie is a remake of American movie "She's Out of Control". In this movie we can see how Nikola's life has changed. Instead of thinking only about pretty women, now he is thinking of his daughter, and how to protect her. In his opinion every boy could be like him, while he was young. And he does not want that for his princess Sofia.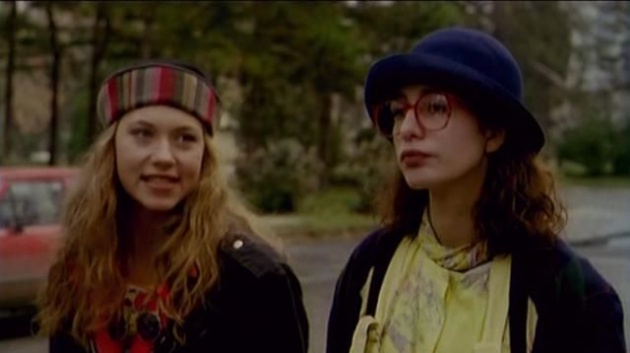 Credits: Pinterest
Casts:
Nikola Kojo as Nikola
Milena Pavlovic as Marina
Branka Katic as Ljubinka (she appears only in first part)
Zoran Cvijanovic as Djura
Vesna Trivalic as Violeta
Uros Djuric as Angel
Srdjan Zika Todorovic as Devil
I wrote you casts for first two sequels from this movie serial because third part is following lives of some other people. This part was filmed in 2006. This part is also called "Rock and Roll hits back"
During the 70s in Yugoslavia rock and roll was really very popular. Everyone wanted to become a 'Rock Star', so at the beginning of the movie we can see young man Borko Pavic Dorian, who is selling his soul to Devil. The agreement is that he give his soul to Devil, and Devil will make a real star out of him. At first he was very happy and very popular.
But, unfortunately, in Serbia during 2000s situation was much different than in Yugoslavia during 1970s. After Yugoslavia has fallen apart, and Serbia became independent country, everything changed. So, people were not listening to rock and roll anymore.
Instead of rock, they love folk, and Dorian had to change his music. Dorian became folk musician. Many people were disappointed, specially his biggest fan young man Marko. He really loved Doiran while he was a rock star, but now..,
Marko also has a wish, he would do anything to get a new guitar, and Devil is really do help.
At one moments those two men are going to 'exchange' their lives.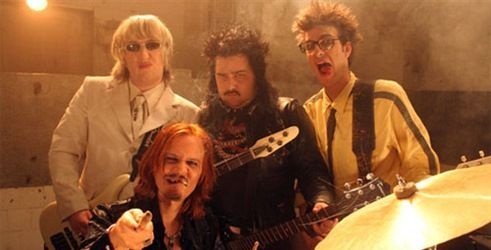 Credits: Moj TV
Casts:
Nikola Pejakovic as Dorian
Zlatko Rakonjas as Marko
Nada Macankovic as Sara
Zoran Cvijanovic as Momcilo
Vesna Trivalic as Viki
Milorad Mandic Manda as Rahim
Seka Aleksic as Smokvica
Uros Djuric as Angel
Srdjan Zika Todorovic as Devil
In all three sequels we can actually see Angel and Devil playing a game. At the beginning of the movie they 'bet'. And during the whole movie we see them trying to 'help' to characters to be god, or to be bad. As you can guess, Angel always win.
Balkan Spy
This is one very old movie, it was filmed in 1984. Main character of this movie is Ilija Cvorovic, former Stalinist, who spent a couple years in prison on island called Goli Otok. (During one period president of Yugoslavia, Josip Broz Tito, and president of Soviet Union Joseph Stalin, were on very bad terms. During that period loving and supporting Stalin, was a crime). Ilija was contacted by the police, they wanted to know something about his sub-tenant, Petar. That is something what was normal procedure in Yugoslavia during the 80s, but Cvorovic got that too serious. And that is how problems of his sub-tenant started. Ilija and his brother Djura were ready to do everything to make the poor man confess that he is actually a spy.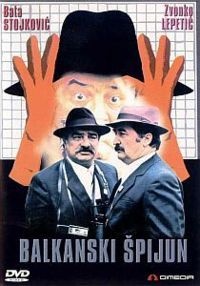 Credits:Wikipedia
Cast:
Danilo Bata Stojkovic as Ilija Cvorovic
Bora Todorovic as Petar Markov Jakovljevic
Mira Banjac as Danica Cvorovic
Sonja Savic as Sonja Cvorovic
Zvonko Lepetic as Djura Cvorovic
Milan Srljic as inspector Drazic
Velimir Bata Zivojinovic as pancake seller
Branka Petric as journalist
That was everything for this part of my blog serial "Best Serbian Movies".
I have chosen those three movies, actually two movies and one movie serial, to share with you, because they are not connected to Serbian culture of Serbian history. You can watch those movies even if you do not know anything about Serbia. In some of next parts of this blog serial, I will write something about movies that are showing Serbian history and Serbian culture. I hope that you liked this blog, and I hope that you like those movies. If there is any Serbian movie that you personally like, share that with us in the comments, please.
Thank you very much for reading this.
Love you all!