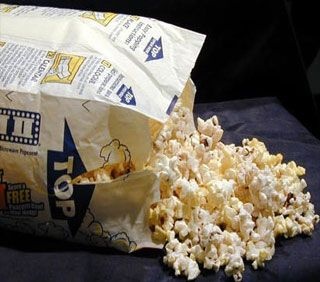 I know a lot of us in here love watching movies or just TV and we also like to do that with popcorn, but what if that product we buy to have a nice moment with our family or friends causes cancer?
Well, recently has hit in the news that there is a chemical in the nonstick coating on the inside of the popcorn bags that decomposes in the microwave and produces a compound called perfluorooctanoic acid, which has been associated with a high risk of some type of cancers, such as liver and prostate cancer.
But besides cancer, it might affect your lungs too, there's also a chemical called diacetyl, that is used to give flavor and causes bronchiolitis obliterans, which is a condition that makes breathing difficult.
Though you might choose to use free-kernel corn in an microwave popping device to avoid cancer, diacetyl will still be present and also the risk of lung disease.
Will you be eating as much popcorn as usual, less or zero from now on?


Follow Maumau Web TV on facebook and twitter!