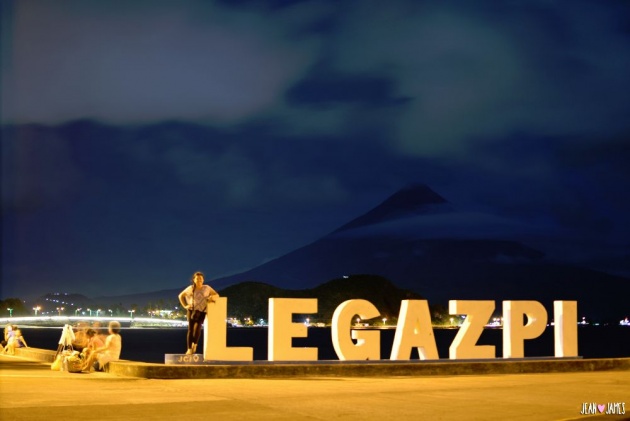 A pretty summary of how my husband and I spent our early 8th Anniversary Travel Special. This blog entry will give you a glimpse of each of the things that we had done in Bicol, in Legazpi and wheresoever place our happy feet brought us. I hope that I will be able to show you how beautiful Bicol is, how peaceful the province at least that's how we both perceived it and how awesome the people that we had so far engaged with during our three days, two nights stay.
Let me get to the main point now. Let me tell you the story of how we traveled to Bicol.
Phase I. The Arrival to Legazpi City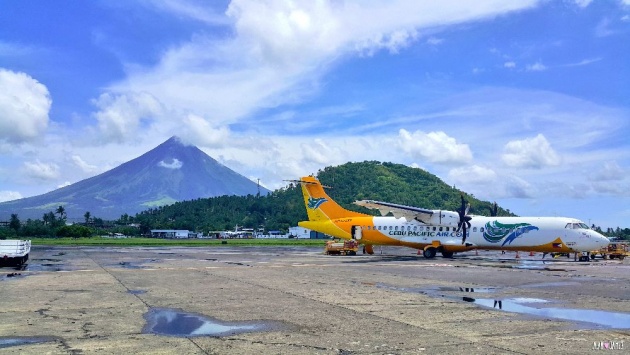 Hubby bought me a new GoPro 4 Silver Edition just three days before we are set to Legazpi City which I had definitely appreciated. We had SJCam before which is a cheaper version of GoPro but we just can't get good quality images and videos plus the mobile application is just very slow that we couldn't control the camera. So with my new GoPro, I am now able to capture our travel story through the clips that we both are taking.
At around seven in the morning on June 18, 2016 we hired a cab which took us to Mactan International Airport so we won't be late for our nine forty five flight to Legazpi. We are aware with the traffic happening in Mandaue and Lapu-lapu City area and we don't want to be late or worse to miss our flight just because of the traffic. So as better as two hours before the flight, we must leave home. Gladly, we arrived safe and way way earlier than our flight.
It took only forty five minutes for the plane to reach Legazpi. It was a small plane with less than a hundred heads capacity. It's take off was a bit scary but we both managed to stay calm while sitting at the emergency exit area. I got a bit concerned when the cabin crew asked me this:



"In cases of emergency, would you be able to assist us with the emergency procedure?"



I was in awe and my jaws drop literally, but my husband was quick enough to answer and the lady cabin crew smiled at me. I was left wondering what or how I would look like when there's emergency happening and I am there sitting in the emergency exit area. Well, I have to brush it off since it was very sunny in Cebu at that time. I assured myself that no harm will happen to us.
Everything that I had been thinking of while inside the plane disappeared at the view of the majestic Mount Mayon! It's super huge that I feel really really small down there at the airport ramp! I wish to take more pictures but the ground crews were already signing us to go move to the arrival area. We have to follow rules.
Phase II. Map
As DIY travelers, I realized that whenever we go to different towns and cities, we should have a map of the said city ourselves. This will not just help us with finding the next destination, it will also serve as our souvenir of that specific location.
Oh I also forgot to add that with the Map on hand, this will be a start for me to learn more about geography and how to be able to figure out and imagine locations with my own mind. I can definitely be able to memorize what the map shows.
Upon arrival at the airport, hubby and I went to the Tourism Office just right in front of the airport. The Tourism personnel was very accommodating and provided us two maps, one a bit older and a much more older map since they ran out of the new maps. It was really helpful.
Phase III. First Meal at Legazpi City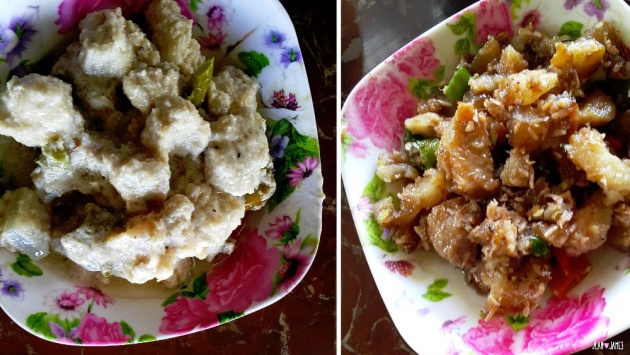 As budgetarians, we have to fit our budget in with our trip so we took a tricycle and not a cab to find the nearest restaurant so we can have lunch. Our driver can't think of anything else and he also don't know where's Chamaine's Restaurant, he brought us to the nearest "Turo-turo" Carenderia which we were definitely delighted. We aim to be more of like the locals instead of being backpackers rather than tourists.
The first meal was a delight. We had just tried their local version of Bicol Express and the Ginataang Kalabasa (Squash cooked in Coconut Milk). We had stayed for a few minutes there checking on the map and confirming our itineraries on which area is it and how far it is from the airport or at least from our hostel.
Phase IV. Finding Mayon Backpackers' Hostel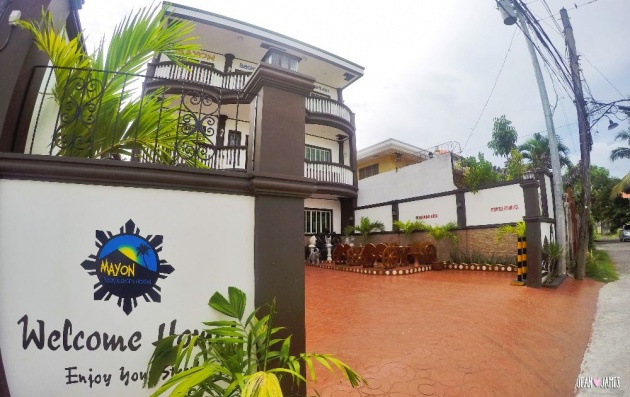 Thank God we had LTE connection while staying in Legazpi. Globe's connection is good at the city and my husband was able to finally locate where the Mayon Backpacker's Hostel through GPS because the second tricycle driver don't know where it is located.
From the Carenderia where we had our lunch, the tricycle driver took us to a very calm and relaxed village. It is a bit far from the main highway, we need to walk a good five to ten minutes from the main highway to reach it. Goodness! But that is alright considering we have a huge discount on the hotel fees.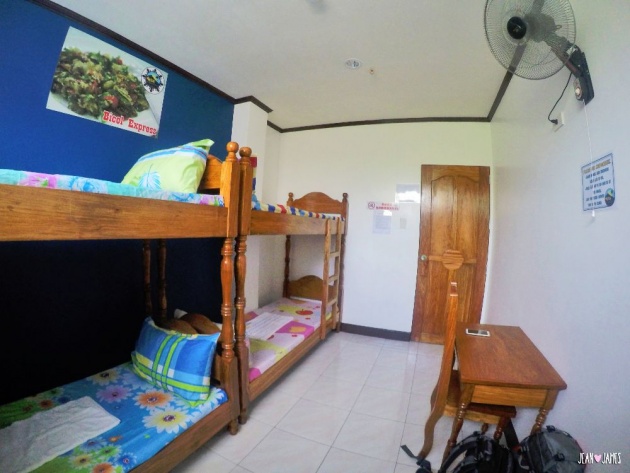 For only Php 250 per person, we got to enjoy a room with its own shower, a fan, four beds as the room can fit four people but we were only two that time, it was open for others but gladly, we owned it for the two days stay. It has its own lockers with keys, table and a chair, two power outlets, good enough for our devices and most importantly, the room is well lighted. But the downside, it was a bit warm and smelly. On our second day, I requested that we would transfer to an air conditioned room but all rooms were taken. The second night was a bit cooler so we were okay. I love the shower by the way.
There are computer units for free use, good internet connection but some rooms won't be able to get the signal but if you stay at the lobby, it has perfect connection. Since our room was just two rooms away from the lobby, we got good connection from our room which was a plus point!
Oh they also offer free pan de sal and bananas for breakfast. There's a coffee vending machine and for five pesos, I got my brown coffee while hubby had his hot choco. The kitchen is open for use, anyone can cook as long as they have their own ingredients. There's a fridge and its also available for use for everyone, make sure to mark your stuffs with your name and room.
Got more information on the hostel from this blog post below:
Phase V. Lignon Hills
Roughly after checking in the hostel and got ourselves and our things ready, hubby and I headed out of the hostel to find and conquer the Lignon Hill. At that time, it was already a bit gloomy, totally different from the weather when we reached the airport, just two hours ago. But we were not feeling anything bad about it. We still hoped Mount Mayon would be cool enough to show us her beauty.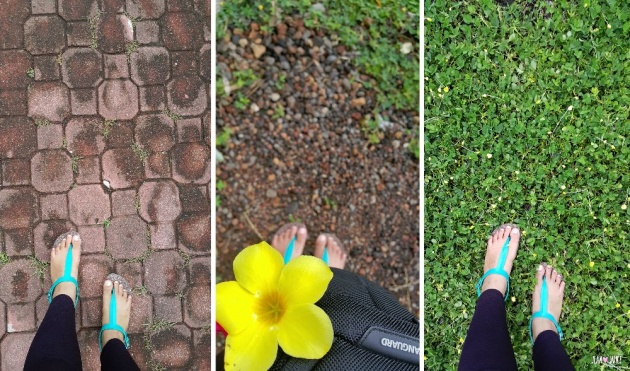 Footporn at the different grounds of Lignon Hill.
Our common activity - asked locals on where to go and which jeepney will take us to the hill. The locals were very approachable, referred us to take the jeepney which has a Loop 2 signage on it.
It didn't take us a long time and we hopped into the jeepney and asked the driver to drop us there. It was only a ten or fifteen minute right and we reached a base of a hill, a tennis court at the left and a government office which doesn't seem to have anyone in there. It was totally quite and if there was no imprint that this is indeed the Lignon Hill, we almost did not believe it is a tourist spot.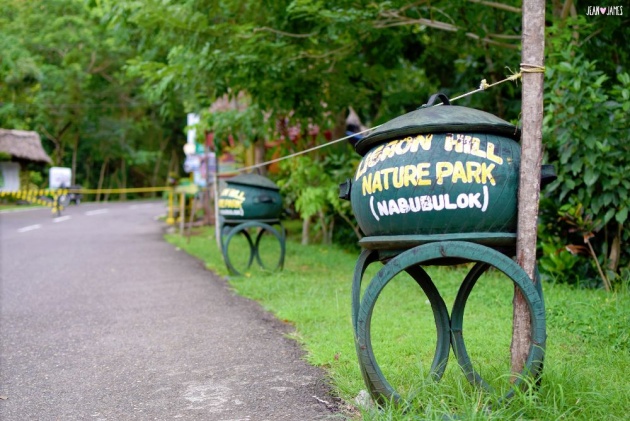 Resourcefulness at its highest level as old tires are used as trash bins!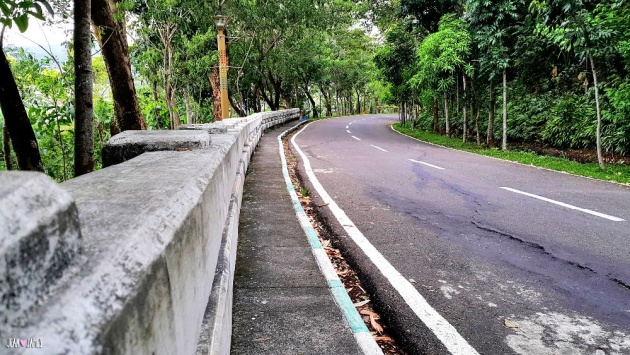 The empty roads going down from Lignon Hill.
Anyway, we had a blast at Lignon Hill as we literally walked up and down the hill. I felt like I had lost a few pounds since we hiked the entire trip! My legs were already trembling on our way down. More information about our hike at Lignon Hill from this blog entry below:
Phase VI. Dinner at MJM Resto Bar
Can't continue moving around Legazpi without eating so when we were done walking to and from Lignon Hill, we know immediately that we should be dining at something good and we found ourselves in a tricycle going to Legazpi's Embarcadero. We were suppose to stop by but then because we were very hungry, we ended up to the Boulevard where there were lots of restaurants along the way.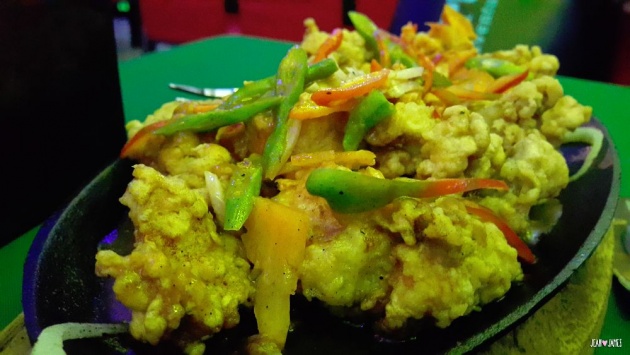 That's the buttered chicken!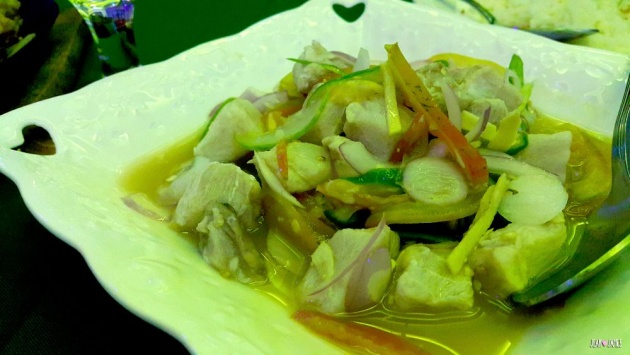 And here's the Kinilaw! Yum yum!
We found ourselves at the second floor of MJM Resto Bar and ordered their Buttered Chicken and the Kinilaw na Tilapia!
The best part of this resto bar is that it is a bit high compared to the other restaurants around the area so the entire boulevard was actually visible. We even made some time lapse of the Mount Mayon view from the left side of the terrace. While we also see the Legazpi imprint at the right side which of course we also visited.
Hope you had a great time. Check the second part here:
xoxo,