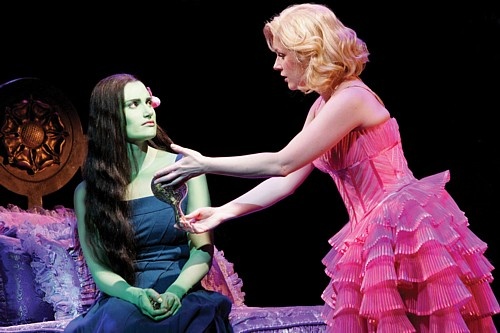 I love "Wicked" the musical, so I was very happy to hear that it's finally getting its own big screen treatment! Composer Stephen Schwartz told Vulture that it is definitely happening, and then we can defy gravity together! Still, the trek from the Great White Way to the silver screen is long and arduous so we may have to wait for a while!
Schwartz revealed that the pre-production process is well, long and arduous. Here's what he said to Vulture: "I don't know exactly how many years away it is...what are we going to change?" Schwartz pondered, "What are we going to keep? How do you use a whole new language and medium to tell the story? [We can] really look at it again and say, 'Oh, we can do this, and we've always wanted to do that and we couldn't onstage, but we can in a movie.' We're actually having a blast."
At least they're having a blast!
Another Tony-winning musical that will be adapted for the big screen is "Spring Awakening" from composer Dunkan Sheik! And this is on a faster track! Sheik told the San Diego Union-Tribune that he and lyricist Steven Sater want to make the movie this year with McG (oh no!) as the director with Tom Hanks' production company, Playtone, producing.
Sheik and Sater even wrote a new song for the movie all for the sake of an Academy Award nomination. But at least they're honest!
No word yet if original "Wicked" cast members, Idina Menzel (or is it Adele Dazeem?) and Kristin Chenoweth, or Jonathan Groff and Lea Michelle (from "Spring Awakening") will reprise their respective roles.