As his name define "A gate to money" "A gate to success"
"A gate to next generation"
Have you ever read the history? It is divided into parts which are defined by the important incidents of the world. The invention of computer is most important and popular incident of today's history. When you think about computer you also think about Windows and Microsoft. You can easily divide the world before computer, Windows and Microsoft and after coming of these.
All things possible because of one name Bill Gates. Bill Gates is a technologist, American business magnate, business leader and philanthropist and computer programmer.
INTRODUCTION: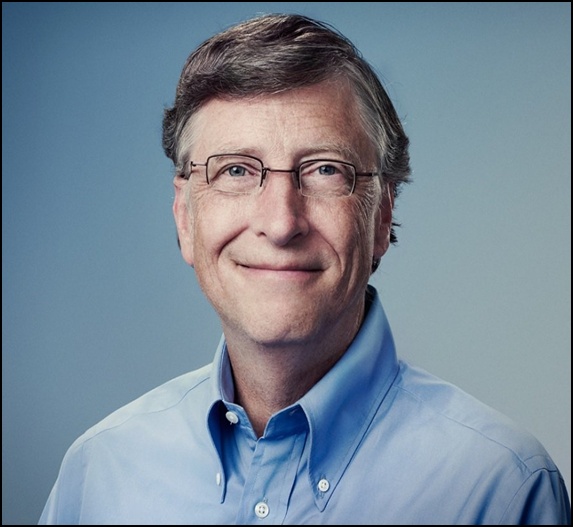 Full Name: William Henry Bill Gates III
Date of Birth: October 28, 1955(Age-60), Seattle, Washington, U.S.
Residence: Medina, Washington, U.S.
Nationality: American
Occupation: Technology Advisor of Microsoft, Co-Chair of the Bill and Melinda Gates Foundation
,CEO of Cascade Investment, Chair of Corbis
Year Active: 1975-present
Net Worth: US $ 77.2 Billion (February 2016)
Board member Of: Microsoft, Berkshire Hathaway
Spouse(s): Melinda Gates (m.1994)
Children: Three (Jennifer Katharine, Phoebe Adele, Rory John)
Parent(s): William H. Gates Sr., Mary Maxwell Gates.
Website: The gates notes
WORLD's WEALTHIEST PERSON:
He is the richest person of the world at this time. First his name was included in the Forbes list of wealthiest persons of the world in 1987. He was the wealthiest from 1995 to 2007. And again he became number one in 2009.Currently he is the wealthiest person in the world by having assets of $ 77.2.
HIS POPULAR SAYINGS:
"If you born poor it is not your mistake, but if you die poor it is your mistake"
"I can understand wanting to have a million dollars….but once you get beyond that, I have to tell you, it is the same hamburger"
EARLY LIFE:
William Henry "Bill" Gates III born at October 28, 1955 in Seattle, Washington in a well-known family. His family had rich business, political and community service background. His great grandfather was a State legislator and a mayor. His grandfather was a vice president at national Bank and his father was a lawyer. He has two sisters. He was the fourth of his name in his family but he was called three because his father's name suffix was II.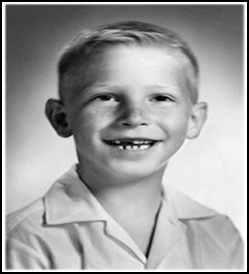 He entered in school at the age of 13.He completed his graduation from Lakeside school in 1967. He was a national merit scholar there. He scored 1590 out of 1600.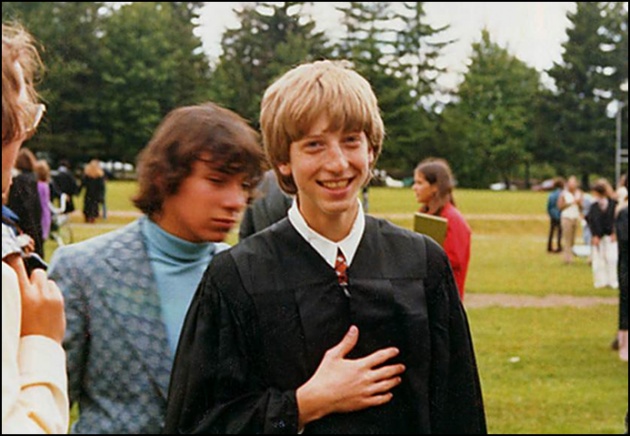 Then in 1973 he entered to Harvard University but after one year he dropped out from it. Where he met Steve Ballmer, who would later succeed Gates as a CEO of Microsoft.
BEFORE MICROSOFT:
In 1968 he started programming with his close friend Paul Allen. They formed a new company of their own, Traf-O-Data. They developed a small computer to measure traffic flow. Gates and Allen want to start their new computer software company.Gates dropped out of Harvard at this time. He had talked this decision over with his parents, who sported him after seeing how much Gates wanted to start a company.
MICROSOFT:
"A computer on every desktop and in every home" was the vision of Bill Gates in 1975 when he started Micro-Soft with Paul Allen in Albuquerque, NM.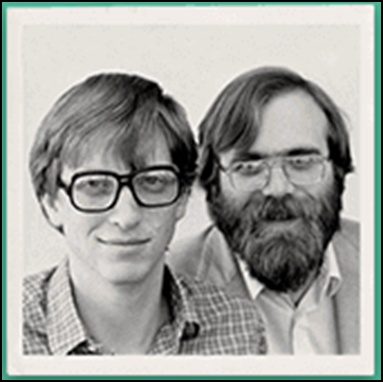 In 1976 they changed their company name to Microsoft.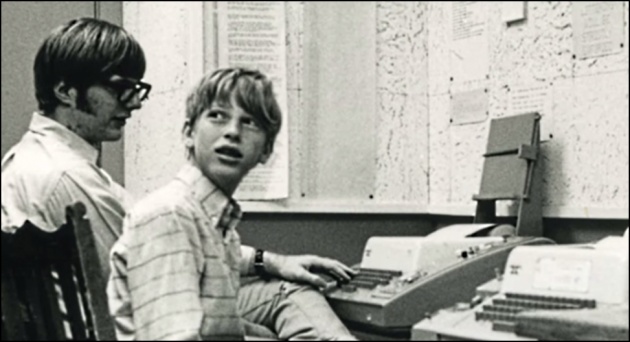 Then he started Microsoft which became the world's largest PC software company. In 1979 Microsoft moved to Washington.

During his career at Microsoft, Gates was the chairman, CEO and chief software architect of the company and was the largest individual shareholder until May 2014.
WINDOWS: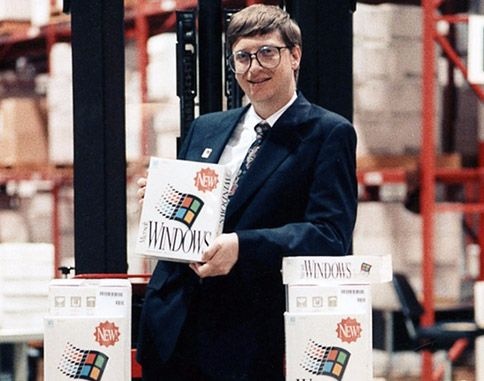 1982–1985: Introducing Windows 1.0:-
20 November, 1985 Microsoft introduced their first Windows OS in the history of computers. It was the basic feature Windows.
1987–1990: Windows 2.0:-
9 December, 1987 Microsoft launch the next version of their windows called windows 2.0. It has bit more features than 1.0.
1990–1994: Windows 3.0-Windows NT:-
22 may, 1990 Microsoft launch windows 3.0.After two year it changed into windows 3.1. It is the featured Windows compare to old versions.
When Windows NT is released it was the major breakthrough for Microsoft.It was the project of Microsoft which began late in 1980's to make a advanced operating system from scratch.
Bill Gates says at its release. "Windows NT represents nothing less than a fundamental change in the way that companies can address their business computing requirements,"
1995–1998: Windows 95:-
24 August, 1995, Microsoft releases Windows 95, selling a record-setting 7 million copies in the first five weeks. It change the history of Microsoft Windows.
1998–2000: Windows 98, Windows 2000, Windows Me:-
Windows 98 released on 25 June 1998. Windows 98 is the first version of windows that specially designed for Consumers. It is the first windows that common for home PCs, internet cafes and much more.
Later on it becomes windows me that is basically designed for home PCs. Me offers videos, music, home networking enhancements.
In 2000 Microsoft introduced windows 2000 Professional which is upgrade version of windows NT,95 and 98 combined.It is basically upgrade version of windows NT. Windows 2000 Professional is designed for business desktops and desktops.
2001–2005: Windows XP:-
On October 25, 2001 Microsoft launch their Windows Xp It is the most famous windows by Microsoft. It is famous in the worldwide and use for many years in every country.
2006–2014: Windows Vista-Windows 7-Windows 8-Windows 8.1:-
Windows vista,7,8,8.1 are released in 2006,2009,2012,2014 respectively from Microsoft.These Windows are most advanced versions of Microsoft Windows. And become more advanced year after year. These Windows are most commonly used in many countries.
2015: Windows 10:-
The most powerful Windows of Microsoft Introduced last year 2015. It is a multi Desktop Windows.It is the most famous Windows in these days. Microsoft hopes to see Windows 10 on 1 billion PCs.
MARRIAGE:
In 1994 he married with Melinda Gates.They have three children. Jennifer Katharine (born 1996), Phoebe Adele (born 2002) and a son Rory John (born 1999). The family lived in the Gateses'home, an earth-sheltered house in the side of a hill overlooking Lake Washington.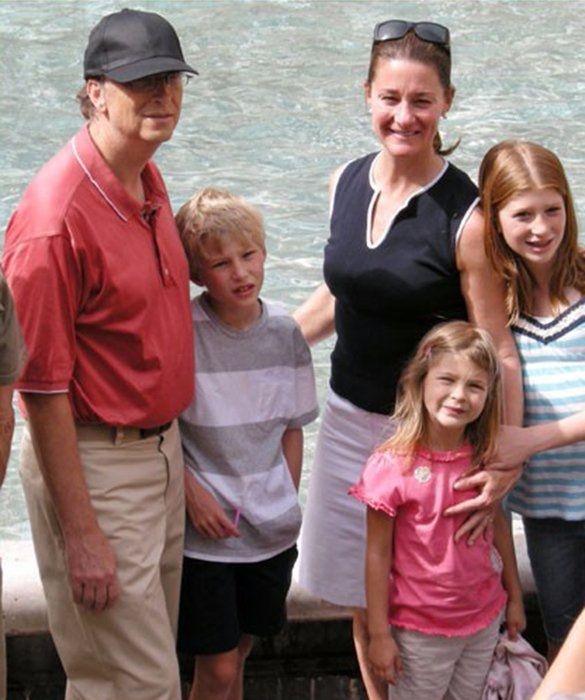 Bill and Melinda Gates Foundation:
In 1994 Bill sold some of his Microsoft stock to create the "William H. Gates Foundation." In 2000, Gates and his wife combined three family foundations to create the charitable "Bill & Melinda Gates Foundation," which was identified by the Funds for NGOs Company in 2013. It is the world's wealthiest charitable foundation. It has assets valued at more than $34.6 billion. The Foundation allows benefactors to access information that shows how its money is being spent. The foundation is organized into four program areas: Global Development Division, Global Health Division, United States Division, and Global Policy & Advocacy Division. These days he and his wife Melinda spend most of their time for this foundation. They and their partners are busy in helping people around the world in living healthier and productive lives.
"In the next 15 years we halve childhood deaths. That's doable.
Bill is a person with vision and he worked very hard throughout his life. He believes in hard work and intelligence. No doubt he is a great and powerful man. And he is also a very kind hearted person.
He said "As we look ahead into the next century, leaders will be those who empower others"
Life Story of Bill Gates - Documentary
Exclusive Interview with Microsoft Boss Bill Gates - Must watch this!!