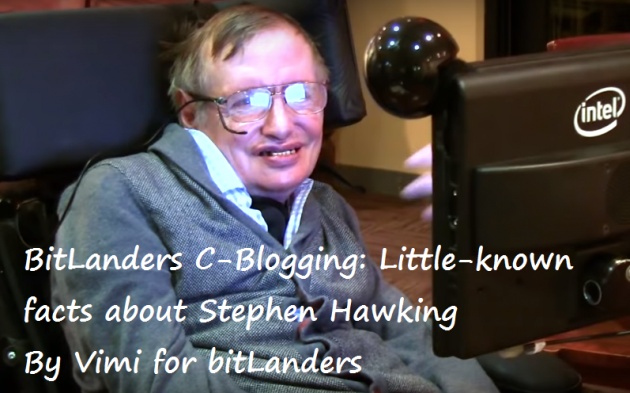 Image credit: Screenshot of Imperial College London via YouTube, changed by Vimi
"BitLanders C-Blogging: Little-known facts about Stephen Hawking" is my new C-Blog created in the framework of a unique project offered by bitLanders. The project is entitled the "BitLanders C-Blogging."
C-Blogs are "the future of blogging," they are a useful tool for shortening the distance between readers and writers. BitLanders collaborates with Querlo to create the best content.
My latest C-Blogs are "BitLanders C-Blogging: Curious facts about Bill Gates," "BitLanders C-Blogging: Interesting facts about Steve Jobs," and "BitLanders C-Blogging: What you should know about Chatbot Assistant."
This C-Blog shares a number of facts I have researched about a famous theoretical physicist, writer, great motivator who popularized complex science. His name was Stephen Hawking, and he was known for his work in the field of black holes.
The disease had influenced his ability to control his body, but Hawking achieved great success in science, which makes him exceptional. He was an excellent example of how powerful a mind and spirit a person can possess.
Stephen Hawking was a professor at the University of Cambridge. This position was really prestigious, as only 19 scientists in the entire history (since 1663) were honored with this privilege.
He got countless awards and rewards. Nobody can challenge Hawking's uncommon scientific enthusiasm, overcoming the limitations of the sick body, and the ability to draw the attention of the general public to complex scientific issues.
On March 14, 2018, Stephen Hawking passed away, he was 76 years old. His life was as extraordinary as it was difficult.
I am offering to my readers to learn more about this remarkable scientist. Feel free to join the chat below and reply to my replicas with the given variants, please.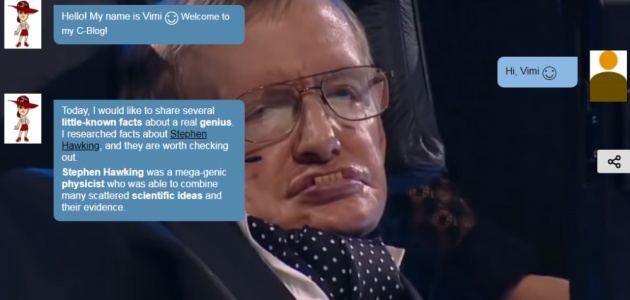 Image credit: Screenshot of Querlo chat
To create your own chat, visit Querlo.com. You can use the chat for participating in the "bitLanders C-Blogging" or for your own online business and other needs. For guidelines, check out Micky-the-Slanted-Salerno's recent posts.
Thanks for reading!