Hello friends
As I was a little busy and due to lack of time I was not able to complete my blog which was about FAQ of bitlanders. So I decided to complete it first.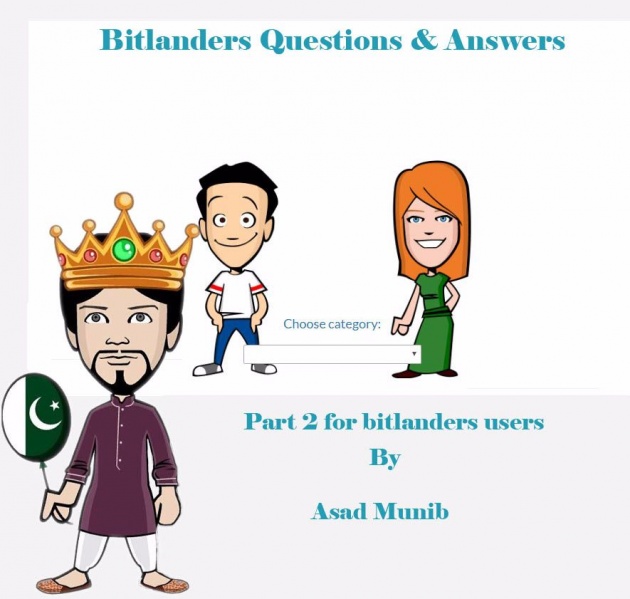 Image Credits: Bitlanders screen shot (edited by me)
As we know that like any other social organization or firm, bitlanders has also made some useful FAQ, which is explaining the commonly asked questions and answers about this site.
I read them carefully but I think new users are not well familiar with them, so I tried in my first blog to explain them. My first blog about FAQ, link is here for those who are still not familiar with it;
http://www.bitlanders.com/blogs/bitlanders-guide-faq-part-1/5579370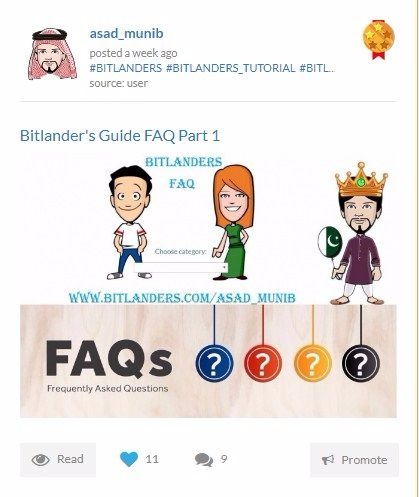 Image Credits: Screen shot taken via Bitlanders
So guys, let's move forward and now I will explain remaining frequently asked questions. Although bitlanders has explained them thoroughly, I think it should be explained a bit more here.
Video credits: Youtube via ali nipali channel
The content which is submitted or uploaded on bitlanders is in the specific format so it is necessary to explain them for new and existing users.
Movies or Videos on bitlanders:

Image Credits: www.offerpop.com
Which movie format is supported on bitlanders?
Answers:
Bitlanders support various types of format which are uploaded n bitlanders. But I think mp4 is best for those who want to submit their videos on bitlanders. The mp4 format supports HD video quality display and it is also converted in the 3gp format which is very easy to upload for slow networks.
Following table is presented to you via Bitlanders FAQ which will explain more about uploaded video formats and their maximum size. You can get more help through it.
Please make sure that your file is optimized for streaming and your output field is set to progressive.
Resolution Bit Rate Codec Container Frame Rate File Size

640x480 (4:3) 1.0 MBps h.264 mp4/mov same as source 940mb Max

852 x 480 (16:9) 1.0 MBps h.264 mp4/mov same as source 940mb Max

1152 x 864 (4:3) 1.5 MBps h.264 mp4/mov same as source 940mb Max

1280 x 720 (16:9) 1.5 MBps h.264 mp4/mov same as source 940mb Max

This table is purely indicative, suitable bitrate greatly varies depending on video content.
Which is the maximum size of video uploaded on bitlanders?
Answer:
On the bitlanders website, you may upload maximum of 1.9 GB of a video file. Please note that video size more than this will be rejected. Tip: You may divide your video into several parts to upload them on bitlanders.
What is the maximum time of a video for going online?

Image Credits: www.textalibrarian.com
Answer:
On bitlanders sometimes it takes some days for a video to be online, but sometimes it goes online in some hours. The editorial team of bitlanders checks the video then a video is presented to visitors on bitlanders, because if a video is not of good quality or contains explicit content then it will be rejected before going online.
Where to find my uploaded videos?

image credits: bitlanders screen shot
Answer:
You can find and play your uploaded videos in several ways. You can find them in your profile's videos section. You can also find them by click on my videos icon in the top Gear icon.
How to embed videos in blogs?

Image Credits: Youtube.com
Answer:
You can add videos in blogs by several ways. You can add them from galleries or from YouTube. Just click on add video while writing a blog and select a video from your gallery. You can also add a video by getting embed code from YouTube.
How to do I write a blog?

Image Credits: http://crenshawcomm.com/
Answer:
In bitlanders we can earn only for writing blogs and articles, we have to write and submit blogs for review and after the successful review, we will be rewarded for our blogs and opinions. We can write a blog either in bitlanders or in any word processing software such as ms word or notepad. We can then paste our blog in bitlanders blog editor software for submitting it to bitlanders.

In the blog, we have to choose a good format. We can add up to 10 pictures and 2 videos of your choice. We can get pictures from any website but we have to give credit to the original owner, then we can add videos from bitlanders video gallery or from YouTube. In the blog, you have to add 10 tags for your blog which will represent your blog.
I have some blog sites on the web; can I post them to bitlanders?

Image Credits: www.emeraldmarketing.biz
Answer:
No way! Posting duplicated content will result in zero scores and it may suspend your account. Blogs on bitlanders must be original and not from the web. You have to upload them first on bitlanders.
How do I edit a blog?

Image Credits: http://4.bp.blogspot.com
Answer:
A blog can only be edited when it is offline. If a blog is submitted for review then it cannot be edited. If you are working and saving your blog offline then it may be edited again later.
How to create a photo album?

Image credits: Youtube.com
Answer:
A photo album on bitlanders is also known as the gallery. You can create your own album on bitlanders and then submit it for review.

Click on the + icon in the top right corner of your bitlanders page.

Then choose "add photo gallery" button.

You can add up to 50 pictures in your gallery of your choice but remember that for submitting gallery your pictures must be original and authentic. Your pictures must be of good resolution. Add good quality pictures and choose 10 tags for your gallery. Give a good title to your gallery and submit it for review.

Write a good description for your photo gallery and click on publish to make your album online.
How to flag inappropriate content?
Answer:
This feature allows you to flag that content which is found inappropriate. Users can click on any video, gallery or blog and then click on Report button. The bitlanders editorial team will take notice of it and will check that content. If the content meets the requirement of flagged content then it will be removed.
Video credits: Youtube via forextrader006 channel
Dear friends,
Today I explained some questions of FAQ of bitlanders. In my next blog, I will come back to explain more contents of FAQ of bitlanders.
Take care and happy blogging on bitlanders.
Thanks for reading my blog,
Regards
Asad Munib