Is Philippines a place for rejects?
International Bin
Last year, I received an email from change.org. This was a petition to re-export to Canada 50 container vans filled with trash that contains non-hazardous and hazardous materials.
(image source: Google)
The Bureau of Customs seized these container vans last July 2013. A privately owned company from Canada named Chronic, Inc consigned the said shipment to a local company named Chronic Plastics. Customs, DENR and DOH inspected the shipment and declared that the materials should be treated and disinfected ASAP. The Philippine government had to shoulder the expenses in treating those waste materials. Aside from that, the Philippines also "has incurred losses on storage and demurrage brought about by the importation of the contraband" according to the site.
A lot of violations have been made here. Firstly, the RA 6969 or "Toxic Substances and Hazardous and Nuclear Wastes Control Act of 1990." Also, it is illegal to ship waste from one country to another. This is to protect people from health and environmental concerns. This in pursuant to the BASEL Convention "On The Control Of Transboundary Movements Of Hazardous Waste And Their Disposal."
(image source: IPSnews)
Concerned groups petitioned that the Canadian government should take back its garbage. According to Canada, they will not take back the garbage as it was the Chronic, Inc's and Chronic Plastics' obligation to settle the garbage issue. It was then agreed that the waste will be treated here in our country. Also, Canadian Ambassador Neil Reeder stated that the Canadian government did a "complete study and found no toxic materials in the said containers" according to reports.
Earlier this month, President Aquino visited Canada and it was said that this issue need not to be discussed because of fear that the relationship between Canada and the Philippines will come into bad terms. Senator Defensor expressed her sentiment and alarm why the Philippine government wants to save its relationship with international ties and sacrifice its countrymen's health. (Read more here)
We are now being branded as an international bin.
A shelter for refugees
(image source: Rappler)
On May 18, 2015, the BOAT PEOPLE came. These refugees or "boat people" came from Myanmar and Bangladesh. (Read about the Rohingya here) At first, they were rejected by Malaysia, Indonesia and Thailand. However, these countries had a change of heart and sheltered these refugees temporarily after the Philippines expressed their willingness to take in these refugees. These are undocumented and displaced people without a place to call home. They flee the country they thought they belong to because they have been oppressed and denied citizenship. They have been mistreated and inhumanely cruelly treated. Because of such treatment, they decided to flee the place they called "home."
(image source: PDI)
They were poor people trying and hoping to find refuge in other places. They were smuggled and starved only to be rejected in the land they docked, thus seeking refuge in other countries. They were then abandoned, undocumented and have no legal papers. The Philippines will not accept them but if they have travel documents to "qualify as refugees or asylum seekers" then they will be granted entry here in the Philippines.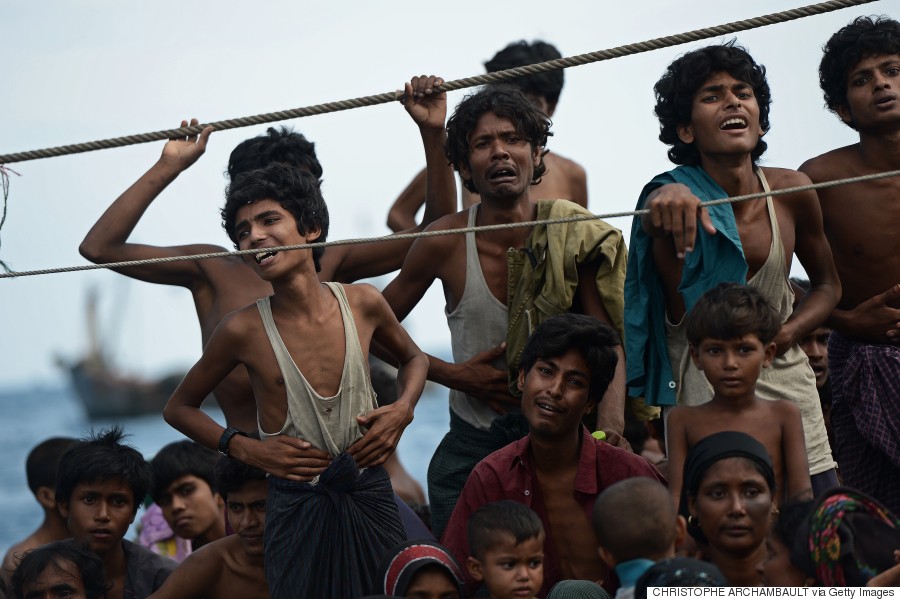 (source: web)
It was reported that last year, nine Rohingya refugees were helped by the Philippine government. These nine belonged to a group of people who were supposed to be sold. The Philippines allowed these lucky nine to stay in the country before moving on to their final destination. They were provided with food, water and shelter.
Since being rescued from the shores of Malaysia, Indonesia and Thailand, aids have poured in and pledges have been made to help these stranded Rohingyis and Bangladeshis. On May 29, 2015, a meeting was held in Bangkok, Thailand where 17 or more delegates from Asian countries convened to discuss and come up with a solution to help these refugees. They discussed the cause of these ill-treatment and persecution these refugees get from Myanmar and Bangladesh and how to eradicate this cultural hate. Aside from providing them basic needs, they also planned to offer jobs and skills training. However, the utmost and most important thing is to give these refugees citizenship, a sense of belongingness and acceptance.
The Philippines is a country of refuge as what happened to some Vietnamese who sought asylum here during the Vietnam War or the Jews who were saved from the hands of the Nazis during WWII. I hope these Myanmar and Bangladesh refugees will be treated the same humane treatment the Jews, Vietnamese and others have been treated. According to the latest report, these new set of refugees will be given temporary shelter should they find their way here in the Philippine soil.
This only shows that we are a country of tolerance and compassion.