My journey with bitlanders for a year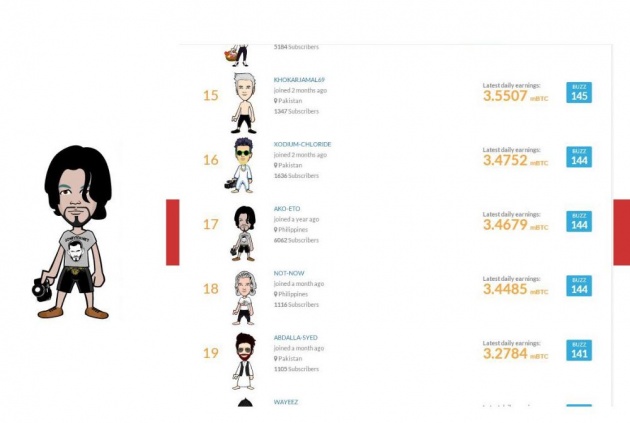 According to the leaderboard, as shown above, I have been with bitlanders for a year now. It has been a year of new learning and a continuing journey of bitcoin experience.
From B to b
Just like most of the bitlanders members here, I came from the now defunct Bubblews, another online paying site that closed just recently. The first members I got to know when I first joined here were from that site or who we call - Bubblers. When things started to fall apart in Bubblews, I started looking for other sites to join and earn me some money. As most of you know, money is the big issue with Bubblews then and it was the same reason they closed. While it started with a bang, things started to disintegrate very quickly. Trouble with payments made me leave the site. Not totally mind you because believe it or not, it was from that site that I earned my moola to fund my travel abroad.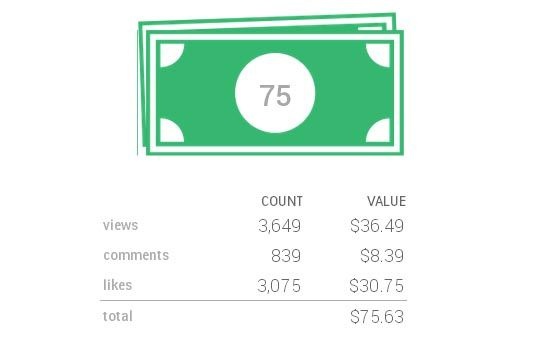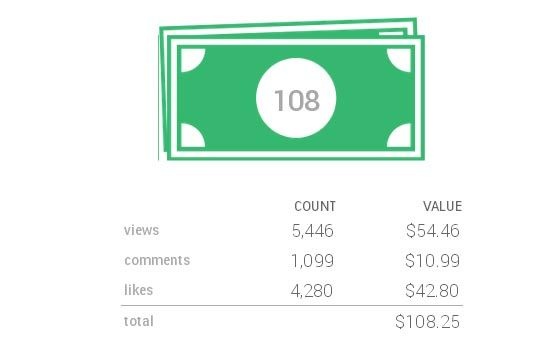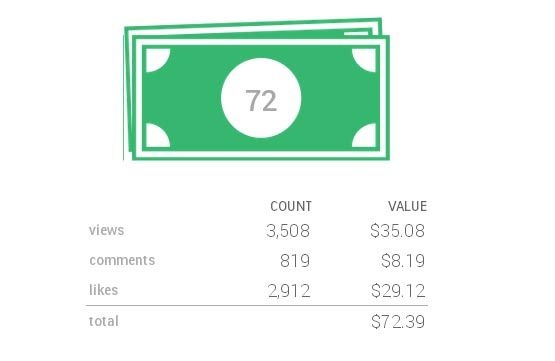 You can easily earn amounts like these in a few days if you have good connections. The pioneers of Bubblews can even more than that. I joined Bubblews later when it was on the edge of bankruptcy.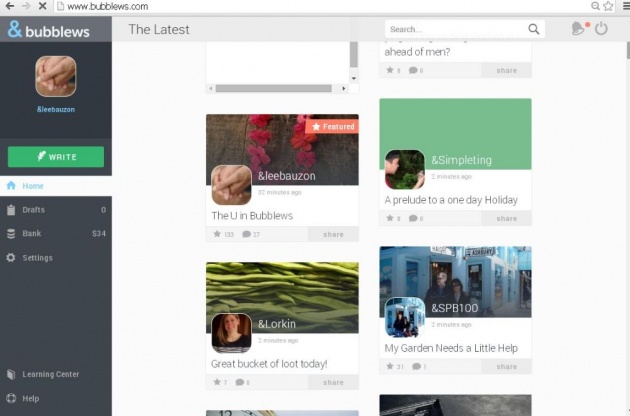 When your article/blog is featured in Bubblews, you will surely earn quickly. Since the earning there is based on likes and comments, your article featured in the homepage will earn you a lot. I was lucky that one of my articles were featured. In my few months of stay in Bubblews, one of the hundreds of articles I wrote made me earn a lot.
I left halfheartedly because I was hoping that things will eventually go back to the way it used to be - earning easily and quickly.
I then ventured to other sites like photosharing sites and blogging sites that pay. I joined CGP which failed to pay me also after I reached my first minimum amount to cashout.
Eventually, I came across bitlanders.
It was not allowed to promote other online earning sites in Bubblews then but I guess it was one of the posts of riza-gomez (if my memory serves me right) that I learned about bitlanders.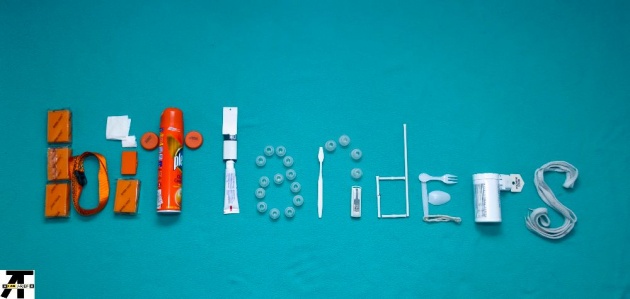 I was skeptical at first because I do not know a lot about bitcoin then. I still know little about bitcoin. I know that it is a cryptocurrency but even that word is a big for me. All I can wrap my head to it is that it is something you earn through the internet. It's mind boggling how much 1 bitcoin is worth.
Earning at bitlanders
At first, I came her thinking bitlanders works the same way as the previous sites that I came from. I was of the mind that through buzz and comments will I earn. That through posting and sharing will I earn. Reading about bitlanders and the FAQs made me realize that it was not entirely all about that.
Below are ways on how you can earn without spamming.
The Buzz Score and How To Earn Buzz Score
bitlanders is based more on the Buzz Score. The higher your Buzz Score, the higher will be the reward given to you. The Buzz Score resets every day. Thus you have to maintain your activity here to keep those Buzz Scores. There are many ways to increase your Buzz Score.
Logging in everyday will earn you +1 buzz. bitlanders will give you daily bonus up to +7 a day. You have to log in every day to receive your daily bonus. One day absence will reset your daily bonus to 0 the next time you log in.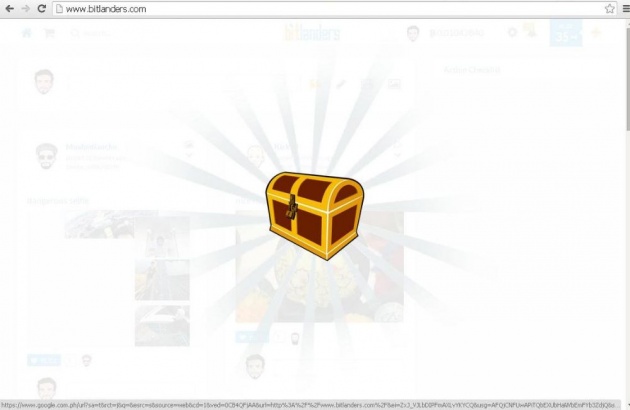 Do the daily quests. These tasks were recently added here in bitlanders. Completing these tasks will give you additional +5 buzz for a day.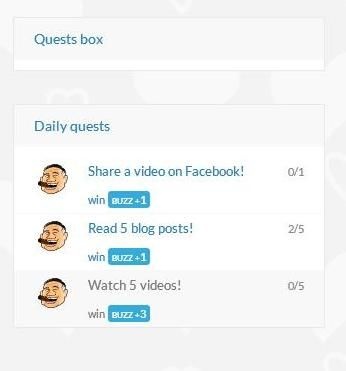 Invite your friends. When you invite your facebook friends through bitlanders, then that will give you additional buzz score. When they become an active member, then you will earn additional 20% of what they earn from here.

Submit original contents for review. Once you have earned enough bitcoin, then you can buy gems from the shop. Use these gems to submit your original blogs, videos and gallery for review. A 5-star reviewed blog, video or gallery will earn you corresponding buzz bonus for a limited time.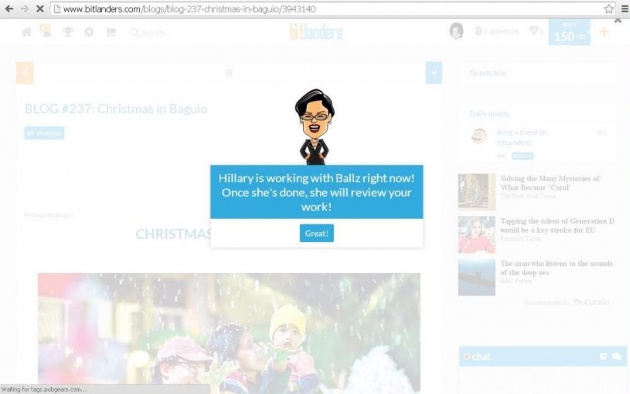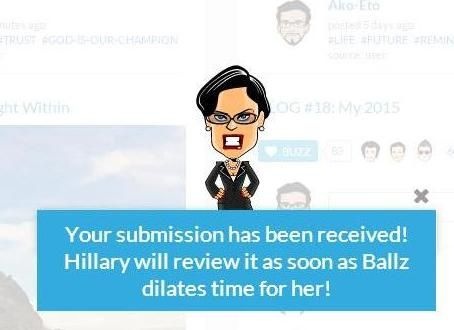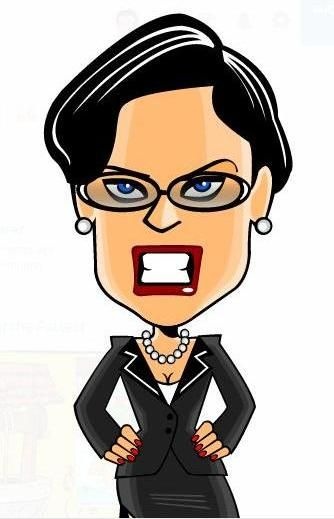 HIllary the dilater and reviewer will check the content you submitted. As long as you meet the guidelines required to submit your content, then she will be generous in her review or not.
Buy items from the shop. There are certain items from the shop that when you buy them they have corresponding buzz bonus that can last for a few days.
There were times when bitlanders comes up with costumes that follow a certain theme.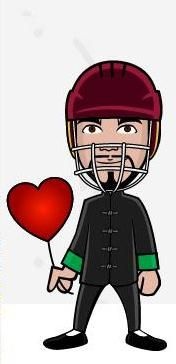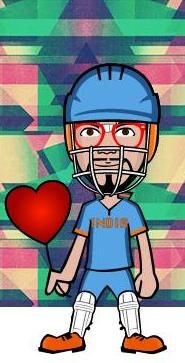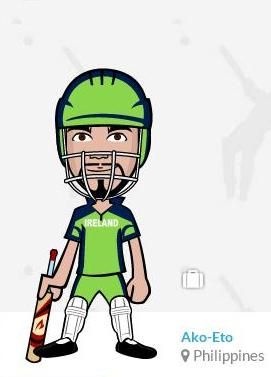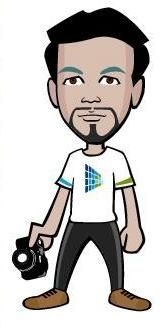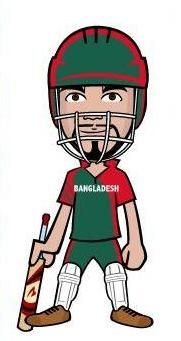 As you notice, there are cricket costumes above. These were sold at the shop during the 2015 Cricket World Cup. These costume set were sold for a limited time and they have corresponding amounts of Buzz Score for a certain period.
There were also shirts for each charity supported by bitlanders.
Other items for sale at the bitlanders shop are gems, shirts, pants, shoes, accessories, etc. Some are free but with no buzz bonus. Other items have corresponding amount with certain number of buzz bonus.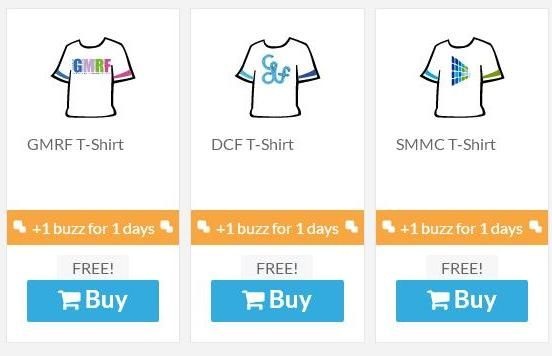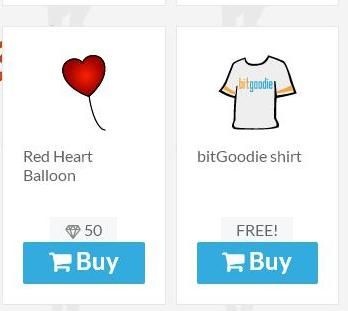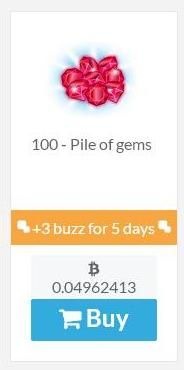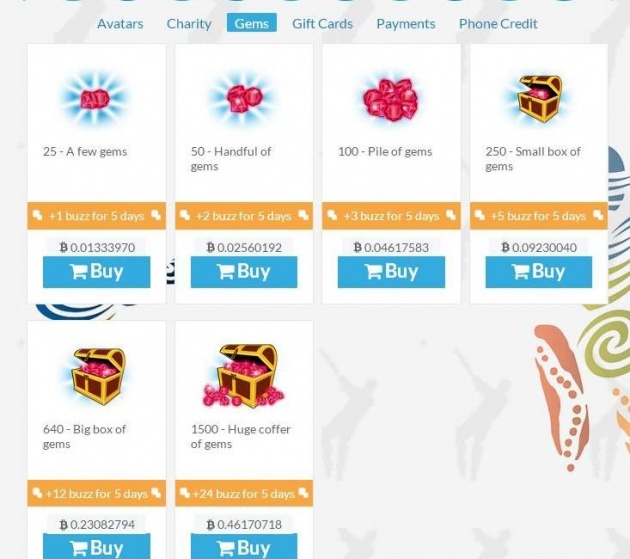 Donate. The more you give, the more you receive so they say. This is one of the things I like about bitlanders. This encourages act of giving, the act of kindness and be more helpful to those less fortunate and to those who needs help. In the bilanders charity under the bitlanders shop, you can find in their charities that you can donate. Find the charity that you support their cause or the charity that supports the cause you support the most. Find it and donate. You can find in their corresponding number of Buzz Bonus for certain days.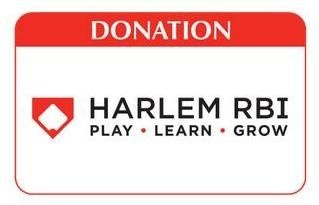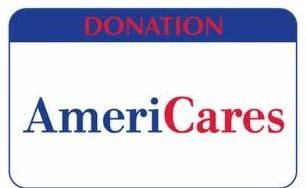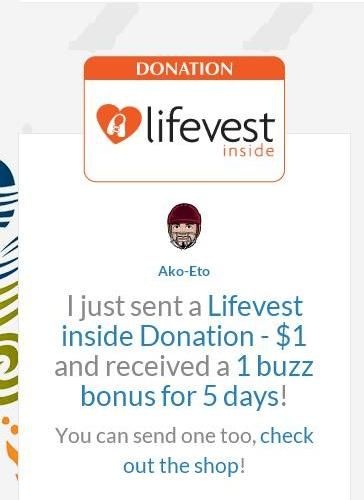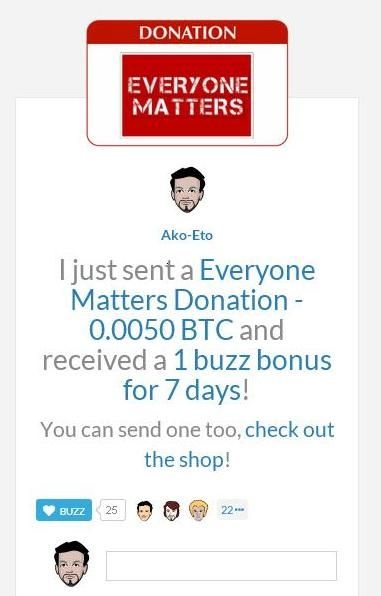 Note thought that once in a while, bitlanders changes the amount of how much these items costs. They also change the number of days you can have those Buzz Bonuses added to your Buzz Score.
Buy stickers. Not all bitlanders stickers are free. Some of these are for sale like the Valiant stickers, Popeye Stickers, Kung Fu Panda stickers, Shrek stickers, Madagascar stickers. These have corresponding buzz bonus.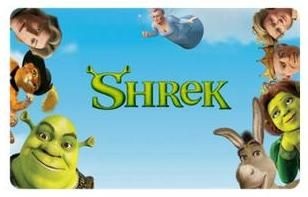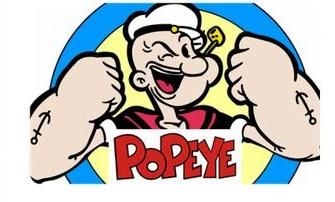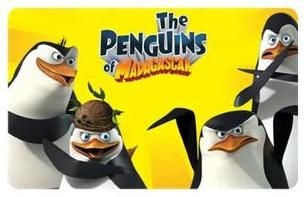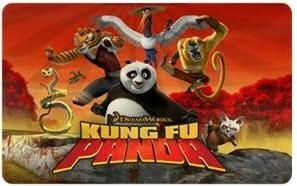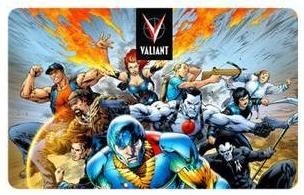 My reviewed blogs
Writing blogs and submitting them gives you corresponding amount of buzz bonus that affects your buzz score the most. Below are a list of some of my blogs that were submitted and reviewed.
5-star blogs
Just click on each title above to take you to the full content of the blog. Note that you must write original content. You can add photos and videos of your own or from the web. You can copy the link and you can put the source or not.
Below are videos of blogs reviewed.
As of this writing, Ili-Likha Artists Village tops my reviewed blogs for having the most number of buzz and comments. My blog about Samgyeopsal, a Korean food, comes second.
The first blog that earned me a five-star review is a blog about our getaway in Tambobong Beach. Then the next five-start blog was our travel in Bangkok.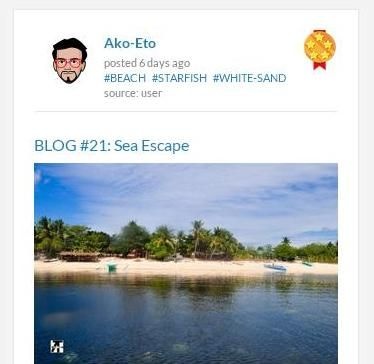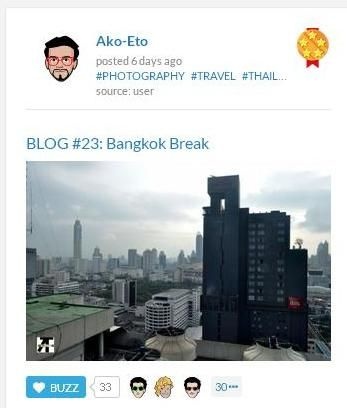 To better your chances in earning more, write blogs that micky-the-slanted-salerno blogs about. Follow micky and read his blogs because every now and then he posts blogs announcing what topic to write for you to earn double if the blog you submitted got 5 stars.
Some of the double-reward topics include:
Submitted Gallery
Here are some of the galleries that I submitted that earned some stars. Again, read the FAQs and be guided on the requirements for your galleries. Be sure that it is original.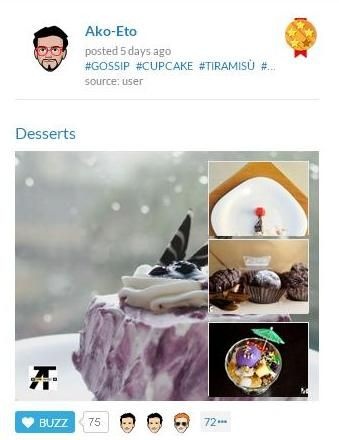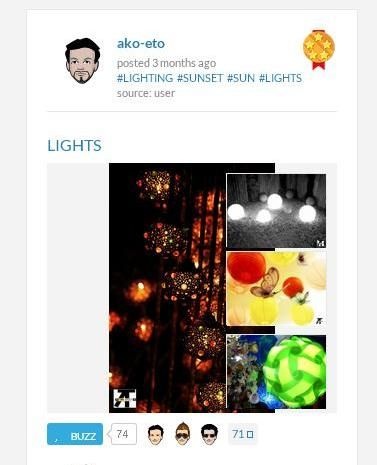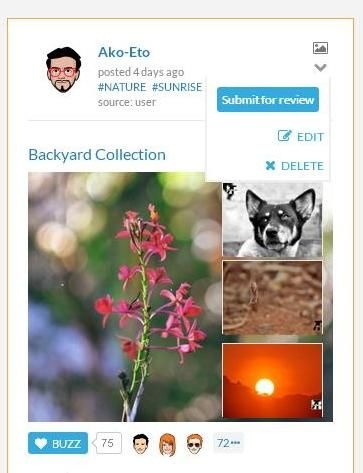 One great thing about submitting your contents is that aside from the buzz bonus you can get, you will also get gems back. Buzz Bonus and gems come hand in hand. Read what micky-the-slanted-salerno has to say about that.
Read FAQs for more tips on how to earn more buzz bonus and increase your buzz score. You can also read blogs of other members on how to earn more and how to increase your earnings here in bitlanders. By following these tips, you can earn here in bitlanders without spamming. Remember that spamming will not get you anywhere. Don't plagiarize. Don't spam.
Here are some summary of my earnings here in bitlanders:
Claim Satoshis
One way of earning is by clicking blogs, galleries or videos featured at the homepage. Some of these have satoshis you can claim if you click open these posts. Also, some videos have 100 satoshis hidden in them. Click open also notifications in the home page about a member donating to a charity. When you buzz these notifications, you will also earn some satoshis.