Shwedagon Pagoda
Shwedagon Pagoda is one of the main attractions or tourist spots in Yangon, Myanmar. It stands 326 feet (about 100 meters) with an area of 114 acres (46 hectares). Imagine how big it is. The pagoda is majestic in all it's golden beauty. Your eyes will feast in what you see all around you.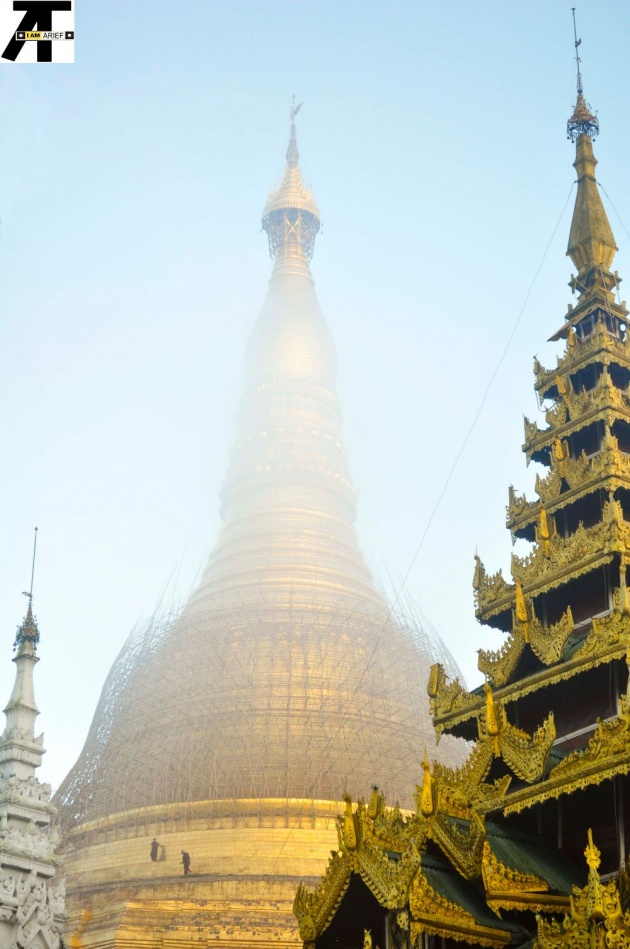 Brief History
This was originally made by King Okkalapa in 600 BC. They believe that they have the relics of Buddha with them so they built a shrine to keep those relics. The pagoda has been maintained by other rulers and some had it raised and raised. It was King Sinbyushin who had it rebuild to its height of 326 feet. This temple is said to be 2500 years old. Over the years, other pagodas, shrines and other Buddhas were built and/or donated by different rulers. The Shwedagon Pagoda or Golden Pagoda and all other pagodas around it were able survive that long because they have been renovated and restored.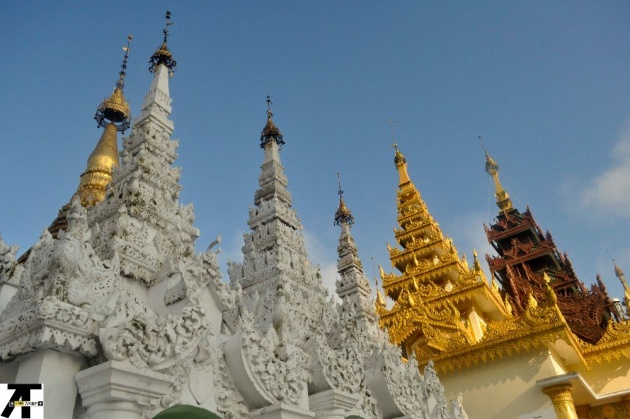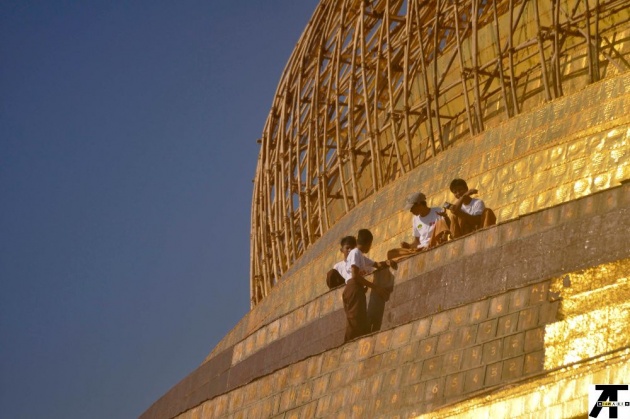 My First Visit to Shwedagon Pagoda
The Pagoda was under rehabilitation when we visited. Just look at the scale of the people and the Pagoda. That's how big it is.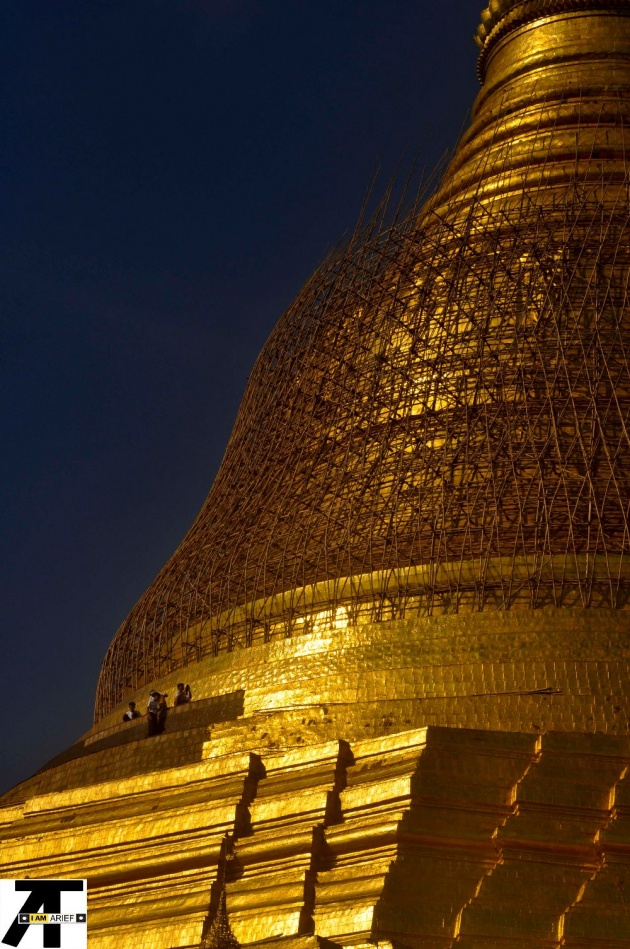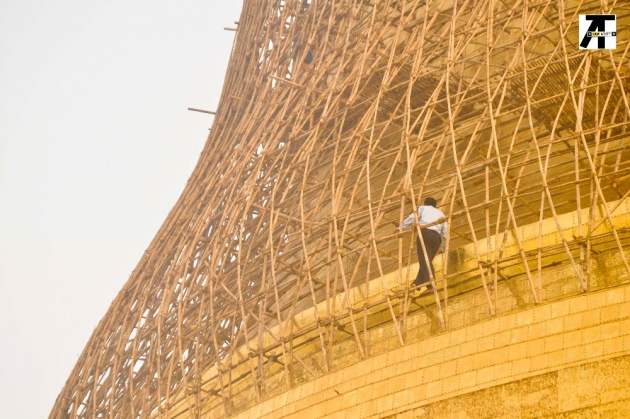 Some Facts About the Pagoda
Did you know that there is an exact replica of the Pagoda cast in pure gold? It is 45 inches tall and weight 36 kilos.
At the tip of the Pagoda is a diamond orb. It is not purely made of diamond but it contains 4,351 diamonds. The height of the orb is 22 inches with a diameter of 10.5 inches. Attached to that is the Vane and then attached to the Umbrella. These three are all made of precious stones - all stones that you can imagine. The Umbrella is made of 83,850 varieties of jewels. The rest of the pagoda is made of gold plate and copper.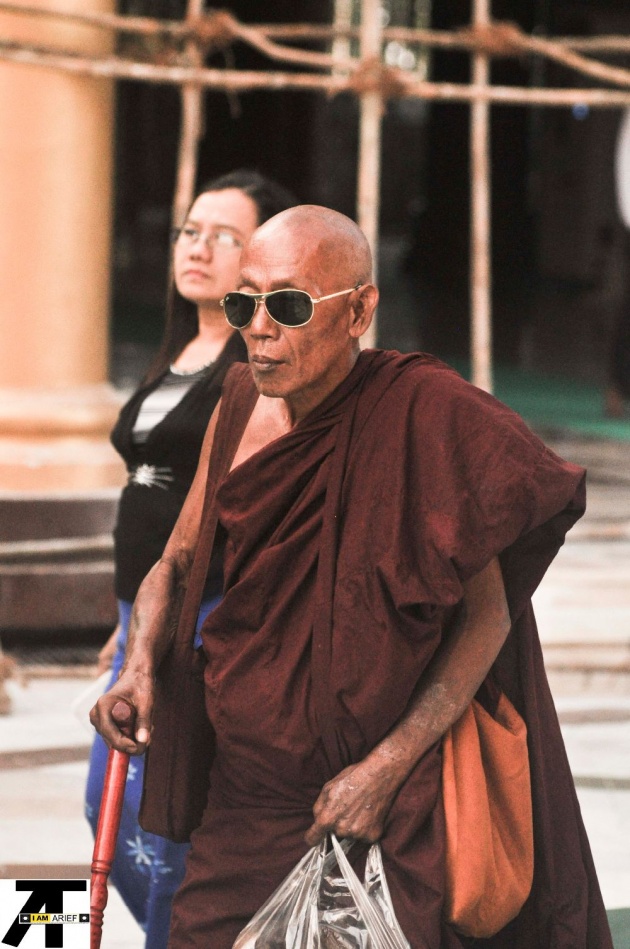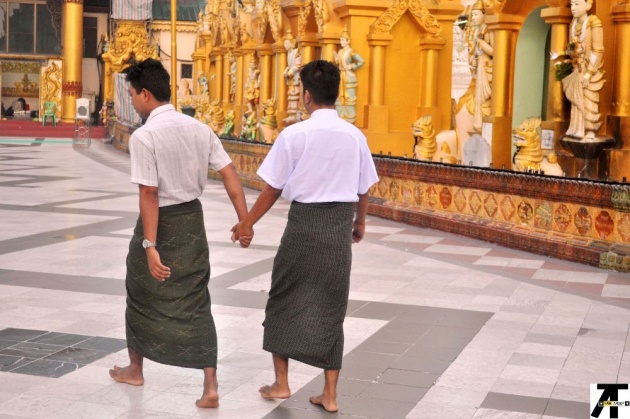 I have posted a blog something about that picture above in my blog What Say You.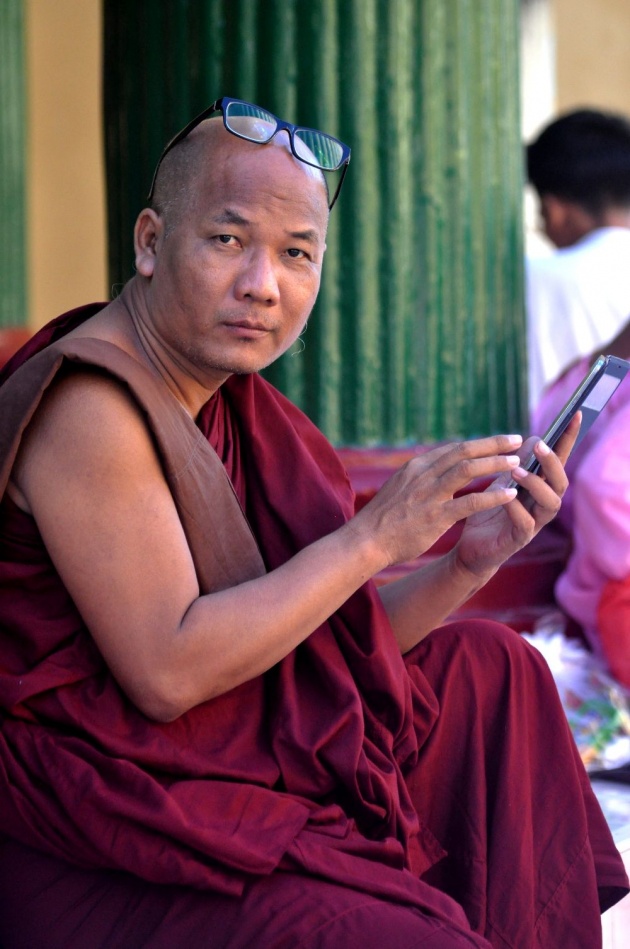 I have also posted a blog about that monk in my blog Modern Times.
Fees and some Do's and Don't's
There are four entrances to the pagoda. We took the south entrance where we had to pay for a fee of 8000 kyat (kyat is the currency of Myanmar) is around USD 5. You should practice modesty when entering the pagoda. Wear shirt that will not show your torso. Don't wear sleeveless shirts. You are not allowed to wear above the knee shorts or skirts. They do provide you longyi for that though to cover your legs. You are not allowed to wear any kind of foot wear or even socks or stockings when you go inside the main compound. There is a designated area for you to leave them. This is located at the entrances.
You can check more of these pictures here.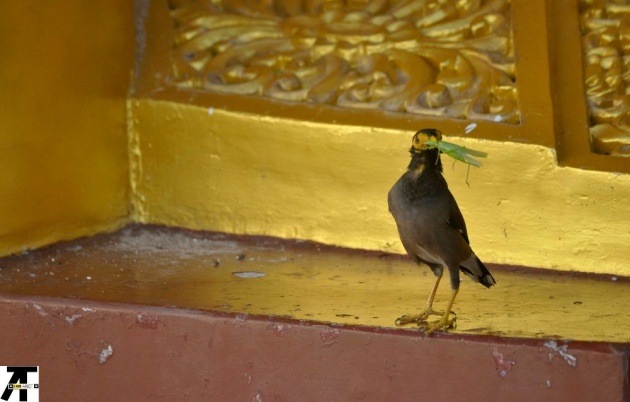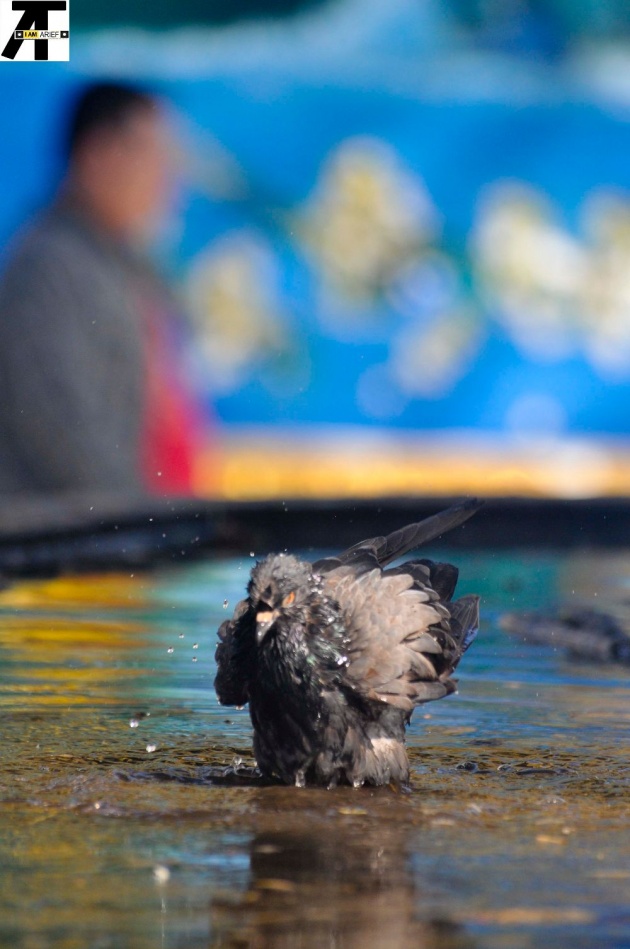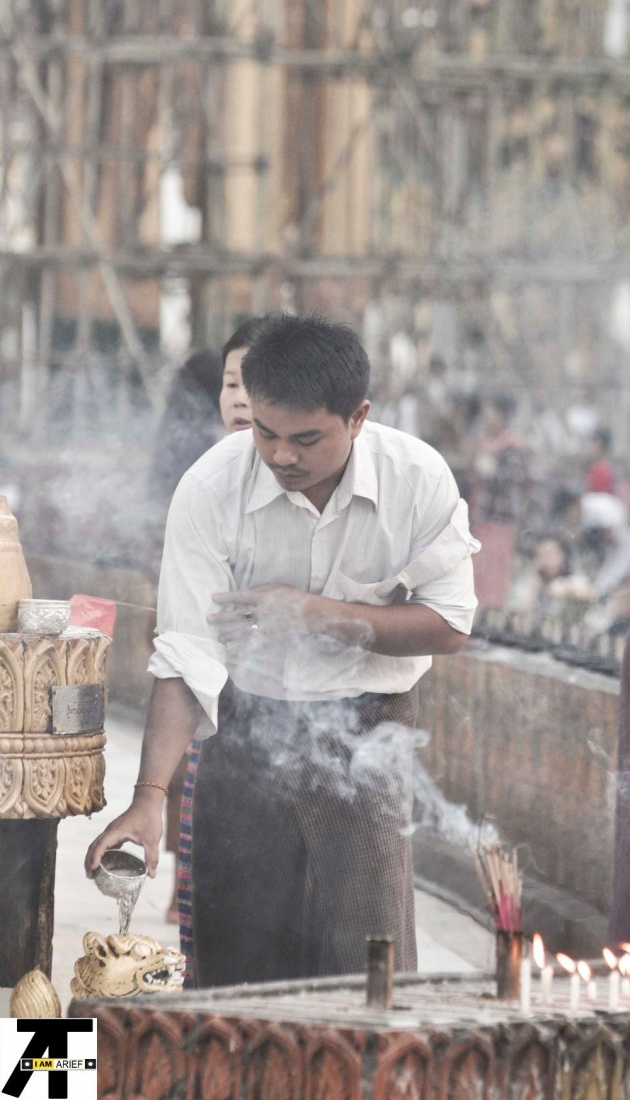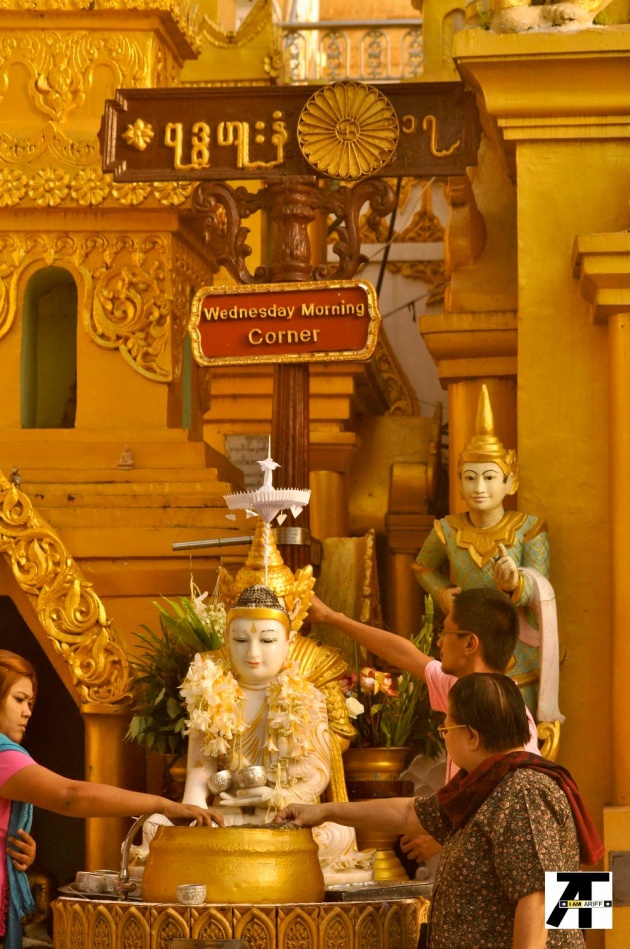 In the picture above, patrons are pour water and offer sacrifices and prayers to their personal Buddha. Buddhas are situated around the main pagoda. You are to offer prayer and sacrifice to the day when you were born. Each day of the week has their own designated Buddha.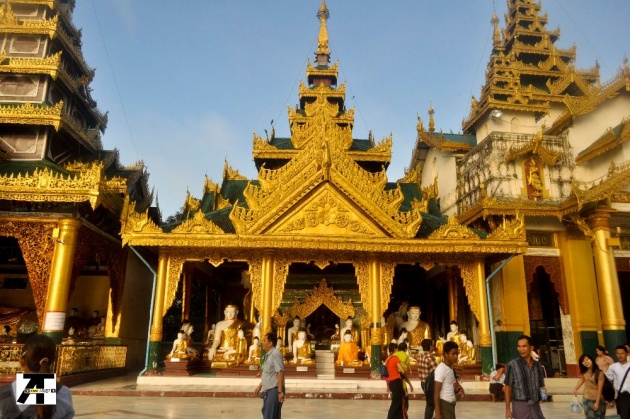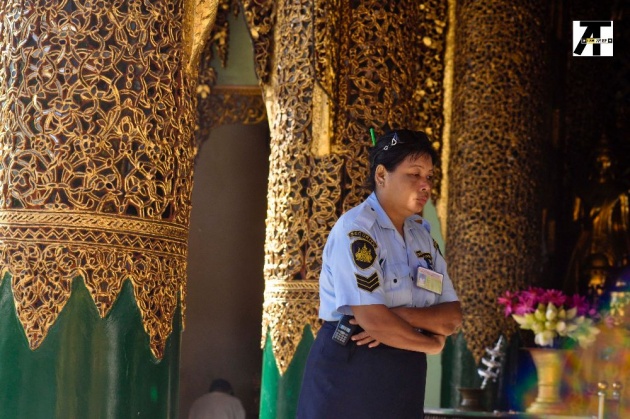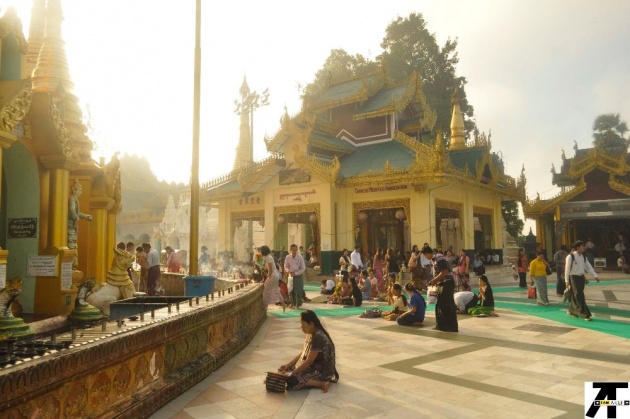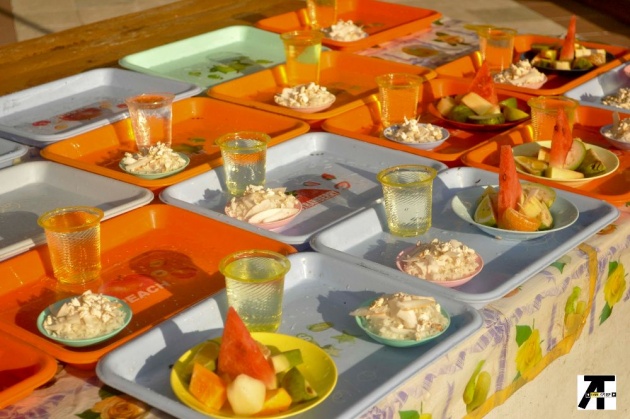 Take note of the last picture. They are very gracious in their offerings. Sadly, all those will only go to waste for they will just throw them all away later on to make way for new sets of offering.
I have also put together a short clip that I took within the temple. Check out my Shwedagon Pagoda video.
Here are some videos taken from other sites: