Hello friends,
I'm here with my second part of blogging in bitlanders and would try telling you some useful tips and tricks. So, guys, you may have read my first blog on bitlanders and blogging.
Video Credits: Youtube
So friends, let's begin our work.
What is blogging?
Image Credits: https://www.financialsamurai.com
Blogging means to write an article which may contain pictures, videos, embedded quotas and several links. In blogging, we may write the combination of the above things with several ways and use several techniques. Blogging is done to tell the people something special and to indicate a special topic. Blogging is a useful way to tell the people about something, someplace or about some special event. Blogging is the very meaningful way to talk with people in your way. You can tell your entire thinking in a very easy way.
What is blogging in bitlanders?
Image Credits: http://kidslearntoblog.com
In bitlanders, we are advised to write articles and blogs on several topics of our own choice. We can tell our thinking of mind to our people and then they will find our posts. In bitlanders, we earn through blogging. We have to write blogs of our own choice without any issue. We just have to obey some rules and regulations for writing a blog on bitlanders. Here I will tell you some basic things which a person must know before blogging on bitlanders.
Video Credits: forextrader006 via Youtube
English only:
Image Credits: Wordpress.com
In bitlanders, we must have to choose English as our initial writing language. Blog in other language is no more acceptable. We have to write proper English with proper spelling and grammar. There should not be any mistake in grammar and spelling. We can earn and submit the blog in bitlanders only with proper English.
We can use Microsoft Word to write a blog on bitlanders. First, write a blog in Microsoft word and then copy the whole text in bitlanders blog submitting window.
Here now I will post step by step guide to submit a blog on bitlanders in my way.
Pasting the written article in bitlanders: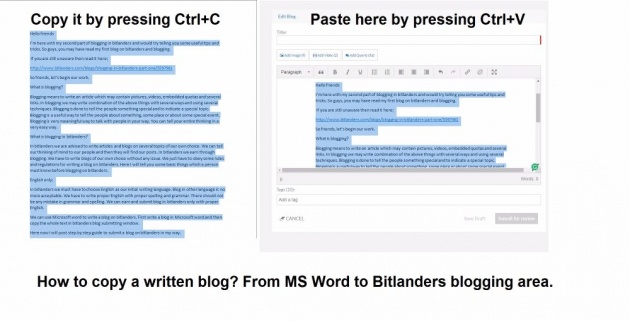 Image Credits: Image Screenshot captured and edited by Asad Munib via Bitlanders.com
If you have already written a blog in any other word processing software, then copy the text with the keyboard by pressing the Ctrl+C. Now open Bitlanders and choose the write a blog option from the plus icon which is located in the top right corner.
Here is the screenshot of that window which will be opened for writing a blog.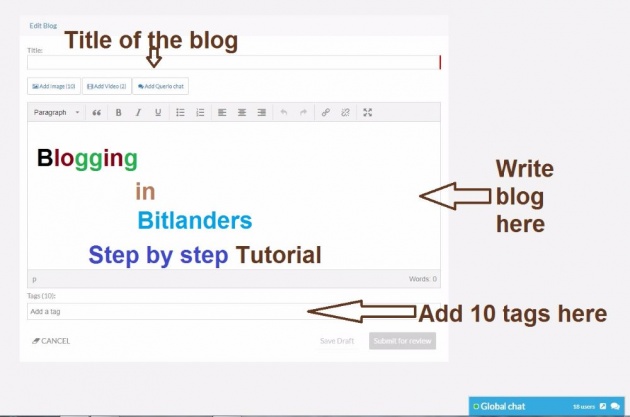 Image Credits: Image Screenshot captured and edited by Asad Munib via Bitlanders.com
Now press

Ctrl+V

to paste the whole text in bitlanders blog window.
The whole text will be copied to the blogging area.
Initial formatting:
You have to first check initial formatting step by step. For example, select your main heading and choose the heading 1 from bitlanders text formatting toolbar. Choose all the main headings one by one and make them main headings and you can also bold, italic and underline them.
Now select the main leading paragraph or quotas. Select the whole paragraph and choose black quote option. This option will change the style of the whole paragraph, bold or italic the paragraph if necessary.
Adding links to important words:
Image Credits: WordPress.com
In a blog, you can customize and add links to important words to the website. Adding links helps the audience to understand more about it. Add links to major and important words to highlight them and make them more useful. Choose a word and click add or remove link option from the formatting bar. This will open a new box. Now choose the web link of that word and also add the custom title for the linked text. Adding links also makes the text in blue color which looks more beautiful and attractive.
Adding pictures in blogs: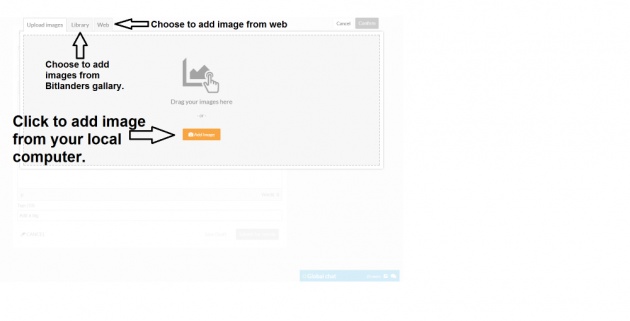 Image Credits: Image Screenshot captured and edited by Asad Munib via Bitlanders.com
You can now add up to 10 pictures in your blog and this option is very useful and necessary for your blog. Pictures make the blog more awesome and lovely. Adding pictures is a good option to get more stars on your blog.
Choose to add image option in formatting bar. You can add the picture from your bitlanders gallery and also from the web. You can also upload a picture directly to your blog. But I will tell you the online image adding method here which is very easy and helpful.
Choose to add image option.Choose the third option which is web and then open the web page of images.google.com page. Here you can search for thousands of images from the web. Search best and suitable image and then open the image in the new window with full resolution. Now copy the image URL and paste it in bitlanders image adding the window in the web tab. This option will add the image to your blog. Now add the credits of that image below.
Image credits: Youtube
Adding credits is very easy. Write the image credits and put the web URL or title of the website from where the image was actually picked up.
Choose to add movie option:
Image Credits: Youtube
Movies or videos can be added only two in a blog. You can either add videos from your bitlanders video gallery or from the web. You can choose videos from YouTube and add them to your blog in bitlanders.
Here is the simple procedure.
Choose to add video option.
Open Youtube.com in the new window.
Now choose your desired video and play it.
You will see the share button in the bottom of that video.
Now choose the embed code option and copy the code with the keyboard.
Paste the copied code in the bitlanders and you will see the video below.
Image credits: Youtube
This option will add the video to your blog. You have to add credits in your video to make it original. Add credits and choose the video playing window url. Also, add the link of that channel in which the video was originally uploaded. This will make it more easy to find the video.
These are the option to add videos, links, and images in your blog. I'm sure that you will find my post useful.
Thanks for your time.
Best regards
Asad Munib