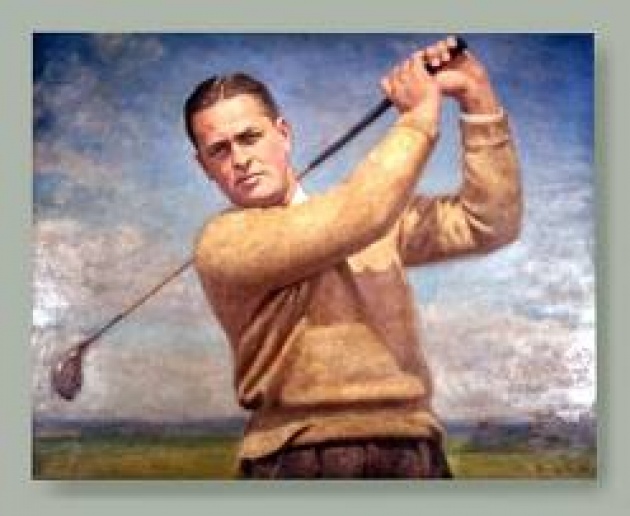 Bobby Jones Jr. was one of the brightest stars in Golf's Universe! Maybe the greatest? After his playing career was over his next greatest accomplishement was developing The Augusta National Golf Club, in Augusta, Georgia, home to the famed "Masters Tournament", which has been played there since its inception in 1934. Horton Smith, another great golfer of the day, won the first Masters that year and repeated in 1936.
Jones often played golf on Jekyll Island, Georgia, a winter haven for multi-millionaires from across the country, where there were a couple of short and flat courses. The first Jekyll Island course was built in the early 1890's. Jones was a frequent guest of Alfred Severin Bourne. Bobby was born in March of 1902 and grew up in Atlanta, Georgia. Jones's career was both short and sweet. Bobby played competitively as an "amateur" from 1923 through 1930. Yet Bobby Jones was the best golfer on both the National and International Amateur and Professional Tours. His feat of winning the Grand Slam in one season has never been repeated. Bobby Jones then went on to successfully practice law in Atlanta. He did, however, continue to play The Masters each year until he finally retired from that tournament in 1943, due to health reasons.
Back to Jekyll Island, the prequel to Augusta National. When Robert Todd Lincoln, a successful businessman and the son of The President, was invited to join the Jekyll Island Club in 189. Lincoln graciously declined and thanked the members, and wrote back that he felt "the golf wasn't challenging enough" Bourne was a golf enthusiast, and son of Commodore Frederick Gilbert Bourne, an early President of The Singer Sewing Company, the first successful international conglomerate. In his professional life, he was the Vice Chairman of Singer Manufacturing Company, and he also served on the Board of Trustees of Augusta National Golf Club from its inception until his death in 1956. The PGA Silver Trophy Cup is named after him.
By the late 1920's, Jones had this dream to design the world's most beautiful and challenging course! So where better to start looking than in his own backyard. Jones found Beckmann's Magnolia Farm in Augusta, Georgia. for sale, he was blown away! The area was lush with azzallia's and Magnolia trees, and set on a sweeping and rolling valley with perfect year-round temperatures. The Clubhouse today sits on its highest point on top of a hilly viranda.
Bobby Jones drew up plans and approached some of his rich friends to back him, and Alfred Severin Bourne was one of them. Bourne built a beautiful home he named "Morningside" for its magnificient eastern sunrises, right next door to the Clubhouse. The home is now owned by the Club and used for special events and guests as well as Golf Channel coverage of The Masters. Bourne's portrait hangs above the fireplace in the wood-paneled living room. There were four financial backers / original founding members and Jones.
The gifted men completed the purchase from the Beckmann family in 1931, and the course was designed and built to open in 1933. They spared no expense and created what remains one of the most admired courses and club in the world...
to be continued...
By Jeffrey H. Sado