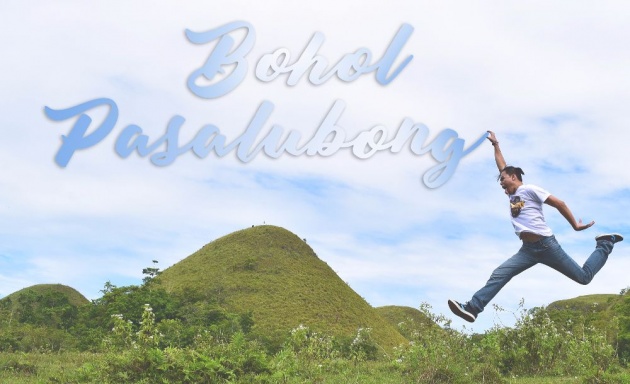 Image credits: Jean Beltran-Figues via bitLanders.com
After the first blog submitted a few days ago about the top pasalubong in Cebu, I was inspired again to blog about something very related it. In fact, it bears the same topic but this time I am dealing with pasalubong from Bohol instead.
Bohol is my home province and it is this province which is being visited by lots of travelers and foreign guests from all over the world that is why it is important that the province has its own pride not just in terms of the natural resources but also with the food.
Video credits: Jean Beltran-Figues via bitLanders.com
TOP PASALUBONG FROM BOHOL
These items below are just some of the goodies and items which one can bring home to their families and friends. I have dealt with the definition of what pasalubong is about in the previous blog, you can read it here:
So for the Bohol's top pasalubong items, read on.
CALAMAY
Image credits: iamtravelinglight.com
This yum is distinguished by its sticky brown consistency made from sticky rice, coconut milk and brown sugar. The sweet treat has been made famous by Jagna, a local town in Bohol for their trade mark container of empty coconut shell. They had also made varieties like adding peanuts in the mixture and then some of the new ones today have been placed inside plastic containers. Calamay in Bisaya also means sugar so it is very sweet but also very sticky.
Image credits: iamtravelinglight.com
In Jagna where it has is very famous where most tourists and even the local visitors would go to buy Calamay, a new festival was created due to what the product has done to the lives of the Jagna locals. In fact, they are still in their third anniversary this year. And just like other festivals, they have their own talent contests and beauty competitions among the locals as well.
One of the most famous vendor of the said delicacy is Ching's Calamay. They are very famous that every van for hire would allow their passengers to stop for awhile so they can buy their packages of goodies. I also have been buying from them all these years.
A video on how they make Calamay. Video credits: Kyle Jennermann via YouTube.com
If you happen to visit the town, it is a must to buy Calamay from Ching's whose store had grown from just being a tiny stall to a bigger building, in fact they had also constructed an apartment next to it because of their Calamay business.
PEANUT KISSES
If anyone would be asked what's the best thing about Bohol, perhaps one would answer the Chocolate Hills. The beauty and wondrous work of nature and God, these thousands of almost shape alike hills which are distributed throughout the heart of Bohol, specifically in the town of Carmen and Sagbayan. These hills turn like chocolates during summer because the grasses die and turn brown thus it was called such.
Image credits: www.karlaroundtheworld.com
I have been to the Chocolate Hills numerous times and I should say it is still a wonderful view even after the natural tragedies that had occurred into the province like the previous earthquake last 2014. It was the strongest earthquake that had happened to Bohol which destroyed multiple buildings as well as public structures and bridges and not to also forget historical churches throughout the province.
Image credits: deepinsideofmichelle.blogspot.com
The Chocolate Hills had been an inspiration to goodies and delicacies of the province too. The creation of Peanut Kisses was inspired by the form of the hills. These are perfect as pasalubongs because they are light and crisp too which makes kids and even adults crave for them.
Made from just peanuts and egg whites as its main ingredients, this is indeed a great treat one can bring to their loved ones after visiting the province. Anyone can buy them from any department store in Tagbilaran City and even in small stalls along the port area.
PEANUT FINGERS
Image credits: www.thehouseofqueens.com
I was not very familiar with it yet until my husband's colleague asked him to bring some for them last year. I was only very familiar with the Calamay and Peanut Kisses but later on found that this is also a good snack!
Peanut Fingers got its name from the fact that they have finger like composition. It has the same ingredients as the Peanut Kisses by the way only that they differ in their shapes and sizes and also texture because the fingers are lot more delicate and soft compared to the Kisses. You can let it stay in your tongue and it will melt like butter so it is softer to chew on.
Image credits: stuffullove.wordpress.com
If you are a peanut fan like me, certainly you'll not miss this on your way out of Bohol.
CAYCAY
Another favorite of mine is the Caycay. Most might have not really considered it as a delicacy of Bohol but whenever I go home to Bohol, I'd be buying these from the favorite bakery - Jojie's Bakery which has branches all over Bohol.
Don't be surprised, it has the same main ingredient as the other two previous delicacies, yeah you are right, Peanuts! And because I am a peanut lover, as well as a nut myself, lols, I have loved this ever since the very first time I tried it.
Image credits: stalkture.com
Well it was my mother who had introduced it to me and I always crave for it every now and then that I need to stock up some packs when I get home as there's a local bakery in our town as well.
What's different to Caycay compared to the other pastries is that it has sesame seeds together with peanuts and a biscuit like stuffing. Its pieces are bit sized too which is very easy to munch on. But the only problem I got with this tasty is that it sticks to my teeth too because it has a sticky ingredient which covers each piece.
TARSIER INSPIRED ITEMS
Image credits: Jean Beltran-Figues via bitLanders.com
I don't know why the word Tarsier is still underlined red in my Google Keep account when this is a famous creature. Well to those who don't know this, it is the smallest primate in the entire world which is also seen only in Bohol. These are tiny monkey species which has been considered as well as extinct because they have a tendency of killing themselves when they are stressed.
If one would like to see these creatures, they can go to Loboc where there are centers which conserve and preserve them. It is not allowed to touch them and taking photos should turn off their camera flashes to make sure that the animals won't get stressed.
Image credits: acamihan.blogspot.com
They are distinguished by their long tail, big eyes and very fluffy fur. It hops from one tree to another and usually sleepy during daytime because they are nocturnal in nature.
As these creatures had made the island famous too, the locals created items too which can be brought as pasalubongs. These items range from key chains, purses, handbags and even ref magnets.
Now these are just some of the top items, there are still a lot of other options available when you travel or visit the province and experience the beauty of my home - Bohol.
Perhaps in the next blog, I will be sharing to you the tourist spots which can be easily visited when one goes to Bohol as a guide and a help to you all as well.
Hope you buy some of the items I have mentioned above on your visit.
xoxo,
Jean