Bollywood Movie Review - PK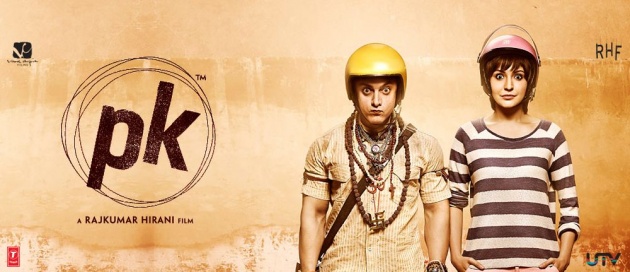 Image Credit: in.bookmyshow.com
✔ Introduction


Hello Dear Friends, I hope you are doing fine and having a good time on bitlanders. Today I have come up with my another new blog with the title of "Bollywood Movie Review - PK" which is a blog about a review of Bollywood blockbuster movie "PK". This movie was a unique type of movie which discusses the religious aspects and the very same concept is not common in Indian Cinemas. This movie has a very good humor and it throws light on different so called religious personalities who are not sincere to their religions and in actual, are involved in looting the people by giving them wrong religious lollypop. This movie does not say that we should not follow any religion, but it says that we must try to explore and find out the best possible ways to answer the questions within ourselves pertaining to religion. The Director of this movie is Rajkumar Hirani who is known for bringing up new ideas and has been very successful throughout his career in film direction. This movie is about an alien who comes into this world on exploration mission and deals with different kind of people who mostly treat him badly and he also loses his remote control device which connects him to his world and is very important for him as he can't go back without it.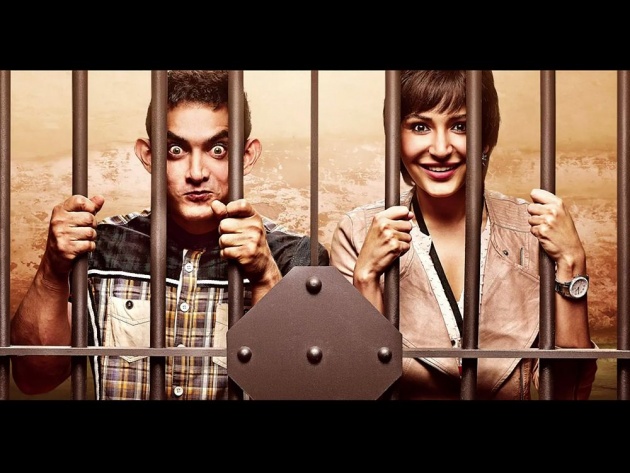 Image Credit: wallpapers.filmibeat.com
The movie "PK" was released on December 19, 2015 under the distribution banner of UTV Motion Pictures. Some details of cast of this movie is as under:
✤ Aamir Khan as PK (an Alien)
✤ Anushka Sharma as Jaggu
✤ Saurabh Shukla as Tapasvi Maharaj
✤ Sanjay Dutt as Bhairon Singh
✤ Boman Irani as Cherry Bajwa
✤ Sushant Singh Rajput as Sarfaraz Yousuf
✤ Ranbir Kapoor as an Alien
✤ Parikshit Sahni as Jayprakash Sahni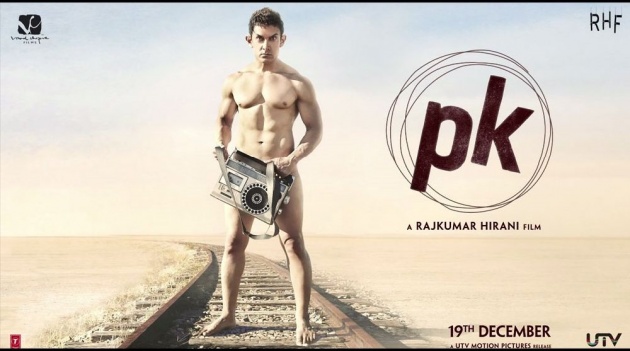 Image Credit: www.filmibeat.com
PK is as much a philosophy as a film. It takes the 'stranded alien' theme, familiar from classics like ET, but tells the tale equally from the lonely alien's eyes - at times, evoking the beautiful story The Little Prince - as from his human narrator's. Starting with the alien's desperation, PK captures the fears and falsehoods humans weave around faith. When PK decides to pray for his remote, he's bewildered about whom to and how to pray. PK features brave scenes - money extracted at temples, coconuts offered in confusion at a church, god-men doling out tortuous advice - and strong lines, including a Muslim girl bravely asserting, "Itna chota nahin ho sakta hamara khuda, ki use hamare school jaane pe aitraaz ho." Capturing faith whipped into hate, PK's sterling message, directed sensitively, stands out.
Information Source: timesofindia.indiatimes.com
Video Credit: Movieclips Indie via youtube.com
✔ Plot Of The Movie
✿ An Alien Comes To The Earth To Explore And Runs Into A Thief
The film begins as an alien in the form of a human lands on earth on exploration mission and loses his remote control as a thief grabs it an runs away. He does not know what to do as he has lost his connection to the planet he belongs to. Meanwhile, Jaggu is in Belgium who meets a Pakistani boy Sarfaraz and soon falls in love with him. On one eventful day, she connects online with her family members in India and informs them that she has found herself a husband and she's going to marry him. When her parents come to know that he is a man of Pakistani origin, they get infuriated because they are Hindus and do not want their daughter to marry a Pakistani Muslim boy. Her father connects her daughter with his religious mentor who tries to make her understand that she will be cheated by that Muslim boy, therefore, she must not go on with this relationship. However, Jaggu firmly believes that she will not be cheated and asks Sarfaraz to marry her as soon as possible to prove her family and the religious mentor wrong. However, on the day of marriage, she does not find Sarfaraz and instead she receives a letter through a little boy depicting the reason that their religion and culture is different, therefore he can't get married with her. Jaggu believes that Sarfaraz has ditched her and she gets very heart-broken and leaves Belgium and go to India.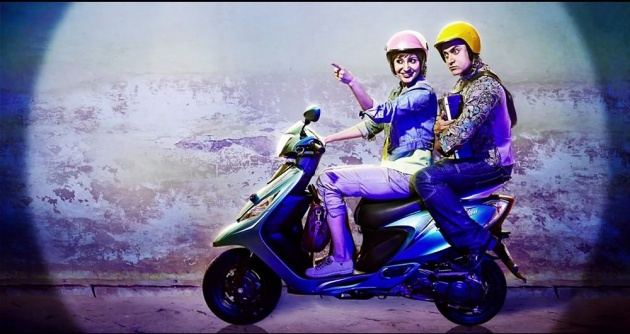 Image Credit: www.filmibeat.com
✿ Jaggu Meets The Alien And Vows To Help Him
While in India, Jaggu joins a Television Channel as a reporter and her duty is to find the most extra-ordinary cover-story in order to televise on the channel. She sees the alien holding a pamphlet about missing God on a Railway Station. She follows him and thinks it will be a great story that a person is looking for God like this. She befriends with the alien whose name is "PK" (means drunk in Hindi) because everybody on earth thinks he is drunk (because of his childish questions and behavior) and call him PK, therefore, the alien introduces himself as PK everywhere. and alien informs her that he is from another plant. He came to this earth on a research mission. However, someone has stolen his remote control. PK informs her about his story as to how he was helped by a truck driver Bhairon Singh who helped him learn the language people speak in this particular region of country. He came to Delhi in order to find his remote control, people told him to ask God for his remote control. PK thinks God is some kind of a person so he starts searching for him by distributing pamphlets. At first, Jaggu does not believe him and thinks that this person is some kind of a mentally ill person and needs help. However, the following incidents make her believe that this alien is telling the truth.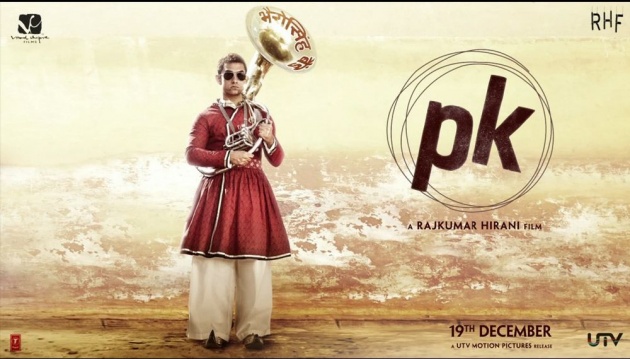 Image Credit: www.filmibeat.com
✿ Alien PK Has To Face Wrong Preachers To Get His Remote Control
PK later finds out that a Hindu religious personality Tapasvi Maharaj has his remote control and asks him to return his remote in front of a large religious gathering, in front of which Tapasvi Maharaj had just claimed that this remote is actually a kind of artifact from God (according to Hindu religion, a piece of God's drum). After hearing PK's story, Tapasvi Maharaj have PK thrown out of gathering. PK does not understand that Tapasvi Maharaj has ill motives and thinks that God has mistakenly given his remote control to him. Jaggu promises PK that she will help him get his remote through her TV channel and will highlight the wrong-doing of Tapasvi Maharaj and his fraudulent religious practices. Meanwhile, Bhairon Singh contacts PK and informs him that he has caught the thief who stole PK's remote control and sold it to Tapasvi Maharaj. He says he is bringing the thief to him so that he can get his remote control through him from Tapasvi Maharaj. However, when Bhairon Singh reaches Delhi Railway Station, he dies along with the thief and many other because of a bomb explosion which terrorists had planted there.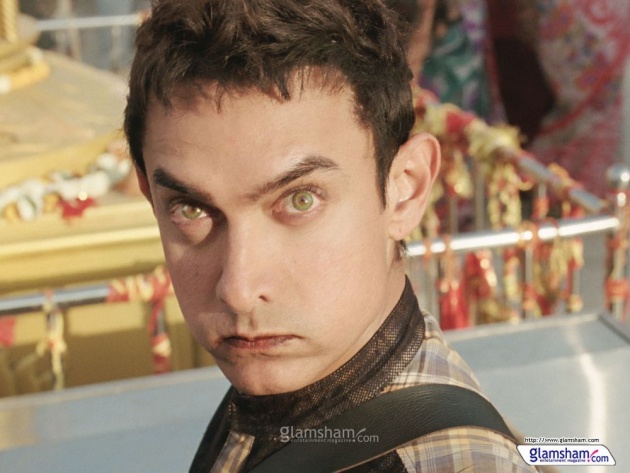 Image Credit: www.glamsham.com
✿ PK Wins The Battle of Right & Wrong And Jaggu Meets Her Ex-Lover
This confrontation between PK and Tapasvi Maharaj gets so much intense that they are called on TV channel to argue and prove the ownership of that remote control. The matters related to religion come under discussion during which there is a mention of Sarfaraz on which Jaggu feels that she is being degraded on her personal matter, however, Tapasvi Maharaj (being the mentor of Jaggu's father) insists on this topic and challenges that if Sarfaraz is proved innocent, he'll return the remote to PK and he further tells that Sarfaraz was a cheat who betrayed Jaggu. PK knows the truth that Sarfaraz did not cheat, in fact, the letter Jaggu received from a little boy was meant for another couple but accidentally Jaggu got this letter and thought that Sarfaraz had run away. To prove this fact, Sarfaraz is contacted during live program and he confesses that he did not run away, in fact, when he reached the church a little later, he did not find Jaggu there and he thought Jaggu has changed her mind on the pressure of her parents, however he still loves Jaggu and wants to meet with her. Having known the truth and after getting uncovered, Tapasvi Maharaj returns the remote control to PK.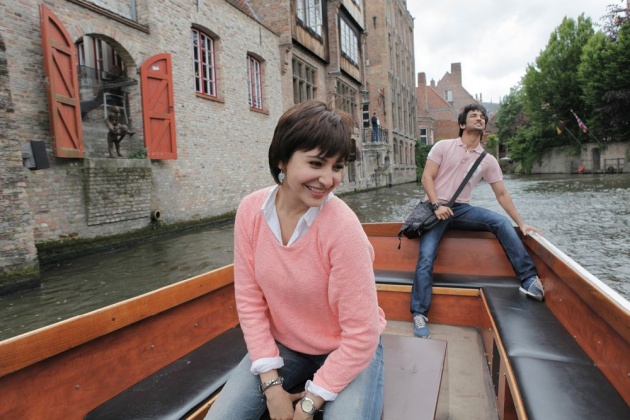 Image Credit: www.flanderstoday.eu
✿ PK Returns To His Planet Having Learnt A Lot Of Lessons
Since, Jaggu has got her love Sarfaraz again and PK has got his remote control, now is the time for PK to return to his planet. While on earth, PK had started to feel love for Jaggu, but now he has no chance. He connects to his planet and gets ready to go back. While, the spaceship approaches to pick PK, Jaggu comes to know that PK had fallen in love with her as he recorded her voice since the day she met him as a souvenir from her. PK tells that these voices will be used as a teaching material on his planet. One year later, PK arrives back again to earth with some more aliens from his planet on yet another exploration mission and he guides them about humans on earth and how they should be careful and save themselves from bad people they may encounter.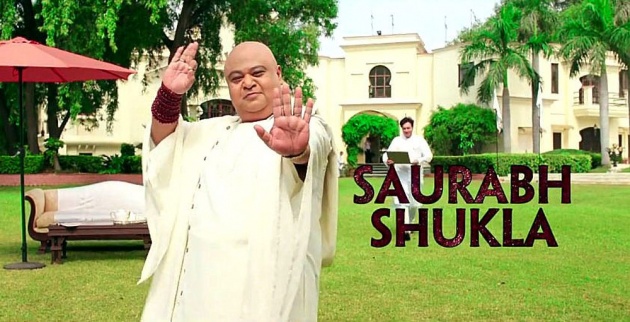 Image Credit: niravsays.wordpress.com
✿ Here is Querlo Chat for you. Isn't it fun to chat with a Chatbot ?
Image Credit: nri proposals via youtube.com
✔ My Movie Review - Conclusion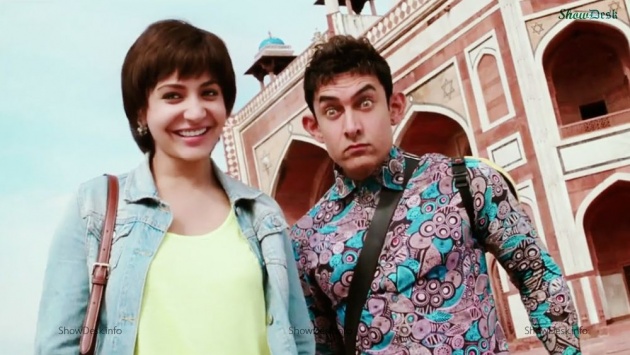 Image Credit: www.showdesk.info
Generally, the script of movies that Bollywood produces mostly revolve around romance between hero and heroine. There is a trio of Hero, Heroine and a Villain. However, this movie PK was a new script idea and it was welcomed by the Bollywood movie lovers. The script and its subsequent execution was awesome. The Director and Producer of the film Rajkumar Hirani has done a marvelous job and has come up with a mind-blowing script and screen-play. Furthermore, the acting of Aamir Khan as PK was superb and performed his character in a superb manner. Other actors also performed very well and managed to make this movie a commercially Hit movie. The songs, filming, sequencing of the screenplay, all were awesome. I shall rate this movie 8 out of 10 and liked it very much. In fact, I watched this movie at least two times because of it attraction and its story material. This movie had budgeted cost of about US Dollar 5 Million whereas it managed to generate box office business of more than US Dollar 130 Million which shows the popularity level this movie attained throughout the world.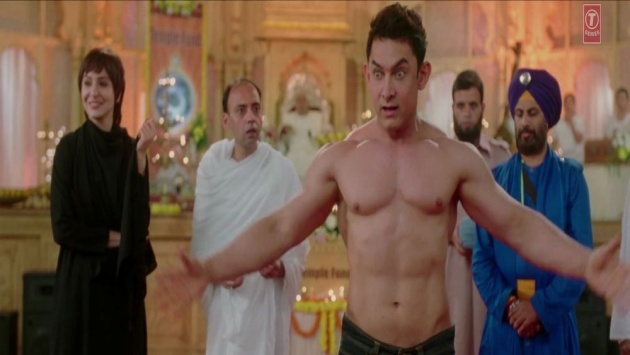 Image Credit: stylishhdwallpapers.com
✿✸✔✤✪ - - - - - - - - - - - - - - - ✿✸✔✤✪ - - - - - - - - - - - - - - - ✿✸✔✤✪ - - - - - - - - - - - - - - ✿✸✔✤✪

Thanks for Reading. This Blog was written by Rafaquat Noman (a Resident of Saudi Arabia and a Traveler) for bitlanders.


DISCLAIMER: The contents of Blog above are that of the author and does not represent his company or agency. The sites, videos, and photos used in this Blog are for information purposes only and links are available for direct access. The author does not receive any monetary benefit from those companies or sites.
✿✸✔✤✪ - - - - - - - - - - - - - - - ✿✸✔✤✪ - - - - - - - - - - - - - - - ✿✸✔✤✪ - - - - - - - - - - - - - - ✿✸✔✤✪