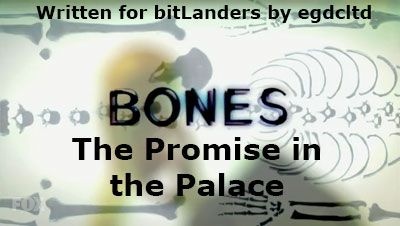 Image Credit: Fox via Wikipedia

"The Promise in the Palace" is episode seven of season eleven of Bones, the forensic drama television series loosely based on the novels and life of anthropologist Kathy Reichs. In this episode, the body of a young woman is found in the woods by mountain bikers.
Image Credit: IMDb
Middle-Aged Men on Mountain Bikes
Three middle aged men on mountain bikes are in the woods looking down a slope. Two of them are definitely put off it, and say that it's too steep; the third says that this is what they came for, gets ready - and pushes one of the others down the slope. The man goes down at speed and his bike crashes. He tumbles off and disappears from view. The two men still at the top of the slope call out to see if he's okay. He eventually resurfaces and makes it clear that he is. Then one of the others points out that the man has a bone sticking out of his arm. However, it isn't his. His bike has landed on a body. So he faints.
Discussions on the Tooth Fairy
Booth tells Brennan that Christine has lost her first tooth. Which Brennan identifies in incomprehensible to most detail. Booth says it's time for Christine to get a visit from the Tooth Fairy. Brennan would prefer that he didn't do that. Booth responds that there is no harm in it. Brennan doesn't want to teach her daughter that it's okay for strangers to break into her room and steal body parts. Brennan thinks it would be better to instead teach Christine the science behind losing the tooth.
Probably A Body Dump - As Joggers Don't Usually Wear Heels
Hodgins, Clark and Cam are all on the scene. The victim is a female in her mid 20s. Much of the flesh is missing, not because of decomposition but from predation. Hodgins puts the time of death as 48 hours ago. The victim is wearing heels, which makes it unlikely she's a jogger or a biker. Aubrey spots dried blood which leads to a slope with drag marks at the top. The victim's body was evidently pushed down the slope to dispose of it.
The Victim May Be a Dancer - And More Discussion of the Tooth Fairy
Back at the lab, Hodgins comments that the victim is wearing a lot of stretchy clothing and Cam says she has the muscle tone of a dancer. Brennan brings up the matter of the Tooth Fairy, and Hodgins tells her that Michael Vincent has received more than a few visits from it. Brennan asks if Hodgins isn't concerned that he's insulting Michael Vincent's intelligence. He responds that he's 6.
A Repeatedly-Swallowed Key
The victim has had extensive injuries over the past decade, all remodelled. Her shoulders have been repeatedly dislocated. There's also a key in her throat, which she appears to have swallowed willingly, and Hodgins doesn't recognise the type. The key looks to have been swallowed multiple times.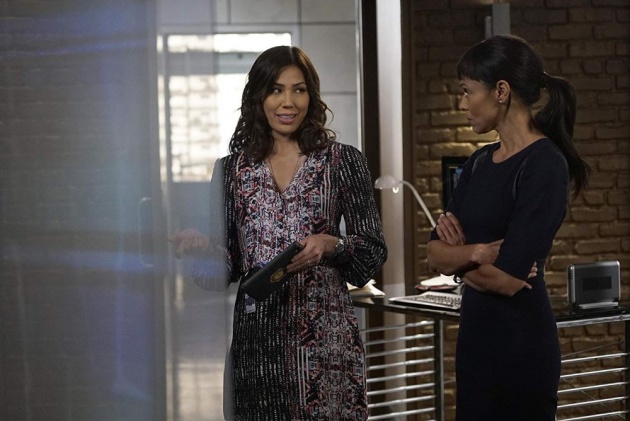 Image Credit: IMDb
Cam Thinks Sebastian Has an Interest in Angela - She's Really Wrong
Sebastian Kohl, the photographer Angela met in "The Donor in the Drink", is visiting her to give her advice on photography when Cam enters with a finger. When Sebastian leaves, Cam mentions that she thinks Sebastian has more interest in Angela than simply photography mentoring. As it turns out, Cam has got this really wrong. Angela's facial reconstruction has narrowed the victim down to 379 women in the DC area. Which is rather a lot. The finger is damaged but the partial fingerprint has 84 matches. Cross-referenced with the facial reconstruction, this leads to a Clarissa Mott, age 27.
Straightjackets and Handcuffs in the Victim's Room
Aubrey and Booth are going to Clarissa's apartment. No missing persons report was filed and she has no relatives in the DC area. Clarissa showed signs of extensive abuse, and her roommate didn't report her missing. When they arrive at the apartment, the roommate's boyfriend answers the door. He's cooking - they have just set up their own catering business - which immediately piques Aubrey's interest. Who recognises a very expensive truffle oil the boyfriend is using. The roommate, Anna, says that she didn't know Clarissa that well, and that she was into weird stuff. Clarissa's room holds straightjackets and handcuffs. Clarissa wasn't being abused; she worked as an escape artist at The Magic Palace.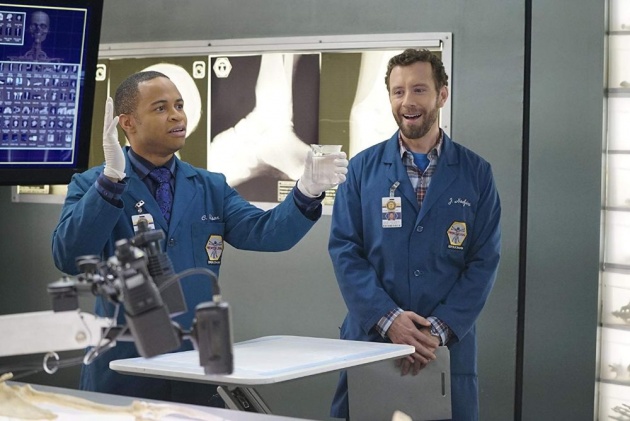 Image Credit: IMDb
Brennan Does Not See the Point of Magic
Clarissa showed burn marks on both arms with traces of accelerant, as well as signs of assault. Brennan doesn't like the idea of magic. Science tries to find the truth whilst magic sets out to deceive. Just like the Tooth Fairy. Brennan really doesn't see the point of magic.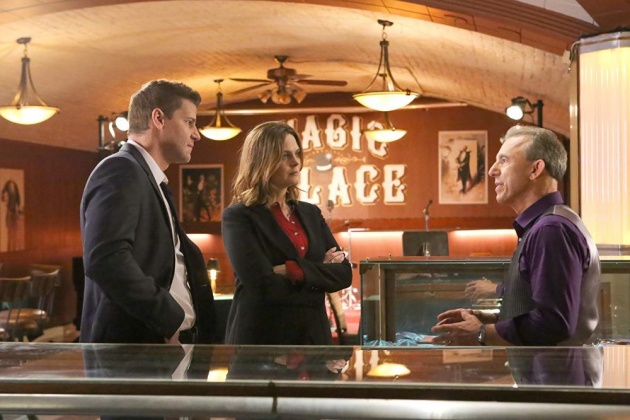 Image Credit: IMDb
Clarissa Had Just Got the Coveted Friday Night Slot
The man who runs The Magic Palace, Lenny Jay, says that he found Clarissa practicing street magic on the National Mall. He says that the Palace is an incubator for young talent, and Clarissa had just got the coveted main stage Friday night slot. This displaced Big Phil, a magician who works with flames. Big Phil tells Aubrey that the flames came from a prank, they weren't supposed to burn Clarissa. She would open a box and flames would pop out. Clarissa would normally catch them, but this time she didn't. Big Phil says that she's been distracted recently.
Lacking a Cause of Death and a Motive
So, currently they lack cause of death, or a motive. Some do crop up, but nothing sticks. Clarissa seemed to be devoted to her craft and nothing else. She didn't even have a boyfriend. Something suspicious turned out to be simply more stuff related to perfecting her craft.
Bones - The Promise in the Palace Trailer
Video Credit: ME GUSTA CHANNEL via YouTube
More Blogs from this Television Series:
Want to earn from blogging on bitLanders? CLICK HERE to sign up and get a $1 reward.