Image credits: by Naotalba via Canva.com
Although I don't shop there very often, Borough Market is a place where I really like going, for the awesome amount and variety of fresh produce I can find in this place (including my beloved French cheese).
Location
Open Monday-Saturday from 8:00 to 17:00, this large covered market is located a couple of minutes on foot from London Bridge, on the south bank of the Thames river in London, between Southwark Cathedral and the London Bridge Tube station (Northern and Jubilee lines, fare zone 1).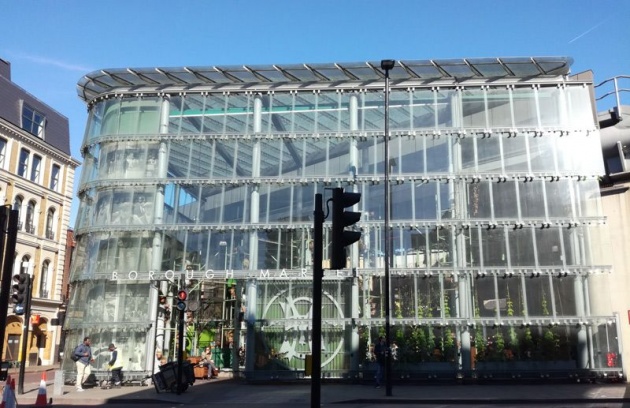 Image credits: Borough Market in 2018 (Borough High St) by Naotalba via bitLanders
History
"First they made their way to London, and so up into the Thames, but the Danes held the city. On the other side of the river is a great market town called Southwark..."
— Snorri Sturluson, in 'Heimskringla'
Borough Market has been around since 1014, or possibly even earlier, although obviously not always in the form it's known for nowadays (it used to be a couple of smaller markets at first). It held a place of choice, for at the time, London Bridge was the only way to cross the Thames river to get into the city per se. This was a problem for the authorities in the City of London, since it competed with trade on the northern bank, and a couple of centuries later, they tried to prevent people from buying merchandise there, before several royal charters effectively made the market an extension of the City itself, and Edward VI finally sold Southwark to the City.
Due to the traffic and trade congestion it kept causing, the market was closed in the 18th century; but the residents of Southwark wouldn't have it, and their petitioning led to an Act of Parliament allowing them to buy land and set up their own market—which they promptly did. This new market kept expanding, becoming a choice place of wholesale trade for fresh produce in the 19th century, until it started declining in the mid-20th century, unable to compete with supermarkets.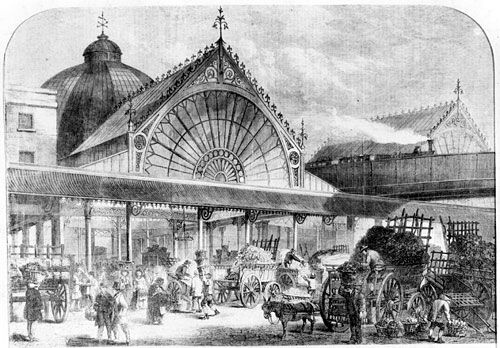 Image credits: Borough Market c. 1860, from the Illustrated London News, via Wikipedia

Borough Market as we know it today, as an independent institution managed by a charitable trust, was revived in the 1990s. Growing local and touristic interest for it led it to be opened for 6 days a week.


Video credits: Video by Naotalba via bitLanders

Architecture
Nothing of the previous, medieval markets has survived, which is to be expected; however, Borough Market is a testimony to mid-Victorian and Art Deco architecture: its buildings were designed in the 1850s-1860s, and its Southwark Street entrance displays a portal dating back to 1932. Its more recent addition is the South Portico from the Floral Hall, formerly at Covent Garden.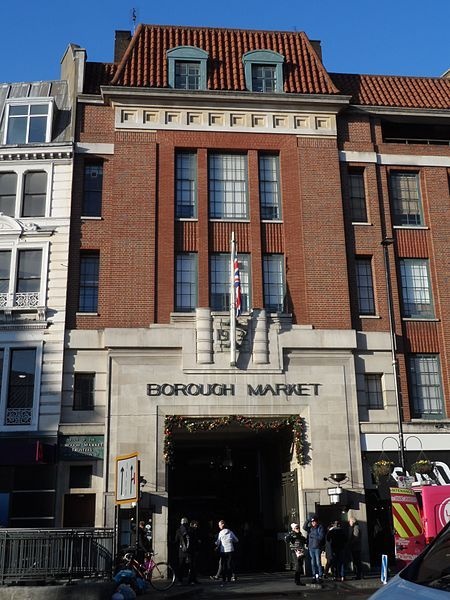 Image credits: Southwark Street Art Deco portal via Wikipedia

So many stalls!
The market mainly offers specialty fresh foods, such as cured meat, cheese, fudge, jams, bread, or pastries.
In my own experience, it's almost impossible to walk into Borough Market then walk out without buying anything; even if you didn't plan on shopping there, odds are that you will find something tickling your fancy, be it a tiny pastry or a hamburger from one of the stalls on the Southwark Cathedral side. Stall holders aren't only from London; many come from other parts of the United Kingdom, or are even specialised in products from other European areas, and the wide range of available foods is just overwhelming.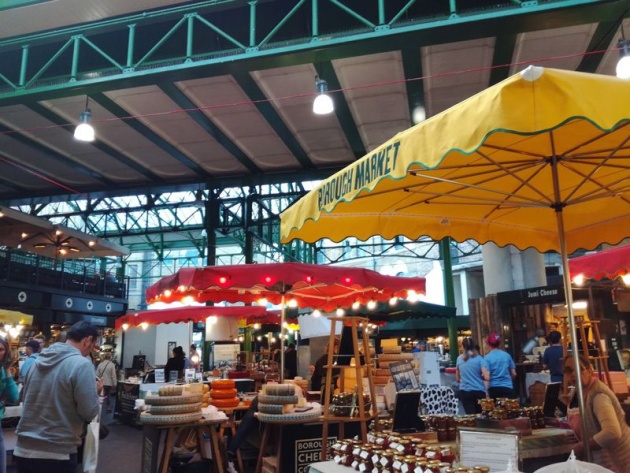 Image credits: Borough Market stalls by Naotalba via bitLanders

Prices vary depending on what you buy; some fruit can be affordable, while fancy pastries are more on the expensive side. It is, to be honest, a little pricey in general (or even more pricey if you're a big eater), which is why I don't go there to get all my groceries. From time to time, though, it's definitely worth it.
The following are among my favourite stalls, but they're by no means the only ones you can find at the market, which also abounds with costermongers, fishmongers, and charcuterie purveyors. A more comprehensive list of all traders is available on the Borough Market official website, along with pictures and descriptions of the foods and produce they sell.
Une Normande à Londres
Une Normande à Londres is my favourite stall of all, held by French people who sell an assortment of cheese and saucissons with so many different combinations of flavours (like boar and ceps, or duck and chestnuts) that deciding on what to buy is always a challenge. It's also a boon: when I was desperately looking for raclette cheese around New Year's Eve, and Tesco's and Sainsbury's were devoid of any, I knew I just had to pop by this stall at Borough Market, and voilà! Cheese happened. And my fridge is currently hosting a Coeur de Neufchâtel that I'll delight in eating soon.
Recommended:
Epoisses cheese—yes, its strong smell is part of the experience. Also, try the duck saucisson for a change.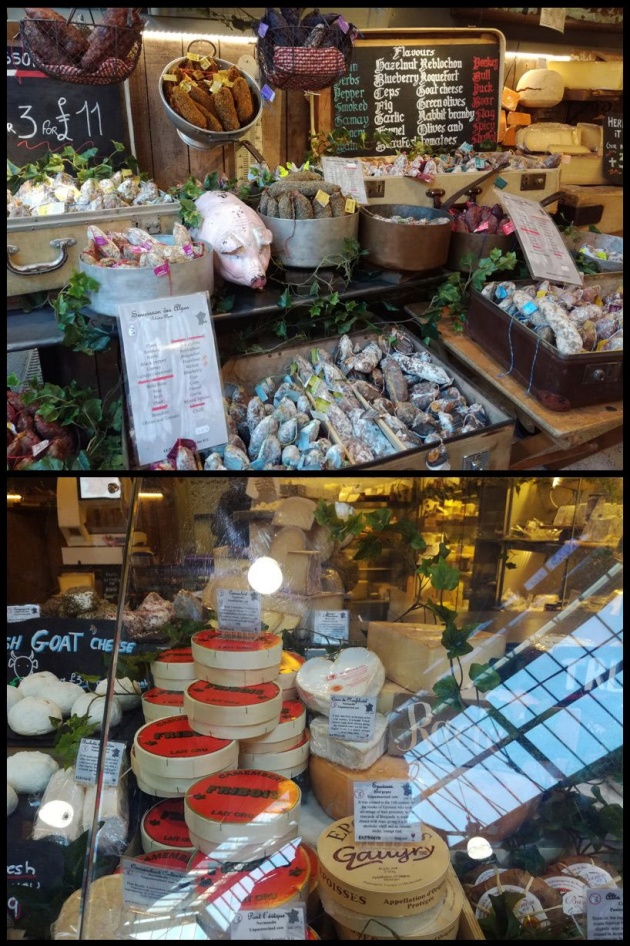 Image credits: Saucisson & Cheese, by Naotalba via bitLanders

Whirld
Whirld is where I go when I want to buy fudge. To be honest, I don't eat fudge that often, and only in small quantities, but my family loves it, so I make sure to bring a bag every time I fly back to my home country.
Whirld goes further than the basic fudge you can find in all supermarkets, and offers many flavours: cinnamon, whisky, rum, vanilla, salted caramel, cider... I'm always guaranteed to find something original there. I also like that you just have to grab a paper bag and a pair of pliers, then pick anything you like, at your own rhythm (because choosing is not so easy here either!).
Recommended:
I'm very partial to cinnamon and salted caramel fudge.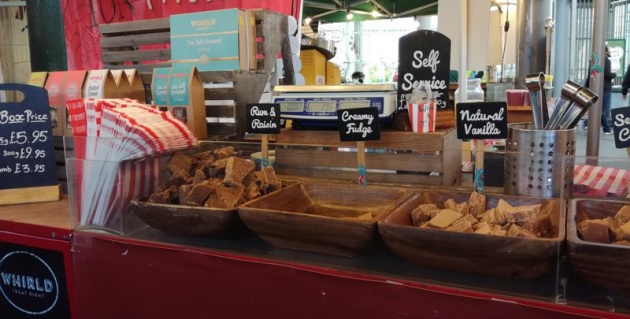 Image credits: All the fudge by Naotalba via bitLanders

Not far is also Chocolicious, where I go for my chocolate addiction, or when I want to gift chocolates to a friend. Way fancier than the basic boxes you can find in supermarkets!
Ion Patisserie
Next to the fudge stall is Ion Patisserie. Look at these cakes. Really, look at these cakes and tarts. In fact, they're so pretty that I almost don't dare breaking their harmonious integrity by buying a slice. Almost. (They're also very tasty.)
Recommended:
The puzzle cake, both for its taste and looks.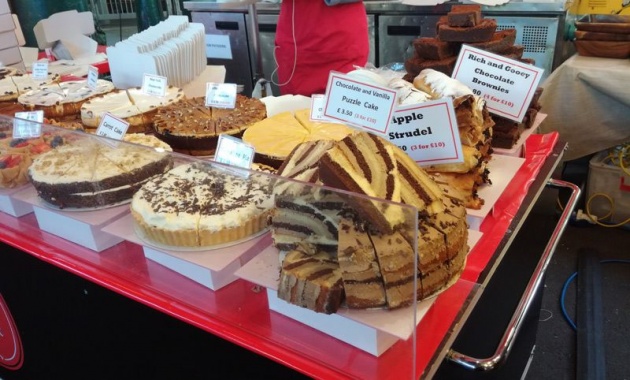 Image credits: Ion Patisserie by Naotalba via bitLanders
Comptoir Gourmand
Another stall with French food, Comptoir Gourmand offers a variety of pastries that all look so delicious that here, too, it always takes me ages to decide what I'd like to buy! Just looking at them makes me hungry—and reminds me that I haven't eaten a mille-feuille in quite a few months.
Recommended:
I'm an éclair person, so that's usually my pick of choice here, but the rest is equally yummy.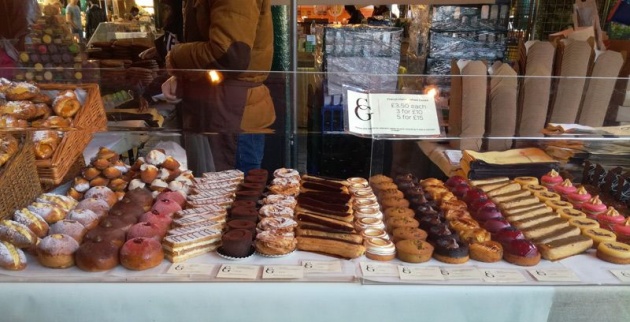 Image credits: French Pastries by Naotalba via bitLanders

Ready-made Food
Last but not least, don't forget the ready-made food stalls. You may have to queue a bit, especially at lunch time, since the place is usually packed after 10-11 am even on week days, but it's worth it. Whether you fancy a warm sausage on a stick for £1.50 or a duck confit sandwich, you'll sure find something to your liking. (I haven't tried everything myself yet: the portions are quite hefty for me, so when I get something, it's usually just the one food item.)
Video credits: Borough Market in London - What You Should Eat by Mark Wiens via YouTube

Conclusion
If you happen to be in London and want a good food experience while also enjoying walking in a historic place—easy to access, and just ten minutes from the City itself, on top of it—then look no further, and have a go at Borough Market.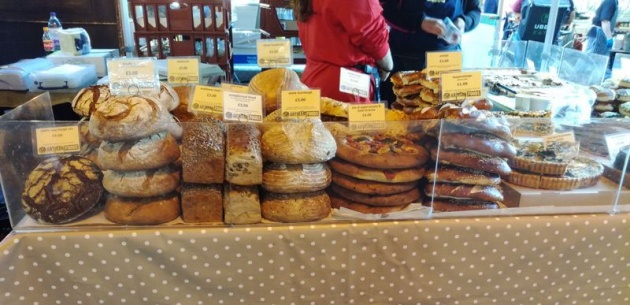 Image credits: Bread by Naotalba via bitLanders

If you want to eat and you're in London, this is one of the best places to visit.
— Mark Wiens

Source: Querlo chats in this post by Fredo898