Edited by: @artbytes via Bitlanders
May 5, Saturday. My wife's family decided to go and have a breakfast at the beach. Actually, they wanted to do this for the past three days. Finally, the plan went through.
About Roxas City
Before I jump to my main story today, let me share with you a little bit about my home city, Roxas City. Roxas City is the capital of the Province of Capiz, Philippines. Located north of the Island of Panay in Western Visayas, it is also known as the Seafood Capital of the Philippines.
The Roxas City Beach
The Roxas City Beach, or locally known as Baybay Beach, spans up to seven kilometers of grayish fine sand. However, almost all of seven-kilometer beachfront is lined with both residential houses and commercial establishments.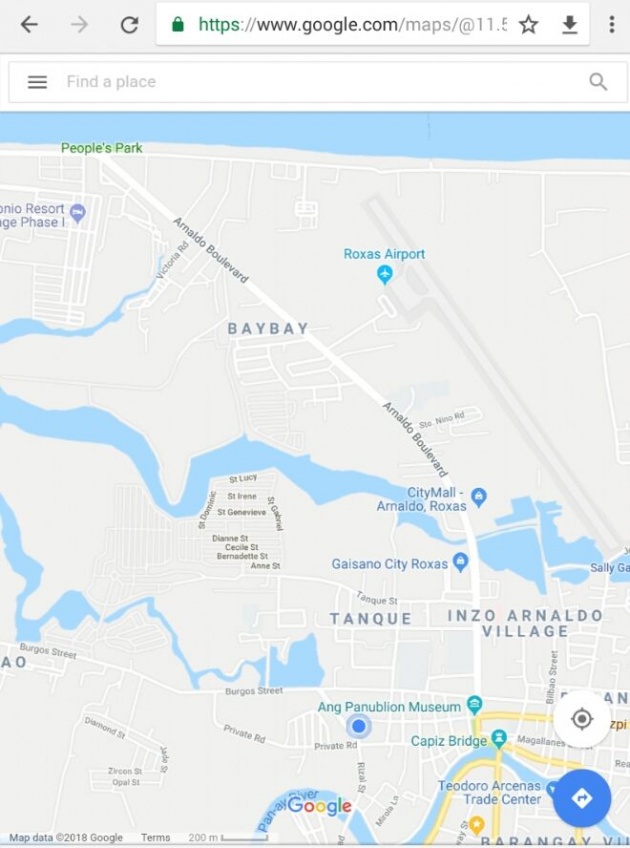 Screenshot of Google Map.
Credit: Google Map
Baybay beach is just approximately 3 kilometers from the city center. Making it very easy for us to go to the beach whenever we want to. It takes only about 10 minutes from the plaza if you take a tricycle - Roxas City's main mode of transportation.
Breakfast at the beach
I heard them plan on going to the beach for the past three days but it did materialize, until today. We went there around o'clock in the morning. it took just around 10 minutes to get to the People's Park.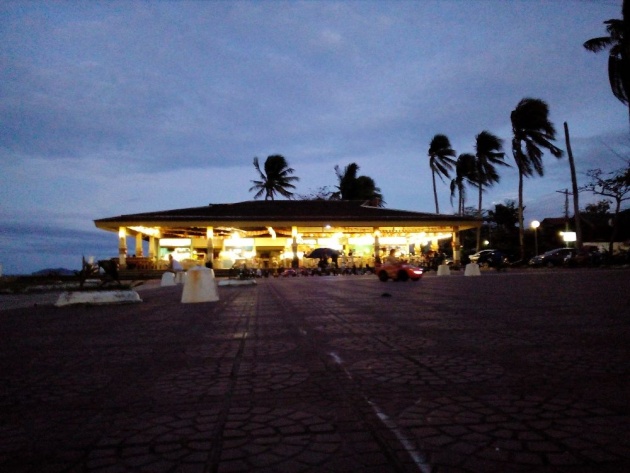 The People's Park at dusk.
Credit: @artbytes via Bitlanders

The restaurants in the area usually don't serve breakfast. They don't open until around 10 a.m. So, we brought our own breakfast.
Dark Clouds
It was quite cloudy when we got there. But the sea was calm and peaceful. There were some joggers already there. A few people are already on the beach, swimming.
Mantalinga Island is just a few kilometers away from the beach front.
Credit: @artbytes via Bitlanders
Fishing boat
A small fishing boat was anchored on the shallow waters. I believe they have just finished unloading their catch for the day. There was a middle-aged man raking the sands. He was gathering live shells that are buried under the sand. He would then sell the shells once he got enough.
Early Saturday morning at the beach.
Credit: @artbytes via Bitlanders
While I was taking some pictures and videos, someone brought my youngest son in a stroller.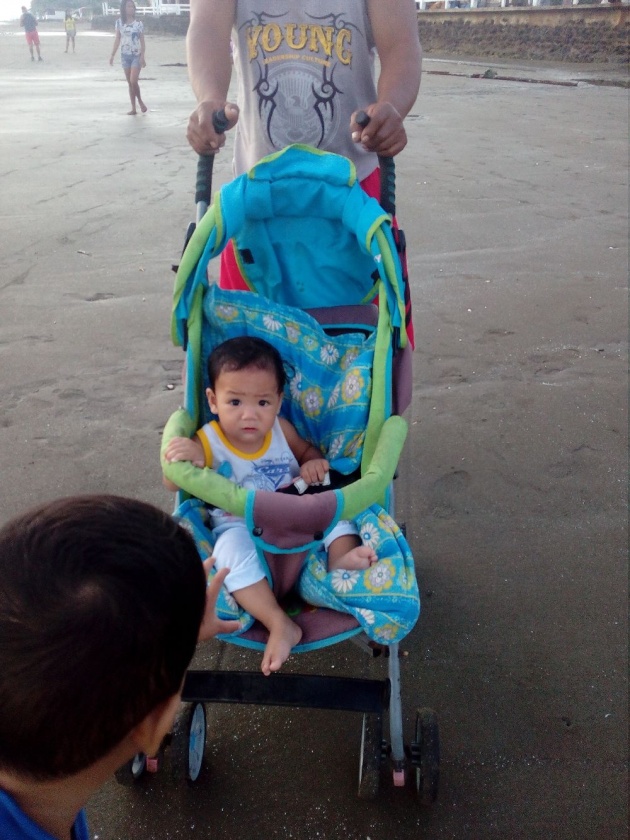 My youngest son in his stroller.
Credit: @artbytes via Bitlanders
A few moments later, another fishing boat arrived and anchored on the shallow water.
Clean Shoreline
One disadvantage of a very long shoreline is, no one is maintaining the whole seven-kilometer stretch of the beachfront. Although you don't usually see man-made garbage on the beach, you will see empty shells, seaweeds and other natural "trash" are scattered on the shoreline. Occasionally, including some jellyfish washed ashore.
This morning, however, I was amazed to see that there was not a single trash is visible in that area. The water was so clear and looks so clean. Perhaps, in this area, at least, someone is cleaning the beach front.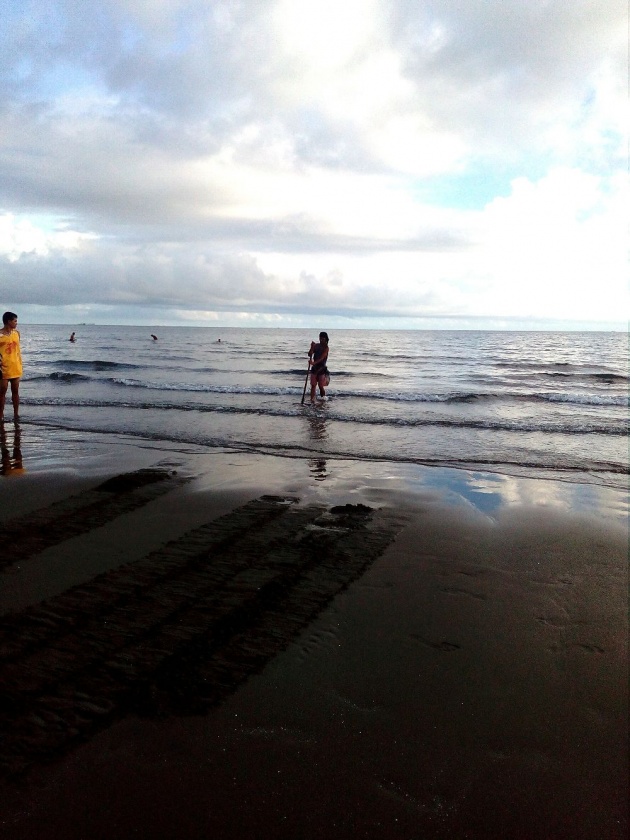 At least on this stretch, I have not seen a single piece of trash.
Credit: @artbytes via Bitlanders
My Eldest Son Loves the Beach
My eldest son always loves the beach. While the others are preparing our breakfast, he was already strolling along the shallow water. I decided to walk beside him.
As we strolled on the beach, he suddenly sat down and then lied on his back on the shallow water.

Breakfast time
Then, they called us for breakfast. They have prepared, fried eggs, hotdogs, shrimps, and bread. Of course, they brought a couple of thermos of hot water for our coffee.
It was simple. picnic like breakfast. A straw mat was laid on the sand and food were placed over it, while we squat around the mat.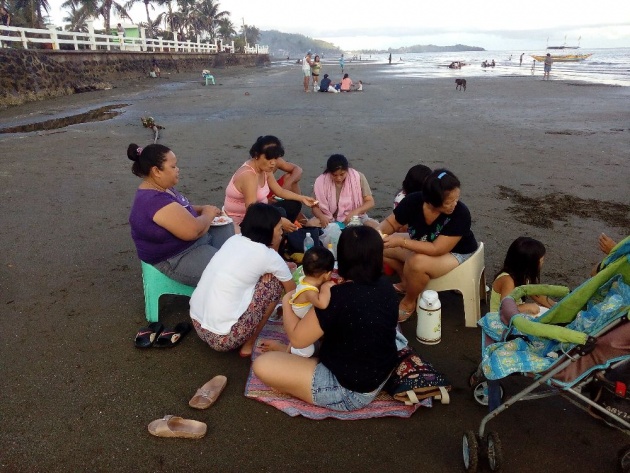 Breakfast at the beach.
Credit: @artbytes via Bitlanders
My son just took a few bites and ran off to the water again.
At the time. the sky was less cloudy. Not really clear, but the sun was already shining.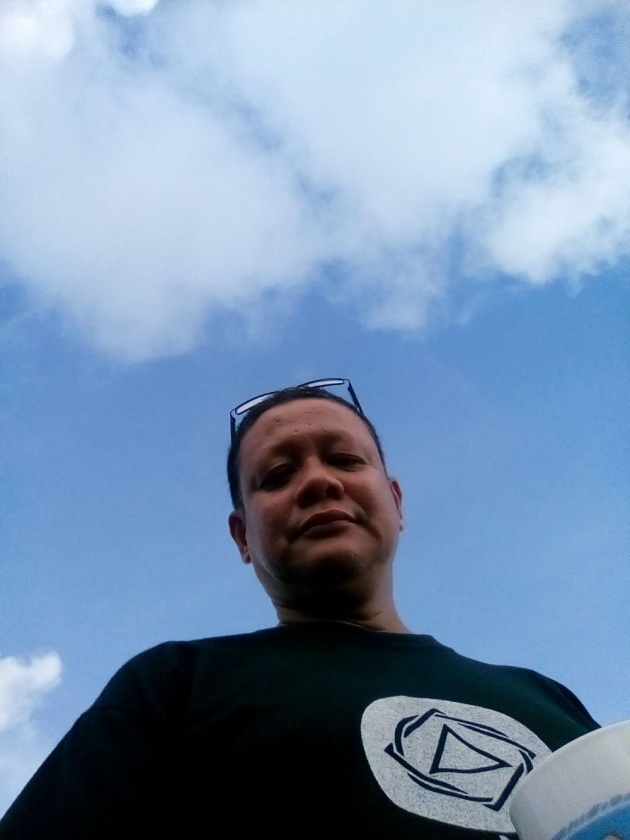 Blue skies on my background
Credit: @artbytes via Bitlanders
While they are still finishing their breakfast, I walked towards a friend of mine who was there for his morning jog. We had a little chat.
While we were talking, a passenger plane took off. My friend commented that the plane is right on schedule this time. (The airline is known for always being late).
A passenger plane took off on schedule.
Credit: @artbytes via Bitlanders
Summer Rain
Just as I was about to excuse myself from my friend, the rain started to pour. I ran towards the beach and found my eldest son playing on the sand. The rain was not that heavy then, it was more like a drizzle.
However, my wife already took our youngest son to seek cover from the rain.
I went to the water for a quick dip, then I played with our eldest on the sand. My wife's cousin joined us. My son then asked us to bury him under the sand. As we cover his body with sand, however, some sand went down his ear and he started crying. So we decided to take him out from under the sand and I brought him to the water to clean the sand off his face and ears.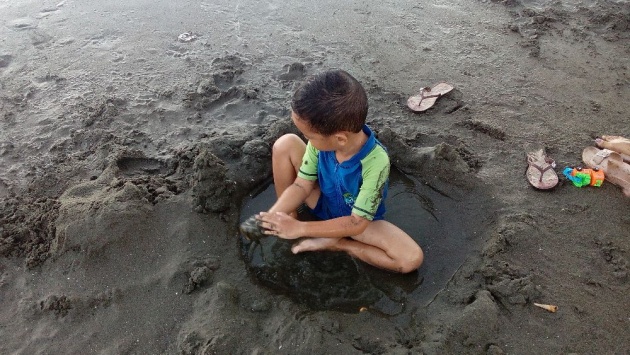 My son playing on the sand.
Credit: @artbytes via Bitlanders
Then the rain started to pour heavily. The air was getting cold. My son was already shivering. So we decided to get out of the water and go home.
The rain was already pouring heavily, that it looked like a tropical storm just hit us.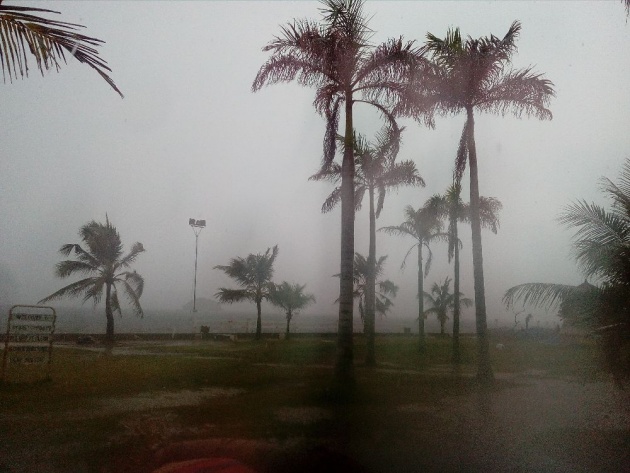 Summer Rain
Credits: @artbytes via Bitlanders
I thought that the weather is crazy. Summer had just started and now, it's raining cats and dogs. Perhaps, this is just a summer rain.
We could have stayed a little bit longer but the cold temperature brought by the rain is quite unbearable, especially for the little ones.
end
I hope you like this little story.
Thanks for Reading.
Related Post: Is It Getting Hotter Every Summer?
~oO0Oo~

John Reynold Loberiza (a.k.a @artbytes) is a freelance graphic artist, web developer, and blogger. He is also a licensed Financial Adviser under Insular Life.
The content of this blog post is the author's original work. Proper credit is always given to the respective sources of information and images. Please feel free to check out my other blog posts: http://www.bitlanders.com/Artbytes/blog_post
If you have any reactions or inquiries regarding the subject of this post, please write it in the comment or send the author a private message.
For more information or questions you can also: