Introducing the Chatbot Assistant

Chatbot Assistant, powered by Querlo, is an AI-powered chatbot that engages your audiences like a virtual you!

Influencers, entrepreneurs or creatives will all find this Assistant a personalized and effective solution to communicate with your audience and network, or even to keep in touch with friends and colleagues.

- Hillary Summers (bitLanders Blogging Bonus reward topics)
Few weeks ago, Micky posted an update to the on-going c-blogging initiative done by Querlo and bitLanders. A new set of Double Bonus Rewards Topics had been announced. This time, it features their newest innovation called Chatbot Assistant.
So what is this Chatbot Assistant? What can we get from creating and using one?
This is what I am going to talk about in the querlo chat below. So, what are you waiting for? Interact with me to get to know more about Chatbot Assistant!
But, wait! Before anything else, so you don't get drowned reading many information... here's a quick overview presentation of Querlo team's chatbot assistant. Check out the video below!
Querlo Chat: Build Your Personal Chatbot Assistant – the Virtual You!
Here's a look at the Querlo Chat above: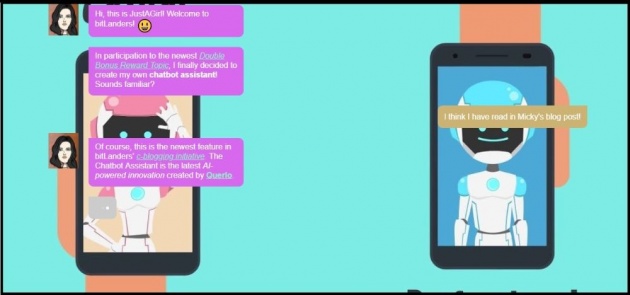 Photo Credit: A Screenshot of My Querlo Chat "Build Your Personal Chatbot Assistant – the Virtual You!"
I was so interested in this new innovation I even created my own personal chatbot assistant! The entire process was so fun and enjoying. It didn't even take me more than 15 minutes to get it done.
After completing the process, you do not need to edit everything manually by yourself. Querlo will just deliver it straight to your working email. All you need to do is patiently wait for it to arrive in your inbox! Isn't that neat?
You may check the video presentation below made by Querlo team containing a rough tutorial in building your chatbot assistant.
Here's a look at my very own personal chatbot assistant: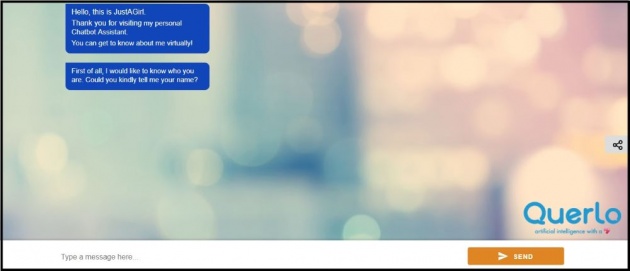 Photo Credit: Screenshot of My Chatbot Assistant
Interesting, right? I know! So don't hesitate anymore. Create your own personal chatbot assistant now. Just click on Chatbot Assistant for more information!
Thank You For Reading!


Please share this blog to your friends via social media. You may also participate in the bitLanders c-blogging.


- ♥JustAGirl ♥-