Up to this point of the season, buddy Cristiano Ronaldo and Gareth Bale has contributed 17 goals and 4 assists for Real Madrid, more than any other duo are playing for top European clubs.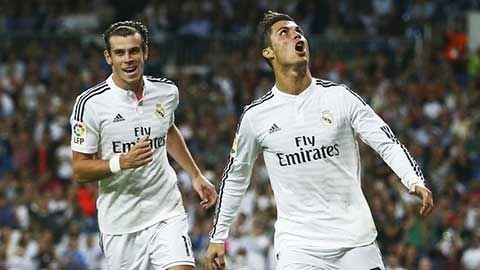 Ronaldo and Bale continuous shooting
After starting the season with the first part chuech choac losing to Atletico Madrid and Real Sociedad, coach Carlo Ancelotti's men came back with a very impressive streak. This time, Real Madrid is the team scoring the most goals in Europe with a total of 25 goals. It is noteworthy that among them, there were 17 goals from Cristiano Ronaldo and Gareth Bale.
Words not exaggerating, Real're living off the shine of this duo. They not only directly contributes 68% of the Los Blancos goals and also provided four assists as goals.
Ronaldo and Bale is shining brightly
Standing right behind Ronaldo - Bale's buddy Lionel Messi and Neymar. Despite not shooting as much as two stars of the Real (only scored 13 goals), but the duo of Barcelona and here is specific to Messi had 6 assists. As such, they have imprinted shoe in 80% of the time up to the time of the Blaugrana this point. Personally Argentine star also became a partner so that any striker always wants to be closely surveyed.
Of course, many people would think that after 4 ranked player "gods" of Real Madrid and Barcelona will turn couples striker Dzeko - Aguero, Falcao - Rooney or Cavani - Ibrahimovic, who is a world-class striker world. But not the heavy double-barreled artillery aforementioned André-Pierre Gignac, but the Dimitri Payet and Olympique Marseille's new duo continued to play effectively. Specifically, under the skilled hands of the "madman" Marcelo Bielsa, Gignac has scored 9 goals. While his team is Payet fired 3 times 3 plus create a scoring pass.
Barcelona are relying upon the wings Messi - Neymar
No. 4 belongs to the team is leading the Premier League standings, Chelsea. Diego Costa is start dreaming in color shirt with 9 goals for the Blues. While his teammate Eden Hazard is contributed 2 goals and 1 assists. One of Chelsea's other recruits also very impressive game of the season was Cesc Fabregas. Spain midfielder had a goal 7 assists, 4 times which helped Costa merits. Unfortunately, this ranking is based on the number of goals scored, if not buddy chemistry Chelsea have called Costa and Fabregas.