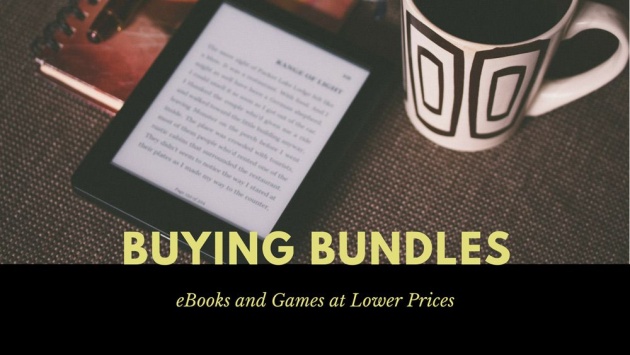 Image credits: eBook reader by Aliis Sinisalu from Unsplash via Canva.com

A couple of years ago, I signed up for two websites that let you buy digital books and video games in bundles, and I must say that I haven't regretted doing so—even though it means, of course, that there's more temptation for me to spend money.
What are those bundles?
As the name implies, these sellers bundle several books together, just as if you were to get a pile of books at a huge discount in a store sale. The same goes with video games.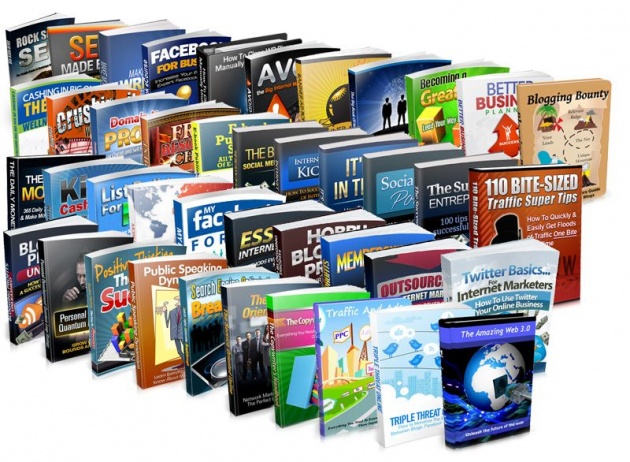 Image credits: Bundle of books via GenuineInternetJobs.com

Common features
The websites I'm going to talk about here have features in common, that will become quickly familiar if you keep exploring other bundle options later.
1. The price of such a bundle is usually fairly attractive—most of those I bought cost me $15 instead of $90-100, which is, in my opinion, a pretty good deal.
2. Apart from this, bundle sellers also often share another feature: that of letting you determine how much you want to pay. There's usually a minimum price, then a set point at which bonuses (extra books, extra games...) become available. After that, if you want to pay more, it's entirely up to you.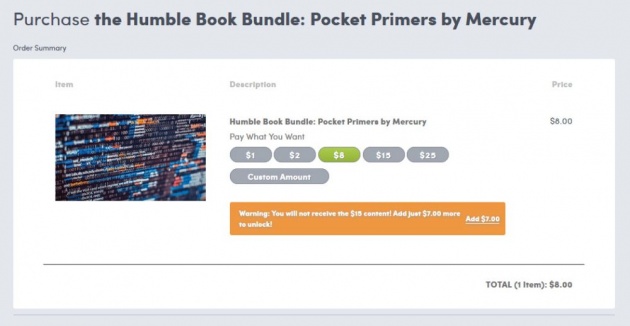 Image credit: Payment tiers on Humble Bundle by Naotalba

3. A third feature is the percentage that goes to the authors vs. what goes to the seller—or, in some cases, which part goes to charity.
4. The bundles always follow a specific theme.
5. They're available for a limited time only. Don't miss the deadline!
6. The ebooks are DRM-free! (I definitely do not advocate piracy, but DRM is a bother for the legit buyer more than for the pirate, so whenever I can buy DRM-free ebooks and games, I really appreciate it!)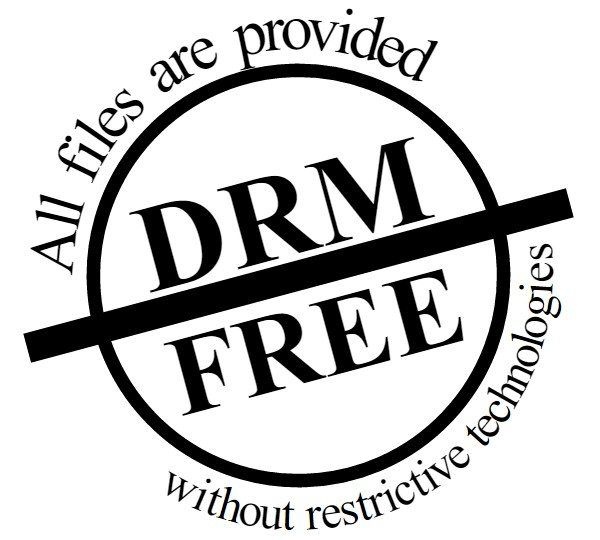 Image credits: DRM Free Logo by the Free Software Foundation via TopNewReview.com

7. Finally, these places take other forms of payment than the typical payment card, such as Paypal, Amazon credit or AliPay.
Where can I find such bundles?
The two websites on which I'm registered—I'm sure there are others out there, I'm just restricting myself to these two, since I don't trust myself to deal with more temptation—are StoryBundle and Humble Bundle.
StoryBundle
Storybundle.com focuses on curating bundles devoted to indie fantasy, science-fiction, and writing ebooks, such as their regular '20xx Writing Bundle' or '20xx NaNoWriMo bundle'. All kinds of things I like to read about, especially the writing-related bundles, as I'm regularly in a non-fiction mood.
StoryBundle is a way for people who love to read to discover quality indie books written by indie authors. You know how it's always hard to find something good to read? StoryBundle hopes to solve that.

We take a handful of books—anywhere from six to nine—and group them together to offer as a bundle. Then you, the reader, can take a look at the titles we've chosen and decide how much you'd like to pay. Think of us like a friend that scours independent books for undiscovered gems, then bundles these titles together for one low price that you decide. Yeah, we mean it; you get to set the price that you want to pay!

— From StoryBundle's FAQ page
The typical StoryBundle bundle contains 3-5 base books, and 6-8 bonus books, the latter being unlocked when you choose to pay $15+. Considering the little difference between $14 and $15, this is a choice I never fail to make, and so I always get the bonuses, too. After all, this is where the bundle part becomes really appealing.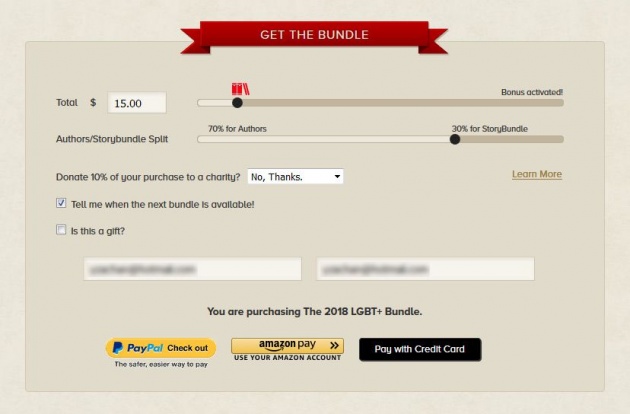 Image credits: Unlocking bonuses in StoryBundle by Naotalba

StoryBundle lets you define which percentage of your payment goes to the authors of the books, and which goes to the website and the curators. I usually leave it on default, with 70% for the authors.
As an example, one of the bundles you can currently get is the Summer Steampunk Bundle, with 3 base books and 8 bonus ones. Subscribing to the newsletter also gives you advantages, such as being notified as soon as an offer becomes available (thus being able to plan and see when you could pay for it, instead of checking from time to time and suddenly discovering that a bundle you'd like will soon be unavailable).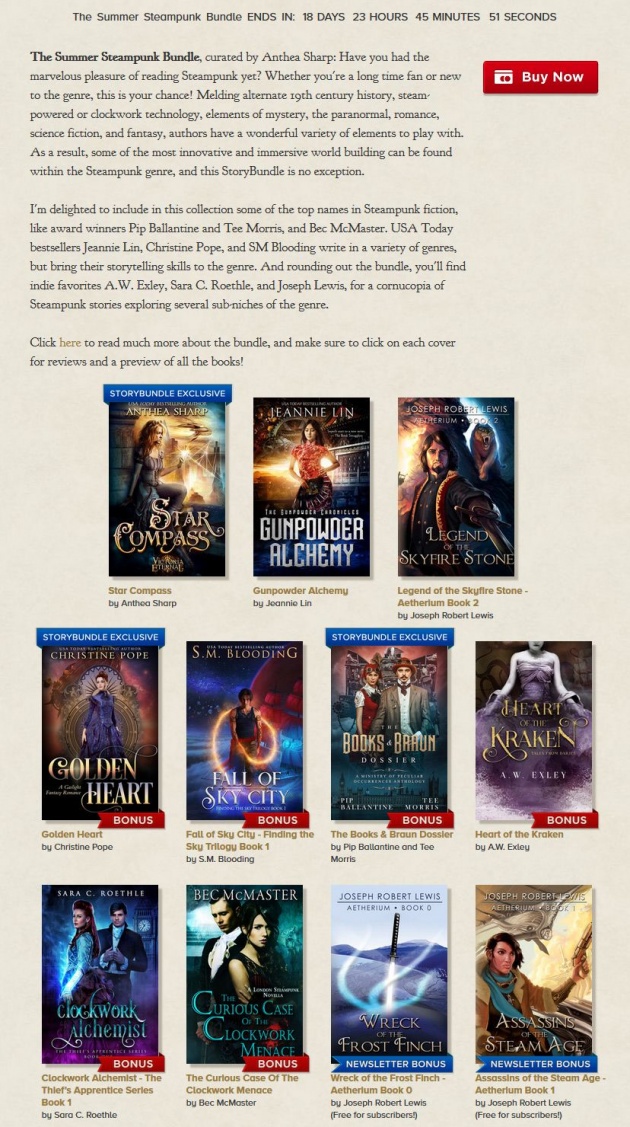 Image credits: The Summer Steapunk Bundle by Naotalba via StoryBundle.com

While you can't see this from just a screenshot, clicking on the thumbnails also gives you access to the books' blurbs.
Humble Bundle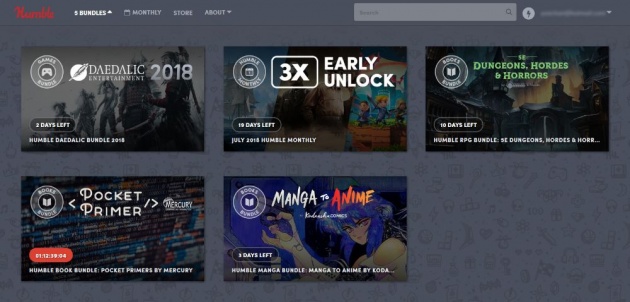 Image credits: Current bundles available by Naotalba

Humblebundle.com follows the same principle, with a few more payment tears and bonuses thresholds. For instance, one of the current bundles on offers contains resources for the 5th edition of the famous Dungeons & Dragons tabletop RPG :
5E Dungeons, Hordes and Horrors by Frog God and Friends
The $1 tier gives you access to 9 books and a coupon...
The $8 tier adds 12 books to this...
And the $15 tier unlocks 18 more books, for a total of 39 books!
Of course, some bundles are better than others, but let's be honest: it's not too shabby, isn't it?

Video credits: Humble Bundle Tutorial by Let's Play A Game via YouTube

Humble Bundle also has more diverse offers than StoryBundle. Here are examples of the kind of bundle themes I've seen over the past few months:
Music-making software
Networking resources (Windows networking essentials, packet analysis with Wireshark...)
Cybersecurity (where do you think I learnt all I know about social engineering?)
Manga and comics
Python
Doctor Who and Warhammer 40K RPG packs
Science-fiction and fantasy books
Games development books
Etc...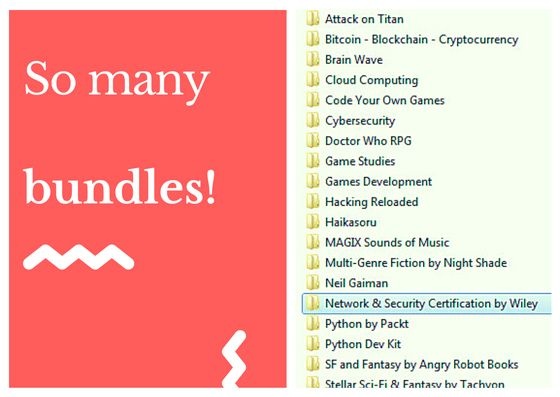 Image credits: List of bundles by Naotalba via Canva.com

Subscription
Additionally, Humble Bundle offers a monthly subscription tier for video games: pay $12 every month to get various games that, here too, would otherwise cost you $90-100 if you bought them at retail price.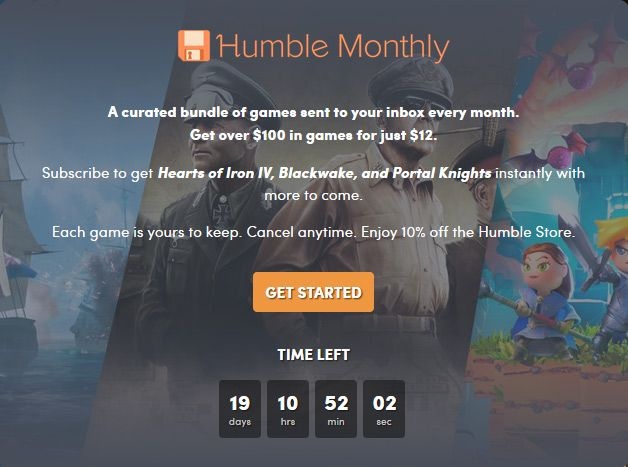 Image credits: Humble Monthly by Naotalba

I'm not such a subscriber because I already have a hard time keeping track of all the discounted games I get on Steam, and have barely time to play just a couple of them. Now, if you're a more dedicated gamer than I, this monthly subscription would be quite a deal as well.
Video credits: Humble Monthly Bundle | June 2018 by Bombchu via YouTube

Charity
In both Humble Bundle and StoryBundle's cases, part of the processes go to various charities. In the case of the 5E bundle I mentioned above, this charity is the Navy-Marine Corps Relief Society, however I've seen many others depending on which offer you buy.
Not only can you decide how much of your money is going to the authors and how much is going to keep StoryBundle running, but you can also give a portion to charity. Just choose which charity you'd like to donate to from our list of causes, and they'll get 10% of your purchase. You're supporting indie authors and giving to a worthy cause at the same time.

— From StoryBundle's FAQ page
Humble Bundle explains their work with charities on a dedicated page, and focus on a different charity every month, so as to better focus their efforts.


Image credits: Humble Bundle charity fundraising by Naotalba

Conclusion
Would I have bought all these books and games if I hadn't alerted as to their bundles (and thus saved money)? Probably not. Now, would I have bought one of the books in a given bundle at its retail price (so $10-15), because I really wanted it? At some point, most certainly. So, all in all, these websites do provide me with good deals.
Written by Naotalba for bitLanders