C-Blog: Chatbots-Conversational AI: Electronic Smart Assistants - Photo credit: intellipaat, edition by Amber255 for bitLanders
The modern world is unthinkable without Internet technologies that are constantly evolving. Especially rapidly developing new systems of artificial intelligence. The virtual assistant ceases to be a living person; powerful programs come to replace it. Their function is not only to entertain but also to be a reliable assistant in everyday work. These are chatbots - the most advanced and promising technology in the world of the Internet.
A chatbot is a program that is able to correspond with users in a chat while imitating human behavior.
It can work on any known platform, such as Messenger, Telegram, Viber, etc. Today, these virtual assistants are able to replace multiple services, such as call centers and customer service centers. This allows you to optimize the costs of companies to conduct business and attract new customers.
Chat in the messenger is a more subtle, intimate, and, therefore, more effective channel of communication with the user. Companies use this and create bots. Behind the bot, communication can be done manually and with the help of algorithms and artificial intelligence. By the way, not every bot is based on artificial intelligence.
The AI chatbot is based on an algorithm, but this is still a symbiosis of a machine and a person. The robot does only half the work: it asks questions and defines the interlocutor in one of the categories. After that, the person joins the dialogue and completes the sale process.
Bots are used for marketing newsletters, direct sales, customer support, and questioning customers to offer a product that best meets their needs. Chatbots now produce the same effect as email 20 years ago, when it first appeared, and the recipient of the message opened it with great curiosity.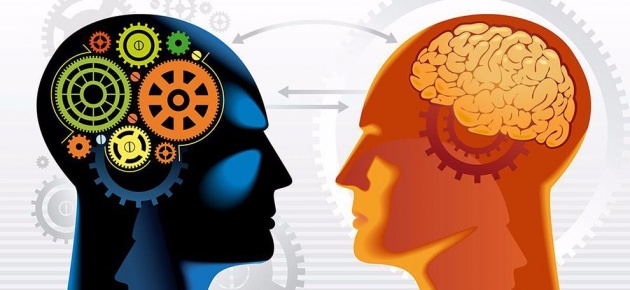 AI chatbots - Electronic Smart Assistants - Photo credit: twitter
With the technology's development, chatbot makes sales without the help of people. It is fully built on machine learning when the client does not even understand who he is talking to - a person or a robot.
Artificial intelligence helps automate simple tasks and create a favorable impression on the customers. AI-based chat bots expand the capabilities of agents helping them and allowing them to focus on more complex issues.
Applications in the form to which we accustomed, apparently, will not live for long. The bots will take this place - intellectual creations, in other words, software robots that sit in chat rooms to give advice, that is, serve as a personal assistant.
If your business works daily with clients, you need a chatbot. But creating a simple chatbot and using it in a messenger or live chat is not enough. More and more customers regularly turn to companies through digital channels - websites, mobile applications, instant messengers. So it's time to automate the processes of interaction with customers.
Chatbots represent a new trend in how people access information, make decisions, and communicate. We think that chatbots are the beginning of a new form of digital access, which centers on messaging. Messaging has become a huge component of how we interact with our devices, and how we stay connected with the people, businesses and the day-to-day activities of life. Chatbots bring commerce into this part of our lives, and will open up new opportunities. - Christie Pitts, Manager – Ventures Development of Verizon Ventures.

Credit: forbes
This dictates new requirements for virtual assistants: chatbot must understand live speech, to know business terminology, identify requests that are similar in meaning, and give a logical response to user questions. Therefore, from the primitive conversational assistants and experimental versions of the chatbot, the developers go to the assistants on the basis of artificial intelligence.
My theme of today's Querlo Chat is exactly about AI Chatbots. Check it and chat with me on these topics:
- What is an AI chatbot?
- History of AI chatbots
- Why do we need AI chatbots?
- How are AI chatbots arranged?
- The future of AI chatbots.
Every enterprise can create a chatbot for its services.
Considering the purchasing power of the Y and Z generations, for which it is much more natural to chat than to call, there is no doubt that such a convenient way of offering services and goods is a success. Another question is whether Facebook has a future, which is already considered by young people as a meeting place for older people. There are a mother and even a grandmother - this is definitely not cool.
Now the robots are getting smarter, but, of course, an abnormal situation may arise that will need human intervention. In this case, a consultant enters the connection, who enters into a conversation and gives the client the necessary answers, which the robot memorizes, learns and the next time can independently resolve such a situation. And so on until it becomes impossible to understand: is your interlocutor, who is such a good consultant, a person or a robot?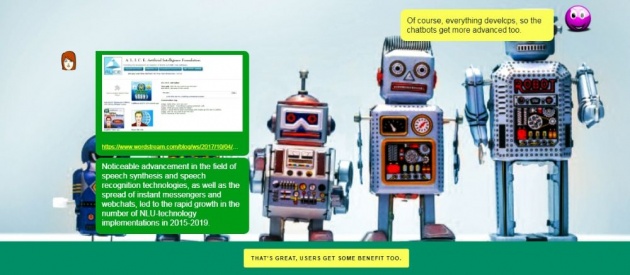 Screenshot from Chatbots-Conversational AI.: Electronic Smart Assistants
In summary, I believe that now we are simply experiencing the very first period of the chatbots' formation. Soon the market will change, and if you don't start to deal with chatbot right now, it will be too late. At least, start with the smallest, creating the simplest script chat bots without programming.
And do not consider while chatbot as a replacement for the site or application. Each tool should have its own task, with which it copes better.
***********************************************************************************
****************************************************************
******************************************
I invite you to participate in Bitlanders AI-themed Blogging and create your own AI-themed blogs and C-blogs on artificial intelligence theme:
bitLanders AI-themed blogging
After the successful launch of "The bitLanders C-blogging", conversational AI blogging by Querlo powered by IBM Watson and Microsoft Azure. bitLanders continues to support its joint venture Querlo. We believe in our mission to promote our future - Artificial Intelligence (AI) - and build AI conversations via blogging, here we are to introduce "bitLanders AI-themed blogging!".
Credit: quote from bitLanders


Always welcome back to check more Querlo Chat blogs on AI theme.
***************************************************************************************************
Thank you for stopping by and reading my blog.
2019, All Rights Reserved.
You are very welcome to join Bitlanders and share your valuable knowledge and opinion.
***************************************************************************************************