When my husband and I were visiting Malagos Garden Resort two weeks ago, we only had one agenda in mind, that's to visit the Chocolate Museum!
The resort was huge, 12 hectares specifically and the Chocolate Museum was located at the far end so it took us more than an hour to reach there because we also took time taking photos and exploring other areas of the resort. But we were really delighted to finally find it.
The Chocolate Museum contains a lot of illustration, samples and educational information about the Malagos Chocolate but generally, the history of chocolates and all its processes. The building is not too huge but it was well constructed to cater whatever they wanted to showcase inside this corner.
But the Chocolate Museum also has other parts which include the interactive area, a cafe, and a chocolate making pantry! These sections require an ample amount of time because they are definitely interesting and I must also include that there's chocolate aroma too!
Kids will surely enjoy the interactive area where they can play with chocolates, not the real ones though but just toys. The cafe, on the other hand, is where guests can have their taste of the goods and products of Malagos Chocolate which includes Tableya Cake and some hot chocolate.
For this C-Blogging on the other hand, I have made a Querlo chat which includes the process of how the Malagos Chocolate makes their chocolates from tree to bar. From the harvesting to the process and molding. This information was all available inside the museum. They also had these displayed in a very educational way. I will talk about what you can see inside the museum. For now, let's deal first with the process of Chocolate making most especially the Malagos way.
Participate on the Querlo Chat below to learn more: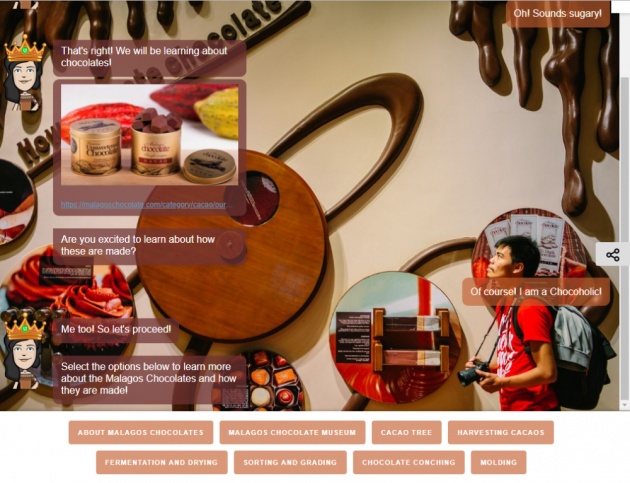 Image credits: screenshot of the Querlo chat - Chocolates: How Are They Made?
This blog is published in support to bitLanders' C-blogging. Learn more about it in the quoted box below:
The future of blogging - The bitLanders C-blogging

bitLanders, the worldwide blogging platform, introduces the future of blogging "The bitLanders C-blogging", Conversational AI blogging by Querlo powered by IBM Watson and Microsoft Azure with the purpose to provide bloggers the possibility to communicate and establish a conversational relationship with their readers.

Thanks to the world's most prompt technology - Artificial Intelligence, powered by Querlo's conversational AI technology.

Querlo integrates the DeepQA Artificial Intelligence functionality of IBM Watson and Microsoft – a collaboration which sets Querlo apart from other solutions in the market.

Information from: New topics for "The bitLanders C-blogging"!

Thank you for reading and participating in this Querlo Chat!
---------------------------
About the author:
Jean Beltran-Figues is a photography enthusiast.
A traveler who wants to promote her beloved country, the Philippines.