I have posted a blog before about how traveling these days is quite easier and manageable compared to during decades ago because of technology. Our dynamic and very speedy, ever-changing technology is very effective and helpful in so many ways and one of that is in terms of traveling. Today, there are CCTVs all around, there are ways of monitoring apps and tools to track where you are and there are also several options in terms of booking your next travel destinations and the activities that you want to do.
Video credits: Blume via YouTube
Indeed, there's a long array of apps and web sites which empowers us in this generation to do the things we want to do and that is definitely liberating. One of the famous sites right now in terms of traveling and booking for activities during trips is Klook.
I believe every one of us is very well aware of this site. Klook provides means for easy and efficient booking processes. With "easy" means very fast provision and immediate responses of inquiries. Thus, with Klook's mobile app, the company provides the easiest, fastest and portable means of booking for the next getaway activities.
Keeping and providing vouchers comes also as an effortless task for every individual who has an account because everything is kept altogether in one single storage, that's the account itself.
So, after I had booked our WIFI for our Taiwan trip this week which will last for around five days, I took the time to go into and download the app so I can also share with you this wonderful app for your travel needs.
With my recent booking, I was able to spend only Php 430 for our WIFI needs for this trip and this can allow five devices already for connection which I really need during the entire day of travel. I also intend to work during our travel days.
All done with the introduction! This C-Blog is all about Klook's mobile app, the sections that one can find when navigating in it, its features and the easy as 123 way of booking your activities and tours for the next travel destination. It can also provide you with a list of your travel history given that it was booked within the app and more importantly, this C-Blog will also educate you with how to book within the app together with some video tutorials!
What are you waiting for? Participate now today with this Querlo Chat about Klook's Mobile application! I truly believe that this application will help you and me find the best options in terms of travel activities and even provide discounted rates for travelers to save some pocket money!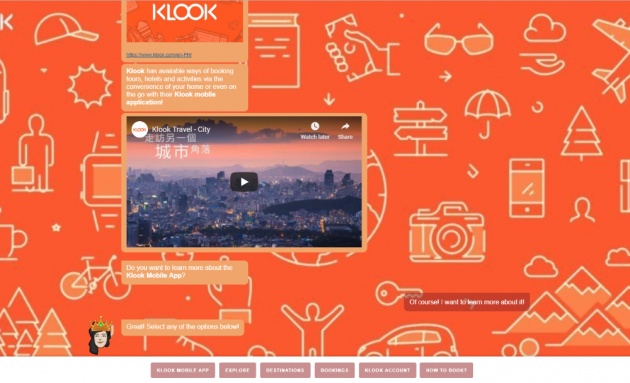 Image credits: screenshot of the Querlo Chat: Klook Mobile App
This blog is published in support of bitLanders' C-blogging. Learn more about it in the quoted box below:
The future of blogging - The bitLanders C-blogging


bitLanders, the worldwide blogging platform, introduces the future of blogging "The bitLanders C-blogging", Conversational AI blogging by Querlo powered by IBM Watson and Microsoft Azure with the purpose to provide bloggers the possibility to communicate and establish a conversational relationship with their readers.

Thanks to the world's most prompt technology - Artificial Intelligence, powered by Querlo's conversational AI technology.

Querlo integrates the DeepQA Artificial Intelligence functionality of IBM Watson and Microsoft – a collaboration which sets Querlo apart from other solutions in the market.

Information from: "The bitLanders C-blogging" New Double Bonus Reward topics

Thank you for reading and for participating in this Querlo Chat!
---------------------------
About the author:
Jean Beltran-Figues is a photography enthusiast.
A traveler who wants to promote her beloved country, the Philippines.