I love making stories on social media pages like Instagram and Facebook. Although the stories were originally a Snapchat feature, the other social media sites had also adopted the feature and it changed the trend of sharing photos and videos both for personal and business usage. But more on the personal usage actually as there are millions of users every day who are posting their media files every day.
With the emerging need to post more on this feature, a lot of applications as well which are becoming famous due to their good functionalities. I am sharing here a new app which I started using for weeks or shall I say months for posting stories on Instagram but of which are cross-posted to Facebook.
This prompts me to share this application named Unfold. This is a very minimalist type of mobile app but very useful. The clean slate and the black and white theme gives the Instagram stories a relaxing aspect as well as a very professional look which I super like.
This Querlo Chat blog then demonstrates to you the different information about the Unfold application. I have here the application features as well as my own personal review so far base on my usage for the past few weeks.
Please participate on the following Querlo Chat about the Unfold app:
I bet once you finish the above Querlo chat, you'll definitely go directly to your favorite app store so that you can download the app and start using the great features and most probably get your Instagram stories filled with your images formatted from Unfold.
What are you waiting for? Go ahead and jumpstart your own way to Unfold your creativity!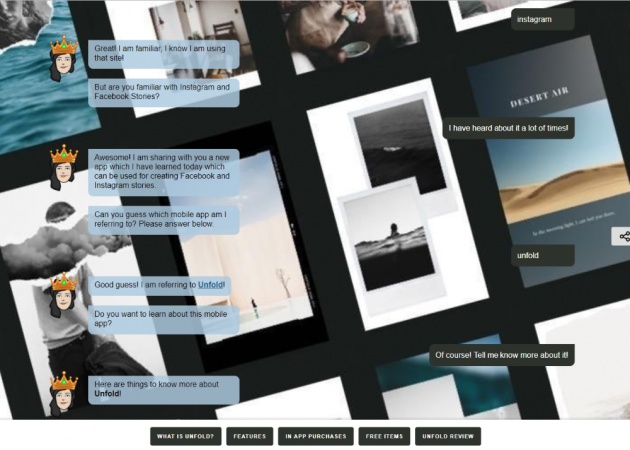 Image credits: screenshot of the Unfold Querlo Chat
This blog is published in support of bitLanders' C-blogging. Learn more about it in the quoted box below:
The future of blogging - The bitLanders C-blogging


bitLanders, the worldwide blogging platform, introduces the future of blogging "The bitLanders C-blogging", Conversational AI blogging by Querlo powered by IBM Watson and Microsoft Azure with the purpose to provide bloggers the possibility to communicate and establish a conversational relationship with their readers.

Thanks to the world's most prompt technology - Artificial Intelligence, powered by Querlo's conversational AI technology.

Querlo integrates the DeepQA Artificial Intelligence functionality of IBM Watson and Microsoft – a collaboration which sets Querlo apart from other solutions in the market.

Information from: "The bitLanders C-blogging" New Double Bonus Reward topics
Thank you for reading and participating in this Querlo Chat!
---------------------------
About the author:
Jean Beltran-Figues is a photography enthusiast.
A traveler who wants to promote her beloved country, the Philippines.