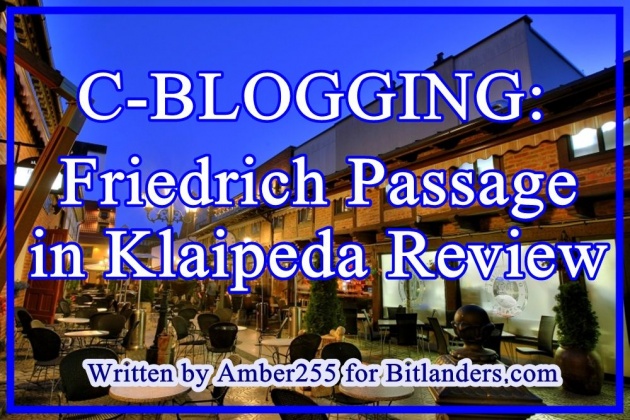 C-Blogging: Friedrich Passage in Klaipeda Review - Photo credit: pasazas.lt, Edition by Amber255 via Bitlanders.com
We all have our own cozy place where we want to spend some leisure time, to have meetings with friends, dinner with family. I have such a place in my city too. This is a very unique place that attracts a bunch of citizens and the city's guests. It's Friedrich Passage.
The Friedrich Passage is one of the most prominent symbols of Klaipeda. The colorful history of the Old Town and progressive modernity here intersect making this place one of the most unique places in Klaipeda.
Some years ago, there was a neglected backstreet with buildings and warehouses in it. Then this place really seemed regrettable, but it could not diminish its true value: this authentic corner of Klaipeda's old town dates back to the 17th century when the suburb called Friedrich was founded in this place.
The business person Aidas Kaveckis decided to buy this place. A man decided not to invest in his other business and in the purchased backstreet better to develop what works well in many cities around the world - a cozy passage with restaurants, cafes, shops. The buildings were renovated in a few years, and the street changed drastically, and the Friedrich Passage was set up, which about 60,000 people visit every year.
Every day, at the eighth hour of the morning the Passage starts to smell coffee. Everything started with a good coffee here - first of all the Coffee House was established here. Later the Mediterranean restaurant, a pizzeria, a Lithuanian and Klaipeda region restaurant, a bakery, a steakhouse restaurant, a luxury clothing shop, a wine cellar, and a four-star hotel was opened. Now, years after, some of them changed names, some closed, and new Houses were opened.
By the way, the Wine House, set up in the former chapel of the Friedrich suburb, is very successful - visitors don't leave it till morning. Apparently, the aura is good there, but the wine cellar is not empty either: the assortment consists of about 500 wines. Among them is one of the best wines of the Argentinian wine Trapiche, and its name was used in the Trapiche steakhouse restaurant, which combines food with this exclusive wine.
This is one of my favorite places in Klaipeda. Good food, friendly staff and a cool atmosphere. Will be back.

Credit: tripadvisor.com
For a cozy and warm year round, a 100-meter-long Friedrich Passage is covered with a glass roof. It is done because Lithuania is a rainy country, and we have too many rainy days in a year. Not to mention winter time with cold and snow.
The live music and entertainment events are worth to mention separately. It is what creates the biggest attraction of this place. The visitors who like romantic evenings and long summer nights always are welcome to visit the Friedrich Passage. Almost every evening there are held parties with different musicians, actors, performers, so various entertainment parties are held there.
The families with children are especially awaited to Friedrich Passage yard in the summer afternoons. There are funny performances, games, tales performances, and other fun attractions for them.
For the more info about my favorite places to visit in Klaipeda - Friedrich passage, chat with me on Querlo chat:
I love this place, especially at summer time, as it is sinking in flowers' decorations, people's smiles, delicious food's aromas. I love to sit there in the evening with friends, drink coffee and listen to the quiet sounds of music. Such a relax for my soul.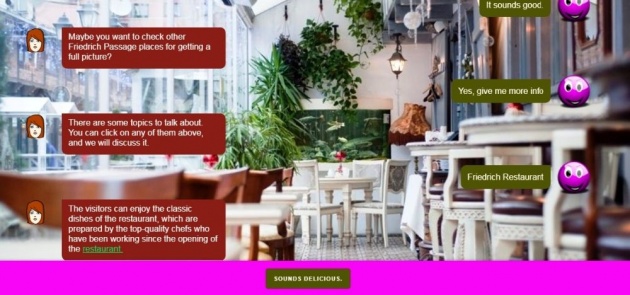 I think people are able to appreciate quality, and the Passage's success and popularity are the best proof.
Friedrich Passage attracts tourists, city guests, and citizens by the special aura of this place that got a unique formation over the centuries and has been restored and complemented with new colors. Beautiful surroundings, good food, and service, creative events for kids and adults, live sound concerts - all this is creating an unforgettable Friedrich Passage atmosphere.
"Friedrich Passage in Klaipeda Review" is written in support of bitLanders' C-blogging. I invite you to add your contribution to C-Blogging too.
The future of blogging - The bitLanders C-blogging

bitLanders, the worldwide blogging platform, introduces the future of blogging "The bitLanders C-blogging", Conversational AI blogging by Querlo powered by IBM Watson and Microsoft Azure with the purpose to provide bloggers the possibility to communicate and establish a conversational relationship with their readers.

Thanks to the world's most prompt technology - Artificial Intelligence, powered by Querlo's conversational AI technology.

Querlo integrates the DeepQA Artificial Intelligence functionality of IBM Watson and Microsoft – a collaboration which sets Querlo apart from other solutions in the market.

Credit: bitlanders.com
Thanks for chatting with me at Querlo; see you in next C-blog.
***************************************************************************************************
Thank you for stopping by and reading my blog.
2019, All Rights Reserved.
You are very welcome to join Bitlanders and share your valuable knowledge and opinion.
***************************************************************************************************