Hello guys,
Recently, I was checking blogs of other users here on bitLanders, and especially, the ones who are on the Leaderboard. As I wasn't aware of the newest updates here, I was glad to find out that there is a great feature and initiative starting on this social platform called C-blogging.
I didn't know what is that so I went through Micky's blog "New Double Bonus Reward topics" and to be honest, I found the entire information quite interesting. I've written blogs about Querlo before but now our favorite Chatbot with a heart has new features and could even blog in the form of chat.
Chatbot Assistant, powered by Querlo, is an AI-powered chatbot that engages your audiences like a virtual you!
Eager to test this new functionality I'm sharing with you a chat devoted to the topic of blogging. You will learn about blogs, some personal thoughts of mine and lots of useful information shared by other bloggers online.
My very first blog was published here on bitLanders, and since then I have experienced the pleasure of not only writing and sharing my thoughts but also reading other users' blogs. It's amazing to learn more about the people who joined the platform and to engage in conversation with them in any form. I think it's beneficial for all of us as this social network is available for many different nationalities and countries.
bitLanders connects people who like writing blogs, earning income online and are creative and passionate about what they do. So I hope you enjoy the chat I've created, here it is:
Querlo chat: Why reading blogs is so beneficial?
As you can see blogging could be useful for many different reasons. I'm sure there are more advantages of reading blogs but for me, these are the most important ones.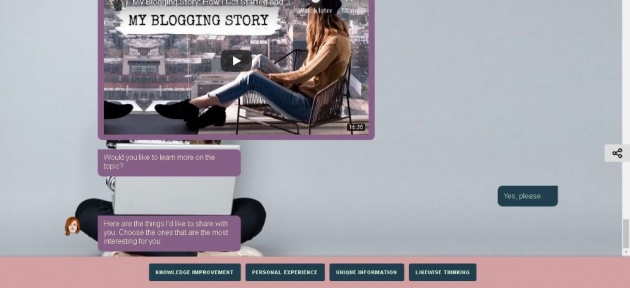 Image Credit: screenshot of the Querlo chat - Why reading blogs is so beneficial?
Thanks for spending time with me again and trying the chatbot!
- NinaB