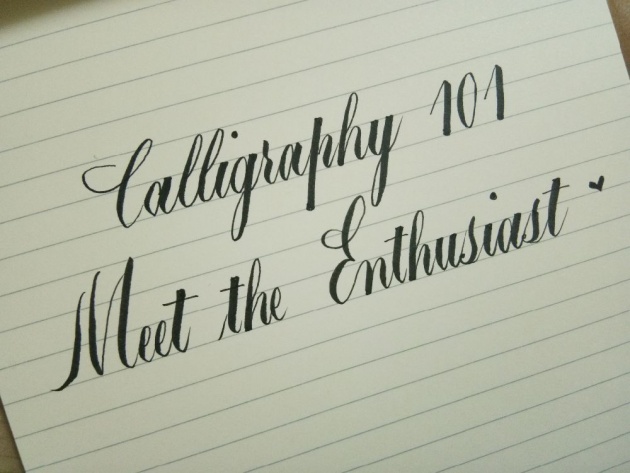 Photo credit: Yannn via Bitlanders.com
Hey guys! So I wanted to share with you guys my craft/passion for the past 2 years. No one even expected me to have Interest in Arts, none even myself. But it has been my stress reliever and sometimes escape from reality. Don't get me wrong, Ain't no pro here but indeed I love whatever I'm doing.
But first, What is Calligraphy?
Calligraphy is a visual art related to writing. It is the design and execution of lettering with a broad tip instrument, brush, or other writing instruments.A contemporary calligraphic practice can be defined as, "the art of giving form to signs in an expressive, harmonious, and skillful manner".
Source: Wikipedia via Google.com
Way back September 2015, my journey in Calligraphy started. And because I lack knowledge when I was starting this journey, I used a Ballpen to start with. And at that moment I wasn't aware that what I'm doing is faux calligraphy.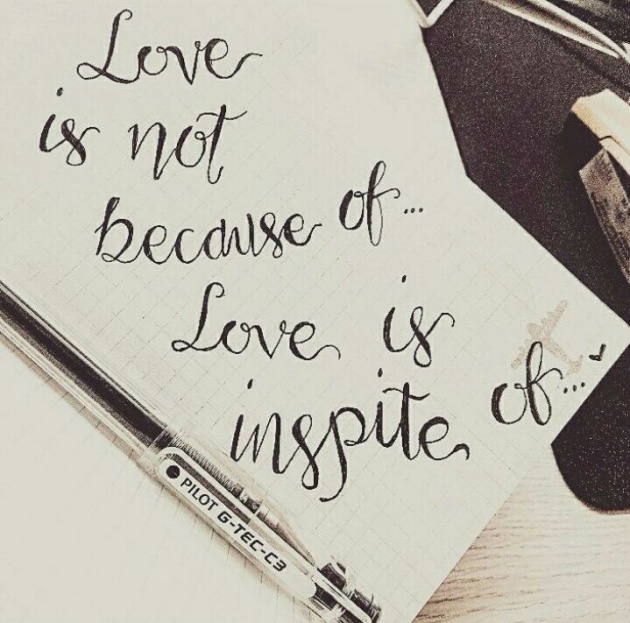 Photo credit: @forever.favored via Instagram.com
Faux calligraphy — calligraphy created with any standard writing instrument like a ballpoint pen, chalk, or marker — offers a fantastic introduction to dip pen calligraphy!
Source: Ms. Lindsey Bugbee via thepostmansknock.com
It was kinda hard to do Calligraphy at that time, though it is well known Globally. But a friend of mine who won a free Pointed pen workshop helped me to choose and buy right materials for this craft. I started buying Brushpens from Zig.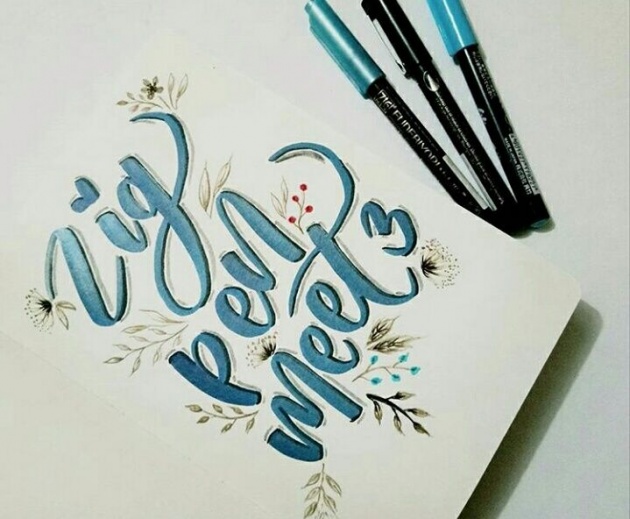 Photo credits: @forever.favored Via Instagram.com
Well there are so many kinds of brushpens, from different types to different usage to different brands. But at that time, brushpens are not yet available to local bookstores (unlike nowadays that you can even see international brands in every national bookstores). So I got my new brushpens from Scribe Writing Essential (A specialty store that has only few branches in the metro) and it was a Zig Fudebiyori Brushpen and Zig Scroll and brush. I can still recall my reaction that very moment, I was like a kid who got her favorite chocolate. Haha! So I got a proper materials for Brush Calligraphy but then again, it wasn't easy as ABC. I still lack knowledge about the basic itself which is the "Thick and Thin" principle. The very fundamental of every types of calligraphy. And before I totally learned that principle, I need to practice and practice. Result is, I used 2 notebooks as a practice pad, then I was finally able to learn the principle.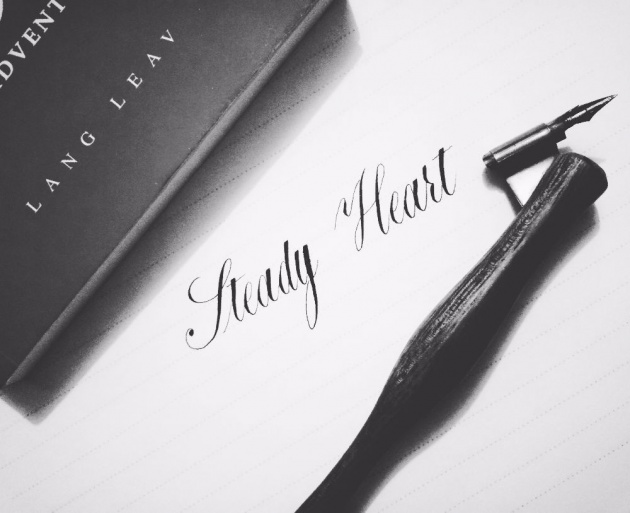 Photo credits: @forever.favored via Instagram.com
After Brush Calligraphy, I eventually got Interested to Pointed Pen Calligraphy. The one people used to say Rizal's way of writing. (Dr. Jose Rizal is the national hero of the Philippines). I assumed they associate pointed pen to Dr. Jose Rizal because this the traditional way of writing.
Pointed pen Calligraphy composed of the following materials:
Pen Holder - it could be straight or oblique. If you are a left handed, straight penholder is more adviceable. There are plastic and wood kind of holder. As for me, I got 3 oblique holders and 1 straight holder. (Moreover plastic holders are more cheaper than the woods, and can you believe that my 2 wood holders were a price I got in different contest? Yay)
Nib - It is the pointed metal you insert in the holder. The nib will make you perform the thick and thin strokes in pointed pen. (I usually use Hunt nibs, which is the flexible ones. And G nibs which is a medium flex nibs and also known as behinner's nib)
Ink - I think we all know what ink is. It is what you use, where to dip the nib so that the words will be visible to the eyes. (My first ink were Indian ink, but I do prefer Sumi ink for a smooth writing)
Paper - And of course, you cannot use any paper you want. I prefer smooth paper with 100gsm up. It means a normal bond paper won't give you satisfying result (More or less, the ink will smudge in your paper and you don't want it to happen)

Unlike Brush Calligraphy wherein if you master the thick and thin principle you'll do great already. But in Pointed Pen, you need to have muscle memory to control every stroke and every shade. And by that, I learned from my online mentor in Instagram the basic strokes of pointed pen calligraphy.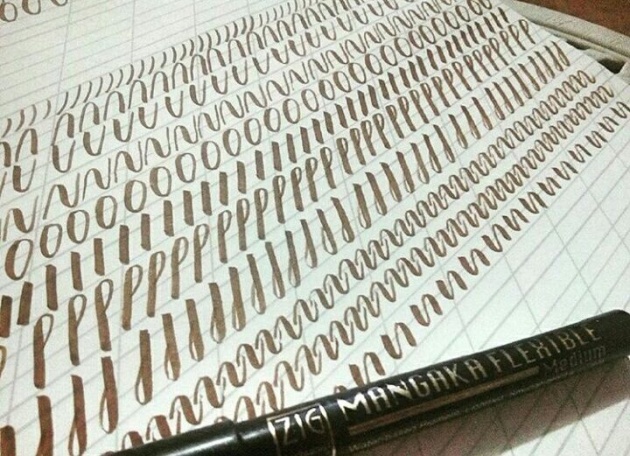 Photo credits: @forever.favored via instagram.com
These basic strokes are also known as the basic of Engrosser Script or also known as Copperplate. (I'll have a separate blog about my Copperplate Journey yay! )
Professional Calligrapher usually used Copperplate Script or Spencerian Script. Some even combine the two, but trust me it will require tons of patience, practice and knowledge for you to learn both script.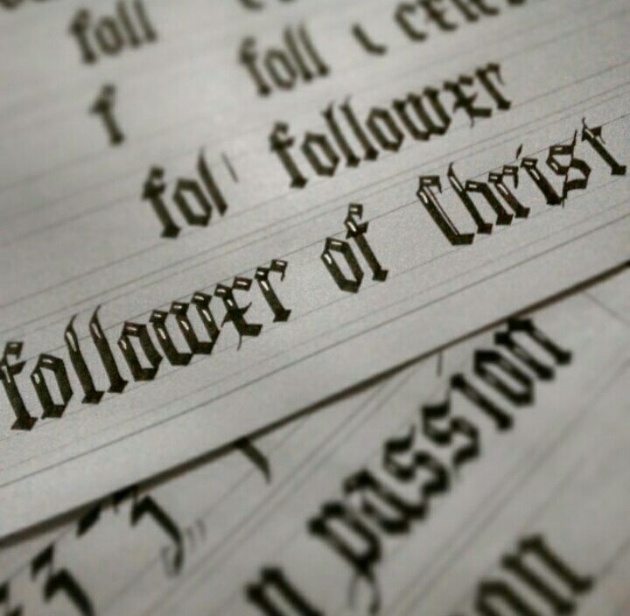 Photo credits: @forever.favored via instagram.com
I got stuck with Pointed pen for a year, I even got frustrated and almost gave up on it because it's frustrating. But hey you can never just give on the things you love right? But last May 2016, a friend of mine conducted a workshop about Blackletter Calligraphy also known as Gothic style. As I learned copperplate, I really got intrested with Gothic plus this Artist named Jelvin inspires me to do so. I mean man that Artist is so good! So to make the long story short, I also learned Blackletter Calligraphy or Broad Calligraphy. And in Blackletter the only materials you need is a broad pen (I usually used Pilot Parallel Pen) and a paper with 100gsm. It was a whole new experience because the basic between gothic and pointed is way too different. I need to unlearn the muscle memory I studied for me to totally learn broad.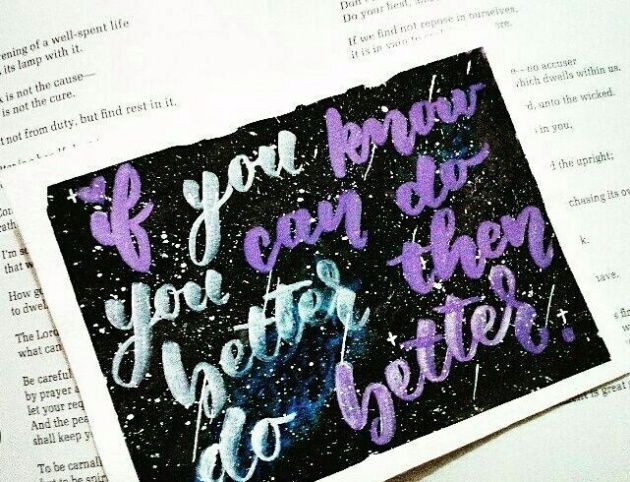 Photo credits: @forever.favored via instagram.com
And lastly and my most recent favorite, I go back to Brush Calligraphy. But this time I didn't use brushpens but rather a true Paint brush or waterbrush then a watercolor. It was harder that the usual brushpen because the tip of the paint brush or waterbrush is flexible than the real brushpen that has hard tip. But I really do enjoy the different color combination you can make using watercolor. It feels like it makes you more creative. Hihi
Here is a clip of how to do calligraphy by Ms. Sharisse De Leon
Source: Pieces Calligraphy via youtube.com
I consider myself a Jack of all trade because I always wanted to explore new things after new things. But hey it has advantages and disadvantages too. But hey just do whatever your heart wants to do, indeed nothing comes too easy of course. It will require you effort, knowledge, a lot of patience, money of course (because the materials are not that cheap, especially one who has great quality) and lastly, you need a Huge heart. A passion for your craft. It will give you drive to continue despite of those numerous frustration moment. I found myself in my craft, and I know that it will be always part of my Journey in this life.

I'll be sharing with you guys my current works in my next blog. But for the mean time, if you want to check out my works you can visit my Instagram account at @forever.favored
Thank you for reading and Have a great day!
-Yannn / Dy ✨