Is the United Nations the Titanic with a couple of Captains giving the order or an armada of nations plying toward shared objectives? - Failure to address the Syria crisis to dominance of P-5 (Big Powers) Veto on Security Council have dominated the debate over last year, but there is also concern about the ripple effect of the global financial crisis most recently impacted by events in the Eurozone but impacting world economic growth. At times the smaller countries feel like 3rd class passengers waiting for their turn to be told to abandon ship – more accurately some see themselves as set afloat in the tumultuous ocean with only a life preserver to keep them afloat, far from the shore and no compass.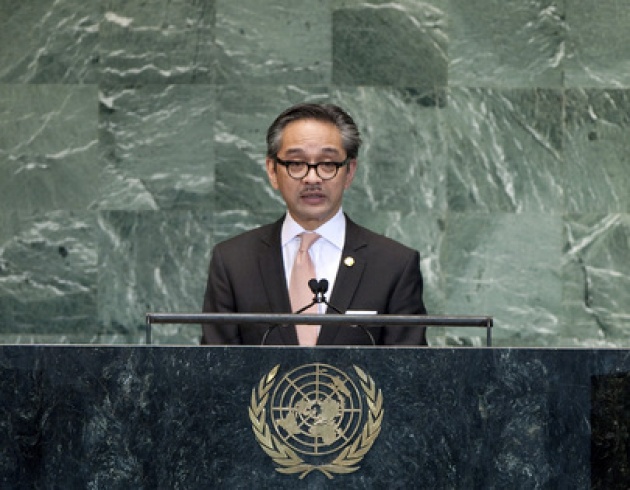 (Indonesia Foreign Minister Marty Natalegawa -UN Photo))
Perhaps that is the best way to define the current call for reform – many of the smaller and mid-sized states want the UN to more rapidly adopt a new compass, new methodology of doing things rather than merely following in the wake of the diplomatic, military and economic weight of the P-5 members of the UN Security Council. The exercise of the veto that is the most visible expression of the P-5 power, but its threat and most critically pervasive power in consultations over everything from resolutions to appointments of UN officials, including the UN Secretary General, that affects the work and direction of the United Nations.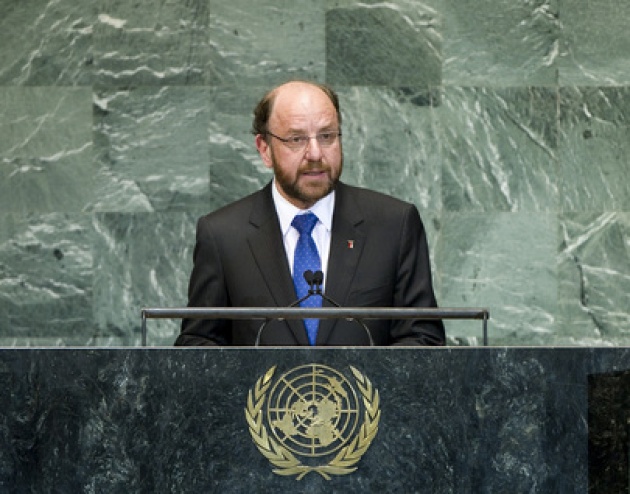 (UN Photo - FM of Chile)
Only a sample of the calls for reform:
Albania called for reform, period.
Chile and Peru urged UN Security Council reform with limits on the Veto Power of the P-5.
South Africa was joined by a large number of neighbors in urging a more expanded democratic council.
Slovakia called for more "inclusive multilateralism."
Small Island states, most affected by climate change, including the leaders of Micronesia and Kiribati pleaded for more attention to the impending doom – several UN members states literally being drowned by the rising seas.
Brunei, a monarchy, also called for structural reforms.
Turkmenistan urged a new international legal framework for energy security.
Latvia is most concerned by the very small handful of nuclear and would-be nuclear powers – it urged non-proliferation while less than 10 states hold the nuclear testing ban treaty hostage.
Switzerland, perhaps keeping true to type cast, called for improved efficiency in crisis control, but no trains running at the UN! (Nonetheless, a reflection of UN Security Council failure on Syria but also economic and humanitarian issues).
Indonesia called for a "new strategic mindset," a code word for reform and greater inclusiveness from current P-5 dominated UNSC and its setting agenda for UN as a whole, (from a rising political power and increasingly driver of economic growth in Asia).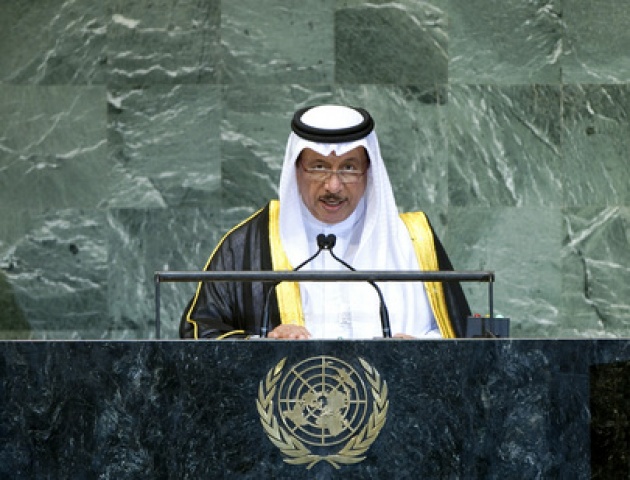 (UN Photo Kuwait PM)
Muslim Seat on UN Security Council:
The broader themes echoed included a call for a Muslim majority state to have a permanent seat on the UN Security Council. Currently, a Muslim majority state is informally allocated a non-permanent seat via alternating election from the Asian and African groups. Both Pakistan and Kuwait urged such change, although some focused on the need for an "Arab" rather than "Muslim" defined seat.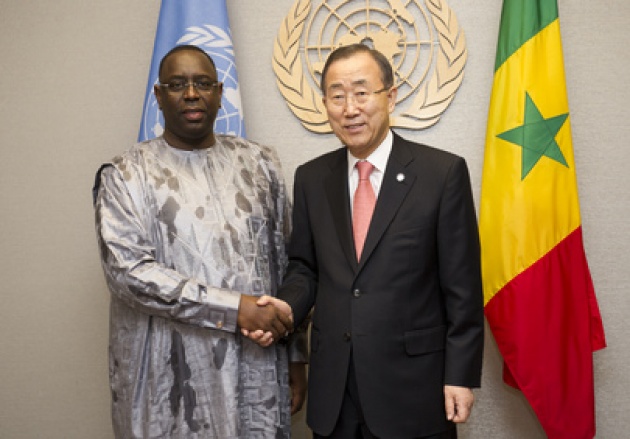 (UN Photo - Senegal President)
Africa Greater Equity:
African states would have greater difficulty in agreeing upon one of their continent assuming role of UN Security Council (UNSC) permanent member. Nigeria, Egypt and South Africa would all see themselves as best able to represent Africa. However, Senegal phrased the debate and demand in terms of Africa needs/deserves "more equitable partnership" with world on political and economic issues. While much of the rest of the developing world has spurted forward, Africa still finds itself defined mostly as resources exported and product consumer. Africa is the continent with the largest number of member states without a permanent seat or general strong representation in the globe's multilateral institutions, from the UN to IMF and its ability to steer as well be impacted the international economy.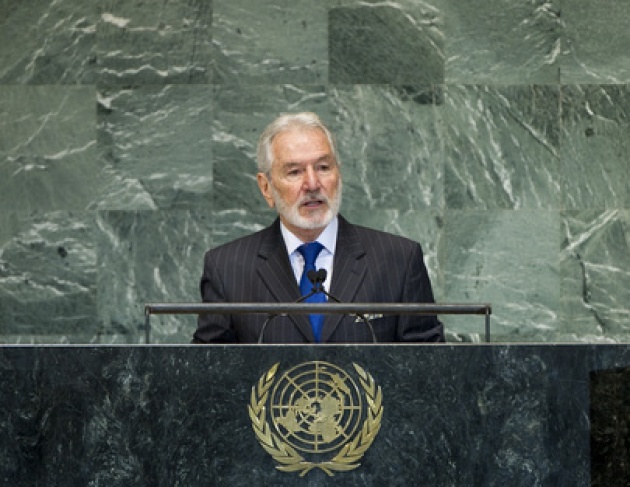 (UN Photo Nicaragua FM)
Latin America is Rising but Under-represented?
Brazil and Nicaragua also joined the leaders of Chile and Peru calling for change. Nicaragua called for a "reinvention" of the United Nations. Brazil has had a more focused goal of assuming role of continental representative and thus permanent member on the UNSC. However, as in the case of Africa, there is more than one aspirant, or more accurately no unanimity as to whether there should be a permanent Latin American seat with only one country filling it.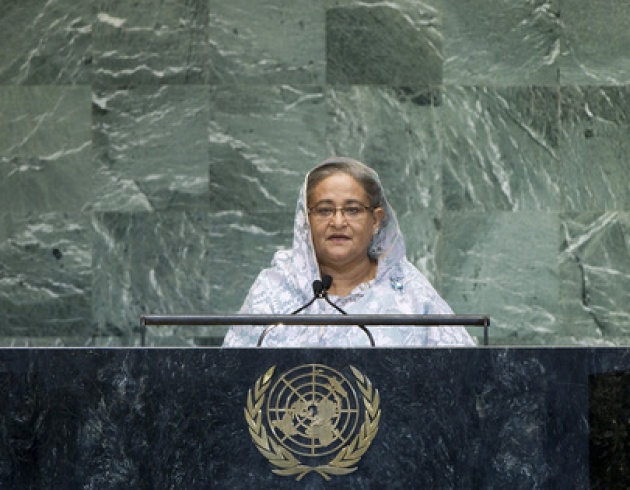 Climate Change:
Along with the small states, other bigger states as Bangladesh (Prime Minister Above -UN Photo) and even many of Europe's establishment feel the iceberg coming at the Titanic that is the global climate change situation. Here, three of the Security Council members have been perceived as the greatest obstacles to a primary responsibility of the United Nations, preserving international peace and security that will/is being undermined by the dislocations likely to be delivered by climate change. China, the United States, Russia but also India have been an anchor on progress.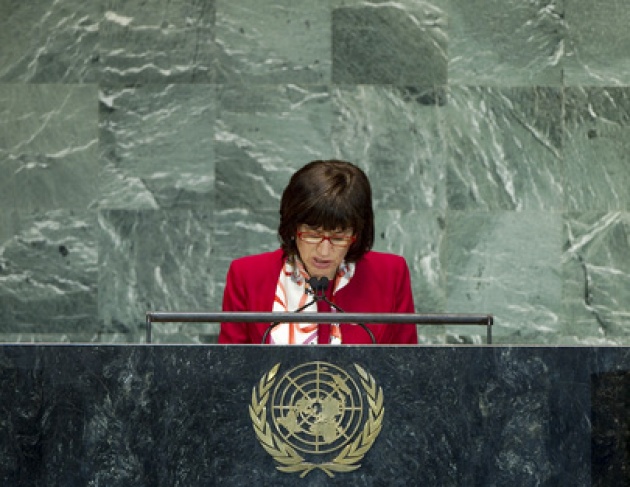 A more Empowered General Assembly:
Vesting greater authority within the UN General Assembly (UNGA) has been a more established theme. San Marino (FM in UN Photo Above) voiced a similar objective by urging "revitalizing the UNGA as necessary for small states." However, even during my tenure I felt such was important for the overall effectiveness and inclusiveness of the United Nations, themes long promoted. While such goal to some may seem further away than ever before, the establishment of the International Criminal Court (ICC) is a new dynamic.
(UN Photo -Jamaica FM)
Rule of Law & International Criminal Court:
Failure of the UNSC to refer Syria to the ICC is demonstrating a failure in responsibility. However, it also illustrates another critical ingredient: rule of aw has been advocated as a point of emphasis during the beginning of this UN General Assembly and need to apply such consistently. On the other hand, the P-5 have too frequently exerted their "veto influence" both directly and implicitly to affect the work of the UNSC and its other members in a manner selective, partisan, toward proxies, and self-serving agendas frequently inconsistent with the global good as well as the rule of law.
Ambassador Muhamed Sacirbey - FOLLOW mo @MuhamedSacirbey

Facebook-Become a Fan at "Diplomatically Incorrect"







Twitter – Follow us @DiplomaticallyX







See more at our Popular Video Blogs & Current News Event Articles