Did you ever wonder why the sportsmen eat banana in the field? Of course, it is rich in calories and proteins. But what if you exceed six bananas? Did you ever know it can cause you a big problem - so big that can be fatal?
In a new research, the truth is revealed. Yes, you can risk your life if you eat more than 6 bananas - let us say, if you eat the 7th banana, you are not doing any good to yourself and your health, especially if you are suffering from any kind of heart disease, high blood pressure, etc.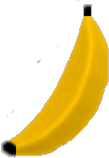 Banana is rich in potassium and it can be fatal if it is reduced or increased in our body. Excess of potassium in the body causes high blood pressure, invariable heartbeat, damage of liver and kidneys, etc. As we know the fact and saying "Excess of everything is bad", so any fruit that is rich in energy, calories, etc. must be consumed with great care and in a moderate number.
Along with banana, tomatoe is another fruit that is rich in potassium and according to the research, a patient is admitted with kidney failure due to excess use of raw tomatoe. So, eating raw tomatoe above a limit can also be dangerous to health and a check must be kept.
According to a BBC report published, the researchers urged people not to consume so much banana, tomatoes and similar fruits that are rich in any kind of specific vitamins or acids that are much needed in our bodies but a balance must be kept between consuming vs wastage.