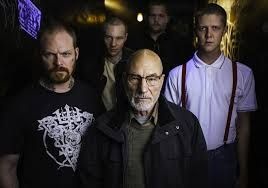 OK, so it was never in the running for the 2015 Cannes Palme D'Or - that went to director Jacques Audiard for Dheepan. It did not bag the Best Actor gong - that was earned by Vincent Lindon for his performance in Stephane Brize's The Measure of a Man. Neither had it a chance to win Best Actress, split between Rooney Mara for Carol and Emmanuelle Bercot for Mon Ami. It wasn't even considered for Best Director - that went to Hou Hsiou-Hsien for The Assassin. As for the Jury Prize – they'd like The Lobster, please. Best screenplay - Michel Franco's Chronic.
But the Palme Dog – it had a shot, even though the canines in it are a bit on the bitey side. Actually, I hope for the actors' sake, the dogs had their shots.
The only award writer-director Jeremy Saulnier's third feature Green Room did win is my favourite film at Cannes. It doesn't come with a fig leaf or a cash prize, but, heck, it's something to put on the poster.
Saulnier was the big find at Cannes two years ago for Blue Ruin, his part crowd-funded thriller about a homeless guy taking revenge on the man who killed his parents. Green Room is a similarly twisty thriller, albeit with a less arresting opening, about a touring band, Aint Rights, who fall foul of some drug-dealing Nazis. That's putting it mildly.
Saulnier describes it as a war movie, borne out by the first sound we hear, similar to helicopter rotor blades in slow motion or that ceiling fan at the beginning of Apocalypse Now. Actually, it's the whinny of a combi van engine petering out. The band has ground to a halt – I won't spoil the visual joke – on the way to an interview and gig. They'll have to siphon some petrol from a parked car in order to get back on the road.
When they get to Grungeville, USA, they are disappointed to find that their gig is lower paid than they thought. The gate gives them eight dollars and 47 cents each. But there is the promise of $350 cash if they play for some bomber-jacketed racially intolerant types. A gig's a gig, right?
The band flies in the face on good sense by performing a cover of a Dead Kennedy's Anti-Nazi song. If you have no bar tab, that's one way to get a bottle. Then after stoking their ire, it's time to drive them wild.
However, one of the band members (Alia Shawkat) has left her mobile phone on charge in the green room, the holding area for artists waiting to perform. What does she discover? Something that cannot be unseen! The band is detained indefinitely after one member calls 911. The Nazis call the bar owner (Patrick Stewart).
What follows is a siege movie, with the band members barricaded (so to speak) in the green room with a witness (Imogen Poots) and one of the Aryan Brotherhood who is held in a wrestling move. Things get decidedly bloody, of a 'ooh, ahh, ugh!' set of expletives.
The nominal star is Anton Yelchin, cast as one of the more-gentle band members. He is sort unable to answer the question, 'What's your Desert Island Band?' While he lacks physical prowess, he is congratulated after sustaining a horrible injury for 'holding on longer than I would, man.'
The make-up effects are the star; they are so convincing they'll prompt you to barf up your breakfast on top of your lunch. Saulnier wrote the film before Blue Ruin and his dialogue is a bit screenwritery, for example, a 'motivational' anecdote about paintball that sets up a do-or-die attitude in the slow-dwindling cast.
Essentially, Green Room is a horror film in the manner of Wrong Turn, minus any sort of supernatural threat. There is only one psychotic character, who congratulates the band for their second to last song – I won't spoil the verbal pay-off.
Saulnier thanks Jim Mickle in the credits and you might think of Cold in July as you watch it – it shares one of the cast members, Joe Cole, not to be confused with the ex-England international footballer.
Green Room is Saulnier's second film – after Blue Ruin - with a colour in the title. What next: Orange Wednesday? That will only make sense to my British readers. Even they will groan.
Reviewed at the Directors' Fortnight, 14:30, Sunday 24 May 2015, J W Marriott screening room, Cannes La Croisette, followed by director Q and A