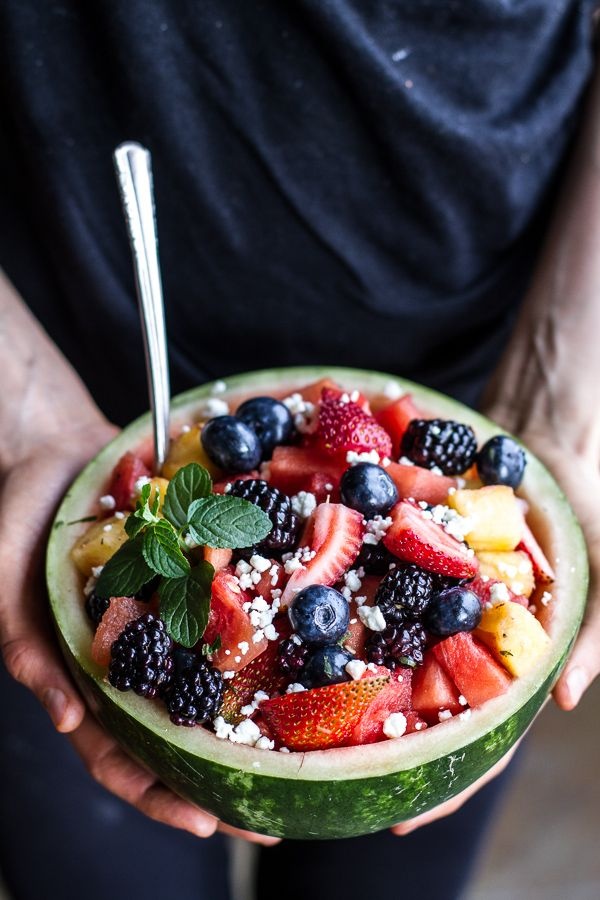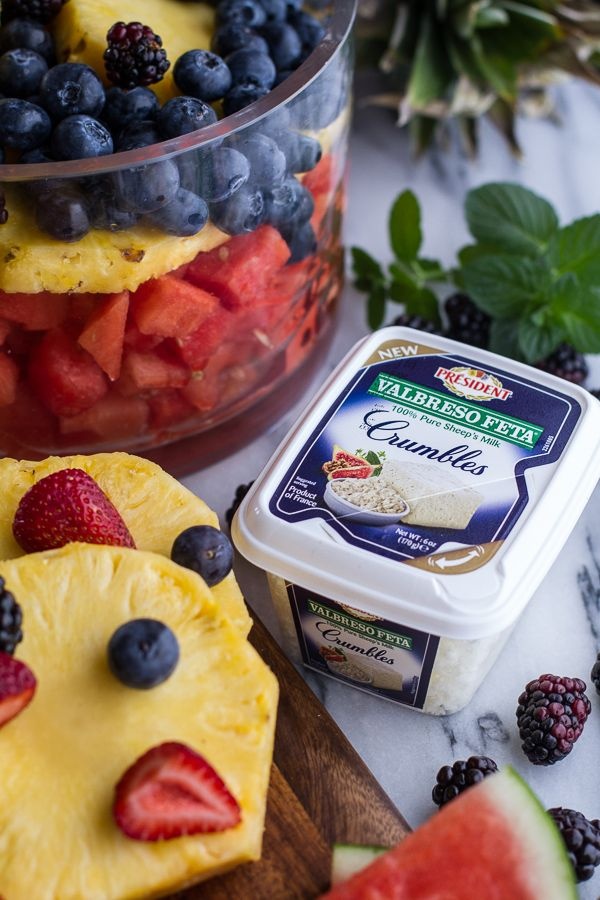 Today I have not one, but two recipes to share with you guys.
And they are both simple, healthy and totally perfect for summer.
First though, how was you 4th of July?
Did you eat tons of BBQ? Go to the parade, watch fireworks? Drink pretty red, white and blue drinks?
Mine was pretty low-key, but for me that was good. Things are always busy around here, so a low-key day was nice. I even had a great view of the local firework right from our deck, it was kind of picture perfect actually.
So I'd have to say I had a pretty good 4th! Hip, hip hooray!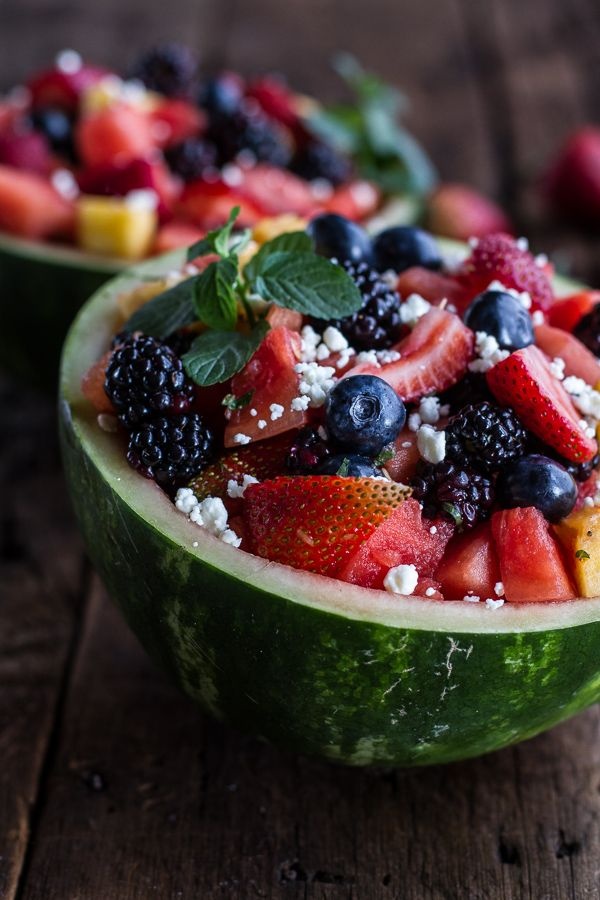 But let's talk about some serious stuff. Stuff like cheese, and summer meals, and easy party food.
First, the cheese. Specifically two of my favorites, feta and goat cheese.
I am highly in love with both and try to find a reason to sprinkle them atop as many dishes as possible. Even if the dish already has another cheese, I normally find that feta and goat cheese are a really nice finishing touch. Granted my family is a "heavy on the cheese" type of family, but I still think that most people would agree, these two cheeses can rock almost any dish.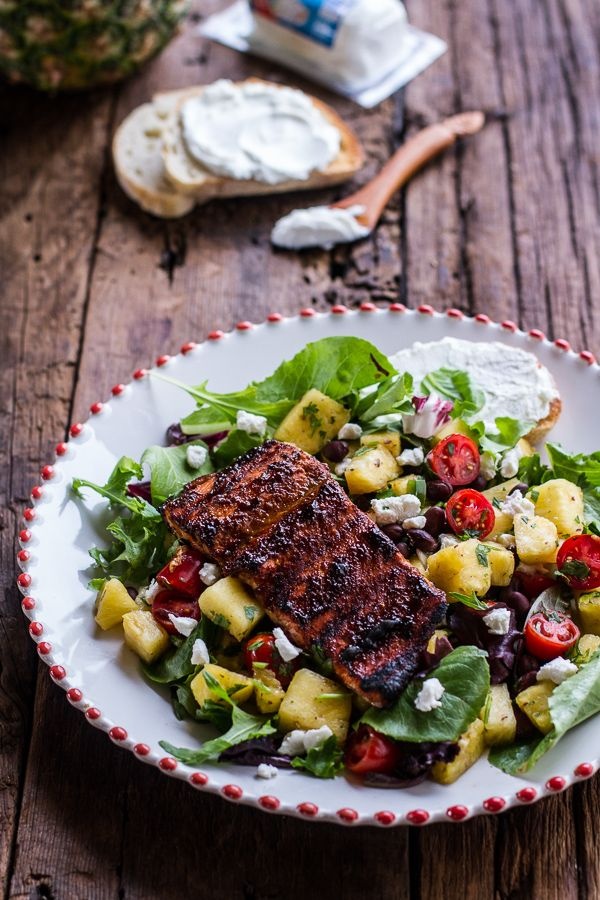 The creamy President Goat Cheese adds an awesome tang to this spiced jerk salmon and helps to balance all the flavors. It just pulls everything together. This dish is super quick and healthy and makes for a great dinner party meal. It's kind of sophisticated but yet has a fun side too. Of course it's also delicious which is really the most important part.
The fruit salad is just a whole bunch of summer fruit, tossed with some fresh herbs and President Valbreso Feta. I know that feta cheese may seem a little odd in a fruit salad, but this goat cheese feta is perfect when paired with sweet fruit. I love the combo!
Also, isn't this the perfect Sunday meal? Add some rice + grilled bread and you are good to go!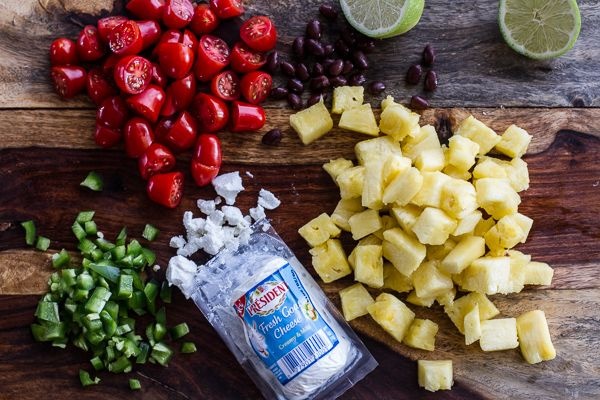 Caribbean Jerk Salmon with Curried Pineapple and Goat Cheese Salad + Fruit Salad.
serving size: 4
Ingredients
Caribbean Jerk Salmon
1 pound skin on salmon
1/4 cup ketchup
1/4 cup soy sauce (use reduced sodium for less salt)
1 tablespoon fresh orange juice
1 tablespoon molasses
3 teaspoons curry powder
1/2 teaspoon chili powder
1/4 teaspoon cayenne
1/4 teaspoon cinnamon
1 teaspoon fresh ginger
1 clove garlic, minced or grated
1 tablespoon olive oil
Curried Pineapple and Goat Cheese Salad
1 pineapple, cored + chopped
1 cup grape tomatoes, halved
1 jalapeno, seeded + chopped
1/4 cup cilantro, chopped
1 can black beans, drained + rinsed
2 limes, juiced
1-teaspoon spicy curry powder
1/2 teaspoon chili powder
1/4 -1/2 teaspoon cayenne
4 ounces President Goat Cheese, crumbled
Instructions
!Caribbean Jerk Salmon with Curried Pineapple and Goat Cheese Salad
To make the Curried Pineapple and Goat Cheese Salad combine the chopped pineapple, grape tomatoes, jalapeno, cilantro and black beans in a large bowl. Add the lime juice, curry powder, chili powder, cayenne and a pinch of salt. Give it all a good toss. Now add the goat cheese and toss again, cover and refrigerate until ready to serve.
Preheat the grill to medium high heat.
In a glass measuring cup or bowl combine the ketchup, soy sauce, orange juice, molasses, curry powder, cayenne pepper, ginger, garlic and olive oil. Whisk to combine.
Add the salmon to a medium size bowl or gallon size Ziploc bag and rub with about 1/4 cup of the sauce. Reserve the remaining sauce for later.
When the grill is hot, add the salmon, flesh side down. Grill about 3-4 minutes and then flip, baste with a little of the jerk sauce and grill about another two to three minutes. Remove the salmon from the grill, allow to cool a few minutes and then remove the skin from the salmon and cut into four equal pieces.
Divide the curried pineapple and goat cheese salad among dinner plates and top each plate with a piece of salmon. Garnish with crumbled goat cheese and fresh cilantro if desired.
!Fruit Salad
Using a sharp knife cut the watermelon in half. Use a melon baller to scoop out the watermelon or cut sections of the watermelon out and then dice.
Add half the watermelon, half the strawberries, half the blackberries, half the blueberries and half the pineapple to a large bowl. Drizzle the juice of 1 lemon over the fruit and then sprinkle with half the mint or basil. Top that with half of the valbreso feta. Now add the remaining, watermelon, strawberries, blackberries, blueberries and pineapple. Drizzle again with the juice of 1 lemon and the remaining mint or basil. Sprinkle with the remaining Valbreso Feta.
Carefully scoop the fruit into the empty watermelon bowls. Serve immediately or cover with plastic and place in the fridge for up 6 hours.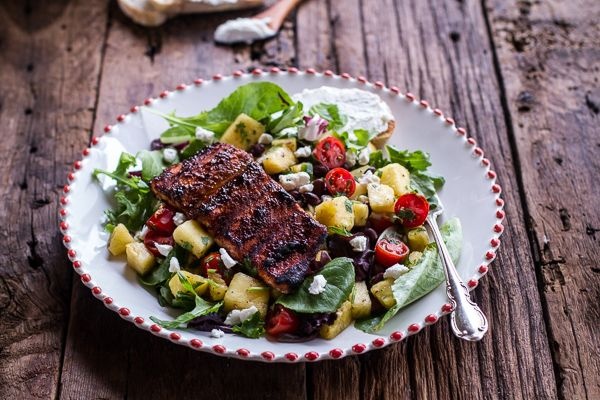 *The fruit salad can also be served in a large bowl or divided among 8-12 smaller serving glasses