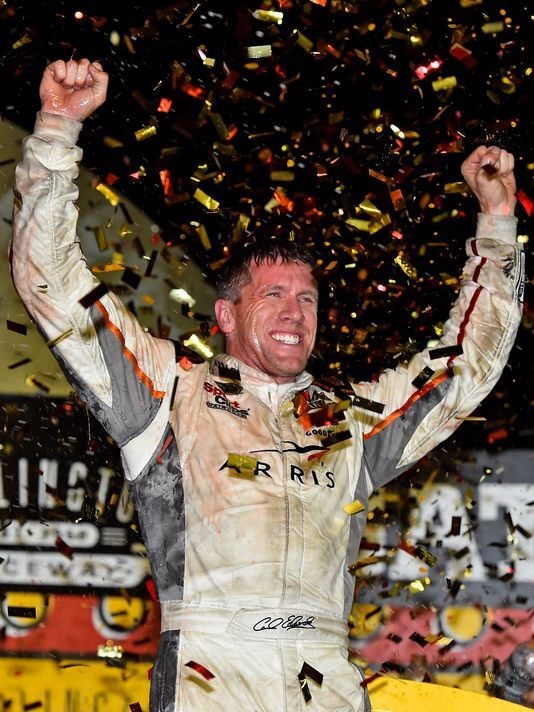 (Photo: Jasen Vinlove, USA TODAY Sports)
DARLINGTON, S.C. -- A look at all the results and action from Sunday night's Southern 500 at Darlington Raceway:
WINNER: Carl Edwards, the biggest advocate of the low-downforce rules package, won the race off pit road with eight laps to go in the Southern 500 to score the victory. NASCAR was using the aero package Edwards had been endorsing for years, and it helped him get his second win of 2015 -- his first year with Joe Gibbs Racing. Edwards won the race off pit road with Brad Keselowski - the pole-sitter who led the most laps with 196 - and took the lead on the final restart.
Edwards also won the Coca-Cola 600, another marathon Sprint Cup race on NASCAR's 36-race slate. Edwards won the longest race of the year time-wise (more than 4 1/2 hours) as a track-record 18 caution flags flew, mostly for spins and cars smacking the wall. He became the third driver in a row to win at Darlington in his first year with a new team (Matt Kenseth in 2013 with Joe Gibbs Racing, Kevin Harvick in 2014 with Stewart-Haas Racing).
"I loved it. This is as good as it gets. This is what it's about - sliding cars, the tires are falling off," Edwards said. "If there's any way we can run this in the Chase, I hope we do it."
NASCAR already has stated any changes to the package will come in 2016. An announcement is expected later this month.