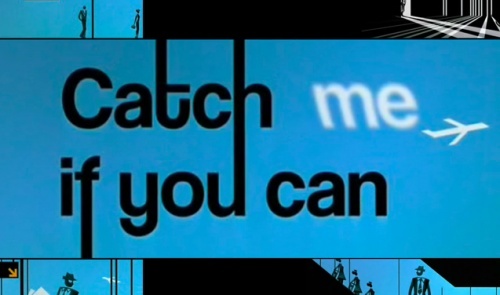 Last week
Frank Abagnale
delivered a speech at SXSW.
Frank Abagnale
inspired the movie
Catch Me If You Can
, starring Leonardo DiCaprio and directed by Steven Spielberg.
Some define Frank Abagnale as a genius. Mr. Abagnale told the audience that he was simply a 16 year old kid who took reckless decisions when he ran away from a broken family. Due to his young age, Frank had no fear and dared to do what older people would not dare to do. He refused the pardon of 4 presidents and still serves in the FBI 26 years beyond his duty. I emailed him a few days ago asking his permission to publish the recording of his speech; I am awaiting his confirmation.
His story reminded me of the 18 Marines I interviewed in Jacksonville, NC. I asked Abagnale's permission to share his speech with the Marines, to give them guidance to avoid his mistakes and put their genius in good use. The Marines' young and fearless mind, when coached and mentored, can give the same surprising results that defined Frank Abagnale - a reckless genius but in a positive and honest manner.
The amazing opportunity to utilize the Marines' skills is available today for
Veteran business opportunities
both in the US and in Afghanistan. Afghanistan is filled with tension and contradiction, but is also the frontier of new and rewarding
Veteran businesses
. In today's digital era the speed of a country's revolution is increased exponentially, and we will not wait 30 years to get the results of the Vietnamese economy:
Wikipedia
:
In 2011, the nominal GDP reached $121.6 billion, with nominal GDP per capita $1328.6. According to a forecast in December 2005 by Goldman-Sachs , Vietnamese economy will become the 35th largest economy in the world with nominal GDP of $ 436 billion and nominal GDP per capita of 4,357 USD by 2025.

According to a forecast by the PricewaterhouseCoopers in 2008, Vietnam may be the fastest growing of emerging economies by 2025, with a potential growth rate of almost 10% per annum in real dollar terms that could push it up to around 70% of the size of the UK economy by 2050.
Here at Film Annex, we took the decision of
building schools in Afghanistan
, supporting the
high education of Afghanistan
, and ensure fair
election in Afghanistan
. We decided to provide support for a
veteran starting a business
in Afghanistan. For some, Afghanistan is a ticking time bomb, but for brave Veterans, it's a place to learn new costumers, provide peace, and establish great
Veteran business opportunities
.
This is the reason why we decided to establish an
office in Kabul
with the purpose of
building schools in Afghanistan
. This is also the reason why we established
(G.I.V.E.) Global Initiative for Veteran Entrepreneurship
, and we already got inspired by 4 Marines about some great initiatives, such as the distribution of chocolate in Afghanistan, the creation of
40 Internet Classrooms
and 400 computers to
connect 160,000 Afghan children
, the production of two web-series and the constitutions of the most sophisticated network of writers and contributors along with Wikipedia.
The difference between Veteran minds and the young Frank Abagnale mind is the fact that Veterans are educated in discipline and respect and they work on the side of the law, not against it. Frank was alone and made his mistakes for lack of mentorship and guidance.
Afghanistan is the land of opportunity!
Francesco Rulli
follow me
@rullifrancesco