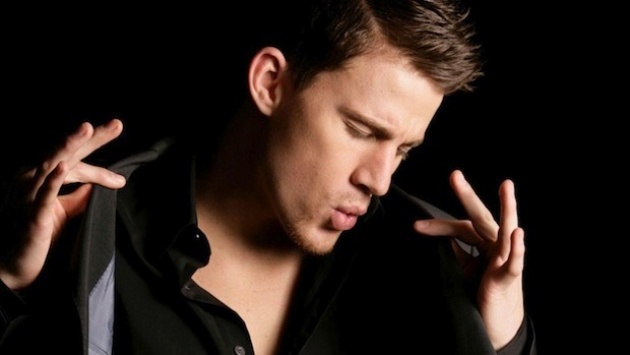 No, Channing Tatum will not steal the Wolverine title from Hugh Jackman but the actor is going to play a wolf-human hybrid for the Wachowskis' "Jupiter Ascending." Filming is underway right now and Tatum is co-starring with Mila Kunis. We told you back in April that "Jupiter" is about:


Being the Queen of the Universe! The Wachowski Siblings have started shooting the new sci-fi film "Jupiter Ascending" starring Mila Kunis, Channing Tatum, Eddie Redmayne, Tuppence Middleton, Doona Bae, James D'Arcy, and Sean Bean.

Like a sci-fi twist on "Cinderella," Kunis stars as Jupiter Jones, Russian immigrant who scrubs toilets for a living but then discovers that she is next in line to be the Queen of the Universe! How quaint!


While promoting his upcoming action flick "White House Down," Tatum revealed to Movieline that he's a "splice" and they are "essentially built in a test tube. I'm a hybrid wolf and human. And half albino, so I'm a little defective."

The actor further revealed that Lana and Andy Wachowski are doing inventive work inside the camera and the CG world. Well, we were all mesmerized by "The Matrix" when it first came out, and a little bit for "Cloud Atlas" so I can't wait to see "Jupiter Ascending" when it comes out July 25, 2014.

Here's the full press release from Warner Bros. about the film:


Filming is underway on Warner Bros. Pictures' and Village Roadshow Pictures' "Jupiter Ascending," an original science fiction epic adventure from filmmakers Lana and Andy Wachowski. Channing Tatum and Mila Kunis star in the film, which began shooting at Warner Bros. Studios Leavesden on April 2, 2013.

From the streets of Chicago to far flung galaxies whirling through space, "Jupiter Ascending" was conceived and written by the Wachowskis, who are also directing. Award-winning producer Grant Hill, with whom the writer/directors have collaborated since "The Matrix" Trilogy, is producing the film together with the Wachowskis. Roberto Malerba and Bruce Berman are serving as executive producers.

Jupiter Jones (Mila Kunis) was born under a night sky, with signs predicting that she was destined for great things. Now grown, Jupiter dreams of the stars but wakes up to the cold reality of a job cleaning toilets and an endless run of bad breaks. Only when Caine (Channing Tatum), a genetically engineered ex-military hunter, arrives on Earth to track her down does Jupiter begin to glimpse the fate that has been waiting for her all along – her genetic signature marks her as next in line for an extraordinary inheritance that could alter the balance of the cosmos.

Channing Tatum ("Magic Mike") and Mila Kunis ("Oz the Great and Powerful") lead an international cast that also includes Sean Bean ("The Lord of the Rings" Trilogy), Eddie Redmayne ("Les Misérables"), Douglas Booth ("LOL"), Tuppence Middleton (TV's "The Lady Vanishes"), Doona Bae ("Cloud Atlas"), James D'Arcy ("Hitchcock") and Tim Pigott-Smith ("Alice in Wonderland").

Behind the scenes, "Jupiter Ascending" reunites the Wachowskis with their longstanding collaborators, who most recently worked with them on "Cloud Atlas." They include Oscar®-winning cinematographer John Toll ("Braveheart," "Legends of the Fall"); production designer Hugh Bateup; editor Alexander Berner; costume designer Kym Barrett; and makeup and hair designer Jeremy Woodhead. "Jupiter Ascending" will showcase the kind of cutting-edge visual effects that have become the benchmarks of the Wachowskis' films. Dan Glass ("Batman Begins," "Cloud Atlas") is the film's visual effects supervisor, a post he has occupied for the Wachowskis since "The Matrix" Trilogy. Additionally, John Gaeta, the visual effects Oscar® winner behind "The Matrix," is contributing to the visual effects design.

The production will remain in the UK at the studios through June, at which time filming will move to Chicago for completion.

"Jupiter Ascending" will be distributed by Warner Bros. Pictures, a Warner Bros. Entertainment Company, and in select territories by Village Roadshow Pictures.