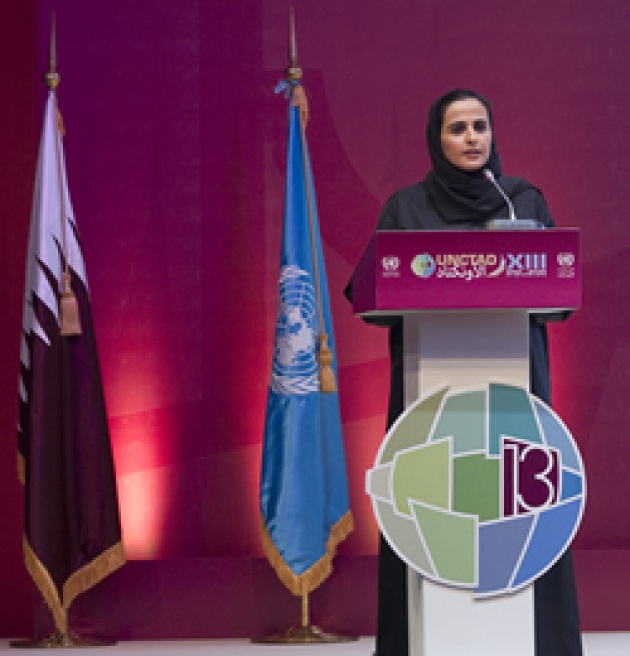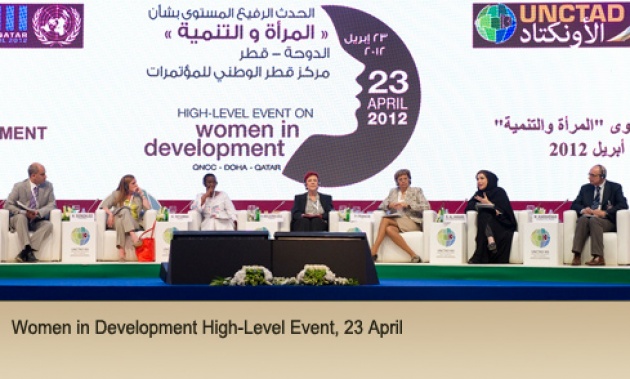 On average, a woman earns only 70% of a man's salary. Women constitute 45% of the global workforce, but as much as 70% of the world's poor. Yet studies, such as the one that UNCTAD recently conducted in Bhutan, show that women-headed households often do better than men-headed. Evidently, women's potential for contributing to development is immense, but underutilized. We cannot use the economic crisis as a pretext for not addressing this issue, nor can we confine ourselves to mere statements and expressions of good wishes, said  H.E. Sheikha Al Mayyasa bint Hamad bin Khalifa Al-Thani, Chairperson of Qatar Museums Authority.
Women/Girls and the issues of development and economic advancement have taken at least some of the front-stage at UNACTD XIII in Doha, Qatar. Reiterating the urgency for immediate action was UNCTAD Secretary-General, Dr. Supachai Panitchpakdi. Women's inclusion does not simply result as a direct consequence of investment inflows and the opening up of trade, he warned. Active policies need to be in place if women are to be involved in economic, social and political lives of their countries. Despite progress through international initiatives, including in the UN system, these reforms are not moving at a fast enough pace, Dr. Supachai warned. (See our Blog for Film Report – Regarding the Opening of UNCTAD XIII).
H.E. Dr. Hamad Bin Abdulaziz Al-Kawari, Minister of Culture, Arts and Heritage of Qatar, opened the proceeding, pointing to the unsustainability of development policies that do not promote the participation of women, and joining the speakers in urging for action in this regard. Women in Development event continued throughout the day, to culminate in the evening with a ceremony for UNCTAD Women in Business Awards 2012. Link to Award Ceremony. The UNCTAD events in Qatar also happen to coincide with Open Debate at the UN Security Council on "Women Peace & Security" scheduled for today (April 24, 2012) at UN HQ in NYC.
(We have also written extensively on a favored project of our collaborator/platform partner Film Annex & Francesco Rulli. The projects pursued understand women/girls and their education to be the future for Afghanistan Development as well as for Afghan women. Building schools in Afghanistan and Afghanistan Internet are at the focus of these efforts- See Afghan Development Initiative)
Ambassador Muhamed Sacirbey - FOLOW mo @MuhamedSacirbey

Facebook-Become a Fan at "Diplomatically Incorrect"







Twitter – Follow us @DiplomaticallyX