This Cheesy Bacon Ranch Dip is sure to be a hit at your next tailgate party, it's loaded with cheese, bacon, ranch and beer. It's the ultimate party dip recipe!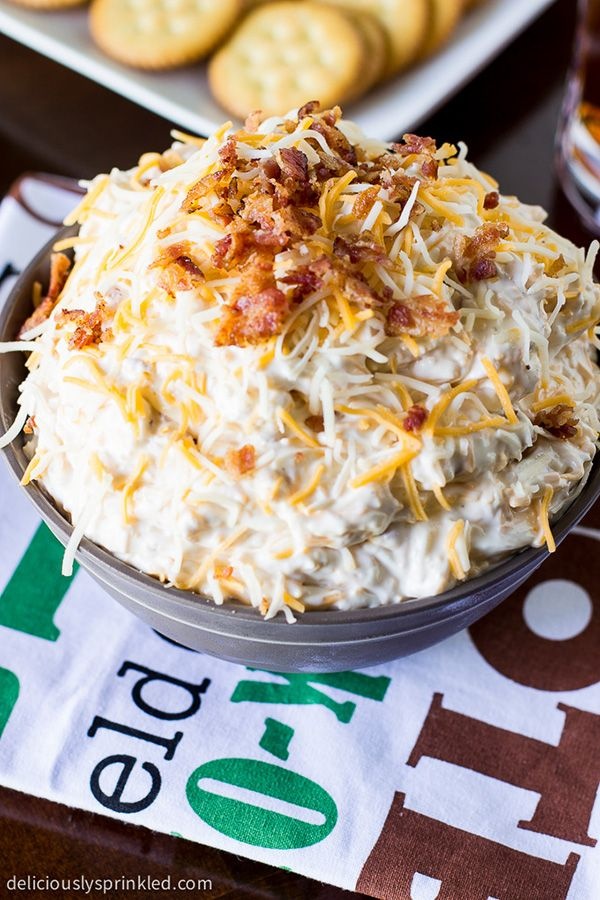 This Cheesy Bacon Ranch Dip is a dynamite dip with the wonderful, savory flavors of bacon, cheddar cheese, ranch dressing and beer that makes it unique and scrumptious. This simple five-ingredients recipe is always a huge hit with everyone and is always the first appetizer to be gone when I bring it to a party.
Seriously, no one can get enough of this great tasting dip. If your looking for a spectacular, savory dip that's easy to make, then this dip recipe is for you! Make it for your next get together or make up a batch for yourself to enjoy while cheering on your favorite team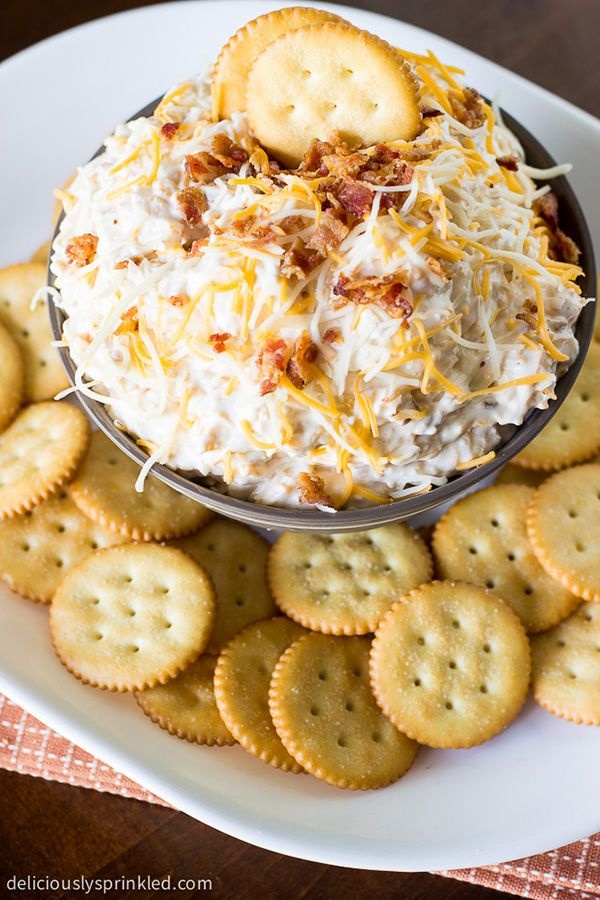 JUST A FEW TIPS:
For the bacon, you want to cook it so that it's crispy and not undercooked. And make sure that you pat any excess grease off the bacon before cutting into small pieces.
Don't want to use beer!? No problem, you can substitute the beer for chicken broth. AND if you do want to use beer, you can use whatever beer you like…I used Sam Adams October Fest because that's what we had in the fridge!
If you want to add more "kick" to this dip, you can add green onions or a dash of onion salt. I don't like onions, so I never add them but if you like onions it will give this dip an extra kick.
This dip is also delicious, spread on a brat bun…it takes beer brats to a whole new level. Trust me, you have to try it!
STEP-BY-STEP GUIDE ON HOW TO MAKE THIS CHEESY BACON RANCH DIP: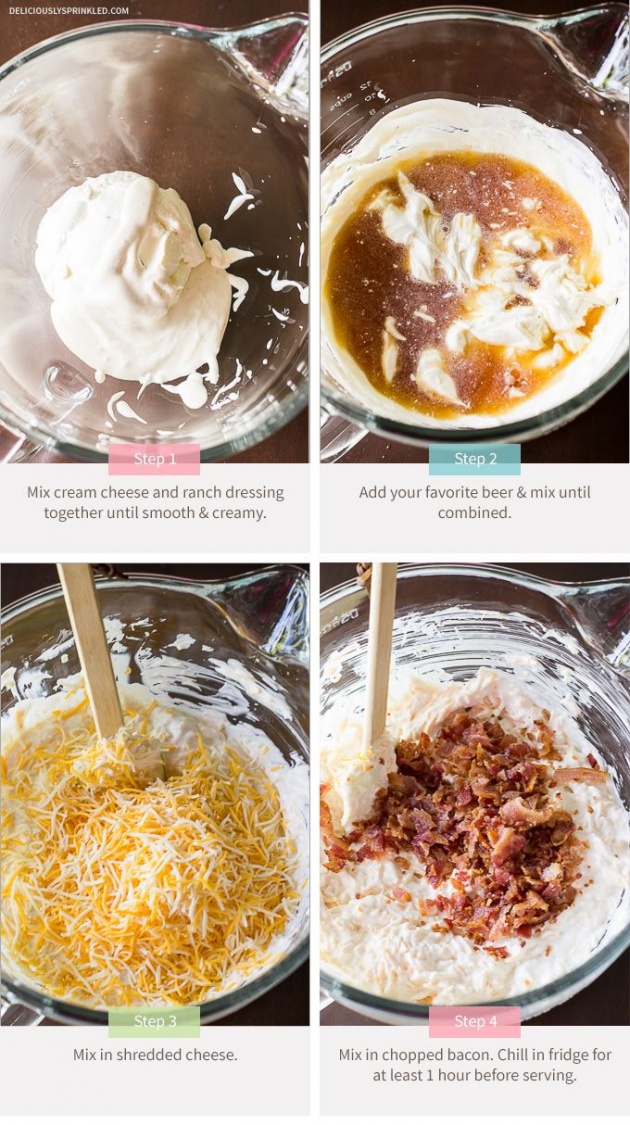 Cheesy Bacon Ranch Dip
YIELD: Serves 10-15
PREP TIME: 25 minutes
TOTAL TIME: 1 hour 25 minutes (includes chilling time)
★ Make sure to read my TIPS above before you start baking!
Ingredients:
2 (8oz.) packages cream cheese, softened
1/4 cup creamy ranch dressing
2 cups shredded cheddar cheese
1/2 cup beer (I used Sam Adams OctoberFest)*
3/4 cup cooked & chopped bacon
Directions:
STEP 1: In a large bowl, mix cream cheese and ranch dressing using an electric mixer or stand mixer until smooth and creamy.
STEP 2: Mix in your favorite beer until combined.
STEP 3: Add in shredded cheese.
STEP 4: Add chopped bacon and mix until combined.
STEP 5: Place dip in refrigerator for at least 1 hour before serving. Top with additional shredded cheese and chopped bacon, serve with crackers, pretzels, and/or potato chips.
*You can use any beer you would like. Also, if you don't want to use beer you can substitute it with chicken broth.
*Store in an airtight container in the fridge for up to 3 days.