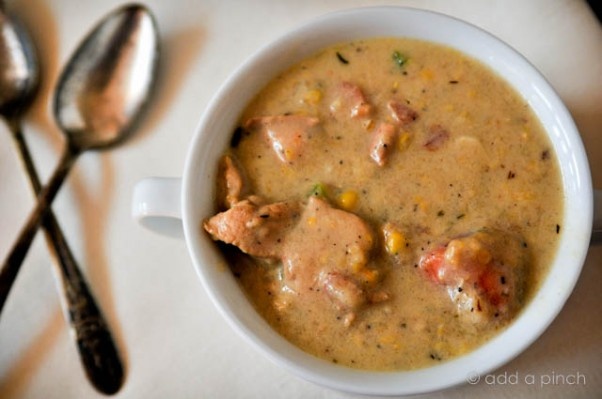 1 lbs chicken breast 1 chopped onion
4 T butter 2 stalk chopped celery
4 c fresh corn (6 ears) 2 med. boiling potatoes, diced
3-4 T flour 3 c chicken stock
1 c heavy cream (or substitute buttermilk )
Melt butter and fry chicken, but do not let brown -- when it's
glistening, lower heat and simmer 10 minutes or until meat is firm.
Cut up and set aside.
Puree 2 c of corn until smooth (note: keep 1/2 of the
kernels whole or even used a can of creamed corn). From the chicken
fry pan drippings, saute onion and celery until soft. Sprink with
flour and cook until bubbly. Add rest of ingredients, and simmer 15
minutes until the pototo is tender. Stir in cream or buttermilk,
salt and pepper. Heat and serve. Serves 6-8.