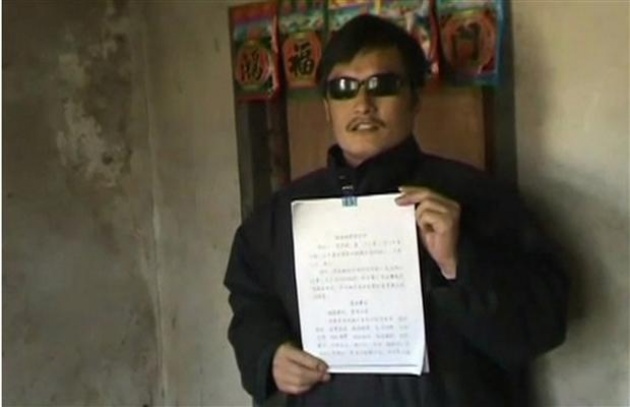 Blind Chinese human rights activist Chen Guangcheng escaped from "house detention" after 7 years and promptly made his way hundreds of miles away to the US embassy in Beijing. He then promptly appeared on internet video issuing a plea to China's leaders not to retaliate against his family ( including wife Yuan Weijing), as apparently has been the pattern in the past.
Hillary Clinton to Come:
Mr. Chen reportedly fled on 22 April from illegal house arrest in Dongshigu town, Linyi county, in Shandong province. How a blind man escaped an army of security officers who had managed for years to stiff arm all media is embarrassing enough for an authoritarian minded regime. However, the timing is especially uncomfortable perhaps not only for Beijing but also Washington. Secretary of State Hillary Clinton is scheduled to arrive in a week for an official visit. Certainly the US must raise Mr. Chen's situation or at least not give him-up while China's highest leadership can only seethe with anger and embarrassment.
UN Human Rights Chief:
UN High Commissioner for Human Rights Navi Pillay has previously raised concerns with the Chinese authorities over Mr. Chen's case. OHCHR said that although he was released in September 2010, at the end of a four-year jail term, after being convicted on charges resulting from his work on human rights, Mr. Chen and his family have continued to suffer unlawful detention, ill-treatment and other sanctions. "I'm disturbed to hear reports that other family members, including his brother Chen Guangfu and nephew Chen Kegui, have now been detained." Ms. Pillay once again urged them "to investigate the treatment of both him and his family, to ensure their physical integrity, and to provide redress for any wrongdoing by local officials."
If Beijing officials were smart, they would promptly allow Mr. Chen and his family to leave. However, arrogance will prevail over both wisdom and expediency. This is likely to drag out and become a contentious issues with Washington and ultimately most of the remainder of the free world. China's human rights record from Tibet to its political/cultural dissidents has become a point of increasing scrutiny at the UN, regardless of its UN Security Council Permanent Seat and veto. See our Blog for Film: "Unprecedented Scrutiny of China Human Rights"
Ambassador Muhamed Sacirbey - FOLLOW mo @MuhamedSacirbey

Facebook-Become a Fan at "Diplomatically Incorrect"







Twitter – Follow us @DiplomaticallyX







See more at our Popular Video Blogs & Current News Event Articles at http://diplomaticallyincorrect.org/c/war-crimes-justice