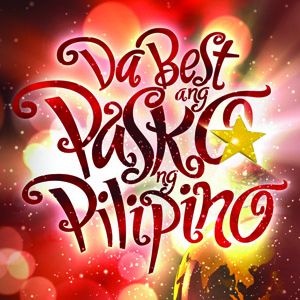 (Image source : Google)
Pasko is from Spanish word Pascua which means Christmas. Some of us started to greet "Merry Christmas" or "Maligayang Pasko", when September starts. Most of the shops or stores or even in houses starts playing Christmas carols filling the air of yuletide season.
As long as possible, people in the Philippines loves to celebrate the most important Holiday of the year. Our country is known to have the longest Yuletide/ Christmas Season. It starts from September until Epiphany or Three Kings which is every first Sunday of January. Christmas for us is a family affair. It's a time for love. It's what make Christmas best in the Philippines.
I believe that there is really "Joy to the world" when you see how Filipinos celebrate Christmas. They say that the Joy of Christmas is for kids which is true here in Philippines. We give love and share specially to those who are in need. Some companies here were collecting stuffs such as toys or books as donations to the kids like Jollibee's "Maaga ang Pasko" donation campaign yearly. All donations will be sent to those unprivileged kids as their gifts. My family's tradition is giving stuffs too rather than money when there are kids singing Christmas carols from house to house to receive "aguinaldo" or a Christmas gift.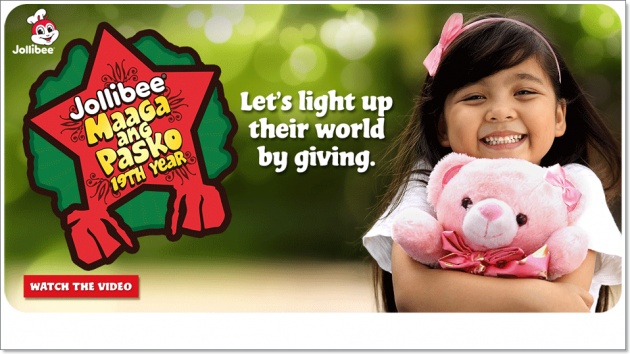 (Image Source : Google)
Kids will also be happy because they'll have new clothes and shoes for their Christmas parties. They also pay respect to their godparents and even aunties and uncles by doing "Mano po" or putting their hands in their forehead and kissing or hugging for giving them "aguinaldo" ,traditional gifts like money or toys.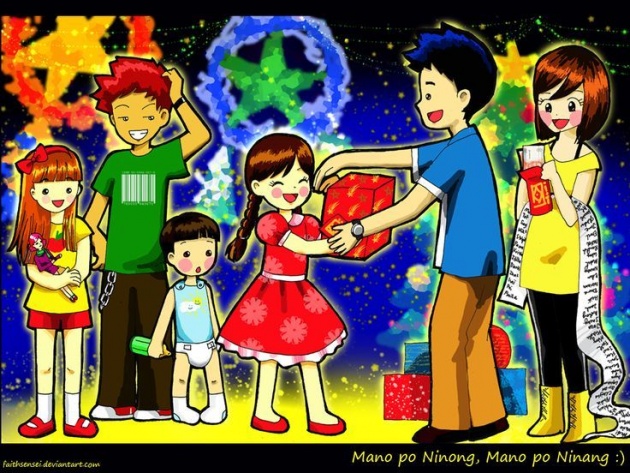 (Image Source: Google)
Our Christmas is always filled with colors, happiness, laughter, love, foods and drinks in every occasion. And the most happy people in this season were the government employees who gets their Christmas bonus every year which they call 13th month pay.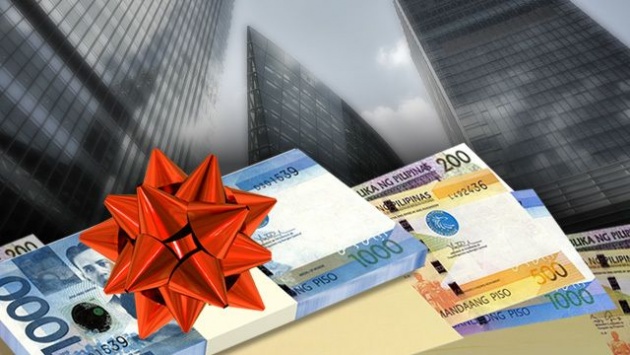 (Image Source: Google)
Filipino Christmas Traditions and Activities
Filipino has many traditions every Christmas season. Also adopted some western traditions like in USA and UK too. That's why we have Christmas tree, Christmas carols, Christmas cards and Santa Claus. This time I would like to share our modern Christmas traditions in Philippines now.
(Image Source: Google)
1. CHRISTMAS DECORATIONS
Many of us were already starting to put Christmas decorations in houses like Christmas Trees, Parol and Belen. Even in Malls and in different places here started putting Christmas tree. Here are some Chrristmas activities yearly in different places: Malls here were creating their different versions of Giant Christmas Trees yearly and also celebrates the lighting of the Giant Christmas trees in some parts of the country, Giant Lantern Festival in Pampanga and Belenismo in Tarlac.
A.Giant Christmas Tree Lighting Activity
Giant Christmas tree lighting events is one of the yearly tradition of Filipinos held in different places to signal the official start of holiday season in every place. Here are some places that started their holiday by lighting their giant Christmas trees.
Araneta Center Christmas Tree Lighting 2015
Last November 6, 2015, Araneta Center held their giant Christmas Tree lighting event together with the Kapamilya stars (ABS-CBN stars). It is a 100 ft tall iconic Christmas tree that stands in Araneta's gateway food court. The event happened simultaneously with Disney on Ice, float parade, pre- holiday bazaars in Farmers' Market and Gateway Mall.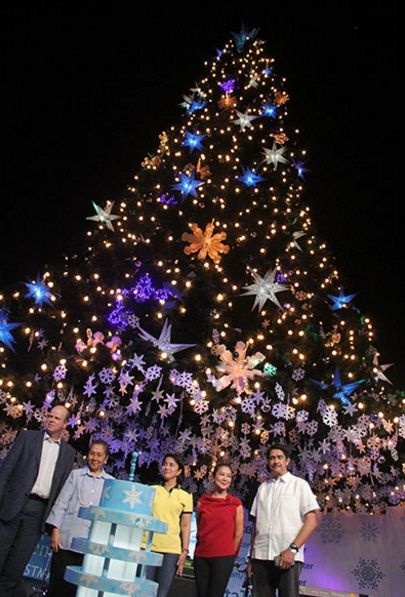 Beauty Queens of Bb. Pilipinas 2015, gave out gifts to some kids from Child Haus Foundation assisted by Vice Ganda. Some celebrities who joined the event were John Prats, Sarah Lahbati, Joshua Garcia and Loisa Andalio. (Images below courtesy of PhilStar)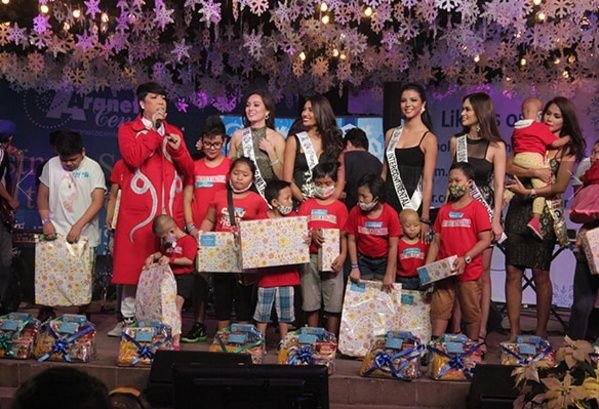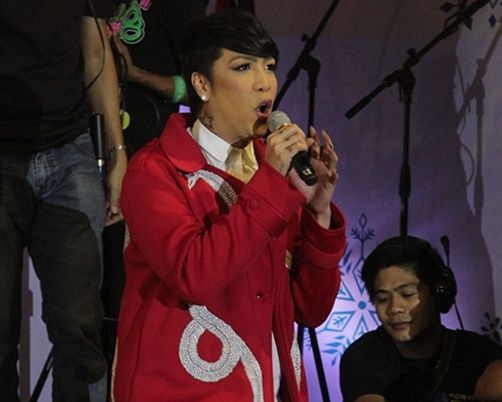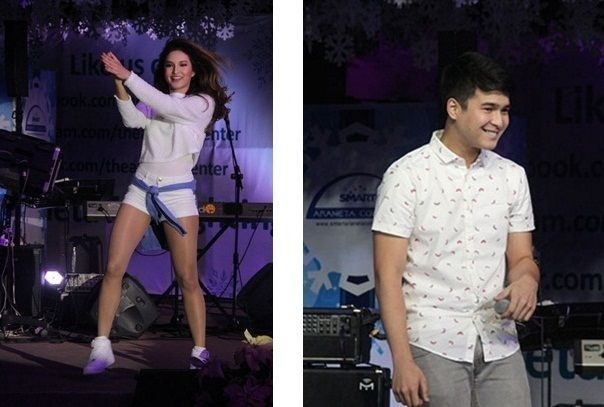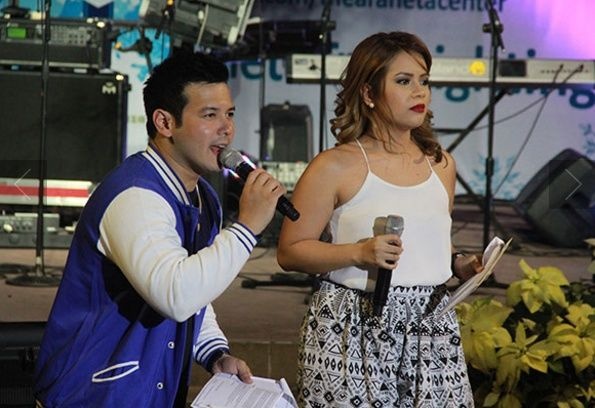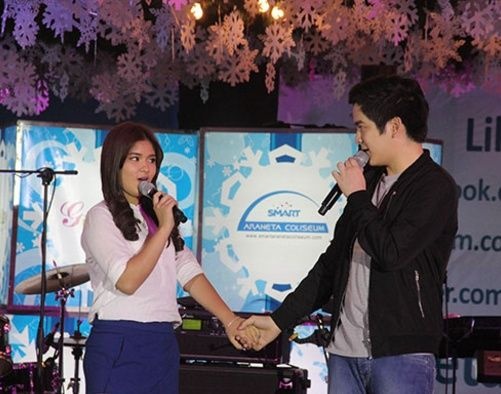 Araneta Giant Christmas Tree Lighting Ceremony 2014
(Image Source : Araneta)
Manila Ocean park Bottled Christmas Tree Lighting Event 2015
On November 10, 2015, Manila Ocean Park's bottled Christmas tree was lighted by sea lions, Yeni and Isis. This Christmas tree is made up of almost 6,500 empty bottles of Mountain Dew through the partnership with Pepsi Cola Philippines. The place encouraged the people instead of throwing to the trash, bottle should be donated to them rather.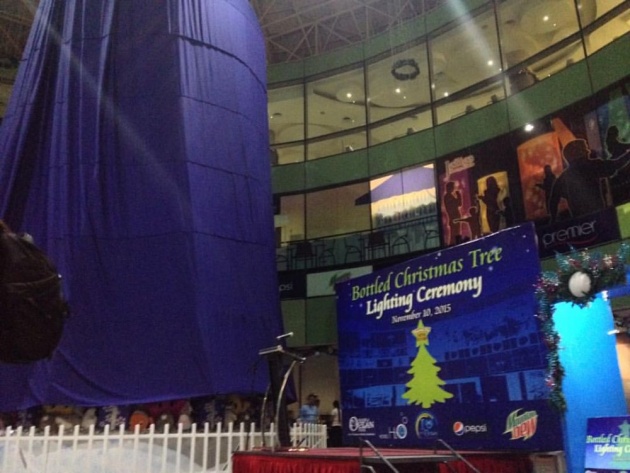 (Image source: Manila Ocean Park )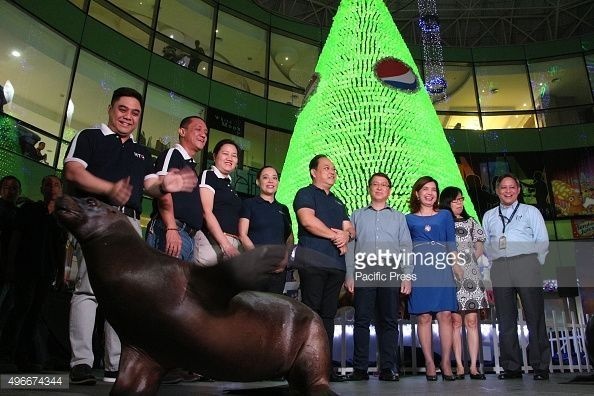 (Image source: Gettyimages )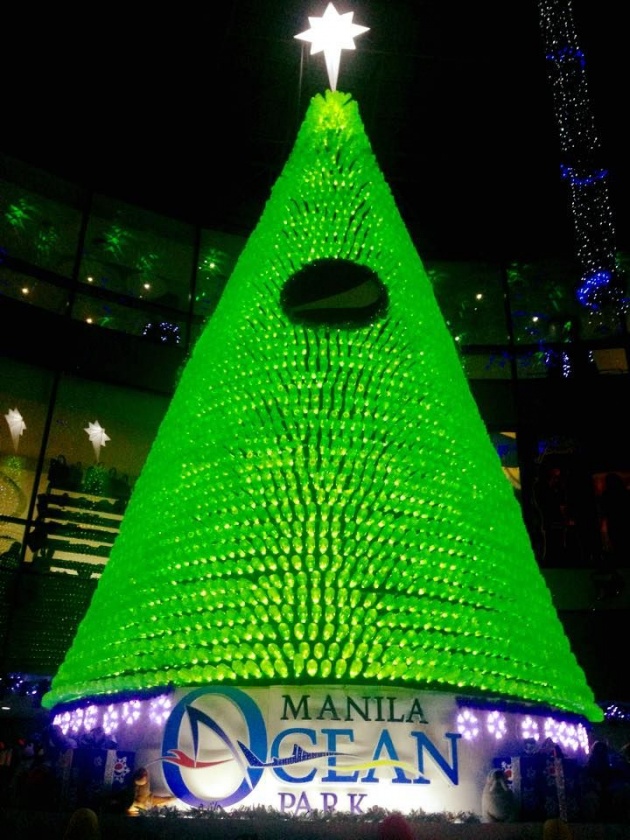 (Image source: Manila Ocean Park )
Manila Ocean park Giant Christmas Tree Lighting Ceremony
B. Parol or Christmas Lantern
Parol is Christmas lantern derived from a spanish word Farol, which has mostly 5 pointed star shape. Almost all houses has lanterns hanged in their windows. According to our elders, the traditional lantern here has candle inside the lantern to shine but nowadays, for safety, they are using bulbs to make lanterns shine. Starting September, you'll see many colorful Christmas lanterns made to sell along the streets. They are really good in making lanterns specially in Pampanga, they are making really Big Lanterns there. They were also having Giant Lantern Festival in their place.
Parol/Lanterns for Sale along the Street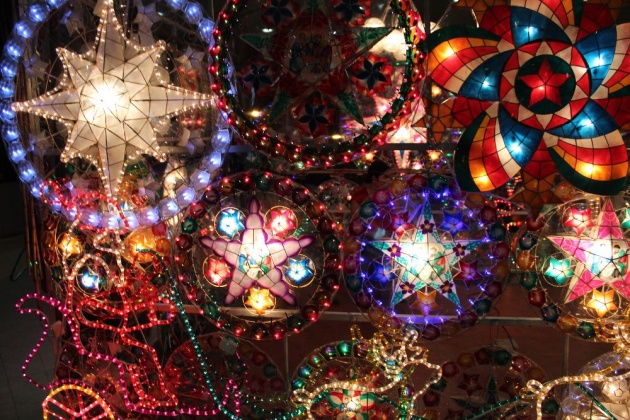 (Image Source: Google)
San Fernando, Pampanga's Giant Lantern Festival
Ligligan Parul means Lantern Competition, started on year 1908. It is held every December. This tradition evolved and the lanterns became bigger. Then later on, they made one big lanterns for each barrio with cooperative effort.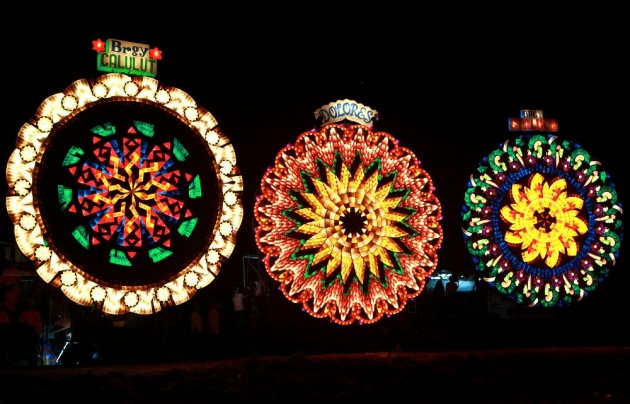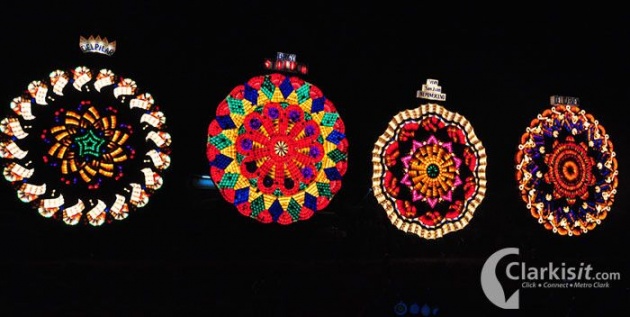 (image Source: Clarkisit)
Giant Lantern Festival
Parul Fernandino (Watch How they make the giant Lanterns)
Want to Watch the Giant Lantern Festival? Check this out.
Lantern Competition will be on December 19, 2015.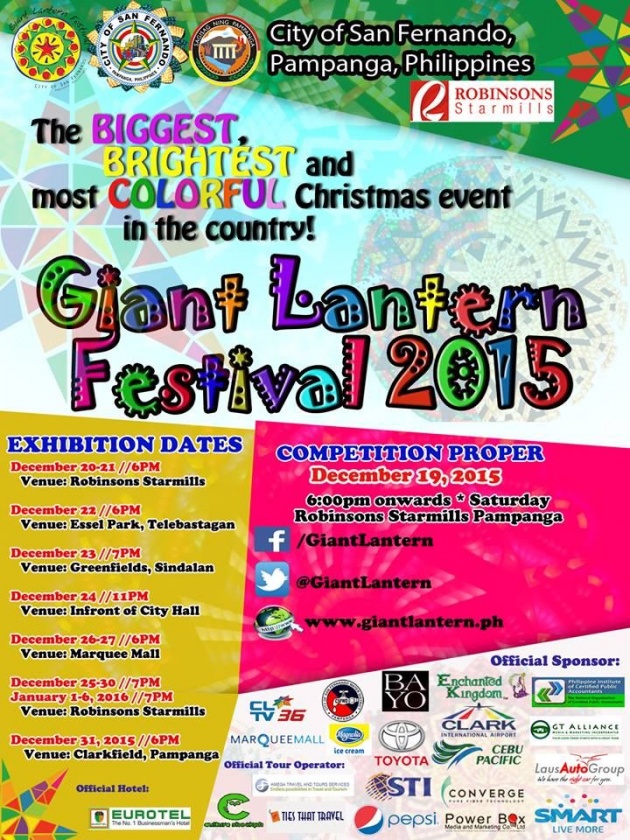 C. Belen or the Nativity scene
Many of us still displays the Nativity scene which is called "Belen". Some were made of card boards, some were breakable figurines some were life size statues and many more. I still see these from schools, office, houses, malls, hotels and in Churches.
Tarlac City is the Belen Capital of the Philippines. This is their annual tradition which started since year 2007. They promote Bayanihan and their art in Belen-Making to restore the social significance of the Nativity scene as the symbol of Christmas.

(Image source: google - UST)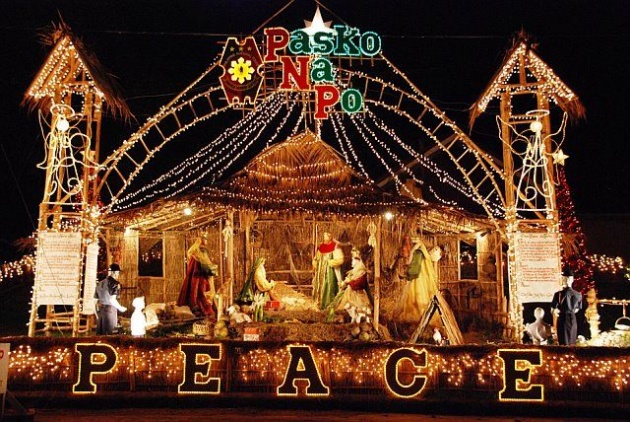 (Image Source: Google - Tarlac Belenismo )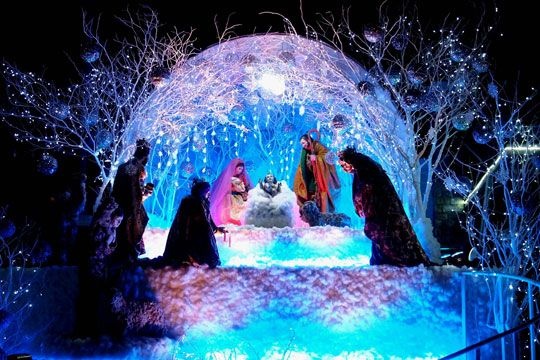 (Image Source: Google - Tarlac Belenismo )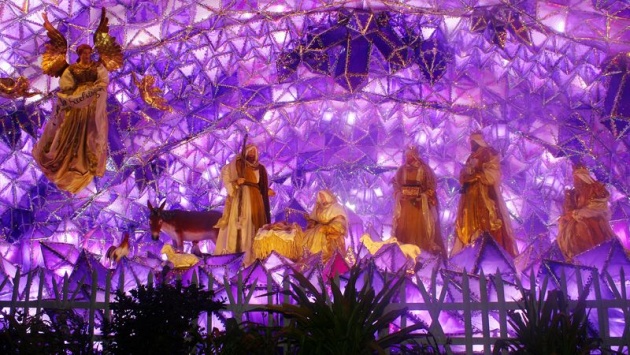 (Image Source: Google - Tarlac Belenismo )
2. Christmas Caroling
Pangangaroling - Children in small groups were singing Christmas carols from house to house. They use tambourines made in tansans or aluminum bottle caps on a piece of wire..
When we were still young, we are singing Christmas carols from house to house in our place. I still remember we have a collector for the gift or money that they'll give to us after singing Christmas carols for them. Some are in charge with the tambourines and small drums and guitar to make the sound while some are the singers. We do this so that we can buy new clothes and foods on Christmas eve when we are still kids.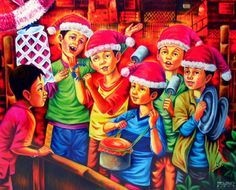 (Image Source: Google)
Sa May Bahay ang aming bati - This is the first song most of us were singing. It is a popular song here in Philippines. And it is the favorite song of the kids when caroling.
Lyrics from Tagaloglang.com
TAGALOG SONG LYRICS

Sa maybahay ang aming bati
'Merry Christmas' na maluwalhati
Ang pag-ibig 'pag siyang naghari
Araw-araw ay magiging Paskong lagi

Ang sanhi po ng pagparito
Hihingi po ng aginaldo
Kung sakaling kami'y perhuwisyo
Pasensya na kayo't kami'y namamasko.


FREE ENGLISH TRANSLATION

We're wishing you at your home
A splendid 'Merry Christmas'
When love reigns
Christmas will be everyday!

The reason we're here
is to ask for a Christmas gift
If it happens that we're a bother
Please bear with us for we're just Christmassing.


Ang pasko ay sumapit
(Song Lyrics and Translation from Tagaloglang.com)
TAGALOG SONG LYRICS

Ang Pasko ay sumapit
Tayo ay mangagsi-awit
Ng magagandang himig
Dahil sa Diyos ay pag-ibig.

Nang si Kristo'y isilang
May tatlong haring nagsidalaw
At ang bawa't isa ay nagsipaghandog
Ng tanging alay.

Bagong Taon ay magbagong-buhay
Nang lumigaya ang ating bayan
Tayo'y magsikap upang makamtan
Natin ang kasaganahan.

Tayo'y mangagsi-awit
Habang ang mundo'y tahimik
Ang araw ay sumapit
Ng sanggol na dulot ng langit

Tayo ay magmahalan
Ating sundin ang gintong aral
At magbuhat ngayon
Kahit hindi Pasko ay magbigayan!



FREE ENGLISH TRANSLATION

Christmas has arrived
Let us all sing
Beautiful melodies
For in God is love.

When Christ was born
Three kings came to visit
And each of them presented
Unique gifts.

Start a new life at the new year
To bring joy to our people
Let's strive in order to achieve
prosperity for us all.

Let us all sing
While the Earth is quiet
The day has arrived
Of the infant given by heaven

Let us all love one another
Let's follow the golden rule
And from now on
Even when it's not Christmas, let's share!




3. Misa de Gallo / The Rooster's Mass
In Philippines, starting every 16th of December until Christmas Eve, we attend Night Worships , series of nine masses before Christmas where people are waking up so early to attend the mass. We call it "The Simbang Gabi" in Filipino or "Misa de Gallo". Most of the people here are Christians and Catholic that's why Christmas is so important to us.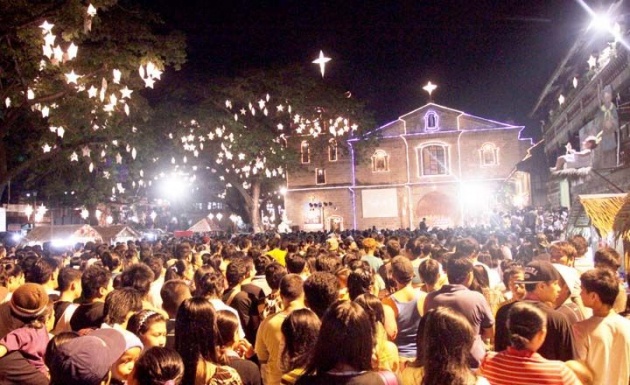 (image Source: Google)
4. Filipino Traditional Foods
After the mass, we eat breakfast together and of course we won't forget to buy the traditional foods and drinks after Misa de Gallo, the yummy "Puto Bumbong and Bibingka/yellow rice cake", and hot drinks like salabat.
Puto Bumbong and Bibingka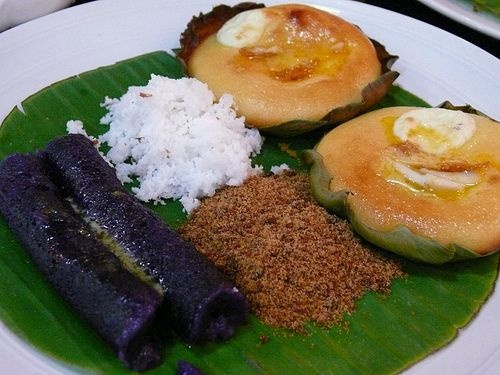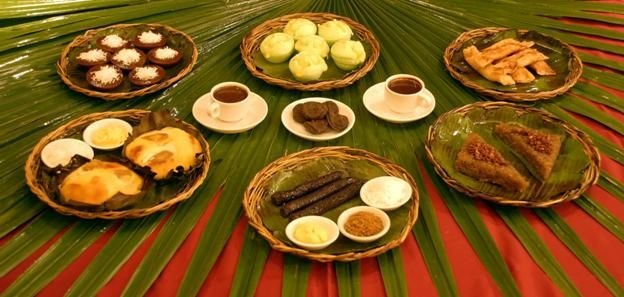 (Image source: Google)
Special Puto Bumbong and Bibingka of the Royal Tagaytay Club
5. Bisperas ng Pasko or Christmas Eve
We celebrate Christmas eve with Midnight mass followed by Noche buena. We stay up all night-long for celebrating the Christmas Noche Buena. These are some of the foods that usually served: Queso de Bola, hamon, pancit, bibingka, fruit salad and many more but the star of Christmas food is lechon.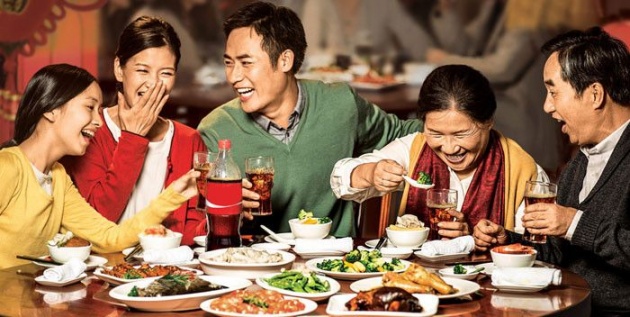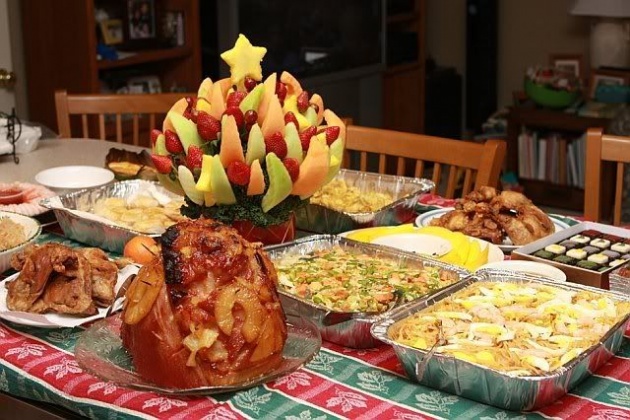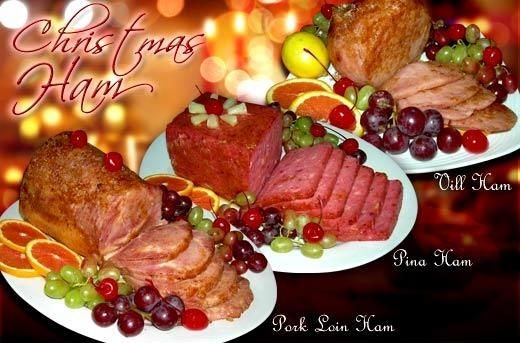 Star ng Pasko LECHON!!!!! Attack!!!!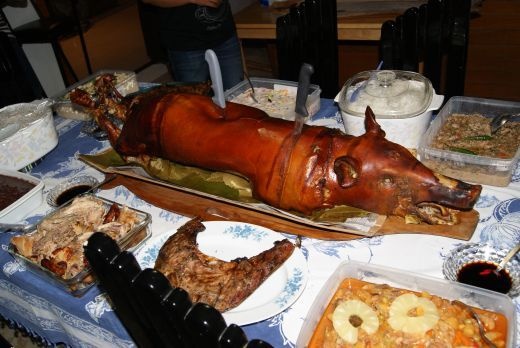 (Image source: Google)
6. Panunuluyan
Panunuluyan means asking for lodging. It originated from 9 days Mexican ritual, Posadas. The only difference is Panunuluyan takes place for one night. It is held every Christmas eve.
The Script
St. Joseph and Virgin Mary were looking for a place to stay for the mean time. They stopped at three to four homes in the town (These homes represents the houses in Bethlehem.) Homeowners refuses and gave many reasons like they have many guests already in their house, some says they can't take them because they are too poor, some says the real owners were not there, This ritual ends at midnight in the church.
In schools, churches and some places, they perform the Panunuluyan or the re-enactment of Joseph and Mary going to pre-designated houses similar to Las Posadas.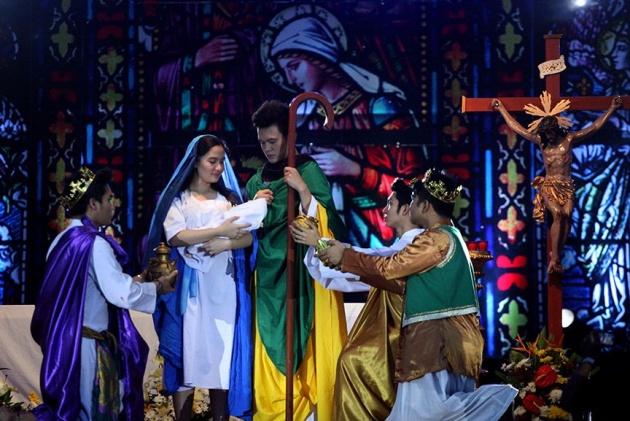 (Image Source : Google)
To those people who didn't try yet spending Christmas time in Philippines, come and experience the true joy of Christmas here. The weather is cozy during this season which is good to feel more the spirit of Christmas.