Spanish Christmas
"I am like a 'Pascuas' (in spanish)." When we listen to a Spanish saying this sentence we understand that this person is very happy. Happy because of Pascua, in the plural it refers to all those days from 24 December to 6 January: Christmas.
Hello to all my bitlanders friends, I hope you all are fine, I'm here with an other interesting blog post for you. In this blog, I'll tell you about how Christmas is celebrated in Spain.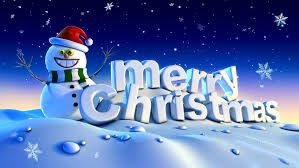 image source: google.es
Christmas is a festival of family union time, and for many, a moment of reflection. This time of year is one of the main celebrations of Christianity and is held every December 25 to commemorate the birth of Jesus. In Spain, as in other countries, there are some customs and traditions of the destination and conducted a review of the major Christmas traditions in Spain. This part of the year is focused on joy, celebration, family and friends. Christmas is originally a religious holiday, and remains so for many people, but even for those who hold no religious faith these weeks represent a hiatus of joviality and harmony amidst the not always easy bustle of everyday life.
This much awaited festival of Christmas is celebrated all over the world, and its celebrated according to every country's own traditions and customs, I'll only be telling you about how it is celebrated here in my country 'Spain'. What are spain's traditions and customs of this festival.
First of all let me tell you, what its called in spanish and how people greet or wish to each others. Well in spanish its 'Feliz Navidad', it means 'Merry Christmas'.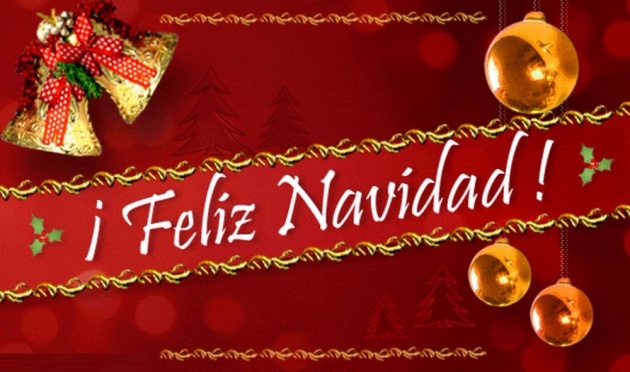 image source: google.es
Decoration and Traditions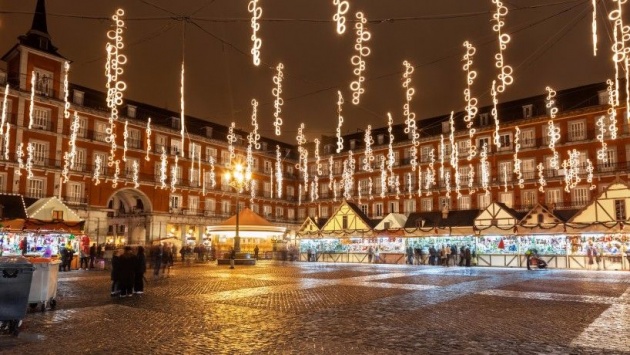 image source: google.es
In mid-November already beginning to make evident the proximity of the holidays in Spain with the so-called Christmas campaign in the commercial sector: shopping centers, shop windows and streets of the city are decorated with lights and all kinds of ornaments related to Christmas. In addition, stores are filled with toys and gifts, offering very early deals to encourage Spaniards to do their Christmas shopping. Bars and restaurants also become a meeting place for both friends and coworkers for traditional dinners. All this is accompanied by the official start of winter in Spain, whose start date is December 21.
In short, the Christmas traditions of Spain, except for a number of characteristics that are listed below, are similar to the rest of Europe in relation to Christmas dinner, family reunion and gifts.
The Spanish Christmas begins in a peculiar way but not-officially, on 22 December, with the singsong of children of 'Colegio de San Ildefonso' who sing numbers and prizes of Christmas's Lottery,probably the much awaited of the year. When on Spanish radio a listener listens that tune: "Christmas is already here." In spanish "Ya están aquí las Navidades".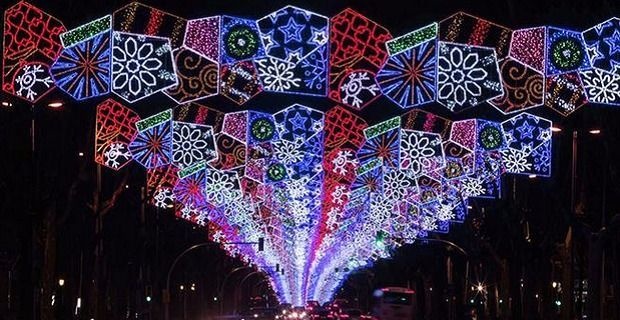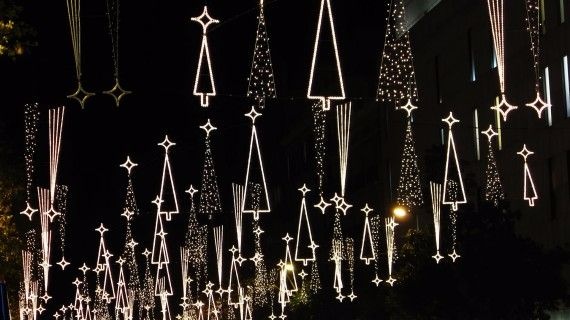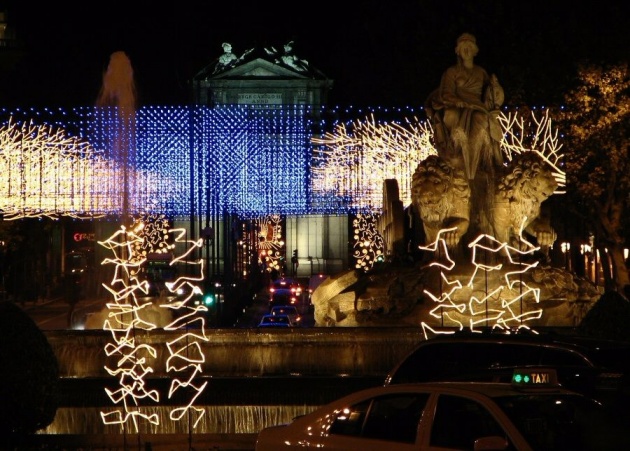 images source: google.es
What is possibly the most characteristic decorative element Christmas in Spain is undoubtedly the Nativity scene, representing the birth of Jesus Christ, a practice from the Catholic religion. Next to the typical Christmas tree, the crib is assembled in homes, businesses, churches and even the streets, where they have come to see nativity scenes with life-size characters and even real people and animals. In any crib you can not miss the main part the infant Jesus by the Virgin Mary and St. Joseph in a manger. Traditionally, this scene is accompanied by two fundamental animals: mule and ox. However, if you want to expand, you can include representations of the Three Kings coming to the portal, pastors gathered to worship the newborn, etc.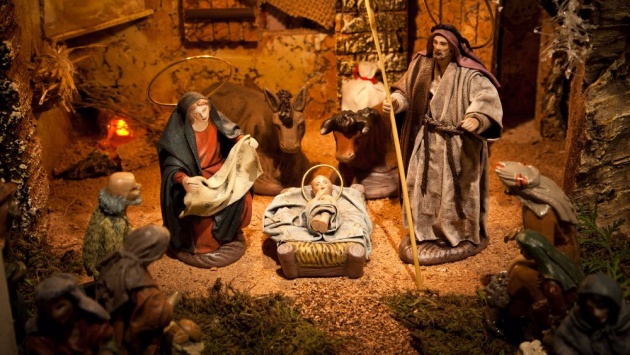 image source: viajejet.com
Also it draws particular attention to the fact that communities like Catalonia and Madrid, in addition to the characters listed above, have other prototypical as the famous caganer in Catalonia figure shows a farmer defecating near the portal, or chestnut in Madrid.
Here is video in which you can see different part of Barcelona decorated for Christmas.
video source: youtube.com
Besides holding the economic fortunes with the lottery, the 24th, Christmas Eve, is an eminently familiar celebration in which the Spaniards often gather around a gargantuan table full of the most exquisite delicacies for dinner usually gather families (and when we say family in Spanish, the meaning of the word includes a lot of people) in an annual meeting where joy, shared sumptuous dinner and good wishes last until the wee hours of the morning. For Christian believers tonight also involves attending midnight mass, celebrated at midnight on the 24th, during which carols are sung in honor of the child-God who has been born using some traditional instruments like zambomba, ratchet or tambourine, without lack of guitars, of course.
Another special day in the Spanish Christmas is December 28, the "Day of the Innocents". This day originally commemorated the killing of newborn children who perpetrate sent the governor of Judea, Herod, who tried to remove his way to the new "king of the Jews" had been born. The fact that innocent word in Spanish has also the meaning of "simple, stupid", makes this day is the equivalent to the first of April in other cultures. December 28 must be very careful with the "pranks" that everyone is willing to toil away.
Arrives December 31 and, if the Christmas Eve party is fundamentally a family celebration tonight, New Year's Eve, it's a party of friends. People gather at parties we call "party favors" or grouped in squares under the clock tower of the church, waiting to ring the twelve strokes to "cut the year" with twelve grapes of luck and toast the New Year with a glass of champagne. The festivities last until the early morning hours soaring, which makes the January 1, New Year, is for many a "day hangover" or rest of the party yesterday.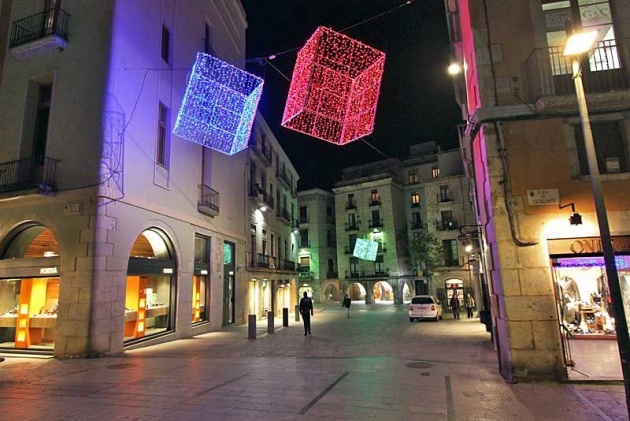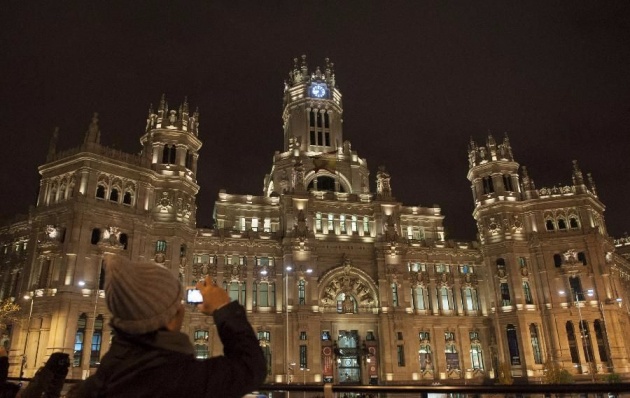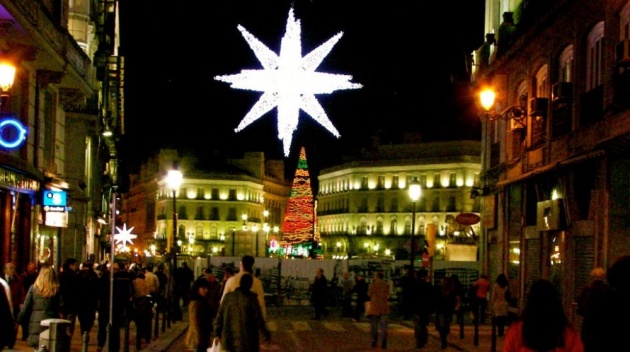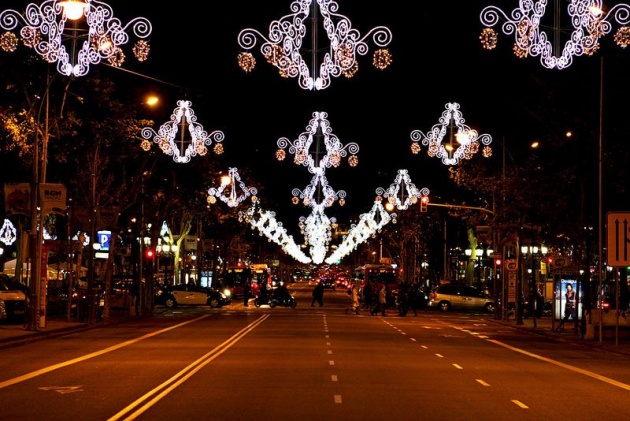 images source: google.es
Christmas in Spain, fill with carols, decorations and spectacular lights in the streets, joy and celebration-religious or not that are evident in the smiles that can be enjoyed almost unanimous when strolling through the Spanish streets in search of a gift to the persons beloveds.
video source: youtube.com
Christmas Plant (Planta Navideña)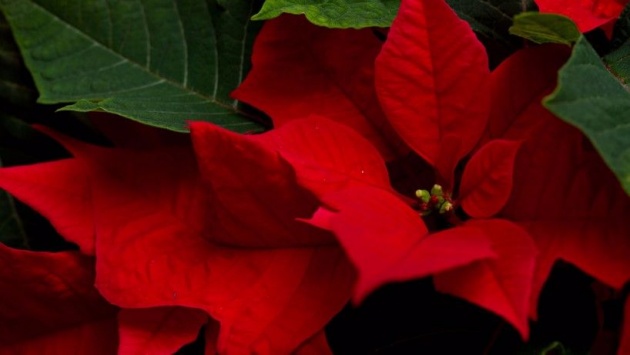 image source: google.es
Another very typical decorative element in Spain is commonly called the Christmas plant (planta Navideña). As Christmas plant is considered any species used for decoration during the Christmas holiday season. These plants belong to very different species from shrubs, trees, mosses, climbers, up cactus. Some of them bloom at this time. The colors associated with this festival are green and red; Green symbolizes fertility, hope, resurrection and eternity, while red represents luck, health, passion and vigor.
Ivy, with its symbolism of eternity and resurrection is often used to make crowns in centerpieces or hanging decorations. This plant has always been associated with the Egyptian goddess Osiris and Greco-Roman Attis, both resurrected from the dead.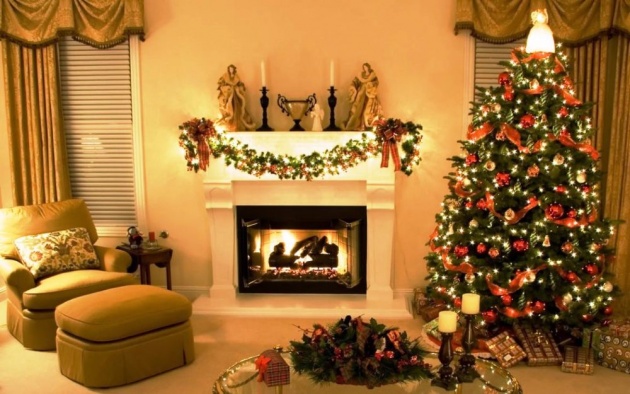 image source: google.es
In Spain commonly the plant which is used as the Christmas plant, is poinsettia or poinsettia. The intense red color of its leaves, Poisentia has become a representative of the Spanish Christmas item. We can be found in homes, businesses or even around town or village. In addition, this plant also has become a very common holiday gift. This indoor plant is of Mexican origin and may last several years, although in most Spanish households are spoiled after the Christmas flourishing because they are often unaware of care involved.
In the villages of Spain there is still customary for children to ask for the bonus, which consists of going from house to house singing carols in exchange for some gifts, sweets, candies or just some money. Some children may be accompanied by tambourines and friction drums (known as Pandorgas Murcia), very typical Christmas instruments throughout Spain.
video source: youtube.com
Christmas Lottery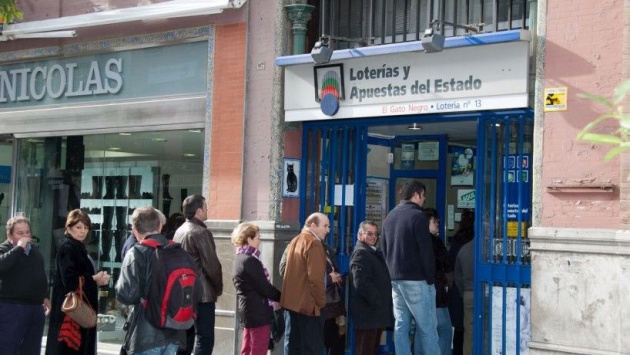 image source: google.es
Another Christmas tradition in Spain is the extraordinary Christmas Draw or Christmas lottery which takes place on December 22 from 9: 15h. This drawing is from 1812, when it took place in Cadiz, and for many Spaniards, is the activity that kicks off the Christmas celebrations. The draw will be held in the hall draws State Lotteries in Madrid and the maximum award is known as El Gordo. Although the draw is made in December, lottery tickets can be purchased in different administrations since July and the price is € 20 for each tenth. As we approach the month of November and during the Christmas period in lottery administrations of the different towns and cities of Spain are often created lines of people waiting to buy their tenth.
What is possibly the most famous Lottery Administration throughout the country and one of the most representative symbols of the Madrid Doña Manolita is located on Calle del Carmen de Madrid. Established in 1904 in San Bernardo Street, Doña Manolita annually welcomes hundreds of people willing to buy one or more lottery tickets in their establishment. Every year in this administration sold over 65 million tickets.
video source: youtube.com
Christmas Eve and Christmas Day
This is the day when who family gathers and spend quality time. Christmas dinner in Spain takes place every December 24. This dinner, on Christmas Day, is all a family ritual and is usually held in the homes of the Spaniards with the whole family.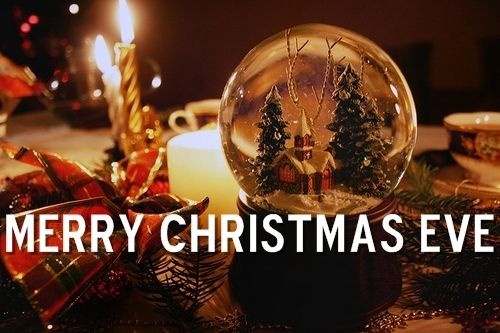 image source: google.es
Although the dishes vary according to each family and each area of Spain, one thing is always true: it is a very hearty dinner, where appetizers, main course, dessert and finally, a variety of sweets, including nougat there and marzipan. As for the starters, prawns and shrimp is a dish that is usually missing. The main course is usually some meat, from lamb to pork, and even turkey stuffing. Furthermore, it is tradition that night the King of Spain issues a speech to all Spaniards, which is televised. In this link you can read the speech of His Majesty King Philip VI in 2014.Furthermore, it is tradition that night the King of Spain issues a speech to all Spaniards, which is televised. In this link you can read the speech of His Majesty King Philip VI in 2014.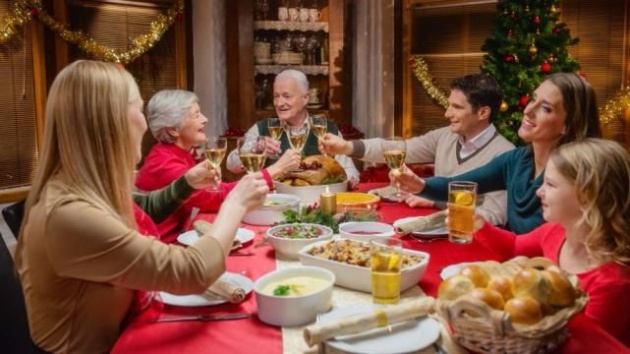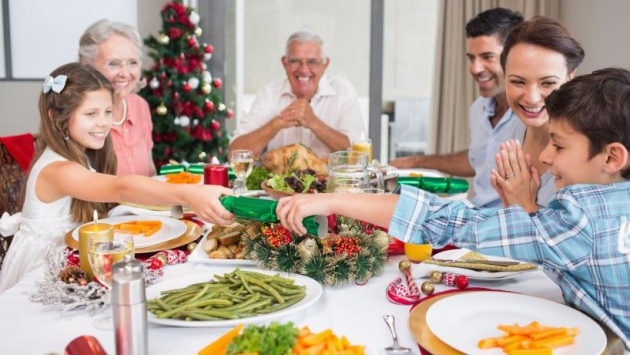 images source: google.es
On the 25th, on Christmas Day in the strict sense, is a day that Spain has been filled with a new content for some decades under the influence of Anglo-Saxon culture makes: the presence of Santa Claus bringing gifts to the children of the house, which implies that this day the streets and squares are filled with anxious children with new toys and show them to their friends. In some parts of Spain there are characters such as Olentzero (a coal falling from the Basque mountains, leaving toys to good children and coal to the bad ones) and uncle Nadal in Catalonia and Aragon, which leaves gifts and sweets to the kids . These characters also make an appearance on Christmas Day, and can be considered as indigenous, against the "immigrant" Santa Claus.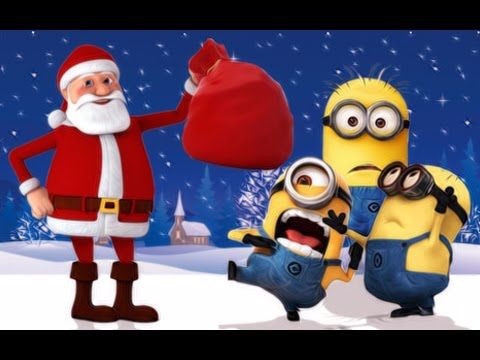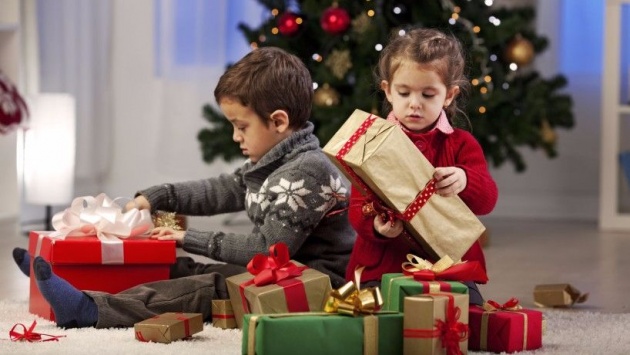 images source: google.es
video source: youtube.com
Eve and New Year
Last December 25, Spain continues with a Christmas atmosphere until it reaches 31 December and celebrates New Year, also known as New Year's Eve or New Year's Eve night. Tonight farewell year between fireworks, festivals, celebrations, and the typical twelve strokes which are accompanied with the famous twelve grapes of luck. The custom of the twelve grapes originated in 1909 and is considered a rite to enter the new year with luck.
Although, like on Christmas Eve, the vast majority of families are reunited at home for dinner, many families or groups of friends decide to rent a house or make a trip to Madrid or any other city in central Spain. After the twelve strokes, family and friends congratulate the new year, either in person or via message or phone call. The chimes are issued each year by several TV from the Puerta del Sol in Madrid.
video source: youtube.com
Kings Day
Finally, the celebrations end on January 6, the Epiphany. This day was mainly devoted to smaller, since that day receive the long-awaited gifts throughout the holiday season.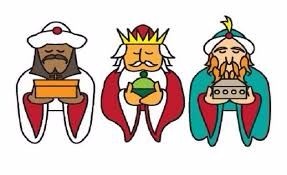 image source: google.es
On January 5 many people in charge at the bakery or confectionery trusted one King cake you have breakfast the next day. But this day, the eve of Epiphany, has a very clear protagonists beyond traditional sweets: children. Horse riding with the Three Kings, their pages and a shower of candy and other goodies occupy the Spanish streets and children, super excited, will surely trouble sleeping because the morning of the 6th, the Epiphany, is when the three magi leave, traditionally, gifts for all.
One day before the day of celebration can be seen in the streets the popular Cavalcade of the Magi, when children take the opportunity to greet and deliver his letter with a list of gifts they want to receive. Then the kids go to sleep and the next day under the tree Christmas gifts the Three Kings (Melchor, Gaspar and Baltasar) have brought them.
video source: youtube.com
The typical sweet of the day is the King cake, dried fruit cake bearing shaped rubies that adorned the robes of the Magi. Normally during snack, they eat it all with the hope of finding the two surprises that hides the King cake and either be crowned the King or Queen of the home, or, on the contrary, intended to pay the roulade in the following year. The first surprise is a miniature figure of a typical Christmas character, usually one of the three Magi. By contrast, the second surprise is a dried bean which, according to tradition, bad luck who is found, that person having to pay the roulade in the following year.
I hope you all like my post, take good care of yourself and others around you, be happy, keep happy, I'll see you soon with an other interesting blog posts. Thanks for reading my post.