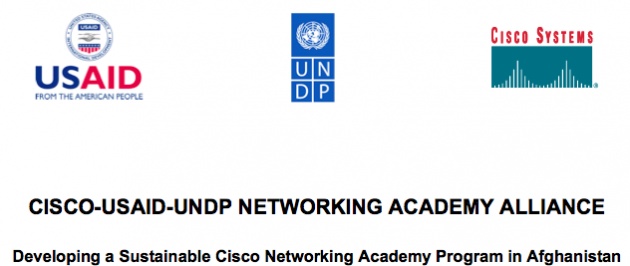 Cisco is going long on Afghanistan education and is heavily invested with their initiative Cisco Networking Academy (PDF). Here's a mention on Wikipedia:
"Cisco Net Academies in Kabul, Mazar and Herat from which 120 graduated in 2007/2008 and 240 will graduate in 2008/2009. - In partnership with Aga Khan Foundation (AKF), constructed the Kalan Gozar Girls School for over 650 girls in Baghlan Province."
Last night, my partner in Kabul, Roya Mahboob, wrote this about Cisco:
"In most Universities in Afghanistan they created computer and Internet networks, trained students and teachers. In the Kabul Universities the department of Computer Science and Networking is the Cisco curriculum".
Film Annex shares the same vision of Cisco but our focus is on high schools and secondary schools. Film Annex wants to increase the number of children who can benefit from global connectivity and education (Film Anex writer Marine Jeffrey Moore will be teaching English classes on Skype). Cisco needs engeneers, Film Annex needs writers, filmmakers, and viewers.
In a conversation with John Chambers, I would ask Cisco's guidance on how to expedite the process of building schools in Afghanistan with Internet classrooms and avoid delays. In fact, we are not seeking investors or donors, we are building schools in Afghanistan with internet Classrooms right now!
On February 7th, we discussed the first steps with Roya Mahboob, and by the beginninng of April, we started filming our progress in Herat. By end of April, we are building the first classroom, we schedule one more classroom every 6 weeks. The key factor in both projects (G.I.V.E.) and the Afghan Development Project is that we use the same strategies of Film Annex Buzz (for public companies and CEO's) for Afghanistan and Veteran entrepreneurs involved in this project; we create buzz and finance the projects with online advertising.
It is For-Profit and has a positive effect and investment on all parties, starting from the Afghanistan educational system, the Afghanistan Economy, Veteran entrepreneurship, and Veteran business opportunities.
Rumor is that Google and YouTube visited Afghanistan and decided NOT to invest in Afghanistan Education, we are proving them wrong.
follow me @rullifrancesco
P.S. A few days ago my friend and collaborator Mike Sweeney wrote me this note that triggered my thoughts:
John Chambers hangs with Obama
Francesco hangs with John Chambers