It is again time of the year when companies all over the Philippines would celebrate different kinds of celebrations. It ranges from Year-End Party, Thanks Giving Party and Christmas Party. But it actually sums up the entire year of hardwork for every employee and it is a time when the entire company would spend some hours celebrating and making merry about this season before bidding the year goodbye.
While it is indeed a tradition for each companies here in the Philippines specifically in Cebu, my company even if it isn't a huge company has our own Christmas Party too. But we had to go through a challenge before we eventually got the final venue.

First challenge was the location. Our option was to go somewhere near to our office and that it should be an overnight event with the purpose of just being able to bond and have exchanging gifts. We opt to go to Rancho Cancio which has an infinity pool. We tried contacting the resort but then it was already fully booked for the whole December month. It was a bad omen we realized because each and every resort which we had tried to contact with has been fully booked.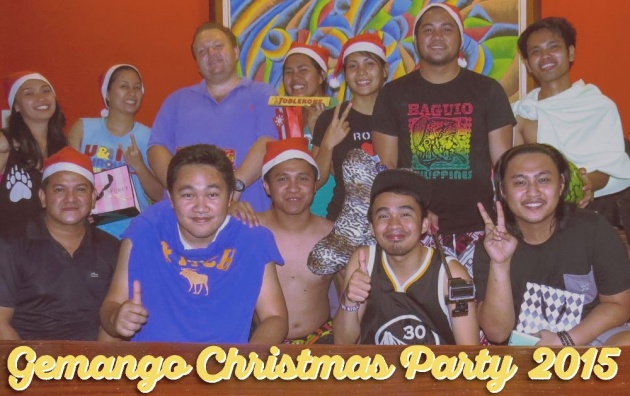 Everywhere seemed to be fully booked. There was one in Guadalupe as well which looked nice and they were available on the dates we stated but it has to have two nights stay to get it booked.

The we thought of going out of the city instead so that we can get cheaper price and we can also travel a bit. We tried the ones in Carcar and Catmon even to a remote island in cebu but then it was still not possible. Either the resort is fully booked or it requires two nights stay to get it reserved.

Second challenge was the date.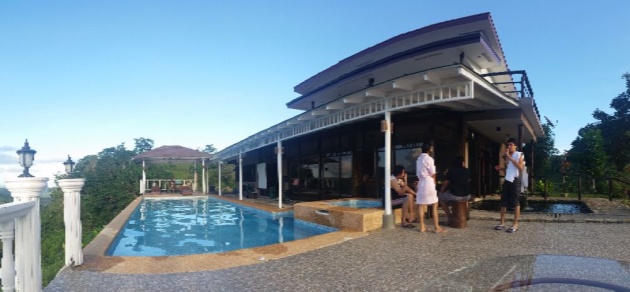 We had scheduled it for December 18-19 at first but then we realized that one of us wouldn't be able to join since he has other plans on those days so we had to move it a week before.

So then we decided it would be December 11-12. An overnight between Friday and Saturday. We had to go to the office earlier so instead of one in the afternoon, we have to come at eight. But we will be going for work half of the day only so that's four hours of duty instead which we all had agreed including our boss.
So then we have to finalize everything and at this point, a week before our supposed party, we still can't find any other location until one of our colleagues sent an airbnb link for Cebu resorts. We found
Serenity Farm Resort
.
Upon contacting the person in charged, we then knew it was the resort meant to us. They were just a few minutes away from the city and that they are available by December 11. And the most important thing is that they can let us stay for a minimum of one night. So that was already set and we got it booked immediately.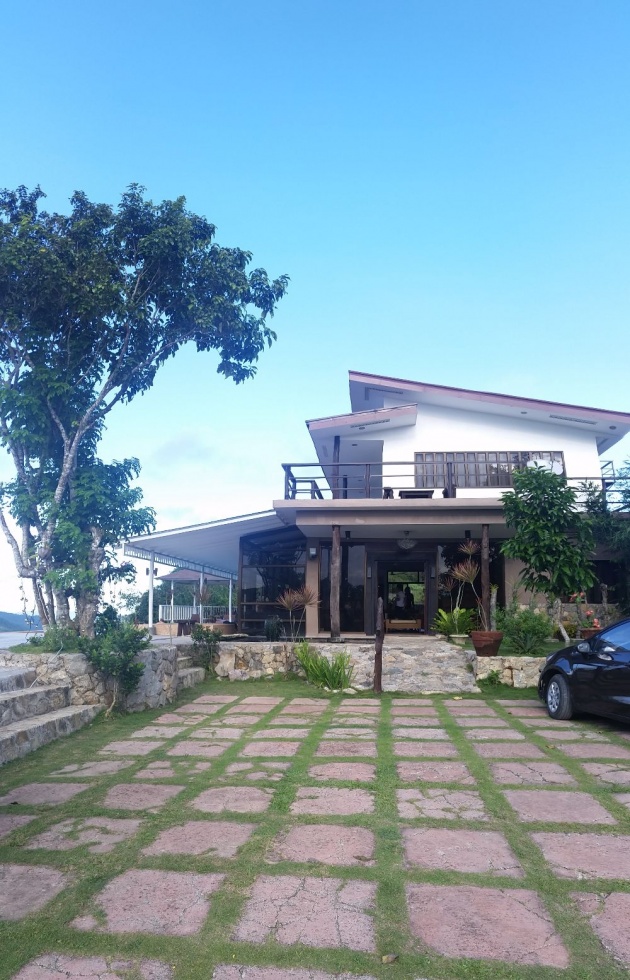 The amenities included were the following:


- 4 bedrooms with toilet & bath
- living area
- kitchen area
- dining area
- service area
- parking area
- panoramic view
- swimming pool
- koi pond
- spacious parking area


All we had to bring with us are food to be cooked and our own music system.

Just a two days before our Christmas party, we bought all that we need from the utensils to the groceries and the fresh foods has to wait until the morning of Friday that week.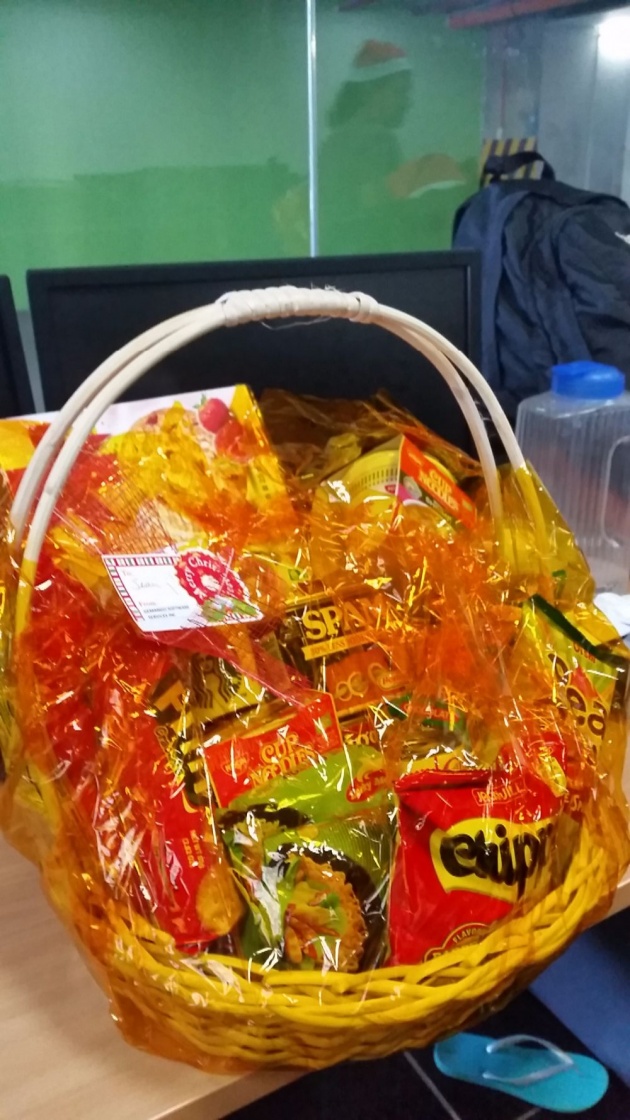 Everyone of us were excited about the out of office party and that also we were excited of our exchanging gifts. However, we have no idea that another surprise would come our way on that same day of the party. We were all going to come to work early since we are going to work half day only. Then upon coming to the office, we found these baskets with items in it which really looked like each of us won a prize. It's quite amazing that our boss was able to get everything nicely tied up and wrapped in a foil for each of us.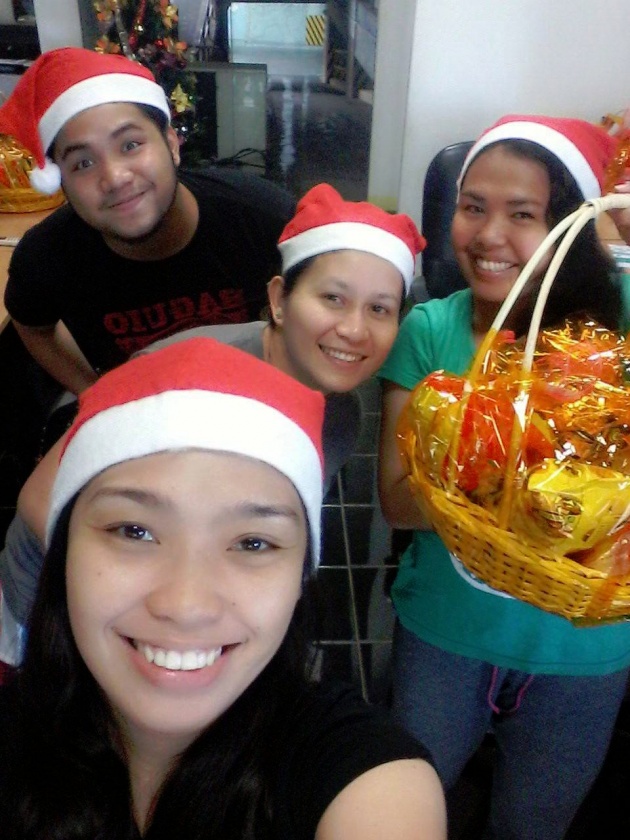 We immediately sent him a photo with the hats of course which came with the package. We all had fun and were wearing the said hat the entire day.

So came 12 noon and we were just waiting for a go signal that we are going to go to the resort. Since the Lechon or the roasted pig was a bit late, we got a delay of an hour but it was fine.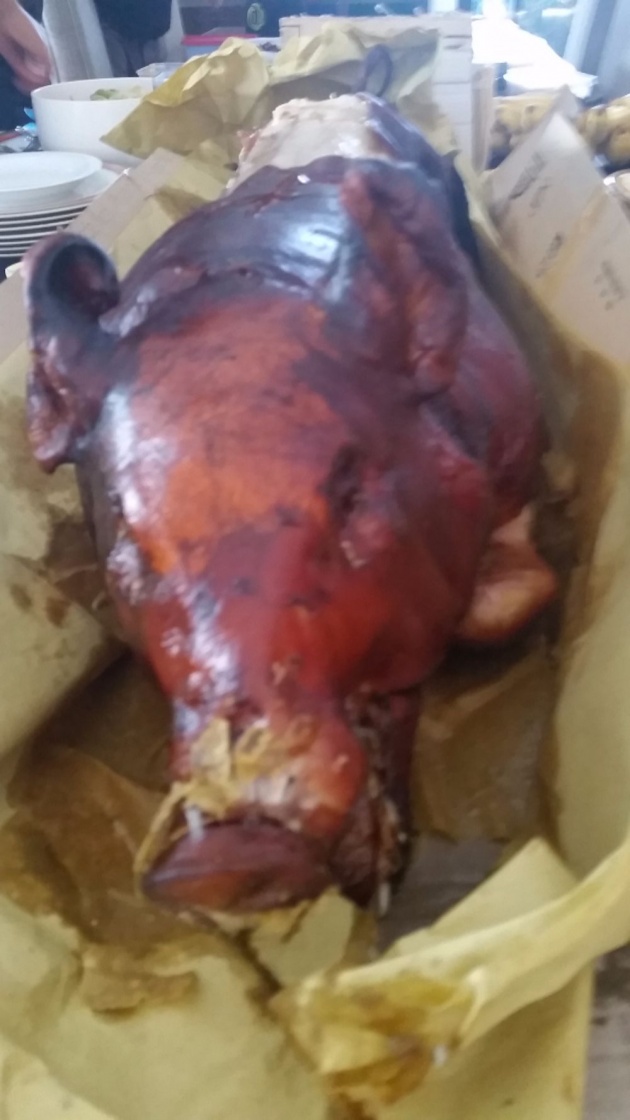 By one, the lechon came finally and the van which will take us to the resort too!

It only took us twenty minutes or so to reach the resort which was located in Busay. It is literally near the city and anyone can travel this far and reach a great place surrounded by nature. Of course it is a bit colder up there compared to being in the city.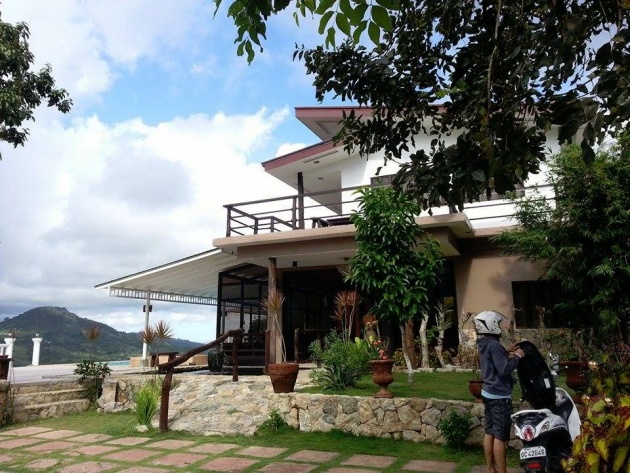 Because of the spacious resort, we felt like we owned the place although there's another house next to it. Going up to the house, we passed by a garden or a farm of roses which we all believe is owned by the owner of the resort too.

We were greeted by a two storey house with a jacuzzi and a pool enough for us which is overlooking the mountain area of Busay, Cebu. It has a great view down below and that we were all in awe. We were also happy that the weather was all great on that day.

We were informed by the house care taker about the things which we can use in the house. The kitchen utensils, the cooking machines and the fridge. The kitchen was really spacious for everyone to work around. Since we didn't have lunch yet, we all started working for what we were going to eat.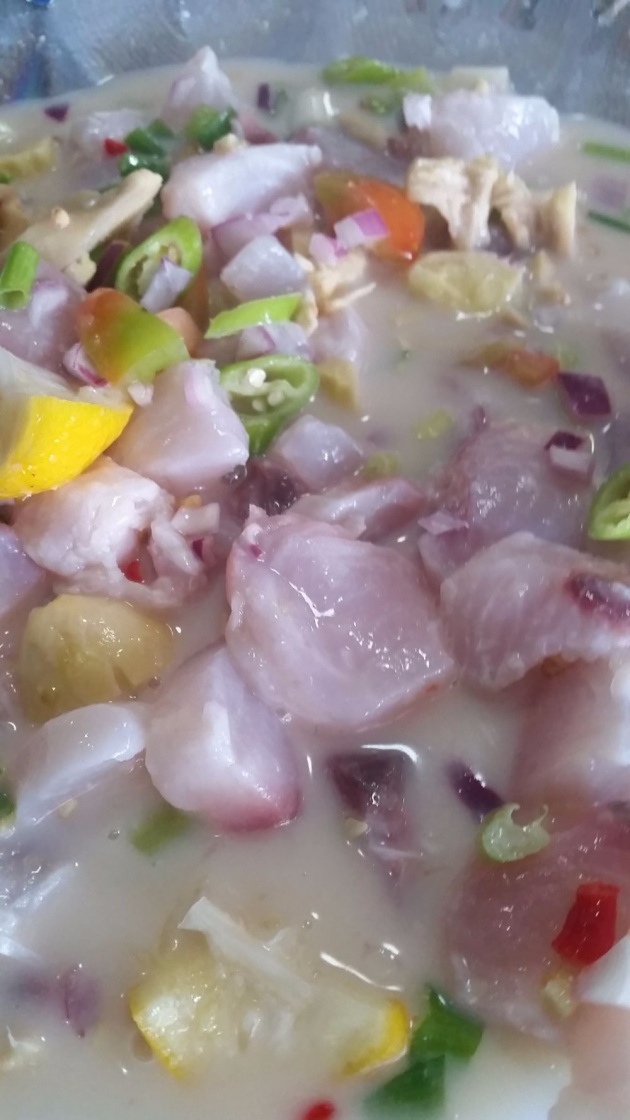 We cooked sauteed vegetables and the Kinilaw too. Kinilaw or Ceviche in English is a specific dish which is very famous in the Philippines specially in the visayas region.

It is basically made of different kinds of spices and fresh fish meat, uncooked but will be washed with vinegar and will be added with coconut milk plus some seasonings. There's no cooking needed but it taste really good. Plus we put in a few hot pepper too to give it a good kick in our mouth.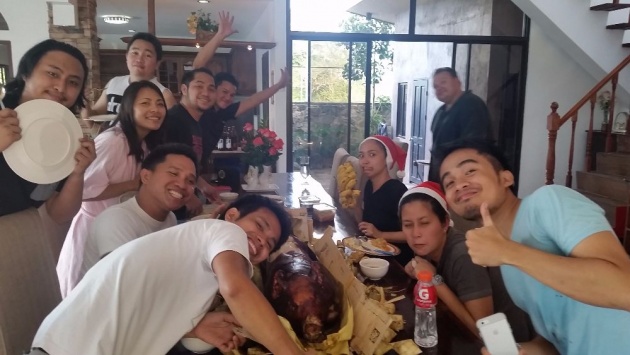 We had lunch around quarter to two and we all had lavished the kinilaw and the rest of our colleagues ate lechon.

We were all full and it was time to burn what we ate. So we had to roam around the entire place and also swim in the pool. I did a good tour around the house. Here are the specific places of the entire house:


The Swimming Pool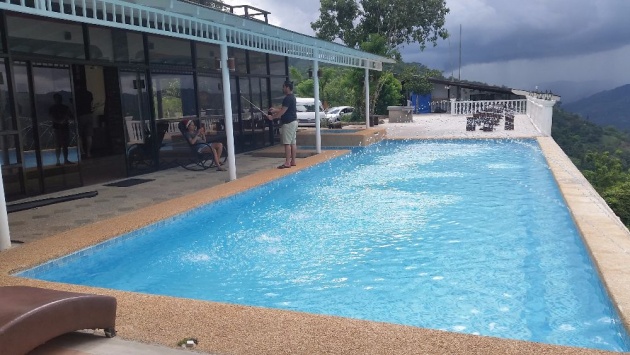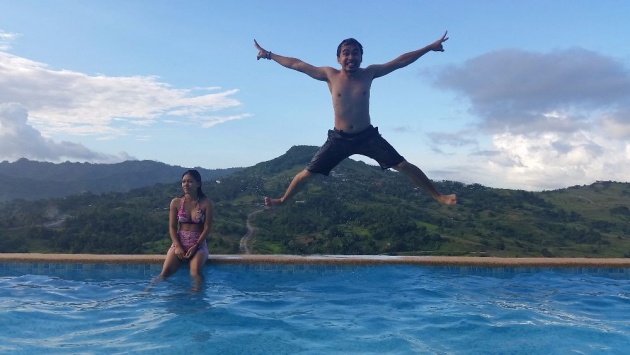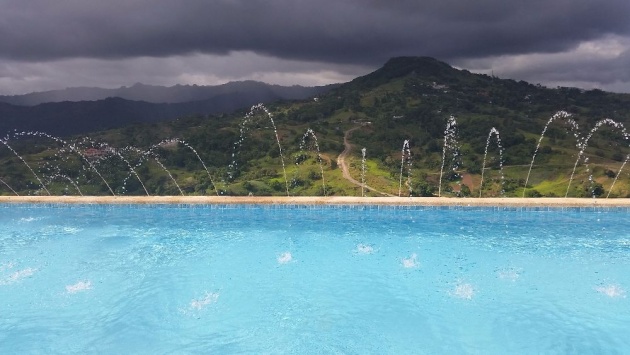 This was the first thing that everyone had checked when reaching the location. It was I guess the main highlight of the location and that we all were excited to jump in and enjoy the waters.

Since it was a bit cold up there, it was a good time to swim at noon time but we had to wait until we finish lunch so that we can get full first.


There was also a
jacuzzi
and a fountain effect at the edge of the pool. The
jacuzzi
unfortunately stopped working while my colleagues were on it. But that was okay, staying in the pool was better actually as per the guys.
We had also witnessed the great sunset while in the pool. It was a romantic one plus the great view infront of us.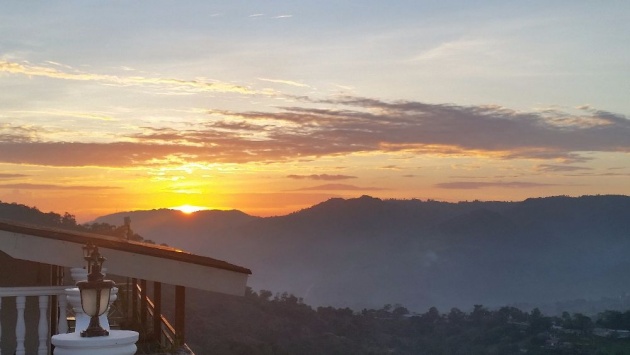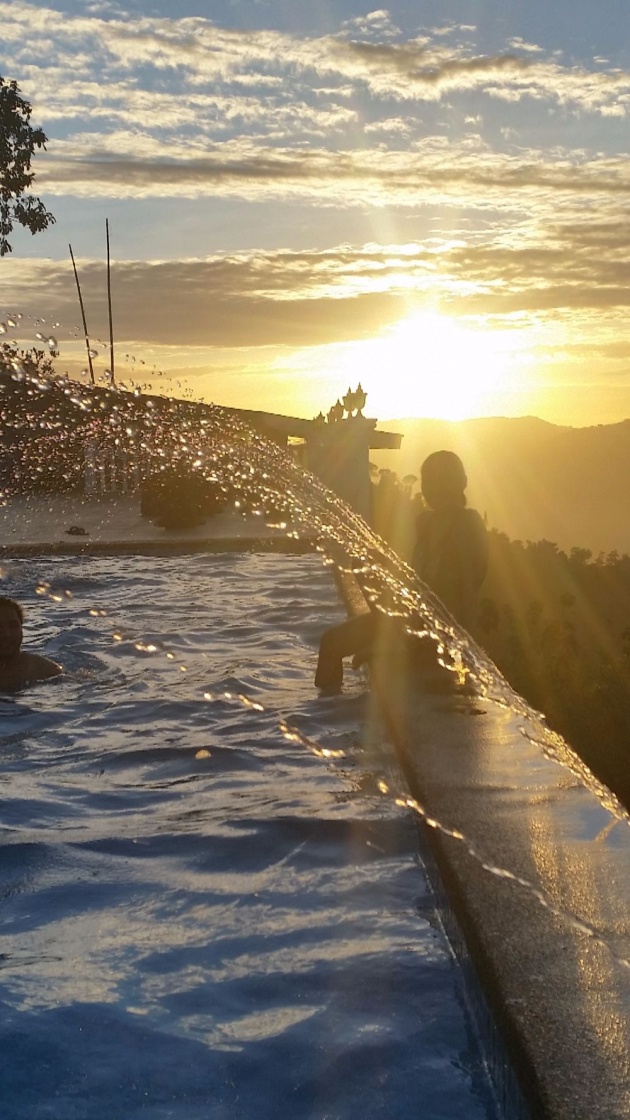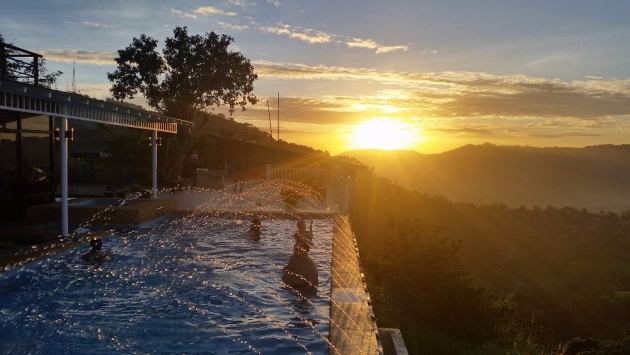 The mornings were also great. The front view was very clear and looked like a painting with these photos my colleague took: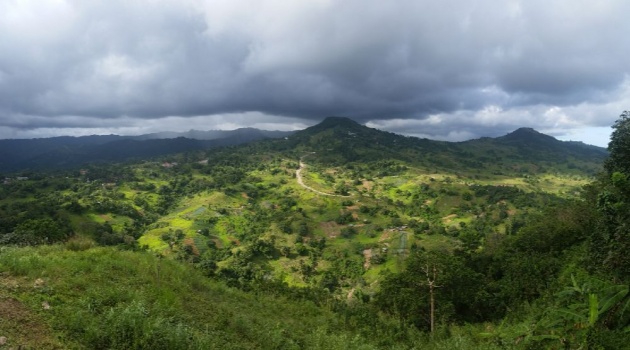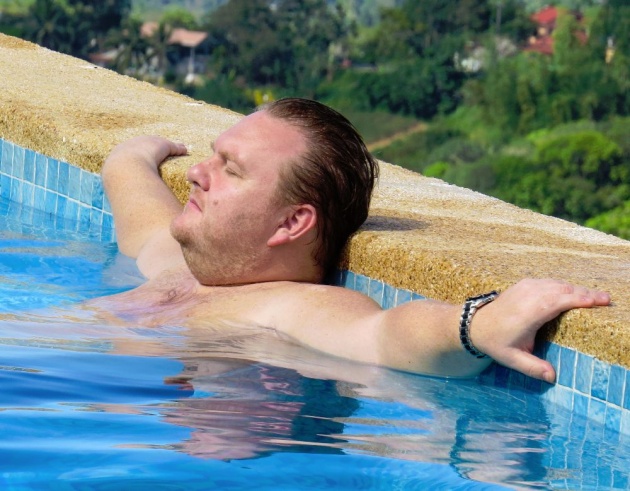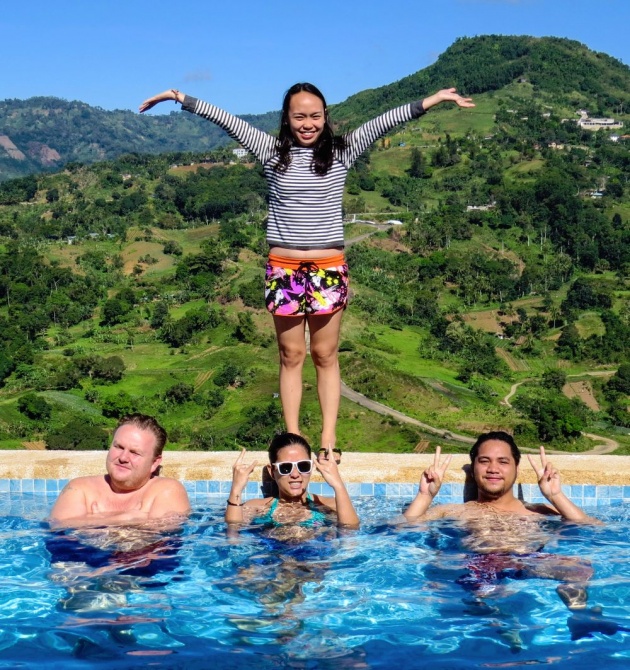 Yeah unfortunately, I forgot to bring my camera with me so I was left with just my mobile phone for the photos.

The Living Room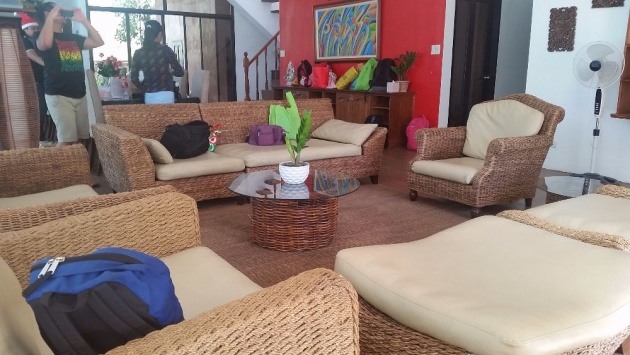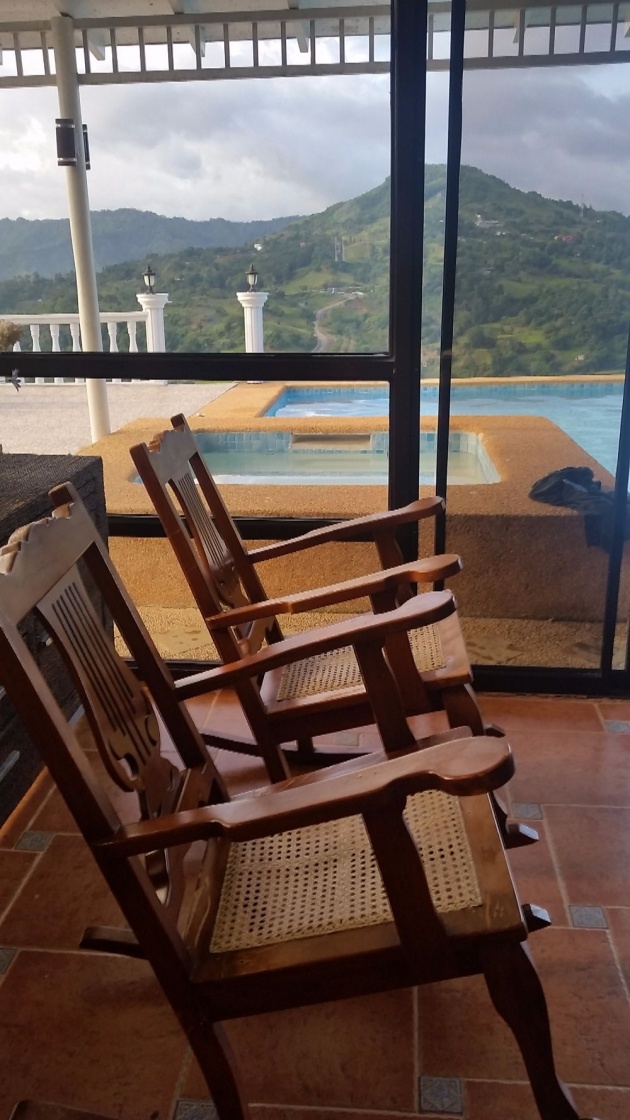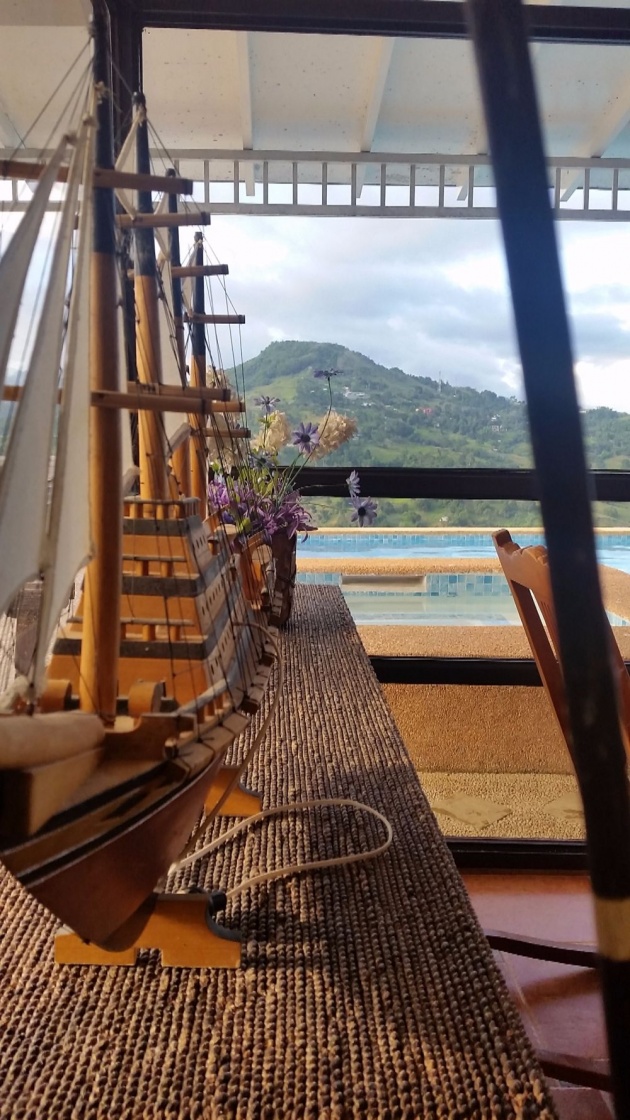 We were feeling at home while in the living room since there's a huge couches in it plus there were rocking chairs too!

I had a good time sitting in the rocking chair and had relaxed as well while lying in the couch. I wasn't able to turn on the television because I was busy with my phone. We were very glad that the place had a good 4G connection. We were not expecting that actually was it did have 4G connection with Globe network. Yes it was the least that we expect. In fact before reaching the resort, we asked the driver in the van if there's connection over. He was not sure but said it should have since the other house has Wifi.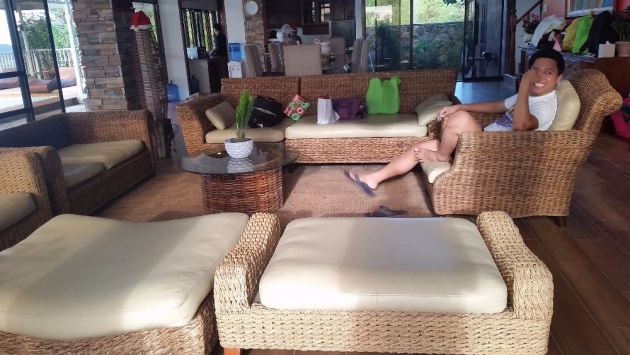 But surprisingly, there was a great connection over there. We were really glad about it.

One more thing we found in the living room was the piano.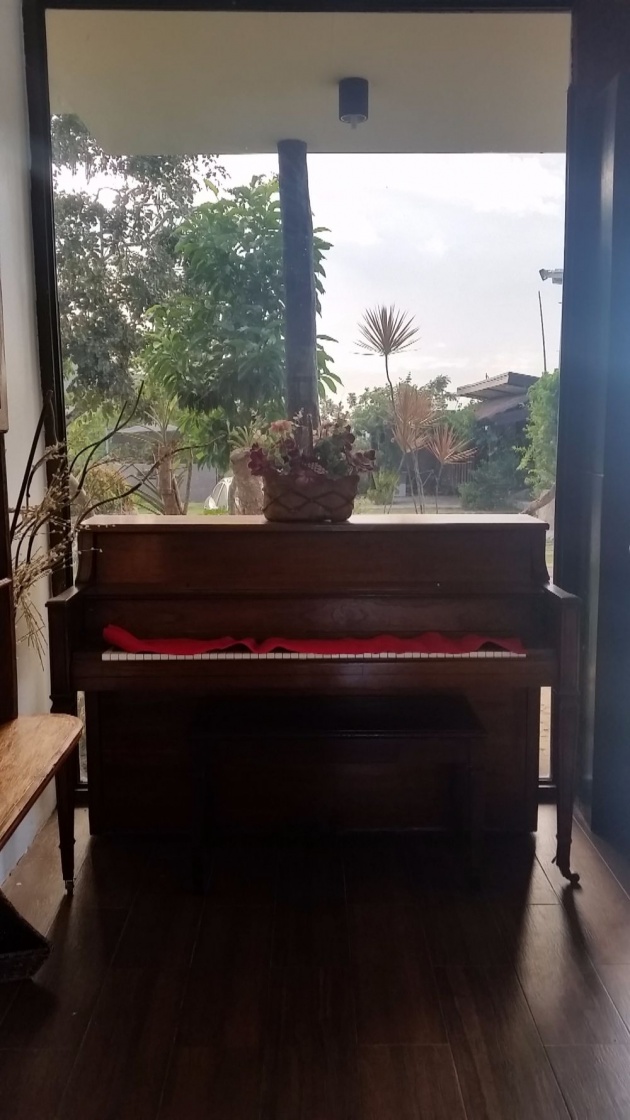 Looks like the owners here were musically inclined. My guy colleagues had played a few but those were really just funny ones because all of us don't know how to play it.
The best thing about the living room was that it has a direct view of the swimming pool outside. It's really relaxing.

The Kitchen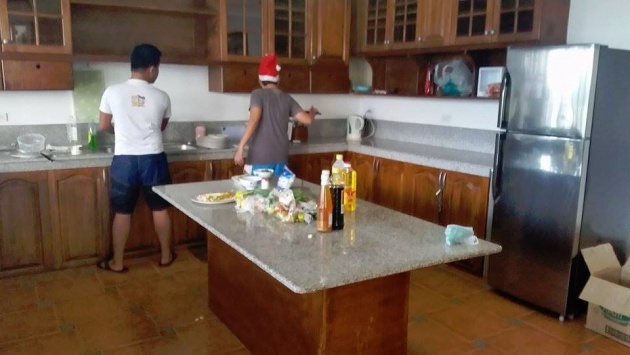 This was actually my favorite part of the house and the reason why? Because it was spacious and that everything that I need was there. In our apartment, we only have a small kitchen area, small sink and small hanged cabinets but this kitchen was definitely a dream of mine.

Although I am not really confident with my cooking skills, I really want to learn how to cook so that I can cook something for my husband.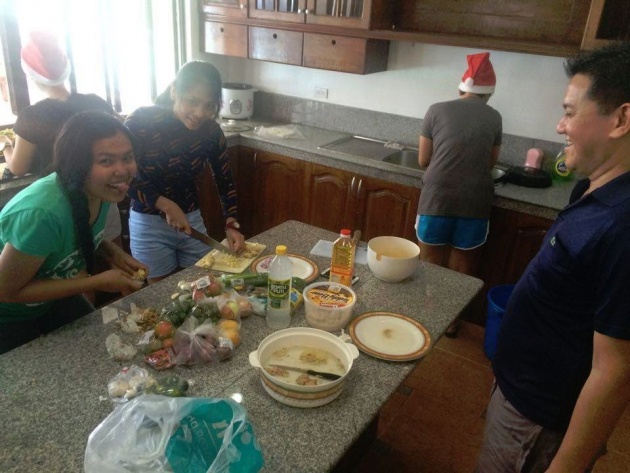 See from the fridge, the sink and the cooking stove everything was really spacious. There's a center table made of marble stone which we had used to slice all the ingredients needed for what we were about to cook plus we had placed all the spices and other cooking stuffs in.

We didn't have to use the utensils we brought because there were utensils already provided. All we had to do was to wash and boil them just to ensure that we won't be getting any contagious diseases. Good thing we had nurses with us who were really conscious about using personal things.
I guess I had stayed a long time in the kitchen than in the living room. It was again my favorite part.

The Dining Room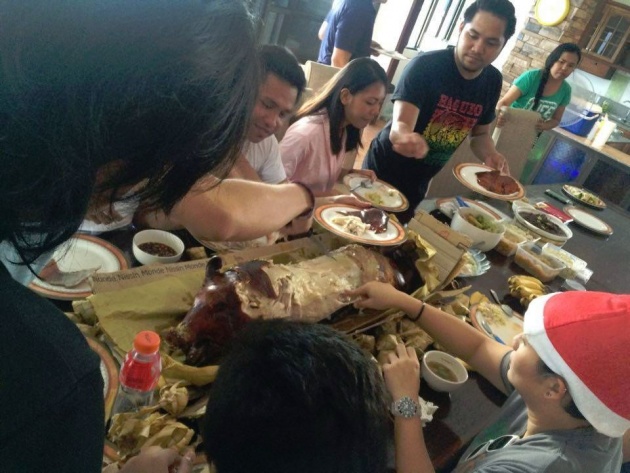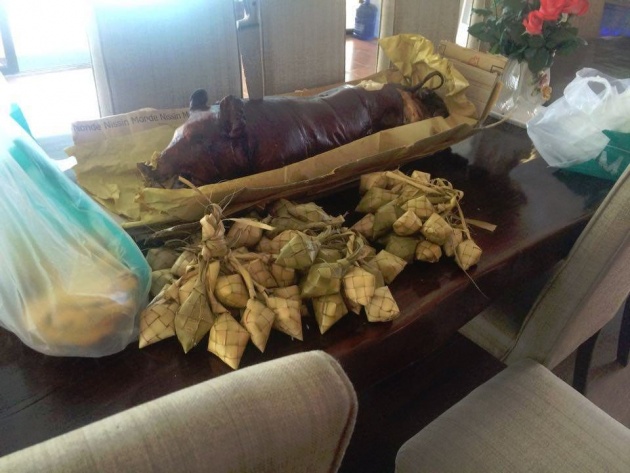 Alright, this was the place where we had lunch and breakfast, our exchanging gift also took place in here and the breakfast the next day as well.

It was very obvious that this table is made of an expensive wood and we have no idea if this was a vintage kind of table but it was indeed a beautiful one.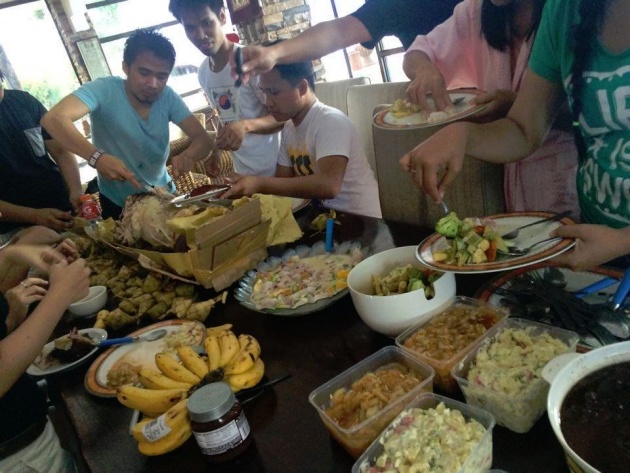 I love vintage stuffs and this table had caught my attention. I am guessing that the table was coated already with varnish and dark red coloring. I just love the fact that it was a long one for everyone to fit in. I guess it can accommodate around 15-20 heads. We were only 11 and there were lots of available seats.

Also, when we placed the food we had prepared, they look few in the table because of how big it was. We were a happy big family while in the table though.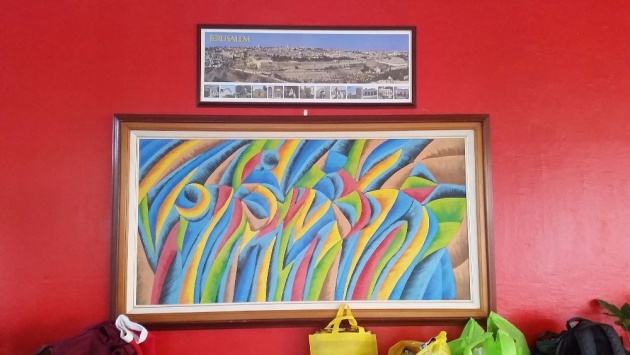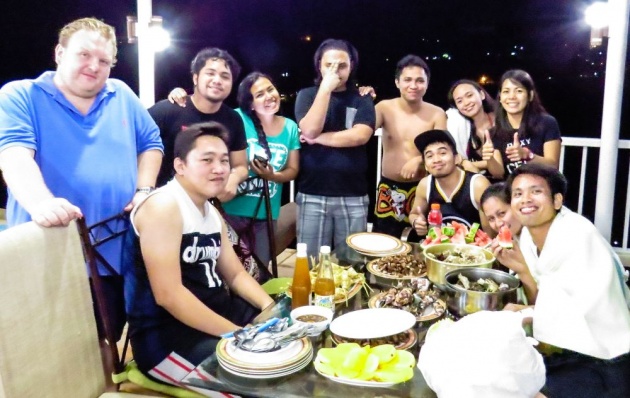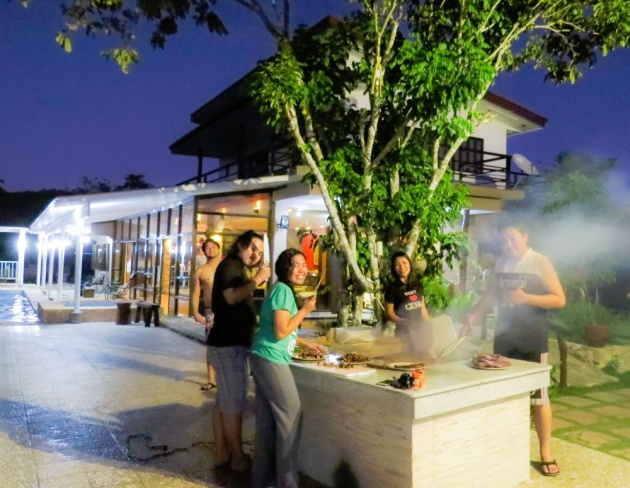 Of course the caretaker took a few beautiful fresh roses from the farm and placed in the center table. There's an abstract painting too which we don't know if it shows fishes or farmers planting rice plants. Anyway we realized that was the reason it was called abstract, so we can provide our own interpretation of it.
The Rooms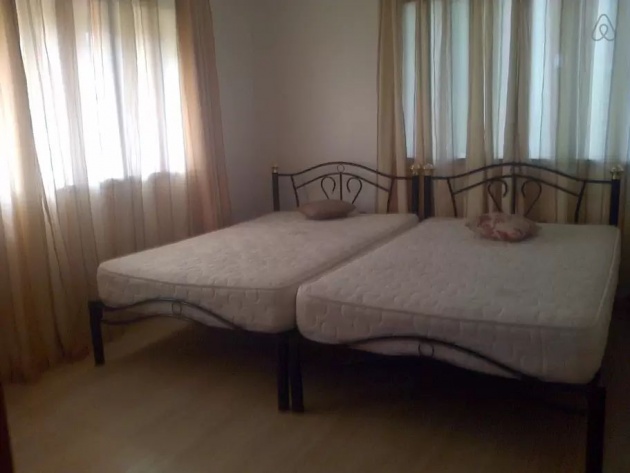 Well this was the spot which I had the least spending time because I with the other colleagues slept late and I didn't have enough time to look around and check the place.

But I do remember that there were huge beds in each room. The girls were in the room next to the dining area with its own spacious comfort rooms too! The four other guys stayed in the room in front of our room which has a good ventilation.

The two other rooms upstairs can accommodate ten people but then since our boss has to be staying alone in the other room, the rest of the guys slept in the other rooms and those ones who slept late just stayed in the living room since the sofa was also good for sleeping.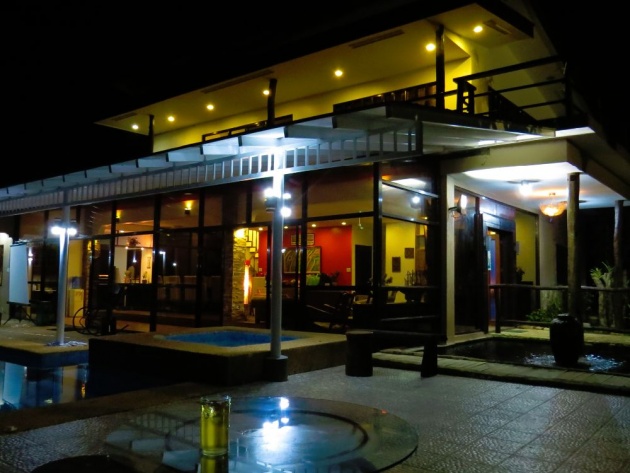 I like the fact that we felt at home in the resort. I didn't feel weird in there and I was just feeling at ease with whatever we were doing inside. The powder room was inside the same room so we had no issues changing.
The Backyard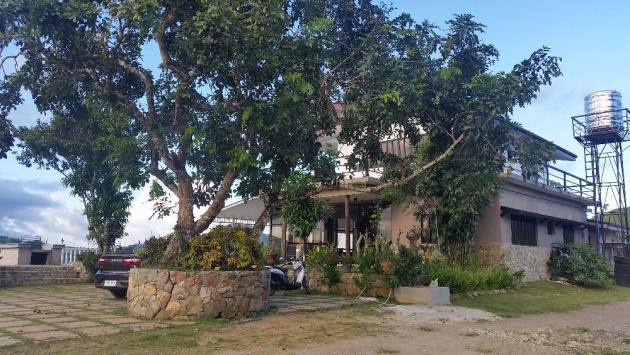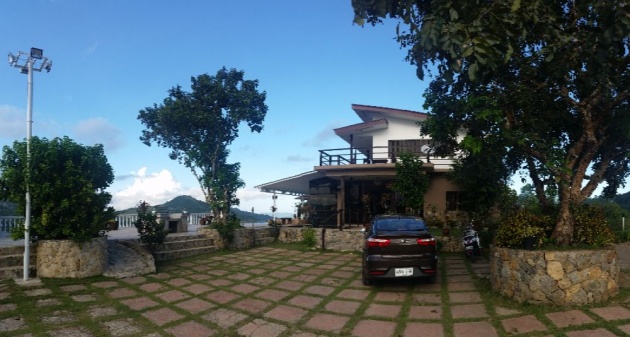 Because the resort is located in the upper mountain area of Cebu, it was surrounded with green mountains, a few houses can be seen from the backyard of the resort. The white road trails also are visible from the porch area and the swimming pool.

The best thing about this area is that there's fresh air and beautiful ambiance. There were lots of trees around, chickens too for consumption, there were roses as mentioned earlier and a good place to chill. Seats were allocated in the front yard near the swimming pool which was good for morning coffees or evening chilling even during sunsets, that will be a great place too!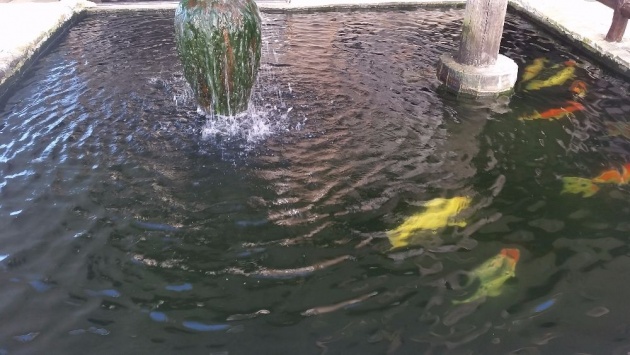 I almost forgot to also say that there were huge Koi fishes too in the main door of the house. The pond was a deep one which was pretty well maintained. The Koi fishes I guess were there for years already because of their sizes.
Videos taken with the Koi fishes:


The Exchanging Gifts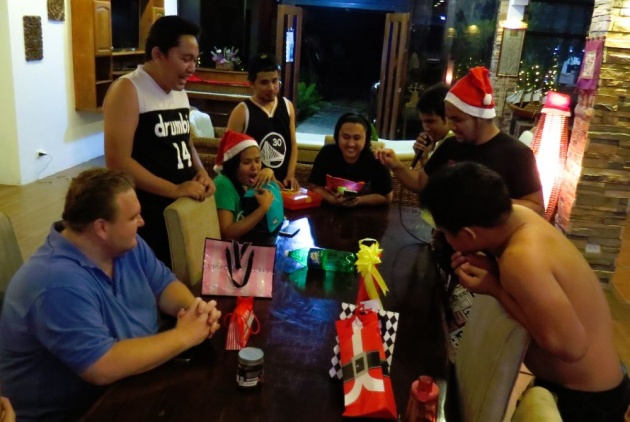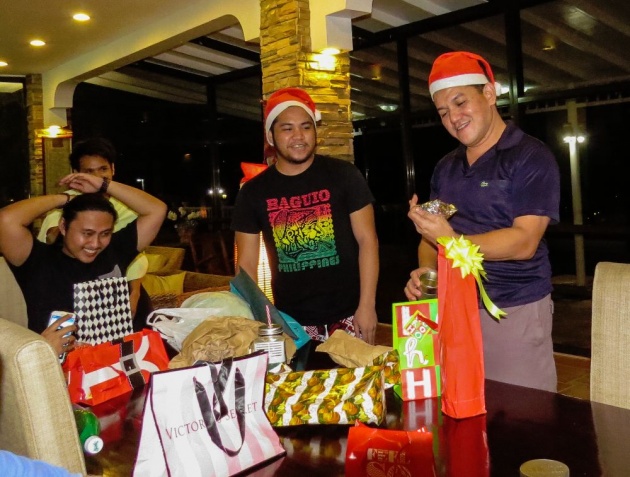 This was the most awaited part of the night and all of us were excited with our gifts.

The good thing about our exchanging gift session is that we have picked twice. We called this exchanging gift as "Something Something", the reason is because we have to pick first a name whom we will be giving our gifts and another one is to pick a description which will lead us to what we are going to buy for the specific person.

It was funny because one of us described something circle, heavy and it should be any size and guess what the poor receiver received?

Yes you are right - A huge watermelon!

I on the other hand got my seatmate's name and the description was something Slimy or Juicy, dark colored and it should be dark colored.

Here are more photos during the exchanging gift part. And we had to take our class picture of course.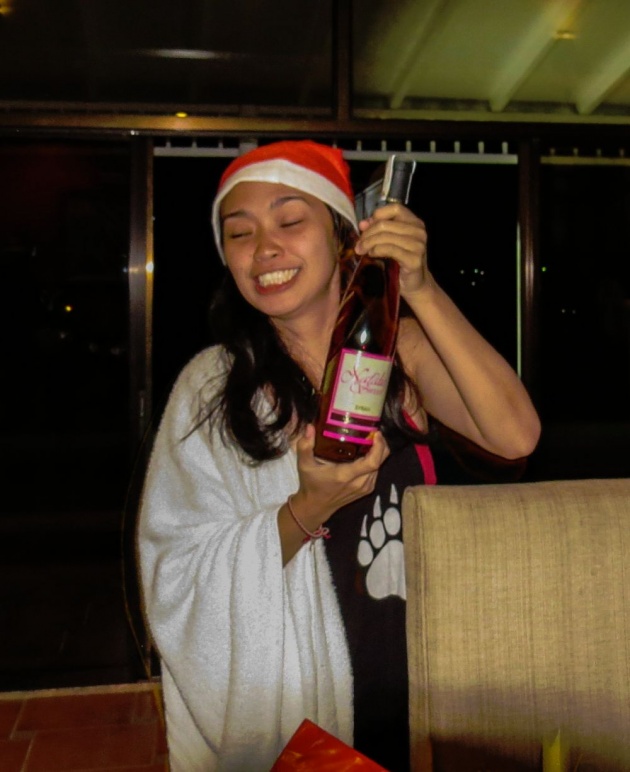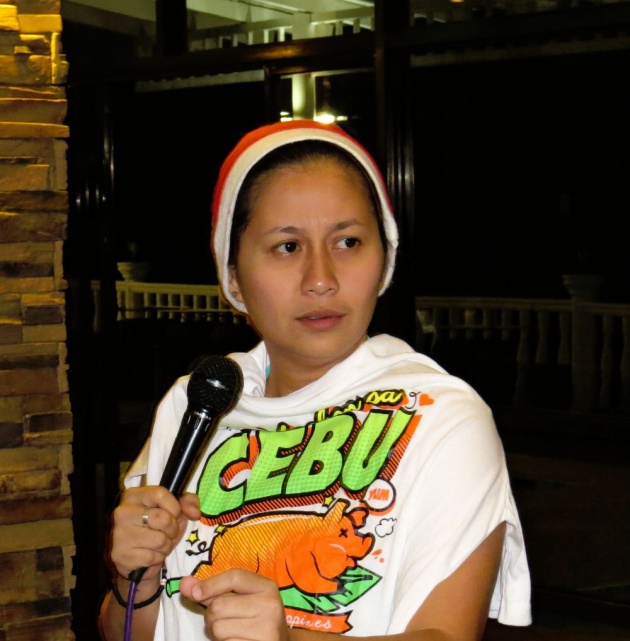 The entire experience was really great. It was a good time for everyone to miggle and enjoy each other's company. We also had a great time singing our lungs out with the music system which we brought along.

Everyone got to sing their favorite songs except our boss who said he is not really a good singer. Well neither were we but then again, it was all for the love of music and we had to sing out to chill and blast out the mountains. Glad the neighbor didn't complain.