One of the things which I look forward about Christmas season the parties here and there. Note, I am writing this blog quarter before 12 midnight. I am currently waiting for Christmas to arrive together with my husband. We went home to Bohol just so we could spend our time at our local church's anniversary, thanksgiving and Christmas party.
This year was so far my busiest season ever because I had joined several parties from charitable events to parties for college mates and friends to company gathering and then with hubby's colleagues and then at church too! I have a lot of backlogs in fact in terms of editing videos and photographs.
Today, let me share to you our company Christmas Party which happened to be a surprise from our boss! It was something which we never thought would happen and we were all happy and glad that we had gone to something that luxurious. This was one which I guess would happen once in my life only so I am grateful that our boss had prepared really really special for us.
A SECRET PARTY
A month before December, all of us at the office had been looking out for a place in which we would be celebrating our party. The past two years had been great as we were able to spend time together as a team at a nearby resort where we stayed overnight and celebrated the great season.
Video credits: Jean Beltran-Figues via bitLanders.com
Due to certain circumstances, we were not able to get a proper booking at any resort which we liked. Usually, since we are just a small company, each of us would suggest a place, a resort or any other location and then the boss would provide the budget to reserve the resort. This year had been very busy for the boss as well as with us so we ended up with no resort at hand.
Though it happened like that, it was in fact a blessing in disguise, we all thought that there won't be any party happening but we learned a week before that we were going somewhere very special. Everyone were fuzzing about the location as our assembly area was set at Mactan International Airport. It was really intriguing to think that we might be flying out of the island! It's a crazy idea but it was possible!
Boss had then mentioned that the location ends with the letter "N" so we were all puzzled if this is an island or a resort name. We thought of Bantayan, Palawan, Mactan and a lot more places.
It was indeed a secret that only our boss knew, all of us were out of idea and we got really stressed thinking about the location. We were advised not to be late, that we have to bring our IDs and outfits for swimming and for dinner too!
QUICK VISIT AT THE AIRPORT
December 20th was the set date for the Christmas Party revelation. We can't wait to finally know where we were going. At the departure area, we all waited for our boss to arrive.
But before that, we passed by the on going construction of the new Mactan Airport. It looks stunning and I bet it would improve tourism in the province!
Video credits: Jean Beltran-Figues via bitLanders.com
As soon as we had a quorum, boss finally revealed that we were going to Shangri-la Mactan Resort & Spa and everyone of us went gaga about it! Never in our tiny mind would think that we would be stepping in this awesome place! This is a 5 star hotel in Cebu and perhaps the place where it would cost us our entire month's salary before we could get our poor slippers in it. But it was happening! We were definitely going there.
A Shangri-la Mactan shuttle bus was waiting for us at the domestic arrival area and we parade our way there. The shuttle bus brought us to Shangri-la Mactan Resort & Spa's Ocean Wing View where our rooms where located.
SHANGRI-LA MACTAN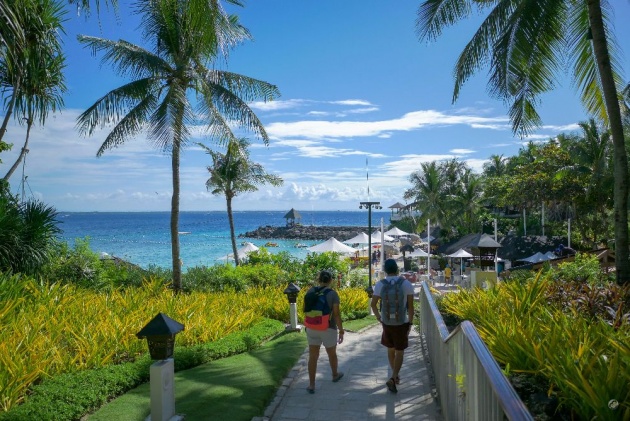 Image credits: Jean Beltran-Figues via bitLanders.com
I still can't believe that we were staying in this luxurious place. Most of the guests were foreigners and that we all felt like we were in a different country! But we have to completely forget about that because we were just about to experience perhaps the best Christmas Party so far!
Our rooms were being prepared and so a staff came up to us and gave us welcome drinks! As soon as we were finally checked in, we were given cards which will allow us to roam around while our room was still unavailable, we were in an early check in state.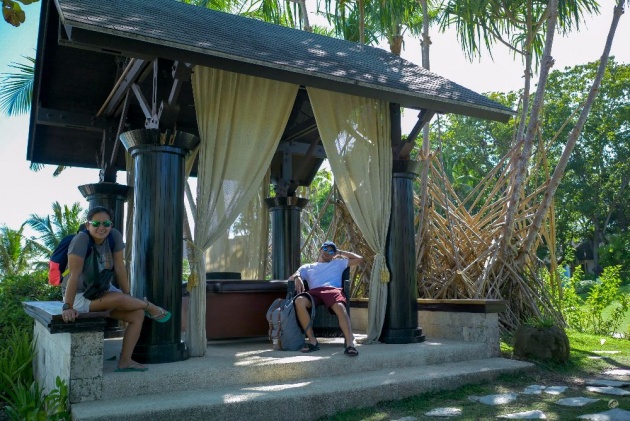 Image credits: Jean Beltran-Figues via bitLanders.com
I can't help but check out different areas of the resort while taking lots of photos and videos alike. However, I have to get back to the lobby thinking they might have gone to their rooms at that moment, gladly, they waited for me.
Our team were given five rooms, one for our boss and the rest to be divided among us. My room mates were Charo and Chris, there were only three of us in the room.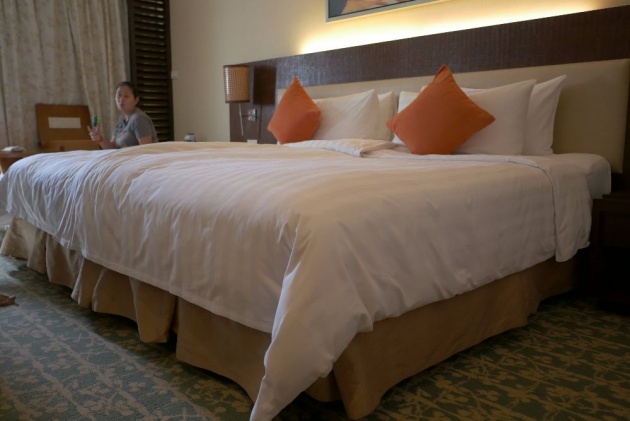 Image credits: Jean Beltran-Figues via bitLanders.com
The entire afternoon, we were staying at the beach area. This part is a protected sanctuary thus there were lots of fishes around which makes it a perfect reason to snorkel! I did that and I didn't regret doing so. I guess that consumed my entire afternoon until I was over it.
Varieties of fishes of different colors, sizes and shapes were spotted while I was snorkeling. In fact these fishes were unafraid to humans, as if they were already used to having humans as co-existent in the waters. The fishes were huge! I can't forget one of them stared at me while I was snorkeling and I got scared upon seeing it has huge teeth showing outside its mouth.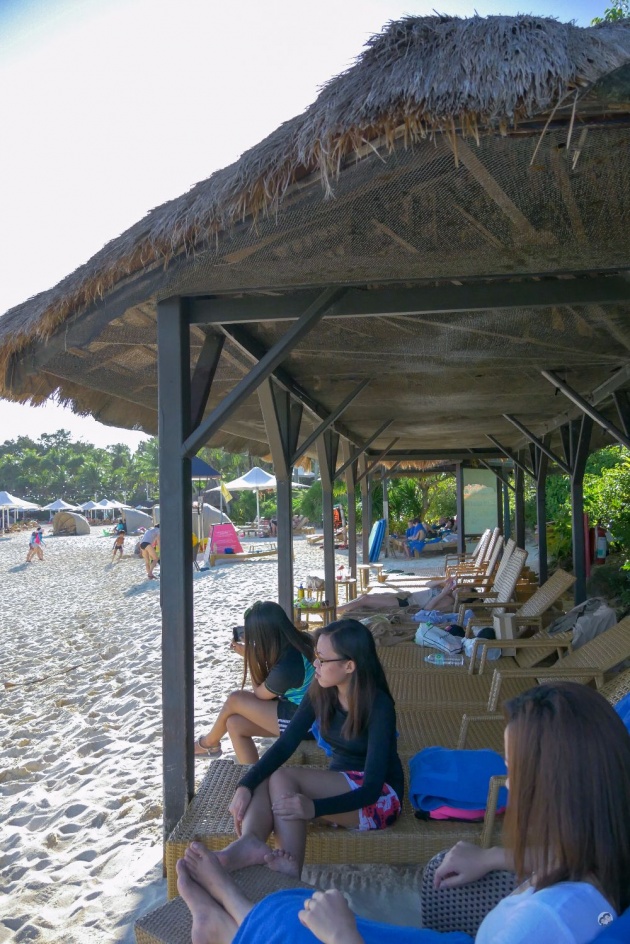 Image credits: Jean Beltran-Figues via bitLanders.com
I bet the were all harmless but I have to make sure I was safe so I had to back off and just let it swim away.
My colleagues had fun kayaking too while the rest were just under the shade at the shoreline. The resort offers different types of cabanas and cottages at the shoreline area. There's a bar too nearby so one can request for these items while enjoying the sea.
BUFFET DINNER FOR CHRISTMAS PARTY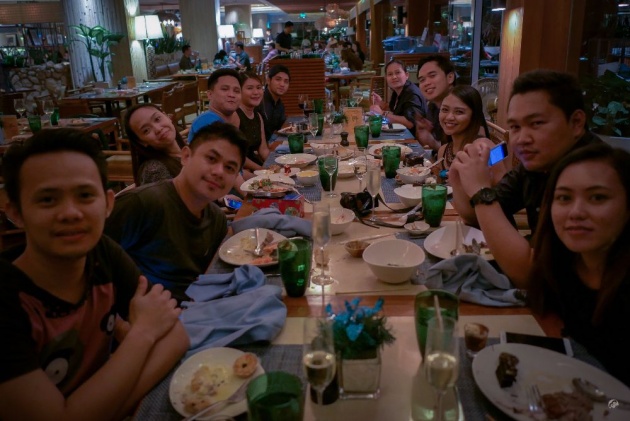 Image credits: Jean Beltran-Figues via bitLanders.com
The evening was really fun as our official party commences. We were up for a huge buffet at The Tides, one of the in house restaurants in Shangri-La. We went there at seven in the evening and it was jump packed with guests of different nationalities! We learned later on that the resort was fully booked thus the reason why the restaurant was full!
Our buffet started with a toast of champagne. We also have flowing unlimited drinks so we have a specific person giving us drinks as we request. It was a night where we felt like we were special individuals, thanks to our boss for giving us this great experience.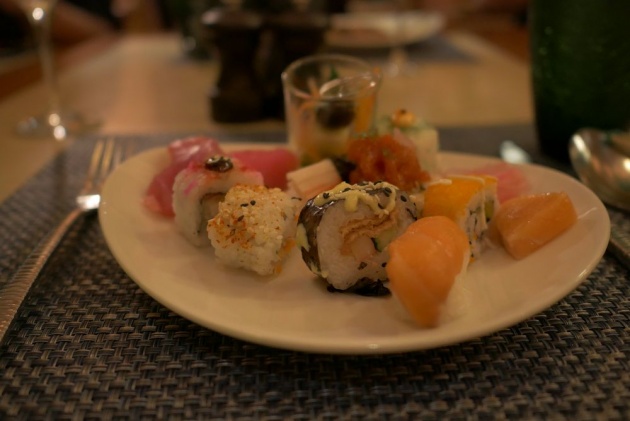 Image credits: Jean Beltran-Figues via bitLanders.com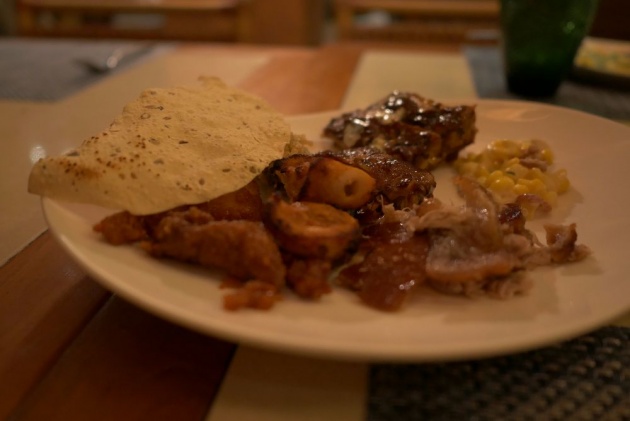 Image credits: Jean Beltran-Figues via bitLanders.com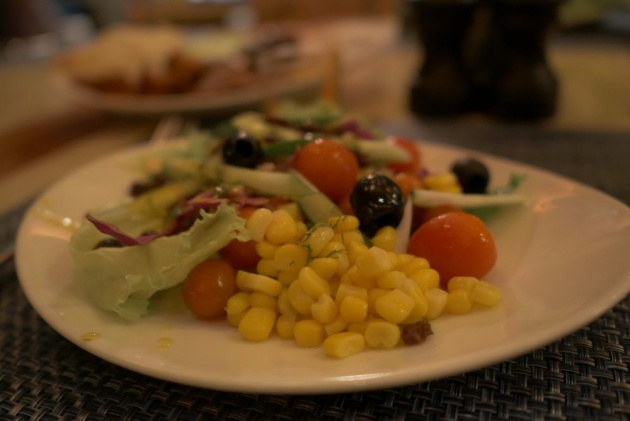 Image credits: Jean Beltran-Figues via bitLanders.com
Mind you, I had eaten a lot. Like literally a lot! I ate sushis and makis, I had salad with Mango Honey as dressing, I ate meat recipes like chicken, beef, fish and even pork with lechon in the table too! We had prawns and crabs which were grilled and tasty!
Unlimited desserts were there too plus yummy chocolate treats! I can't resist getting the yummy fresh mangoes too then I have to end it with cold ice cream.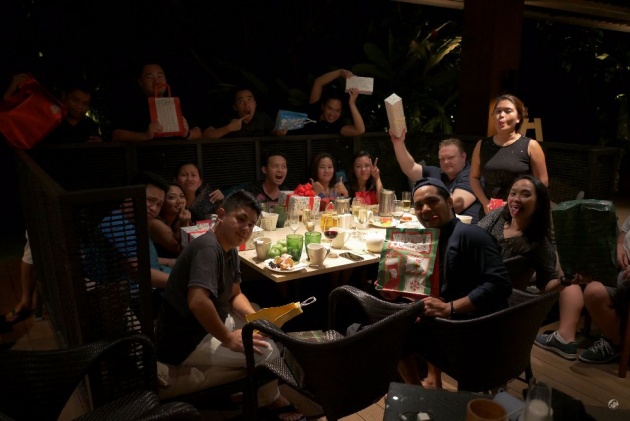 Image credits: Jean Beltran-Figues via bitLanders.com
We had our exchanging gift afterwards with a twist of acquiring stealing power one per person! It was fun stealing other person's gift just to make the event more exciting. I ended up having Chris' gift which was a Converse hat! My own gift was a wireless keyboard and mouse set which was received by Shernalee without getting stolen by others.
That night, we spent talking at one of the team's room. It was a fun filled night and we had I guess the nicest location ever for a Christmas party. Next, I will be blogging about our second day in Shangri-La Mactan.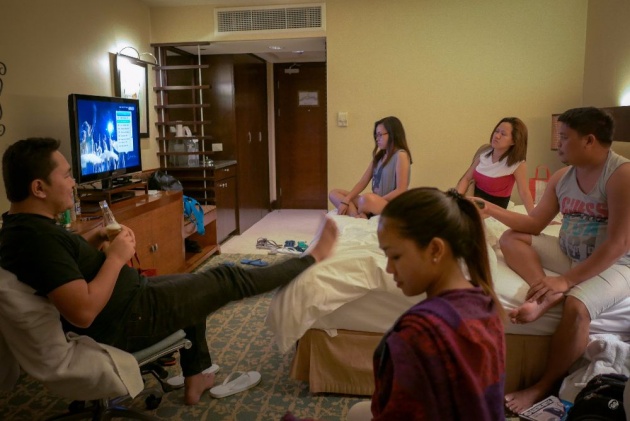 Image credits: Jean Beltran-Figues via bitLanders.com
Blog entry written and published by Jean Beltran-Figues, A Pinas traveler and photography hobbyist, find more travel blogs in my blog section, click here.