Video credits: Jean Beltran-Figues via bitLanders.com
In addition to my recent blog regarding the team building which had commenced a few days ago, this weekend, I am posting a review of the resort in which we held the official team building slash team outing activity.
It was an overnight stay at Compostela Boardwalk Resort. It was my first time to stay here while the colleague who had referred this resort had been here twice.
Why Boardwalk Resort?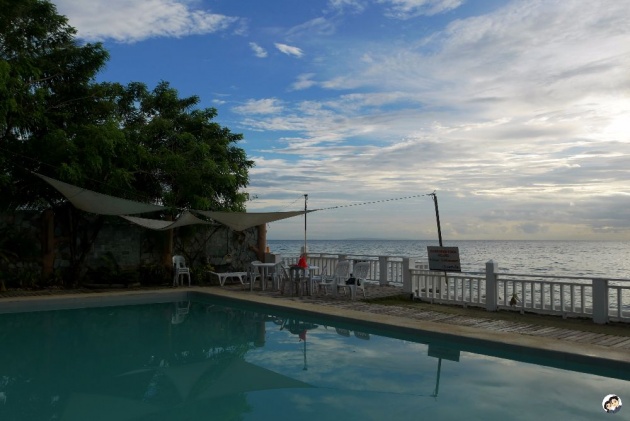 Image credits: Jean Beltran-Figues via bitLanders.com
Let me start with the reasons why we opted to spend our team building.
1. Most resorts were fully booked.
It was a bit frustrating that the resorts which we would like to spend this fun day were all fully booked. We had listed all the options that we would love to spend but even up disappointed. I must say that when these kinds of activities are getting planned, the location should have been done in advance.
2. Pricing was within the budget.
It was the right timing as the resort was free on the day, we then decided to get this date. For it's location, it was only an hour away from the city which was good and it was accessible from the high way which we appreciate a lot.
The Rooms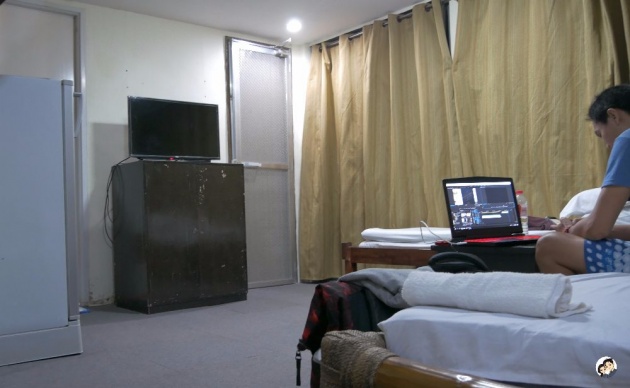 Image credits: Jean Beltran-Figues via bitLanders.com
It was raining upon arrival which sucked but we have to just find a way to make the moments enjoyable. But first thing that we checked out after getting all or stuffs out from the cars were the rooms. Of course everyone's excited to see their rooms.
Since we were 19 all in all, we had to share each room with the others. There were four rooms, native-themed with a twist as it has a mini attic portion which also keeps another queen sized bed which was good for the couples.
First room was near to the pool, it has cool access such as a door which leads to the pool area, there's another door which goes to the next room and another door for the back washing area where we could possibly hang clothes but some of these doors were locked.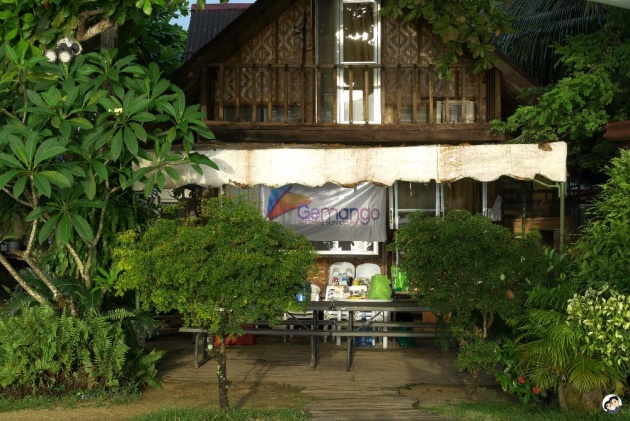 Image credits: Jean Beltran-Figues via bitLanders.com
The second room has bigger beds though which was a delight to four girls who shared it. The third and fourth rooms were similar to the second room, with bigger beds but the fridge for the fourth room was a mini one, smaller compared to the rest of the rooms.
Each room was equipped with flat screen televisions mounted on the wall and fridge too which was great because we were able to keep our left overs that night and also, there were two sets of air conditioners, one in the ground and two at the attic area which made each room really really cold and we ended up turning them off in the middle of the night.
By the way, the shower room was functional. There's shower and bowl too which worked pretty well. A mirror has been provided and shampoo as well as soap are also available. Aside from that, there were four towels provided too.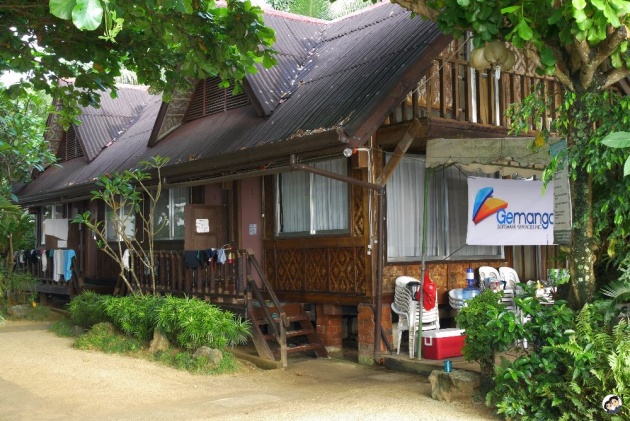 Image credits: Jean Beltran-Figues via bitLanders.com
Oh, I forgot to mention that the first room which was our room has also a door which leads to the attic veranda, it allows the guests to have a glimpse of the pool and the horizon.
Also, I have to mention that all rooms were carpeted! Cool right? It was the first resort in Cebu that I had stayed which has carpeted flooring.
The Pool
Video credits: Jean Beltran-Figues via bitLanders.com
The Compostela Boardwalk Resort offers beach and pool but the beach was not really good, it was a bit muddy-ish and no one want to take a dip to it except for some locals whom we spotted the next day, fishing.
So it was obvious that we only have the pool to enjoy. There were actually two, one for the adults and another for the kids. Most of our companions do not know how to swim so most of the time, we only stayed at the shallow part.
I would like to look for the brighter side so what I really like about the pool is the wooden sides surrounding it as well as the lights which looked like bamboo splits but they were actually fiber made and formed to look like bamboos, lights were placed inside it which creates a great diffused light.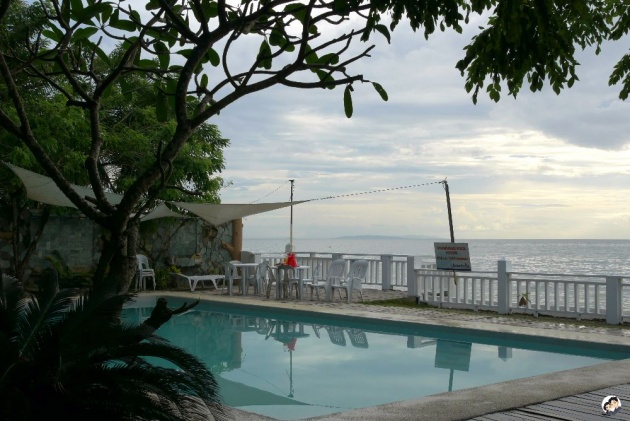 Image credits: Jean Beltran-Figues via bitLanders.com
But the pool was just so-so. It was just like any normal swimming pool, it has a shallow to deep steep design, a three step stair was also there at the end of the shallow part. Water was obviously chlorine treated.
However, we liked the fact that it was not cold at night when we were just having fun talking and laughing with our colleagues, perhaps that is normal for any swimming pool. The temperature was way colder when we get out of the pool.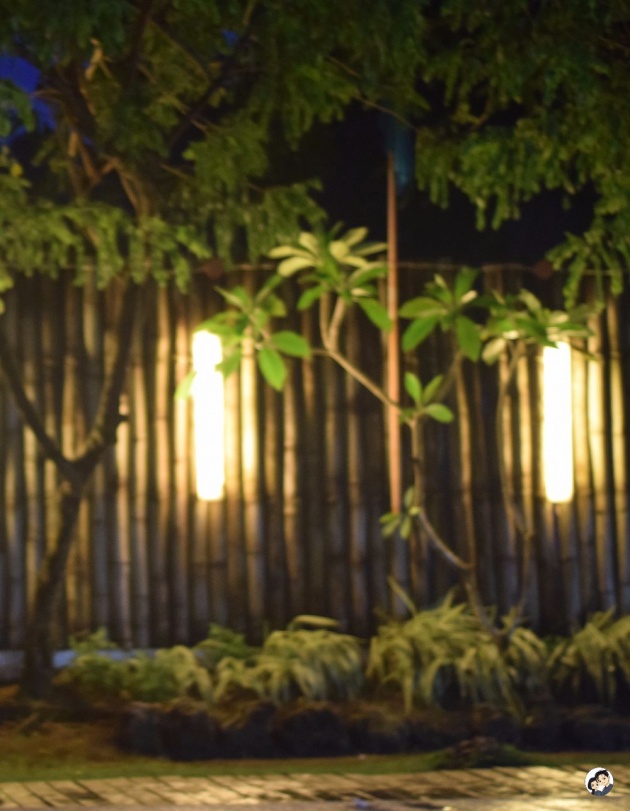 Image credits: Jean Beltran-Figues via bitLanders.com
Beach chairs were also provided which were available and it was allowed to swim until 10 in the evening but since we were had it exclusively, we were given the unlimited use treatment.
Unlimited Sing Along Session
But aside from being able to use the pool until "sawa", we also have the videoke machine for unlimited use too! There was actually an option to either use it unlimited for Php 800 for 24 hours or pay Php 5 coin for two songs.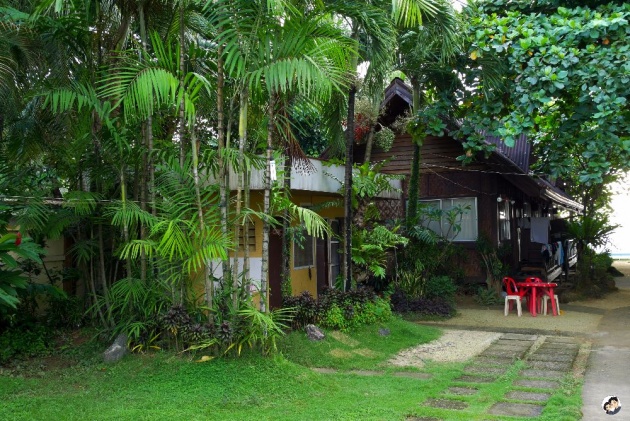 Image credits: Jean Beltran-Figues via bitLanders.com
Of course, we can't live for the latter so we have to pay the Php 800 24 hours access to unlimited songs and that was definitely realized.
After getting our stuffs altogether, we prepared our snacks, dined and went straight to the machine so we could burn the calories we just ate by singing our lungs out.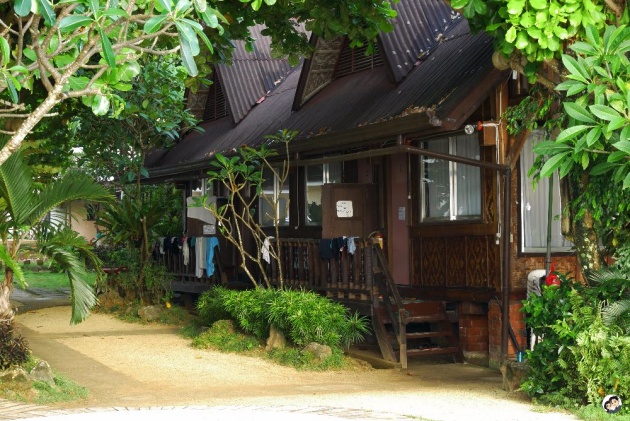 Image credits: Jean Beltran-Figues via bitLanders.com
The guys started drinking even before we started our official team building. But indeed, unlimited use of this machine was one way to enjoy the team building event. All of us has shared our singing voice talents and we laughed, cried and got emotional together with the songs we sang. Indeed Filipinos love singing and videoke machines are our best friend!
Other Amenities
Obviously, the Compostela Boardwalk Resort looked like an old one, which means it has been in business for quite some time. It can be seen from the way the native rooms looked but I salute the resort workers for keeping it tidy and very clean specially the shower room.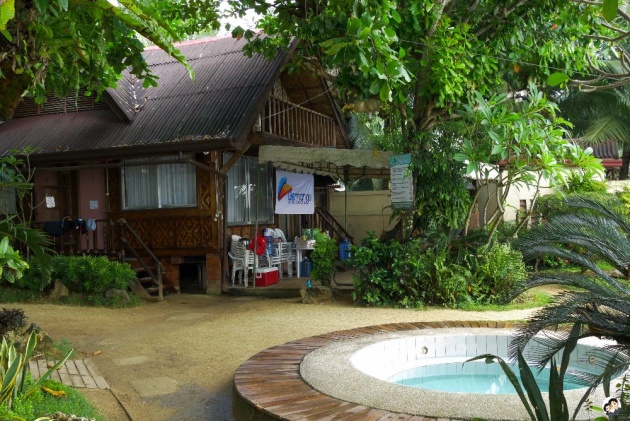 Image credits: Jean Beltran-Figues via bitLanders.com
The trees and plants at the resort gave it a nature-ry look although I was sad that there were lots of dead leaves on the ground when we arrived but it was okay as it was raining when we arrived, it was understandable that it was caused by the rain.
There were other amenities available such as the badminton court, unfortunately, we didn't bring any rackets or even shuttlecocks with us that time. Then they also have grilling area which was just in front of our room. Tables were also available and were very spacious. These were the types of tables which can be folded.
A native hut was also available for those who would be coming in for day use. I however was not able to note the pricing for it. I only know that the overnight use was good for Php 16,000.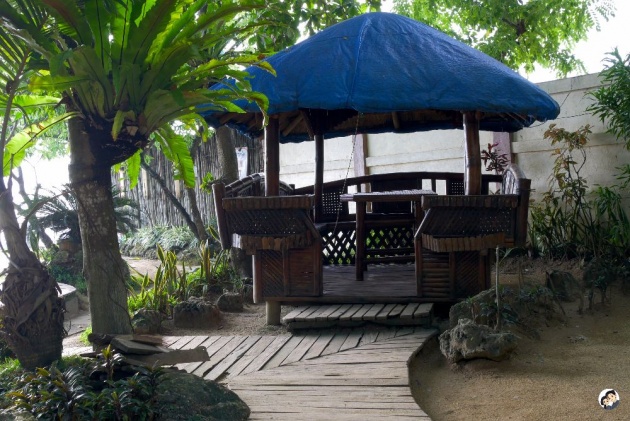 Image credits: Jean Beltran-Figues via bitLanders.com
The next day, we used their gas stoves and cooking utensils for free! It was great that we were able to cook fried rice and heat up our left over food. There were still a lot of food available though which was expected.
However, this amenity will not be offered soon as the management will be renovating the kitchen area and will make it into a store. Fortunately, we were still able to make use of it.
That's it. I guess I would just appreciate the efforts of the workers and staff for their very accommodating attitude. They had assisted us with the cooking wares and the stove. We left most of our left over food after having breakfast to them which they gladly accepted.
Blog entry written and published by Jean Beltran-Figues, A Pinas traveler and photography hobbyist, find more travel blogs in my blog section, click here.