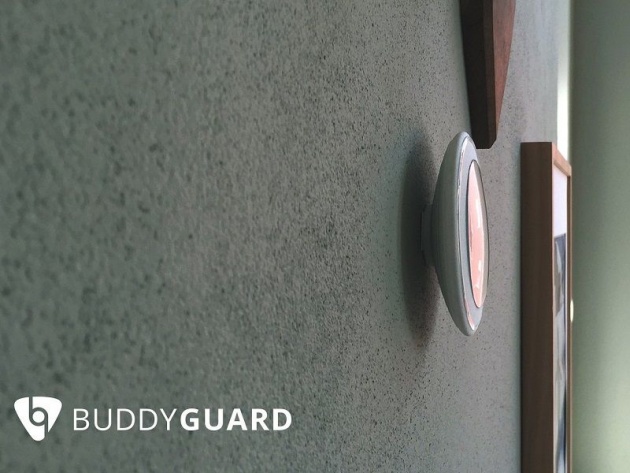 The world of home security is slowly evolving to a more "hands-on" approach, where customers can buy an item such as a smoke detector, and tinker around with it to suit their needs. Flare is a new all-in-one DIY security device that resembles a UFO and comes packed with quite a few interesting features. Not only is Flare a smoke detector, but it also includes a 1080p camera, sensors [motion, temperature and tamper], a microphone, speakers, WiFi, 3G and Bluetooth LE.
Also read: Crypto Vault Creates Fire-Resistant "Vault Coin"
BuddyGuard's Kickstarter Project "Flare"
What makes these DIY projects so fun is that they are quite a bit cheaper compared to other home security options. But there is a small twist to that story, as Flare is a Kickstarter project, meaning you are essentially pledging money to receive a unit that has not been mass produced just yet. However, new technology and devices need to come from somewhere and gauging consumer interest through crowdfunding platforms is a smart business decision.
Especially the inclusion of 3G capabilities is quite interesting for a home security device. Granted, there are a lot of people in the world with spotty to no WiFi reception in certain parts of their home, so 3G is a viable alternative. But this also allows you to take your security system with you wherever you go, as you are not relying on a hardwired Ethernet connection.
Powering up your Flare can be done in two ways: either you can use the rechargeable lithium-ion batteries – which last up to 3 weeks with normal usage – or plug the device into a wall socket. And you won't have to worry about adhesion, as Flare is equipped with a magnetic base that will stick to nearly every surface imaginable – assuming you have some adhesive tape at hand.
Another nifty feature of the Flare is its usage of geolocation on your mobile device. If Flare notices that you are not at home, it will "arm" itself to protect your home, and switch off when it detects that you are on the premises once again. This and many more features – can be access through Flare's mobile companion application, available for both Android and iOS.
Now that home security devices are taking the DIY route, we might see hardware manufacturers allow for storage onboard such a device, combined with a small processor, and maybe even some memory. We have seen how the Raspberry Pi 2 – a tiny device on a board- is powerful enough to run a full Bitcoin Node, so why not a DIY home security device? With Bluetooth LE, Wifi and 3G capabilities, running a Bitcoin Node and a security system in the same device might not be that far-fetched.
What are your thoughts on running a Bitcoin Node inside a DIY home security device? Let us know in the comments below!
Source: CNET
Images courtesy of BuddyGuard (Flare) and Shutterstock